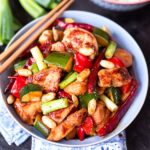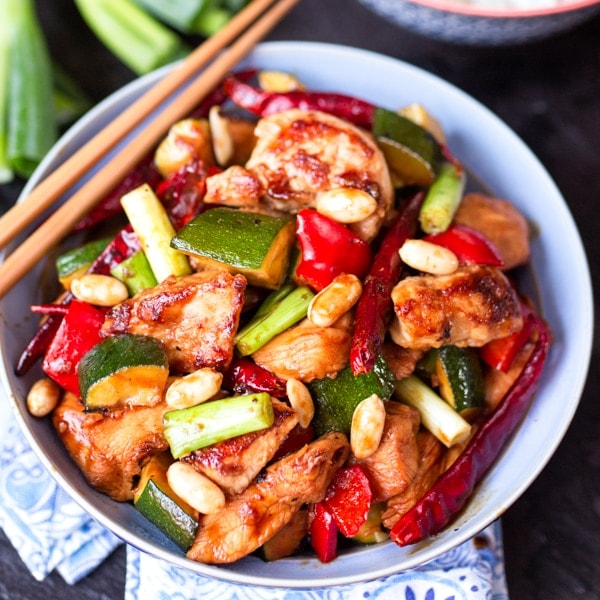 Kung Pao Chicken – Copycat Panda Express Recipe
Ingredients
<b>Marinade:</b>

2

tbsp

rice wine

¼

tsp

white pepper

5

tbsp

soy sauce

4

tbsp

hoisin sauce

1

tsp

sesame oil

2

tbsp

sugar

2

garlic cloves

peeled and minced

1

thumb-sized piece of fresh ginger

peeled and grated

½

tsp

ground sechuan peppers

optional – for those of you who like it hotter

<b>Remaining Ingredients:</b>

3

chicken breasts

chopped into bite size pieces

1

teaspoon

cornflour/cornstarch

1

tbsp

vegetable Oil

8

Dry Whole Chilli Peppers

2

Red Bell Pepper

chopped into squares

1

medium sized courgette/zucchini chopped into chunks

12

spring onions/scallions

chopped roughly

½

cup

unsalted peanuts
Instructions
Mix the marinade ingredients in a bowl.

Place the chopped chicken in a separate bowl and mix with the cornflour/cornstarch, then stir in 1/3 of the marinade ingredients. Cover and refrigerate for 30 minutes (or up to 12 hours).

Heat your wok or frying pan over a medium heat and add the whole chilli peppers. Dry cook for a couple of minutes – turning regularly until the chillies go darker in colour. They burn quite quickly, so keep a close eye on them. Remove from the pan when they've darkened and gone a little softer.

Add the oil to your work, heat on a high heat and then add the chicken. Fry until cooked through – about 7-8 minutes.

Add in the red peppers, courgette/zucchini and spring onions/scallions. Cook for a further 2-3 minutes until heated through, but still crunchy.

Add in the remaining 2/3rds of the marinade and the chillies and cook until the sauce thickens slightly – about 2 minutes.

If you'd prefer the sauce to thicken even more, you can mix a tbsp. of cornflour/cornstarch with a couple of tbsp. of cold water, then pour this mix in whilst stirring. The sauce will thicken very quickly.

Add in the peanuts just before serving, and give them a quick stir. Serve over boiled rice (with a large glass of water if you intend to eat those chillies!)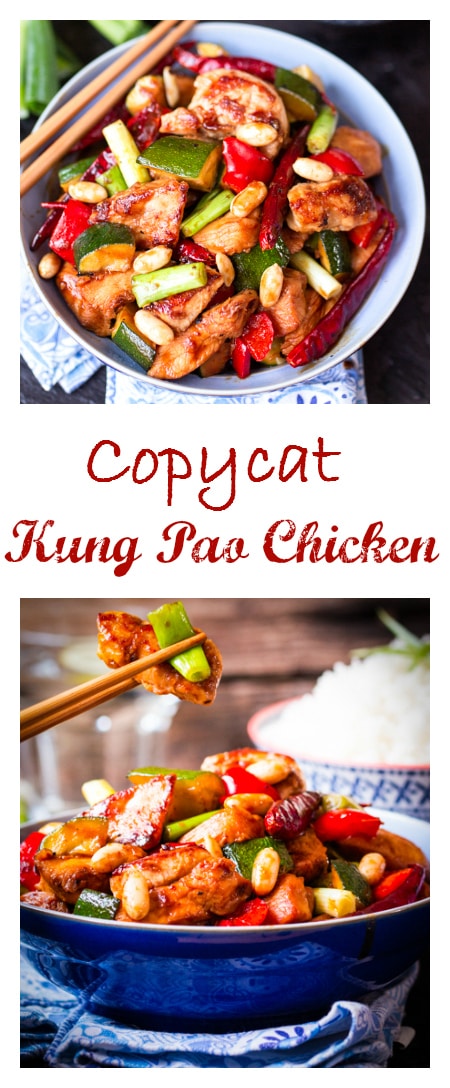 Hi Everyone, it's Nicky here again from Kitchen Sanctuary.
Today I'm bringing you a delicious copycat recipe for Kung Pao Chicken.
I have a few copycat recipes I've been playing with lately, and this post was almost going to be a recipe for 'Firecracker chicken'.
I've made it quite a few times at home, and it always goes down really well.
I was just starting to prep my ingredient list, when I realised, you've probably never heard of Firecracker chicken!
It's an amazing spicy dish from a restaurant chain called Wagamama – which I presumed was a chain that had come over to the UK from the US, but on further investigation I found out there're only 4 Wagamama restaurants in the US (compared to the 100+ restaurants in the UK) Doh!
Not to be dissuaded from a tongue-tingling spicy chicken dish, I decided to go for a Panda Express classic.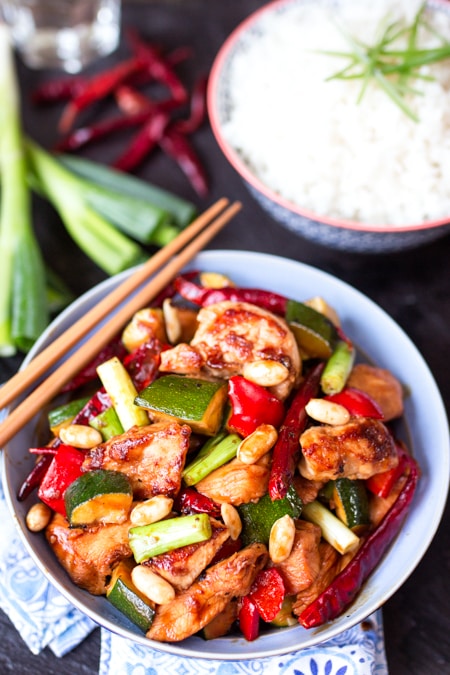 Believe it or not, Panda Express hasn't really made it over to the UK, but I've paid the place a fair few visits on holidays to the US, and love their Kung Pao chicken.
My version involves making a marinade – a third of which is used to marinade the chicken. The remaining 2/3rds is added at the end along with the vegetables and reduced down to get a thick sauce with loads of flavour.
The meal contains the whole dried red chillies, as you find in the Panda Express version, but these can easily be added at the very end with the peanuts – so you can dish out a portion for the kids before adding the chillies.
I often do this for my homemade beef rendang too.
The question from me to you is – do you eat the chillies? Or leave them on the side of your plate?
I think the last time I had it I left them, because they just look so hot and scary!
My husband Chris took a large bite of one, and I've never seen him down a pint of water so fast! Ha ha – and he generally likes his spicy food.
I find you get the right amount of heat if you snip the chillies a couple of times when they're in the pan – so they release a bit of the heat, without you having to lose the functionality of your taste buds for the next 24 hours….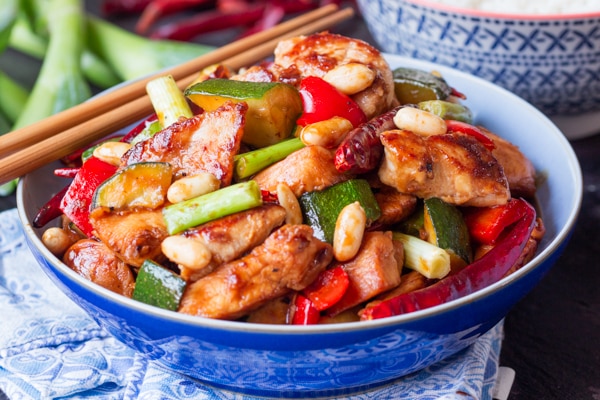 Here are a couple more copycat recipes from other OSSS contributors:
Copycat Panera Bread Broccoli Cheese Soup