Recently there has been a lot of focus on addiction, and the miracle of addiction recovery. I would imagine that there are few, if any, left in this world who have not been affected by addiction in one form or another. I would like to lend my voice in support of those battling addiction and perhaps even more so to the people in their lives who bear the unbelievably difficult burden of loving and assisting someone in their life struggling with such. I would like to focus specifically on pornography for this post. Pornography, as you will read shortly, has recently found its way into our home.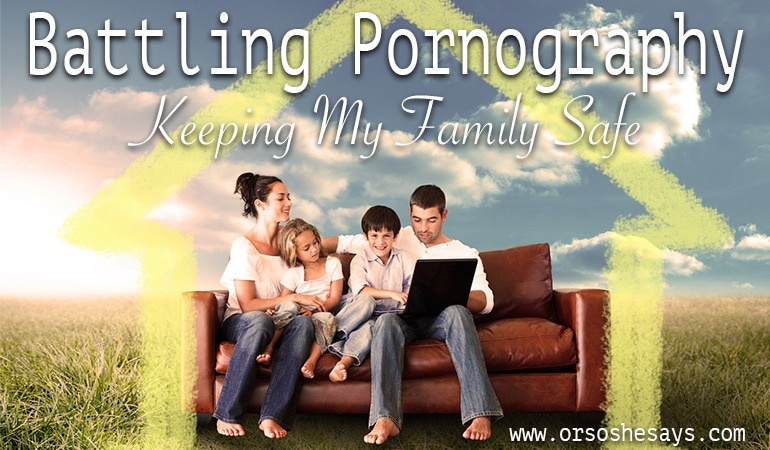 Protecting My Family From Pornography
I don't intend to spout statistics, or pretend as though I am any sort of an expert on this subject. At the same time, I don't think that I need to describe just how damaging porn is, though, indescribably, many would argue with me, claiming it is harmless or in the "right" situations beneficial. The argument favoring porn is duplicitous. Pornography diminishes character. Pornography destroys lives. It destroys relationships. It replaces peace with unrest, contentment with jealousy, compassion with indifference, selflessness with self-gratification, and true love with lust and objectification. I have seen the poison of pornography take its awful toll on some of my dearest friends. I have watched the addiction of pornography and the actions it leads to ruin relationships. Marriages I would have originally thought unable to be shaken have been tested to their very limits and in some cases destroyed by pornography addiction.
I mistakenly thought I could protect my sons indefinitely from pornography. I thought I was doing all the things they told me to do to keep my kids safe. We had the filters in place, passwords were on everything I thought they could access, and I had even set up all the parental controls on their electronic devices. There was no way they were going to stumble on porn… Watching my son sobbing on my wife's shoulder begging for the images he had just seen to leave his mind proved me wrong. The protective arms of a father can only extend so far. In this case they couldn't even extend across the room to keep him safe.
He wasn't out looking for pornography. He was sitting next to his mom on the couch scrolling the feed on one of his soccer hero's social media sites. To him, the link attached to one of the comments was undoubtedly going to send him to another cool video of his hero doing freestyle moves or scoring goals in some magnificent fashion. Instead it dropped him into a web of porn. A string of filthy images were instantly visible and ingested. It lasted all of 5 seconds. The poison of pornography took a mere glance to infect his mind.
All of my sons are going to see pornography. There is no doubt about it. Some day they will either have someone they know shove a screen in their face, or send them a link to a site, trip upon it doing a unrelated search or perhaps, though I shudder at the thought, seek it out themselves. It is a helpless feeling knowing that any one of these scenarios, and perhaps all of them are real possibilities.
My sons are precious to me and as precious as they are to me as sons of our Heavenly Father they are infinitely more valuable to Him. God has blessed me with the wonderful spirits of 4 mighty warriors saved for the day when evil would throw every contrived temptation at them in ways that could never have even been imagined even 20 short years ago. My fledgling sons are each future men capable of winning this war – it is my belief that's why they are here now – they are soldiers.
I am reminded of a scripture in the Book of Mormon where 2000+ young men, none of them seasoned soldiers, who were thrown into vicious battle. Though they were vastly outnumbered, miraculously, none of them fell to their enemy, though many were inflicted with severe wounds. I liken this scripture to the young men and women of our day and for all future generations of children. They are going to battle against the plague of pornography as no generation of this earth before them had to. They have been and will continually be subjected to the filth of pornography in increasingly easy-to-access ways. The battle won't necessarily be keeping them from ever seeing pornography in the first place, it is going to be teaching them what to do if/when they do. They are going be injured. My oldest already has been. But I have faith that he and his brothers can be miraculously spared from destructive potential of pornography if I teach them how. If I can captain them through this battle.
I can see where I have fallen short thus far… I have relied on technology to defend them against technology. I have created a taboo surrounding true discussions on pornography and our culture's view on sexuality in general. I unwittingly have been allowing society to dictate to my children what is normal or acceptable. It was never my intention to do so, but the longer I have avoided the topic, thinking my children to young or naive to be able to handle the discussion, the more I am giving up my ability to set the tone and prepare them to fight this epidemic.
I cannot rely on anything or anyone else to have a greater influence on my children than I do.
There is much more I can do to better defend them against this and all evil. This will require communication and time. I need to truly listen to them and be prepared to hear things I might not want to. I need to be prepared to listen to and counsel a son who might be struggling with pornography. I need to be prepared to ask the hard questions, and discuss the uncomfortable. I need to avoid using shame, guilt, or unnecessary punishment on my child. My children must not be afraid to tell me of what they are seeing or experiencing. I have to be ready to communicate with them things that aren't always easy for guys to discuss: feelings. I need to know how they feel. I need to resist the typical man reaction of trying to provide instant solutions to the conflict they might be having. They need and will continue to need my time and ear. More than anything they need to know they are loved and accepted by me, in spite of their struggles.
I need my children to know that righteous living is freedom. Pornography addiction is bondage. True freedom and contentment in this life comes with the ability to choose. Addiction diminishes the ability of an individual to make good choices. Pornography is addicting and is not a harmless right-of-passage into adulthood. Those who participate in pornography are relinquishing their claim on self-control and a lack of such is the opposite of true agency.
Wickedness never was or will be happiness.
When our son fell victim to pornography it was by accident. He was distraught and frightened by what he saw. Tearfully, we prayed together that those images would leave his mind. Thankfully, it appears as though our prayer was answered. At some point it will be different. When the time comes that one of my children purposefully gives into temptation of pornography they need to understand there is a way back. Satan may wound my tender warriors but he can be beaten! They need to have faith in Christ to sustain them if injured. They need to know that there is forgiveness and healing. At that time they will need to have and nurture a relationship with their Savior. He will reach to them and pull them out of the peril and darkness, just as he did with my oldest son. His arm is always stretched out to those who fall. He will dress their wounds. He has already purchased them with his blood. He knows His sheep and the paths they choose to wander.
He will lead them back into healing.
My sons are my life. I'm thankful I have the opportunity to parent them. It is a daunting responsibility. They are going to be tested in such a different manner than I was at their age – once again, I repeat, I KNOW they are up to the challenge. I pray they will prepare themselves to answer the clarion call of our Master to arm themselves and go to battle against this evil. As their chief-captain in this life, I vow to stand with them and hoist my sword in their defense, and in defense of my Lord Jesus Christ. I look forward to the glorious day of His return when he will banish evil and heal those who have endured injury fighting for His cause.
OSSS Note: For those struggling with pornography addictions, have a family member who is struggling, or want further insight on the dangers of pornography, a powerful addiction recovery video series was just released last month. Each of the 12 videos touch on different types of addiction, the damage they cause, and the real hope of recovery. We invite you to take the time to watch and share them with your family and friends. This is the first video, which addresses pornography:
If you liked this post on protecting the family from pornography, check these out too!
Ashamed No More ~ Let Your Light So Shine
General Conference Family Home Evening