For our homeschool, I'm always looking for great read-aloud books for my older kids. Usually what comes to mind is Harry Potter, the Boxcar Children, and some of the classics. But, I really wanted some great book ideas I hadn't thought of before, so I asked my favorite ladies on the 'Or so she says…' Facebook page! I always get the best answers from them, so I thought I would share them with you. I've got so many great books in my shopping cart right now that I can't wait to read out loud to the kids.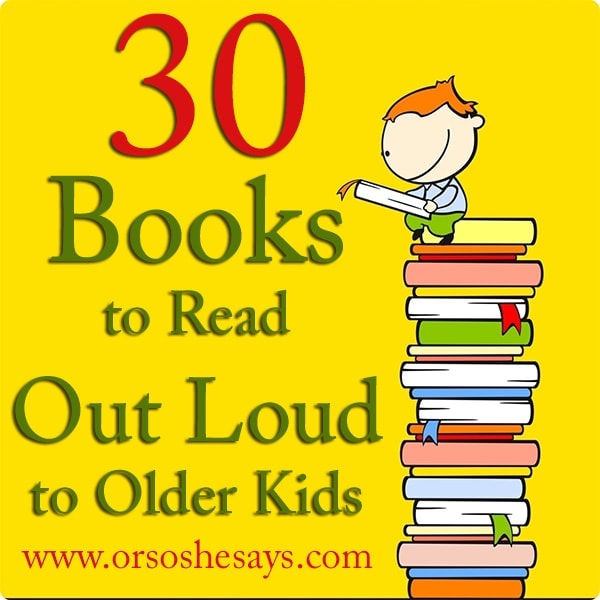 Want to hear all the great suggestions from moms of older kids?? Here you go!
30 Books to Read Out Loud to Older Kids
Danny the Champion of the World by Roald Dahl ~ Danny has a life any boy would love—his home is a gypsy caravan, he's the youngest master car mechanic around, and his best friend is his dad, who never runs out of wonderful stories to tell. But one night Danny discovers a shocking secret that his father has kept hidden for years. Soon Danny finds himself the mastermind behind the most incredible plot ever attempted against nasty Victor Hazell, a wealthy landowner with a bad attitude. Can they pull it off? If so, Danny will truly be the champion of the world.
Rowan of Rin by Emily Rodda ~ Rowan doesn't believe he has a brave heart. But when the river that supports his village of Rin runs dry, he must join a dangerous journey to its source in the forbidden Mountain. To save Rin, Rowan and his companions must conquer not only the Mountain's many tricks, but also the fierce dragon that lives at its peak.
The Mouse and the Motorcycle by Beverly Cleary ~ In this imaginative adventure from Newbery Medal-winning author Beverly Cleary, a young mouse named Ralph is thrown into a world of excitement when a boy and his shiny toy motorcycle check into the Mountain View Inn.
When the ever-curious Ralph spots Keith's red toy motorcycle, he vows to ride it. So when Keith leaves the bike unattended in his room one day, Ralph makes his move. But with all this freedom (and speed!) come a lot of obstacles. Whether dodging a rowdy terrier or keeping his nosy cousins away from his new wheels, Ralph has a lot going on! With a pal like Keith always looking out for him, there's nothing this little mouse can't handle.
I Survived series by Lauren Tarshis ~ During the infamous eruption of Mount Vesuvius, one boy struggles to escape. Can he survive the most devastating disaster of ancient times?
In this thrilling addition to the bestselling I SURVIVED series, readers are taken back to antiquity with a young boy trying to escape as the giant Mount Vesuvius erupts. Does he have what it takes to survive the epic destruction of Pompeii?
City of Ember by Jeanne DuPrau ~ The city of Ember was built as a last refuge for the human race. Two hundred years later, the great lamps that light the city are beginning to flicker. When Lina finds part of an ancient message, she's sure it holds a secret that will save the city. She and her friend Doon must decipher the message before the lights go out on Ember forever! This stunning debut novel offers refreshingly clear writing and fascinating, original characters.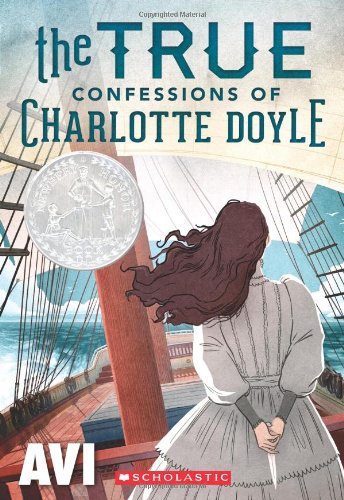 The True Confessions of Charlotte Doyle by Avi ~ Thirteen-year-old Charlotte Doyle is excited to return home from her school in England to her family in Rhode Island in the summer of 1832.
But when the two families she was supposed to travel with mysteriously cancel their trips, Charlotte finds herself the lone passenger on a long sea voyage with a cruel captain and a mutinous crew. Worse yet, soon after stepping aboard the ship, she becomes enmeshed in a conflict between them! What begins as an eagerly anticipated ocean crossing turns into a harrowing journey, where Charlotte gains a villainous enemy . . . and is put on trial for murder!
The World According to Humphrey by Betty G. Birney ~ You can learn a lot about life by observing another species. That's what Humphrey was told when he was first brought to Room 26. And boy, is it true! In addition to having FUN-FUN-FUN in class, each weekend this amazing hamster gets to sleep over with a different student, like Lower-Your-Voice-A.J. and Speak-Up-Sayeh. Soon Humphrey learns to read, write, and even shoot rubber bands (only in self-defense, of course). With lots of friends to help, adventures to enjoy, and a cage with a lock-that-doesn't- lock, Humphrey's life is almost perfect. If only the teacher, Mrs. Brisbane, wasn't out to get him!
Fablehaven by Brandon Mull ~ Kendra and her brother, Seth, have no idea that their grandfather is the current caretaker of Fablehaven. Inside the gated woods, ancient laws keep relative order among the greedy trolls, mischievous satyrs, plotting witches, spiteful imps, and jealous fairies. But when the rules get broken, powerful forces are unleashed, and Kendra and her brother face the greatest challenge of their lives. To save their family, Fablehaven, and maybe even the world, Kendra and Seth must find the courage to do what they fear most…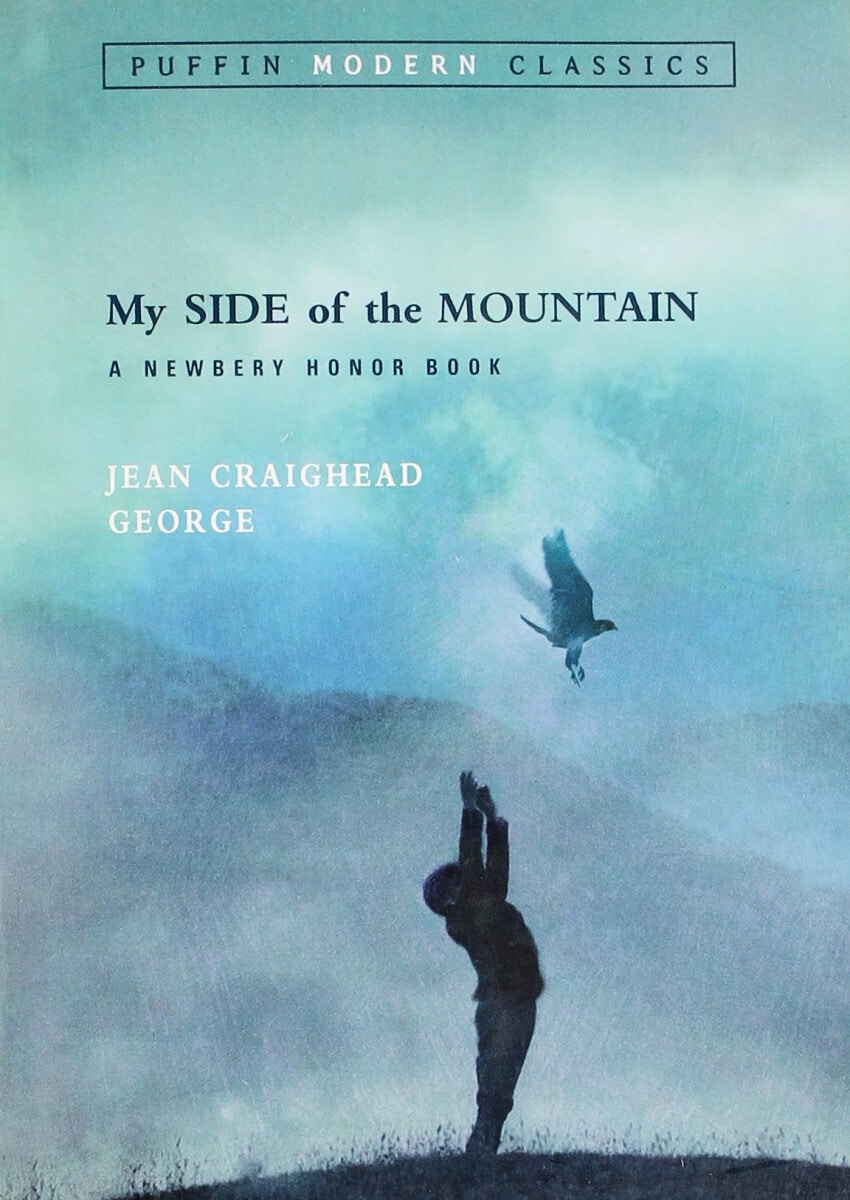 My Side of the Mountain by Jean Craighead George ~ Terribly unhappy in his family's crowded New York City apartment, Sam Gribley runs away to the solitude-and danger-of the mountains, where he finds a side of himself he never knew.
Peter and the Star Catchers by Dave Barry and Ridley Pearson ~ Don't even think of starting this book unless you're sitting in a comfortable chair and have lots of time. Afast-paced, impossible-to-put-down adventure awaits as the young orphan Peter and his mates are dispatched to an island ruled by the evil King Zarboff. They set sail aboard the NeverLand, a ship carrying a precious and mysterious trunk in its cargo hold, and the journey quickly becomes fraught with excitement and danger.
Shiloh by Phyllis Reynolds Naylor ~ Marty will do anything to save his new friend Shiloh in this Newbery Medal–winning novel from Phillis Reynolds Naylor.
When Marty Preston comes across a young beagle in the hills behind his home, it's love at first sight—and also big trouble. It turns out the dog, which Marty names Shiloh, belongs to Judd Travers, who drinks too much and has a gun—and abuses his dogs. So when Shiloh runs away from Judd to Marty, Marty just has to hide him and protect him from Judd. But Marty's secret becomes too big for him to keep to himself, and it exposes his entire family to Judd's anger. How far will Marty have to go to make Shiloh his?
The Gates of Atlantis series by Wendy Knight ~ Thirteen-year-old half-breed banshee, Seven, likes her life. She leads souls safely to Death and she has the planet's most awesome dad and little brother. But a cryptic message from Atlantis asking for her help changes all that. And then there's Death, who has decided it's time to take her brother's soul. Now she's racing across the world, trying to stay one step ahead of Death. Unfortunately, getting to Atlantis from Ireland isn't easy, and there are evil minions determined to keep her away every time she turns around. But fighting for their lives teaches Seven one very important lesson—she isn't human, and she isn't a banshee. She has to be both if she wants to save her brother and make it back home alive.
The Mistmantle Chronicles by M.I. McAllister ~ The island of Mistmantle is in turmoil. The king and queen are loosing authority over their people and behind the scenes a wicked pair are determined to take control. With a cruel regime of culling the weak and depriving the whole population of basic necessities, this scheming husband and wife team look set to realise their awful ambitions. But to ignore the power of the people is a big mistake. Ancient prophecies combine with radical action to ensure that Lord Husk and Lady Aspen do not achieve their wicked goals.
The Halloween Tree by Ray Bradbury ~ "A fast-moving, eerie…tale set on Halloween night. Eight costumed boys running to meet their friend Pipkin at the haunted house outside town encounter instead the huge and cadaverous Mr. Moundshroud. As Pipkin scrambles to join them, he is swept away by a dark Something, and Moundshroud leads the boys on the tail of a kite through time and space to search the past for their friend and the meaning of Halloween. After witnessing a funeral procession in ancient Egypt, cavemen discovering fire, Druid rites, the persecution of witches in the Dark Ages, and the gargoyles of Notre Dame, they catch up with the elusive Pipkin in the catacombs of Mexico, where each boy gives one year from the end of his life to save Pipkin's. Enhanced by appropriately haunting black-and-white drawings."–Booklist
Janitors by Tyler Whitesides ~ Have you ever fallen asleep during math class? Are you easily distracted while listening to your English teacher? Do you find yourself completely uninterested in geography? Well, it may not be your fault. The janitors at Welcher Elementary know a secret, and it s draining all the smarts out of the kids. Twelve-year-old Spencer Zumbro, with the help of his classmate Daisy Gullible Gates, must fight with and against a secret, janitorial society that wields wizard-like powers. Who can Spencer and Daisy trust and how will they protect their school and possibly the world? Janitors is book 1 in a new children s fantasy series by debut novelist Tyler Whitesides. You ll never look at a mop the same way again.
Summer of the Monkeys by Wilson Rawls ~ The last thing a fourteen-year-old boy expects to find along an old Ozark river bottom is a tree full of monkeys. Jay Berry Lee's grandpa had an explanation, of course–as he did for most things. The monkeys had escaped from a traveling circus, and there was a handsome reward in store for anyone who could catch them. Grandpa said there wasn't any animal that couldn't be caught somehow, and Jay Berry started out believing him . . .
But by the end of the "summer of the monkeys," Jay Berry Lee had learned a lot more than he ever bargained for–and not just about monkeys. He learned about faith, and wishes coming true, and knowing what it is you really want. He even learned a little about growing up . . .
The Famous Five by Enid Blyton ~ The very first Famous Five adventure, featuring Julian, Dick, Anne, not forgetting tomboy George and her beloved dog, Timmy! There's a shipwreck off Kirrin Island! But where is the treasure? The Famous Five are on the trail – looking for clues – but they're not alone! Someone else has got the same idea. Time is running out for the Famous Five, who will follow the clues and get to the treasure first? These classic editions feature Enid Blyton's unchanged text and Eileen A. Soper's original illustrations.
The Emerald Atlas series by John Stephens ~ Three siblings have been in one orphanage after another for the last ten years, passed along like lost baggage. Yet these unwanted children are more remarkable than they could possibly imagine. Ripped from their parents as babies, they are being protected from a horrible evil of devastating power, an evil they know nothing about.

Until now. Before long, Kate, Michael, and Emma are on a journey through time to dangerous and secret corners of the world…a journey of allies and enemies, of magic and mayhem. And—if an ancient prophesy is correct—what they do can change history, and it is up to them to set things right.
Wonder by R.J. Palacio ~ August Pullman was born with a facial difference that, up until now, has prevented him from going to a mainstream school. Starting 5th grade at Beecher Prep, he wants nothing more than to be treated as an ordinary kid—but his new classmates can't get past Auggie's extraordinary face.
Leven Thumps series by Obert Skye ~ Fourteen-year-old Leven Thumps (a.k.a. "Lev") lives a wretched life in Burnt Culvert, Oklahoma. But his life is about to change and his destiny be fulfilled as he learns about a secret gateway that bridges two worlds — the real world and Foo, a place created at the at the beginning of time in the folds of the mind that makes it possible for mankind to dream and hope, aspire and imagine. But Foo is in chaos, and three transplants from that dreamworld have been sent to retrieve Lev, who alone has the power to save Foo.
Enter Clover, a wisecracking, foot-high sidekick; Winter, a girl with a special power of her own; and Geth, the rightful heir to Foo. Their mission: to convince Lev that he has the power to save Foo. Can this unique band of travelers help Lev overcome his doubt? Will Lev find the gateway in time? Or will Sabine and his dark shadows find the gateway first and destroy mankind?
My Brother Sam is Dead by James Lincoln Collier & Christopher Collier ~ All his life, Tim Meeker has looked up to his brother Sam. Sam's smart and brave — and is now a part of the American Revolution. Not everyone in town wants to be a part of the rebellion. Most are supporters of the British — including Tim and Sam's father.
With the war soon raging, Tim know he'll have to make a choice — between the Revolutionaries and the Redcoats . . . and between his brother and his father.
The Land of Stories by Chris Colfer ~ After decades of hiding, the evil Enchantress who cursed Sleeping Beauty is back with a vengeance.
Alex and Conner Bailey have not been back to the magical Land of Stories since their adventures in The Wishing Spell ended. But one night, they learn the famed Enchantress has kidnapped their mother! Against the will of their grandmother, the twins must find their own way into the Land of Stories to rescue their mother and save the fairy tale world from the greatest threat it's ever faced.
Red Sails to Capri
by Ann Weil ~
Can three strangers, each on a separate quest, solve the mystery of the island?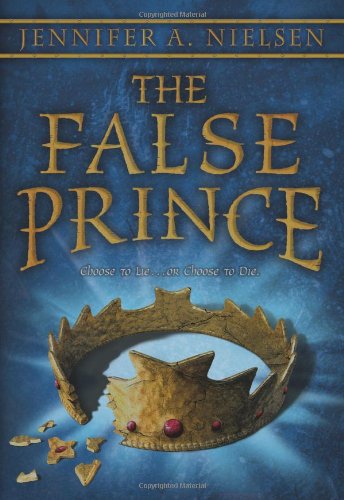 The False Prince by Jennifer A. Nielsen ~ In this first book in a remarkable trilogy, an orphan is forced into a twisted game with deadly stakes. Choose to lie…or choose to die.
In a discontent kingdom, civil war is brewing. To unify the divided people, Conner, a nobleman of the court, devises a cunning plan to find an impersonator of the king's long-lost son and install him as a puppet prince. Four orphans are recruited to compete for the role, including a defiant boy named Sage. Sage knows that Conner's motives are more than questionable, yet his life balances on a sword's point — he must be chosen to play the prince or he will certainly be killed. But Sage's rivals have their own agendas as well.
As Sage moves from a rundown orphanage to Conner's sumptuous palace, layer upon layer of treachery and deceit unfold, until finally, a truth is revealed that, in the end, may very well prove more dangerous than all of the lies taken together.
Michael Vey by Richard Paul Evans ~ To everyone at Meridian High School, fourteen-year-old Michael Vey is nothing special, just the kid who has Tourette's syndrome. But in truth, Michael is extremely special—he has electric powers. Michael thinks he is unique until he discovers that a cheerleader named Taylor has the same mysterious powers. With the help of Michael's friend, Ostin, the three of them set out to discover how Michael and Taylor ended up with their abilities, and their investigation soon brings them to the attention of a powerful group who wants to control the electric teens—and through them, the world.
Spirit Animals by Brandon Mull ~ Four children separated by vast distances all undergo the same ritual, watched by cloaked strangers. Four flashes of light erupt, and from them emerge the unmistakable shapes of incredible beasts — a wolf, a leopard, a panda, a falcon. Suddenly the paths of these children — and the world — have been changed forever.
Enter the world of Erdas, where every child who comes of age must discover if they have a spirit animal, a rare bond between human and beast that bestows great powers to both. A dark force has risen from distant and long-forgotten lands, and has begun an onslaught that will ravage the world. Now the fate of Erdas has fallen on the shoulders of four young strangers . . . and on you.
The Candy Shop War by Brandon Mull ~ Welcome to the Sweet Tooth Ice Cream & Candy Shoppe, where the confections are a bit on the…unusual side. In this start to the series, four young friends—Nate, Summer, Trevor, and Pigeon—meet the grandmotherly Mrs. White, owner of the Sweet Tooth, and soon learn about the magical side effects of her candies: Rock candy that makes you weightless. Jawbreakers that make you unbreakable. Chocolate balls that make you a master of disguise.
In addition, the ice cream truck driver, Mr. Stott, has arrived with a few enchanted sweets of his own. But what about the mysterious man in the dark overcoat and fedora hat? And why are all these "magicians" trying to recruit Nate and his friends? Who can they trust?
The mystery deepens and the danger unfolds as the four of them discover that the magical strangers have all come to town in search of a legendary, hidden treasure—one that could be used for great evil if it fell into the wrong hands. The kids, now in over their heads, must try to retrieve the treasure first. And so, the war begins…
Because of Mr. Terupt by Rob Buyea ~ It's the start of fifth grade for seven kids at Snow Hill School. There's . . . Jessica, the new girl, smart and perceptive, who's having a hard time fitting in; Alexia, a bully, your friend one second, your enemy the next; Peter, class prankster and troublemaker; Luke, the brain; Danielle, who never stands up for herself; shy Anna, whose home situation makes her an outcast; and Jeffrey,who hates school.

Only Mr. Terupt, their new and energetic teacher, seems to know how to deal with them all. He makes the classroom a fun place, even if he doesn't let them get away with much . . . until the snowy winter day when an accident changes everything—and everyone.
A Long Walk to Water by Linda Sue Park ~ The New York Times bestseller A Long Walk to Water begins as two stories, told in alternating sections, about two eleven-year-olds in Sudan, a girl in 2008 and a boy in 1985. The girl, Nya, is fetching water from a pond that is two hours' walk from her home: she makes two trips to the pond every day. The boy, Salva, becomes one of the "lost boys" of Sudan, refugees who cover the African continent on foot as they search for their families and for a safe place to stay. Enduring every hardship from loneliness to attack by armed rebels to contact with killer lions and crocodiles, Salva is a survivor, and his story goes on to intersect with Nya's in an astonishing and moving way.
Out of My Mind by Sharon M. Draper ~ Melody is not like most people. She cannot walk or talk, but she has a photographic memory; she can remember every detail of everything she has ever experienced. She is smarter than most of the adults who try to diagnose her and smarter than her classmates in her integrated classroom—the very same classmates who dismiss her as mentally challenged, because she cannot tell them otherwise. But Melody refuses to be defined by cerebral palsy. And she's determined to let everyone know it…somehow.
Want more book suggestions for kids?? Check out these posts!
100 Great Books for Older Kids
100 Great Books for Younger Kids