There are so many awesome scriptures on faith, but before I get to sharing them with you, I actually want to share the lyrics to a sweet little song that the children in my church sing. It teaches about how we need to trust in the Lord and live by faith, so we can live with Him again.
'Faith is knowing the sun will rise, lighting each new day. Faith is knowing the Lord will hear my prayers each time I pray. Faith is like a little seed, if planted it will grow. Faith is a swelling within my heart, when I do right, I know.
Faith is knowing I lived with God before my mortal birth. Faith is knowing I can return when my life ends on earth. Faith is trust in God above, in Christ who showed the way. Faith is strengthened, I feel it grow, whenever I obey.'
~ Beatrice Goff Jackson
I love that song so much! There really is so much value and comfort in simply trusting God, trusting that He's there and knows better than we do. It's been such a blessing to seek out and read through all of these scriptures on faith, as I've thought of things I've never considered before… things I need to work on to improve myself, to grow my faith and receive the promised blessings. Not only is it important to have faith in God, but to also live by faith and work on increasing our faith.
Do you have a favorite scripture about faith? I would love for you to share it in the comments. Now, please enjoy some of the very best scriptures on faith.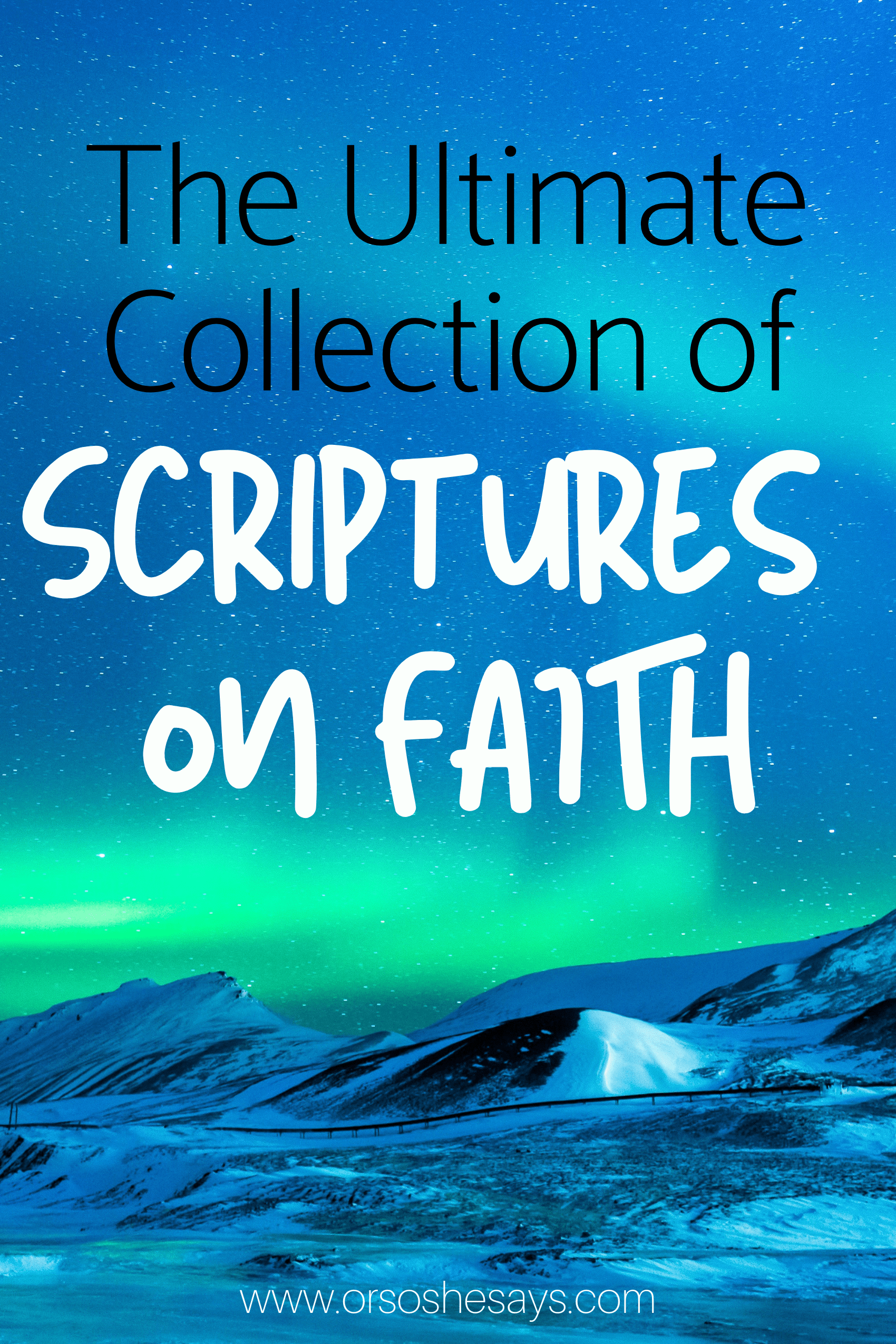 The Ultimate Collection of Scriptures on Faith
Old Testament Bible Scriptures on Faith
Behold, his soul which is lifted up is not upright in him: but the just shall live by his faith.
– Habakkuk 2:4
And he said, I will hide my face from them, I will see what their end shall be: for they are a very froward generation, children in whom is no faith.
– Deuteronomy 32:20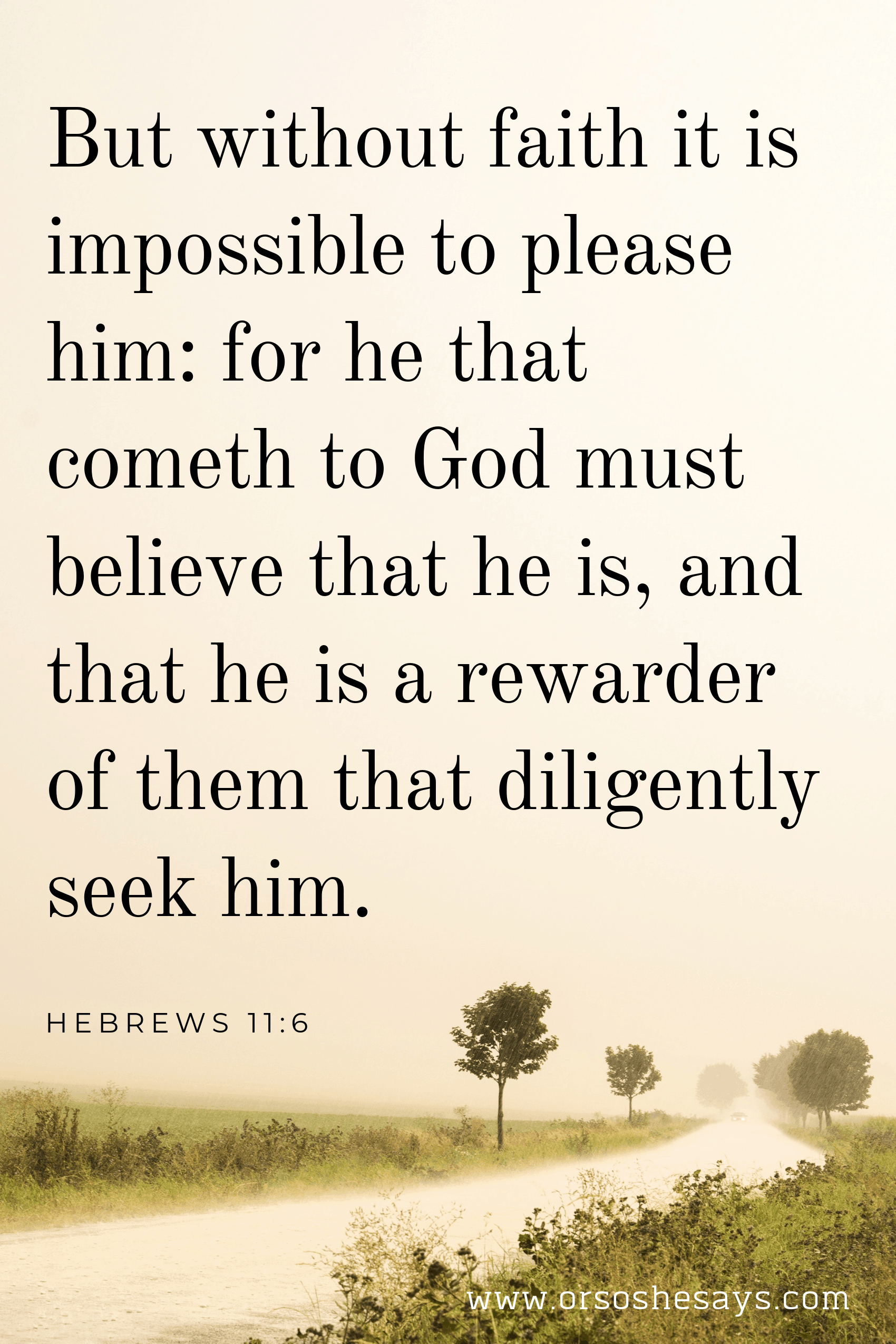 New Testament Scriptures on Faith in God
Verily, verily, I say unto you, He that believeth on me, the works that I do shall he do also; and greater works than these shall he do; because I go unto my Father.
– John 14:12
Be it known unto you all, and to all the people of Israel, that by the name of Jesus Christ of Nazareth, whom ye crucified, whom God raised from the dead, even by him doth this man stand here before you whole.
This is the stone which was set at nought of you builders, which is become the head of the corner.
Neither is there salvation in any other: for there is none other name under heaven given among men, whereby we must be saved.
–Acts 4: 10-12
Now faith is the substance of things hoped for, the evidence of things not seen.
– Hebrews 11:1
Through faith we understand that the worlds were framed by the word of God, so that things which are seen were not made of things which do appear.
– Hebrews 11:3
But without faith it is impossible to please him: for he that cometh to God must believe that he is, and that he is a rewarder of them that diligently seek him.
– Hebrews 11:6
Let us hold fast the profession of our faith without wavering; (for he is faithful that promised;)
– Hebrews 10:23
Now the just shall live by faith: but if any man draw back, my soul shall have no pleasure in him. But we are not of them who draw back unto perdition; but of them that believe to the saving of the soul.
– Hebrews 10:38–39
Moreover it is required in stewards, that a man be found faithful.
– 1 Corinthians 4:2
Watch ye, stand fast in the faith, quit you like men, be strong.
– 1 Corinthians 16:13
So then faith cometh by hearing, and hearing by the word of God.
– Romans 10:17
Wherefore the law was our schoolmaster to bring us unto Christ, that we might be justified by faith. But after that faith is come, we are no longer under a schoolmaster. For ye are all the children of God by faith in Christ Jesus.
– Galatians 3:24–26
For therein is the righteousness of God revealed from faith to faith: as it is written, The just shall live by faith.
– Romans 1:17
Yea, a man may say, Thou hast faith, and I have works: shew me thy faith without thy works, and I will shew thee my faith by my works.
– James 2:18
Knowing that a man is not justified by the works of the law, but by the faith of Jesus Christ, even we have believed in Jesus Christ, that we might be justified by the faith of Christ, and not by the works of the law: for by the works of the law shall no flesh be justified.
– Galatians 2:16
Let no man despise thy youth; but be thou an example of the believers, in word, in conversation, in charity, in spirit, in faith, in purity.
– 1 Timothy 4:12
But thou, O man of God, flee these things; and follow after righteousness, godliness, faith, love, patience, meekness. Fight the good fight of faith, lay hold on eternal life, whereunto thou art also called, and hast professed a good profession before many witnesses.
– 1 Timothy 6:11–12
Flee also youthful lusts: but follow righteousness, faith, charity, peace, with them that call on the Lord out of a pure heart.
– 2 Timothy 2:22
For by grace are ye saved through faith; and that not of yourselves: it is the gift of God: not of works, lest any man should boast.
– Ephesians 2:8–9
But let us, who are of the day, be sober, putting on the breastplate of faith and love; and for an helmet, the hope of salvation.
– 1 Thessalonians 5:8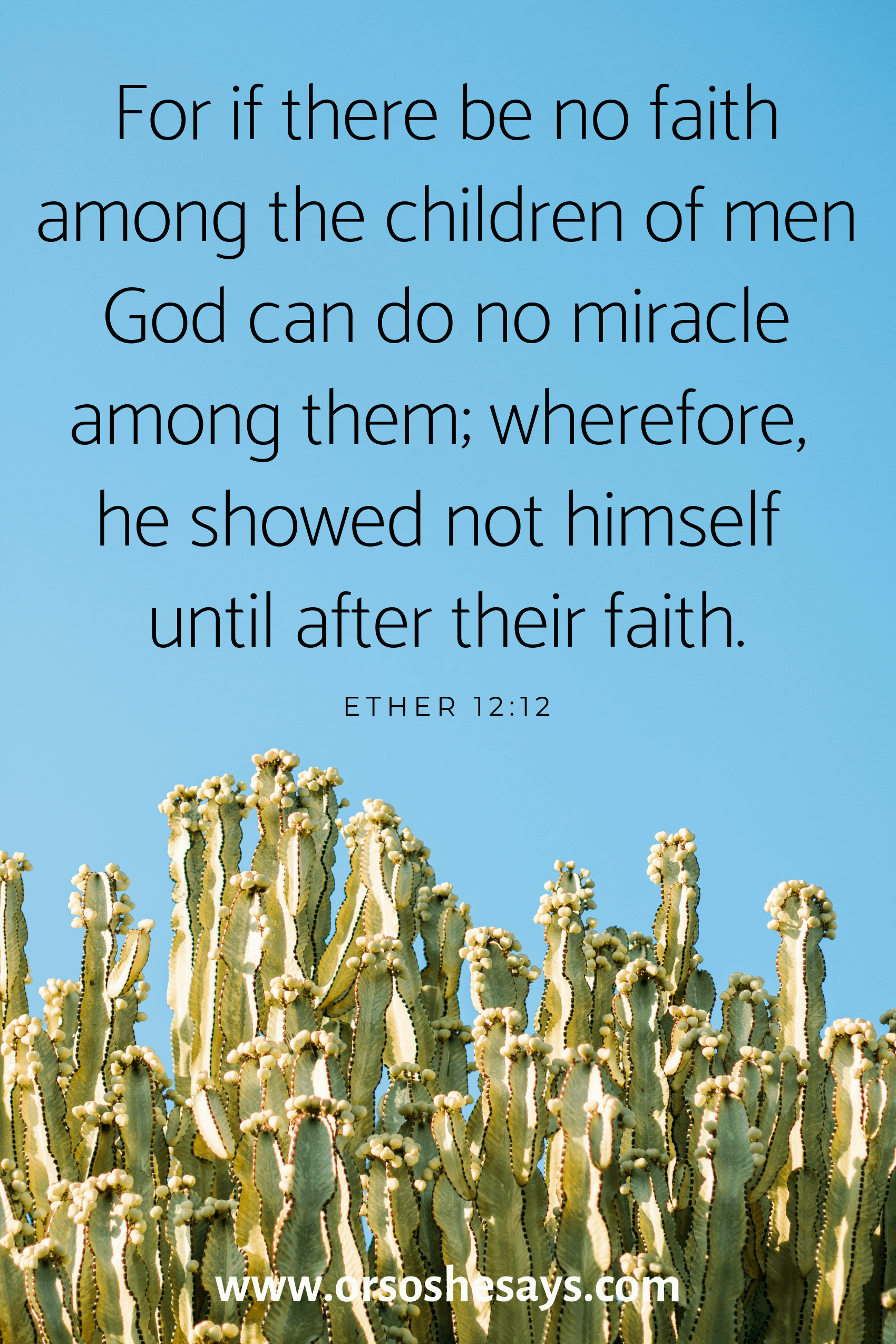 Book of Mormon Scriptures on Faithfulness
And it came to pass that the Lord spake unto me, saying: Blessed art thou, Nephi, because of thy faith, for thou hast sought me diligently, with lowliness of heart.
– 1 Nephi 2:19
Yea, and how is it that ye have forgotten that the Lord is able to do all things according to his will, for the children of men, if it so be that they exercise faith in him? Wherefore, let us be faithful to him.
– 1 Nephi 7:12
And now, my beloved brethren, after ye have gotten into this strait and narrow path, I would ask if all is done? Behold, I say unto you, Nay; for ye have not come thus far save it were by the word of Christ with unshaken faith in him, relying wholly upon the merits of him who is mighty to save.
– 2 Nephi 31:19
And moreover, I say unto you, that there shall be no other name given nor any other way nor means whereby salvation can come unto the children of men, only in and through the name of Christ, the Lord Omnipotent.
– Mosiah 3:17
And he shall go forth, suffering pains and afflictions and temptations of every kind; and this that the word might be fulfilled which saith he will take upon him the pains and the sicknesses of his people.
And he will take upon him death, that he may loose the bands of death which bind his people; and he will take upon him their infirmities, that his bowels may be filled with mercy, according to the flesh, that he may know according to the flesh how to succor his people according to their infirmities.
– Alma 7:11-12
And now as I said concerning faith—faith is not to have a perfect knowledge of things; therefore if ye have faith ye hope for things which are not seen, which are true.
– Alma 32:21
Now, as I said concerning faith—that it was not a perfect knowledge—even so it is with my words. Ye cannot know of their surety at first, unto perfection, any more than faith is a perfect knowledge.
– Alma 32:26
But if ye will nourish the word, yea, nourish the tree as it beginneth to grow, by your faith with great diligence, and with patience, looking forward to the fruit thereof, it shall take root; and behold it shall be a tree springing up unto everlasting life.
– Alma 32:41
And because of your diligence and your faith and your patience with the word in nourishing it, that it may take root in you, behold, by and by ye shall pluck the fruit thereof, which is most precious, which is sweet above all that is sweet, and which is white above all that is white, yea, and pure above all that is pure; and ye shall feast upon this fruit even until ye are filled, that ye hunger not, neither shall ye thirst.
– Alma 32:42
And thus mercy can satisfy the demands of justice, and encircles them in the arms of safety, while he that exercises no faith unto repentance is exposed to the whole law of the demands of justice; therefore only unto him that has faith unto repentance is brought about the great and eternal plan of redemption.
– Alma 34:16
And behold, there were divers ways that he did manifest things unto the children of men, which were good; and all things which are good cometh of Christ; otherwise men were fallen, and there could no good thing come unto them.
Wherefore, by the ministering of angels, and by every word which proceeded forth out of the mouth of God, men began to exercise faith in Christ; and thus by faith, they did lay hold upon every good thing; and thus it was until the coming of Christ.
And after that he came men also were saved by faith in his name; and by faith, they become the sons of God. And as surely as Christ liveth he spake these words unto our fathers, saying: Whatsoever thing ye shall ask the Father in my name, which is good, in faith believing that ye shall receive, behold, it shall be done unto you.
– Moroni 7:24-26
Behold I say unto you, Nay; for it is by faith that miracles are wrought; and it is by faith that angels appear and minister unto men; wherefore, if these things have ceased wo be unto the children of men, for it is because of unbelief, and all is vain.
For no man can be saved, according to the words of Christ, save they shall have faith in his name; wherefore, if these things have ceased, then has faith ceased also; and awful is the state of man, for they are as though there had been no redemption made.
But behold, my beloved brethren, I judge better things of you, for I judge that ye have faith in Christ because of your meekness; for if ye have not faith in him then ye are not fit to be numbered among the people of his church.
– Moroni 7:37–39
And when ye shall receive these things, I would exhort you that ye would ask God, the Eternal Father, in the name of Christ, if these things are not true; and if ye shall ask with a sincere heart, with real intent, having faith in Christ, he will manifest the truth of it unto you, by the power of the Holy Ghost.
– Moroni 10:4
Wherefore, there must be faith; and if there must be faith there must also be hope; and if there must be hope there must also be charity
– Moroni 10:20
And Christ truly said unto our fathers: If ye have faith ye can do all things which are expedient unto me.
– Moroni 10:23
And now, I, Moroni, would speak somewhat concerning these things; I would show unto the world that faith is things which are hoped for and not seen; wherefore, dispute not because ye see not, for ye receive no witness until after the trial of your faith.
– Ether 12:6
For if there be no faith among the children of men God can do no miracle among them; wherefore, he showed not himself until after their faith.
– Ether 12:12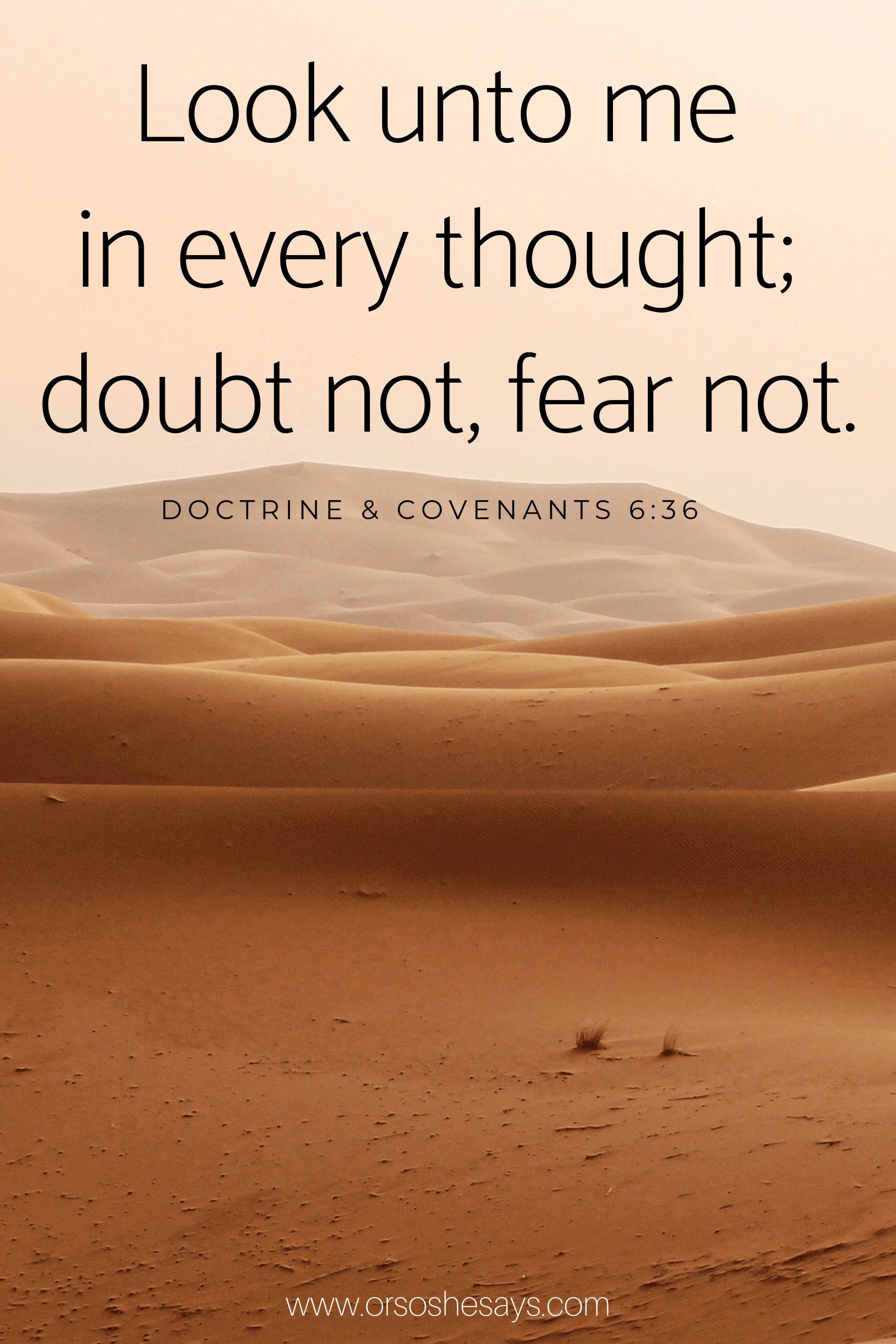 Doctrine and Covenants & Pearl of Great Price Faith in God Verses
Look unto me in every thought; doubt not, fear not.
– Doctrine and Covenants 6:36
Remember that without faith you can do nothing; therefore ask in faith. Trifle not with these things; do not ask for that which you ought not.
– Doctrine and Covenants 8:10
And no one can assist in this work except he shall be humble and full of love, having faith, hope, and charity, being temperate in all things, whatsoever shall be entrusted to his care.
– Doctrine and Covenants 12:8
Behold, verily, verily, I say unto you, this is my gospel; and remember that they shall have faith in me or they can in nowise be saved.
– Doctrine and Covenants 33:12
And whoso shall ask it in my name in faith, they shall cast out devils; they shall heal the sick; they shall cause the blind to receive their sight, and the deaf to hear, and the dumb to speak, and the lame to walk.
– Doctrine and Covenants 35:9
To learn more about my personal faith, click here:
Free Book of Mormon and Picture of Christ
If you loved these scriptures on faith, check out:
The Ultimate Collection of Faith Quotes
Walk by Faith Family Night Lesson
Nourishing the Seed of Our Faith ~ Family Planting Activity
A couple favorite videos about faith: