You're going to love this chicken and stuffing bake! It's Jamie from Prepared Housewives, stopping by to share my Favorite Freezer Meal with you! I'm a part of a freezer meal group in my area, and they're probably ready to kick me out because I bring this meal to exchange all the time – but it's just soooo good I can't help myself. I feel like I'm cheating a little, because it's almost too easy to make! For example, this week we held our exchange and I made 8 of these meals in less than 30 minutes (yeah, I'm pretty sure that's cheating)!
Swiss Cheese Chicken and Stuffing Bake is also one of those meals that's great to take to new moms or picky eaters, because it doesn't have any of the common "I HATE THESE" ingredients in it – like mushrooms, onions, sour cream, or anything green (the things my kids complain about most).
All right, let's get cooking…
Swiss Cheese Chicken and Stuffing Bake
This meal consists of just layering ingredients. If you have a few kids hanging around, have them join in and form an assembly line! You'll be done in no time!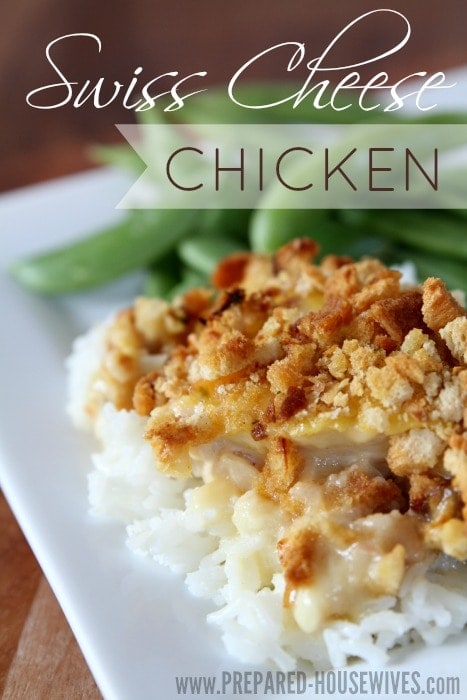 A FEW ITEMS TO HAVE ON HAND (Canned chicken is optional, if you don't want to use BS chicken breasts.)
 Full Size Disposable Pan
 Full Size Disposable Lids
 Stove Top Chicken Stuffing Mix, 6 oz
 Campbell's, Condensed Cream of Chicken Soup, 10.5oz Can (Pack of 6)
 Kirkland Signature chicken breast, packed in water, premium chunk, 6 12.5-ounce cans
INSTRUCTIONS:
Gather ingredients!
Cover bottom of pan with Chicken. You can leave the breasts whole, or cut as small as you like. You can even make this with about 2lbs of canned chicken  – it's not as scary as it seems ;
Layer 6 slices of Swiss Cheese on top of the chicken (I actually tried out Pepper Jack this time, so feel free to mix it up too)!
Mix the Cream of Chicken with 1/4 cup of Milk – You can also add more milk to have more of a sauce, whatever you prefer.
Pour the Cream of Chicken Mixture over the Cheese.
Sprinkle Stove Top Stuffing Mix over the top!
Drizzle 1/4 cup melted Butter over the Stuffing mix!

That's it! Now you throw it (or place it gently) in the oven and bake it at 350 for 45-60 minutes (or until the meat is cooked through).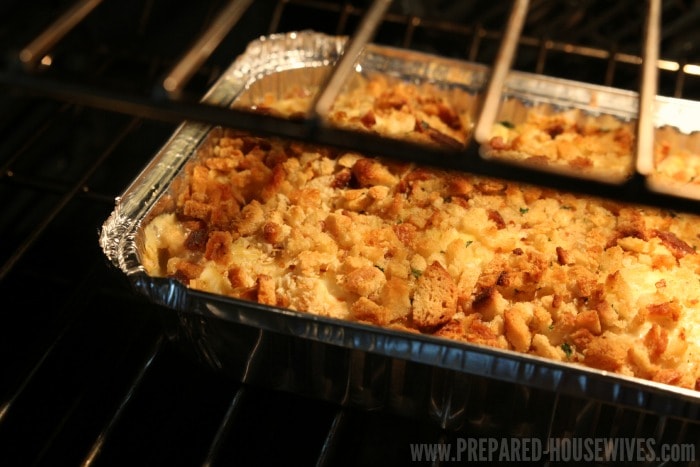 Once it's done cooking, serve over rice and eat until your tummy's happy!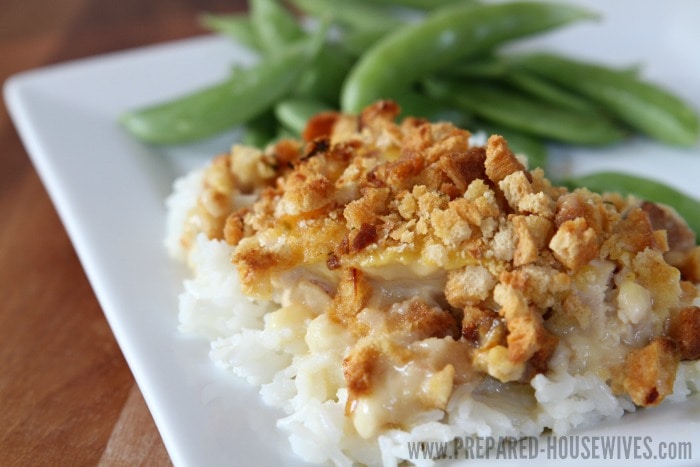 Make it a Freezer Meal!
In conclusion, if you want to turn this into a freezer meal for later or look like a super-mom and give it to someone, make sure to STOP after you put the cream of chicken mixture on top. You don't want to put the Stove Top Stuffing Mix on or it will get nice and soggy while it sits in the freezer. If you're an over-achiever make sure to add some rice to the meal with the directions on it 😉 Nothings more annoying then making a meal and realizing you're missing a key ingredient. You could also substitute the rice for noodles, but this definitely tastes even better when it's over something.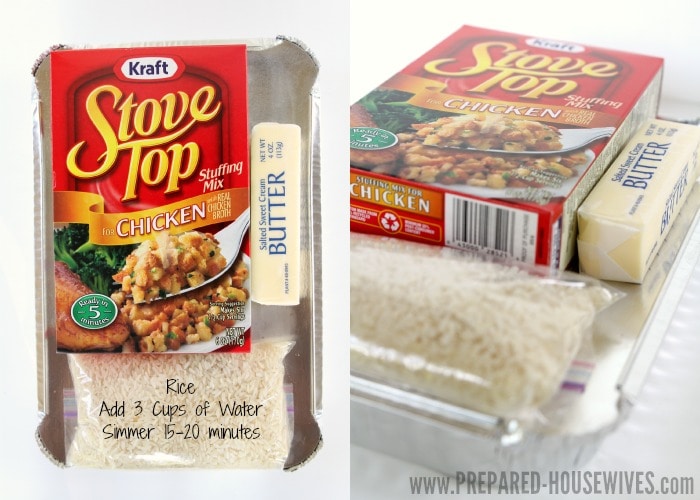 P.S. Please ignore the fact my freezer needs a major defrosting party! AND, speaking of freezer meals, OSSS is big into emergency preparedness and storing food.  Emergency Essentials is the best place to get all sorts of freeze-dried food, water storage supplies, etc.  Honeyville is a fantastic place to get grains, rice, seeds, etc.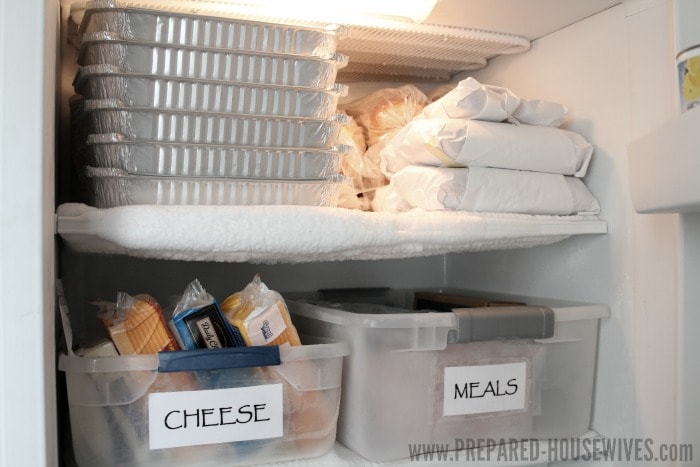 Also, don't forget to attach the cooking directions so others can make it, or even better – print off the recipe below and tape it to the pan – otherwise they will be hunting you down for it 😉  – That's what I had to do to get this recipe in the first place!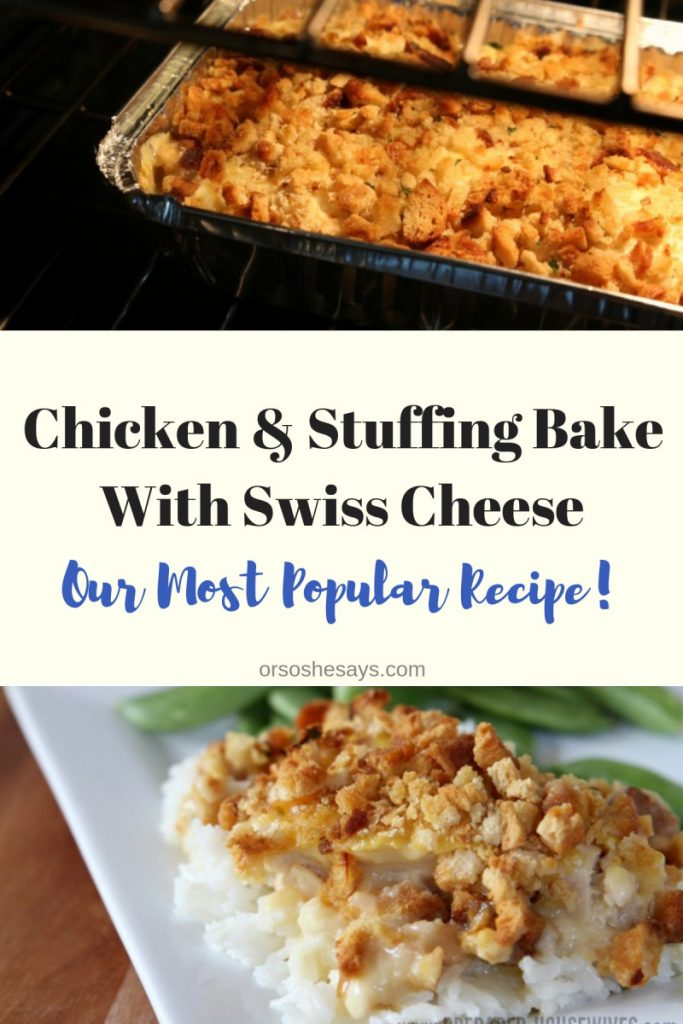 Swiss Cheese Chicken
Ingredients
4

Chicken Breasts

or enough to fill pan

6

Slices

Swiss Cheese

1

can Cream of Chicken Soup

1/4

cup

milk

Stove Top Turkey Stuffing

about 1/2 box

¼

c

butter
Instructions
Cover bottom of pan with chicken.

Lay Swiss Cheese over chicken.

Mix 1 can cream of chicken soup and 1/4 cup milk.

Pour mixture over chicken.

Top with 1/2 bag (or more) of Stove Top Turkey Stuffing.

Drizzle 1/4 cup butter on top.

Bake at 350 for 45-60 minutes.

Serve over rice.

FREEZER INSTRUCTIONS - After pouring cream of chicken mixture over chicken go ahead and freeze. When you are ready to cook it, pull it out of the freezer and let it thaw in fridge (preferable overnight). Then complete the rest of the instructions (top with stuffing/butter & bake).
Want other simple and easy meals? Those are the only kind I know how to make 😉 Feel free to check-out my FAVORITE RECIPES  below – and the best part is most of them can be made from ingredients already in your pantry!
~ Jamie
A few MORE great (and easy!) freezer meals from OSSS:
This Black Bean Soup takes 10 to 15 minutes to make and is a family favorite.  The kids LOVE it!  Put any extras in a Ziploc freezer bag and save for another day.
This post for Making Banana Muffins in Bulk shows you the coolest trick, is one of the most popular posts on the blog, AND you can freeze the muffins!  Just put a bunch in a Ziploc freezer bag, squeeze the air out, and freeze.  Perfect for a quick breakfast!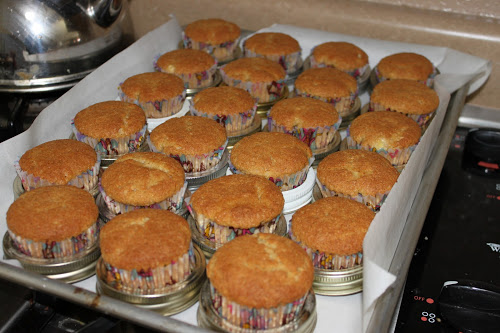 I make a huge batch of this awesome homemade Marinara Sauce about every 6 months, to keep in my freezer.  It's my favorite and a million times better than the sauce in jars at the store.  I also love that I can blend up lots of veggies to mix in, and the kids have no idea. 😉  After making the sauce, fill up Ziploc freezer bags, squeeze out the air, and lay flat in the freezer.  Perfect to use for Stuffed Shells, Baked Ziti, or as a dipping sauce for Fried Mozzarella Sticks.