It can be a tall order to find a vacation location that is beautiful, warm, has a lot to do outdoors and indoors, has amazing food options, and is family friendly. But, St. George fits the bill, PERFECTLY. There's a reason why families flock to St. George year round, why teenagers head there for Spring Break, and why teams plan tournaments there. There's a reason why men take buddy-trips there, and women gather their girlfriends there for the best getaway ever. It's an amazing place and if you want to have the best 2021 family vacation in St. George, Utah, read on…
My family of 9 has been to St. George a dozen times, but living here in Utah, I know families that vacation there even more than us. So, I thought it would be fun to talk to them and gather their suggestions of what to do, where to eat, and where to stay in St. George with the family. I'm pretty excited to share these lists of suggestions with you. Just putting it together was making me excited to head down there again, to take my family to some of these locations I haven't been to before. I hope it gets you excited too!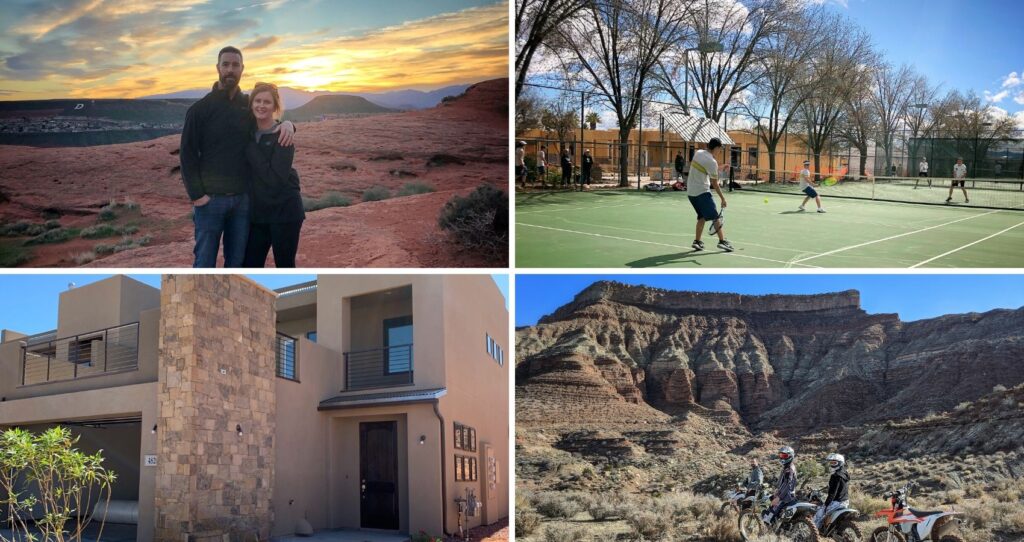 TWO BONUSES:
* For your convenience (and mine too), I put together a printable list of these ideas at the bottom of the post. Feel free to download and print the list off, so you can quickly refer to it while on vacation in St. George. It will be so handy for when you need some great ideas of where to go and what to do, without having to pull up your internet every time.
* Also, I was able to snag readers of OSSS (you!) a slick deal on your St. George lodging… you'll see that below too!
The BEST 2021 Family Vacation in St. George, Utah
All of these suggestions come HIGHLY recommended and are suitable for families of all sizes, with children of all ages. If there is a link available for the location, it is included, for your convenience.
What to Do in St. George, Utah with the Family
Visit the St. George Children's Museum
Toddlers and little kids will love the St. George Children's Museum! Some of the exhibits: Castle Room, Art Room, Desert Discovery Room, Farm Room, Government Room, Music Room, Lending Library Room, Prehistoric Room, and several more! With all of the exhibits, your kids are sure to find plenty that interest and engage them.
Snow Canyon State Park
This State Park has endless things to do for families, as well as things to see. I'm pretty sure that no family vacation in St. George, Utah would be complete without visiting Snow Canyon. The views are spectacular, there are lots of simple, family friendly hikes, and both kids and adults love to play on the rocks and sand dunes. If you want to tour the lava tunnels, you may want to bring a flashlight or headlamp. Don't forget your sunscreen and water. A family could spend the entire day here! Visitors recommend playing on the petrified dunes, Jenny's Canyon Trail, or Johnson's Canyon Trail, to get you started. Read more about it on Utah's website.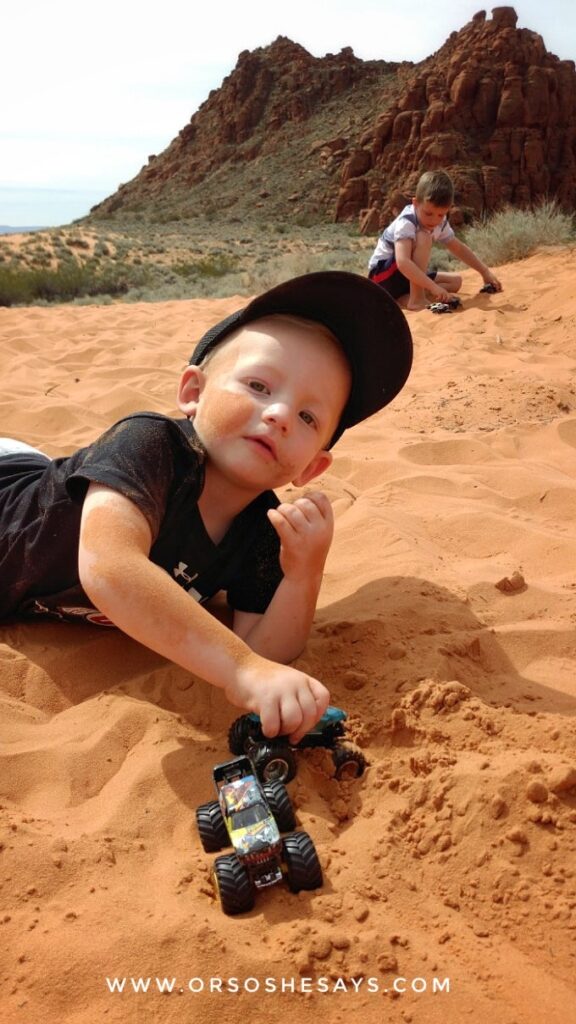 Ninja Warrior Course at The Grip Fitness
Do the kids in your family need to expend some energy?? Take them to The Grip Fitness during Open Gym to play on the Ninja Warrior style course. They will love it! Inside, you will find foam pits, climbling walls, monkey bars, balance beams, and more… making it the coolest obstacle course around. This place comes highly recommended and is another great option for escaping the heat. If you're looking for indoor things to do in St. George, this is super fun. See their website for the Open Gym hours.
Disc Golf & Playground at Mathis Park
For beginning to intermediate disc golfers, this 11 acre park, Mathis Park, is perfect! And, if you have younger kids with you, there is a small playground that they can play on while the rest of the family plays disc golf. There is also a walking trail, picnic tables, and plenty of shade!
"Thunder Junction" Playground, Tennis, Volleyball & Trails at Tonaquint Park
Tonaquint Park is a beautiful park that has lots to do. The children's area, called Thunder Junction, is AMAZING. There are so many things for the kids to play on, including water activities, if they're up for getting wet. Not only is there a children's park, but you will find lovely walking/running trails near a duck pond, 8 professional tennis courts, volleyball and more. Plan on the park being somewhat crowded, but it's definitely worth a visit. The slowest times are before 10am or after 6pm.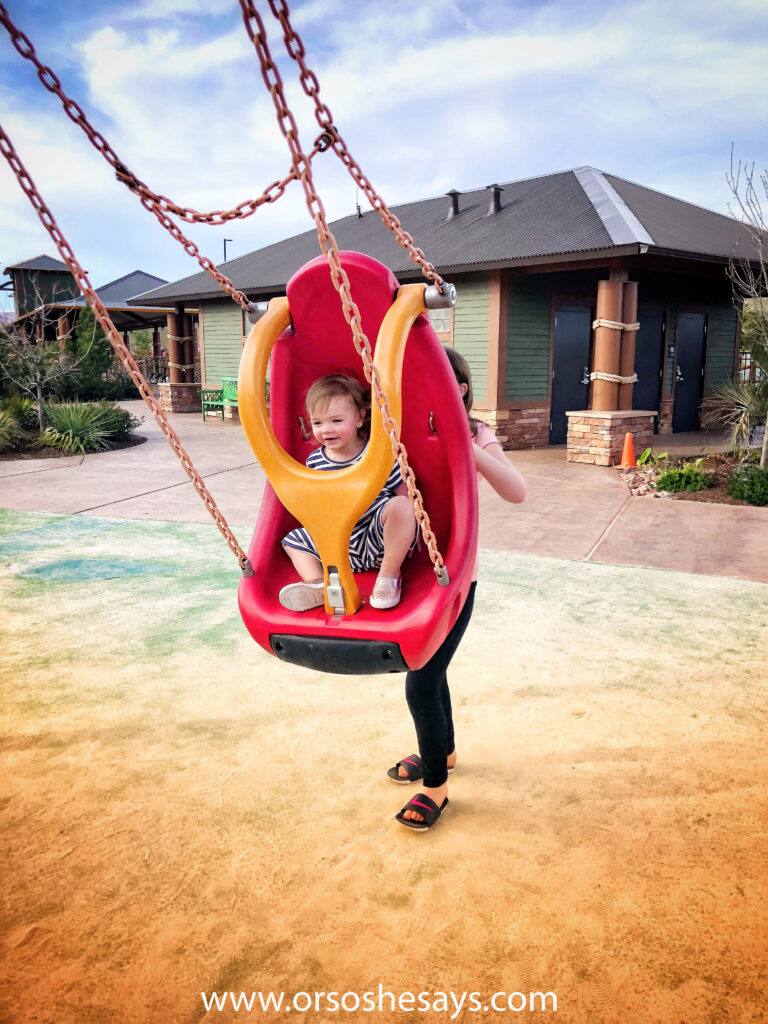 Check out the Plays & Events at Tuacahn Center for the Arts
If you've never been to Tuacahn, it should be on your list, for sure! The outdoor theater is set against the red rock and really is a site to see, even without the family-friendly plays and events! There's pretty much always something going on, so check their website for the calendar. The musical plays this year include Annie, Beauty & the Beast, and The Count of Monte Cristo. One thing that's important to note is that children under the age of 3 are usually not allowed at the plays. However, Tuacahn offers childcare for $20 per child during the show, for infants up to age 7.
Sand Hollow Aquatic Center
Sometimes St. George is just too hot to go outside, depending on what time of the year you're visiting. When it's too hot, taking the family to the Sand Hollow Aquatic Center is the perfect option! Or, maybe the kids need a break from all of the amazing hikes in the area. This indoor aquatic center has a huge children's pool area, with a slide, waterfall, lily pads, and more. There's also a full size lap pool with diving board and in-the-water climbing wall. In the back, you'll find a sand volleyball court. Plan on about $5 to $6 per person, if you're not a resident. Oh, and be sure to check their hours. They're a little different than what you might expect. This place is lots of fun!
Family-Friendly Red Cliff Hike in Leeds, Utah
Officially called the Red Reef Trail, the lower trail, is about a one hour hike that is easy enough for the whole family. Located about 30 minutes from St. George, it's close enough and would make for a fun outing. There are beautiful views, a picnic area, and the hike can include water if you visit during early or late spring. Be on the lookout for the dinosaur footprints!
RZR Rides & Adventures at Sand Hollow
Sand Hollow is Utah's newest State Park and is packed with fun and adventure for a small $10 fee. It's just about 16 miles from St. George, so you can be there in no time. There's a beautiful lake to boat on, cliff jumping, a picnic area, beaches, and amazing sand dunes to go for RZR rides. You can rent a RZR, boat, or wave runners and have them delivered on location. The whole family can have a blast with this and will remember their family vacation in St. George for forever!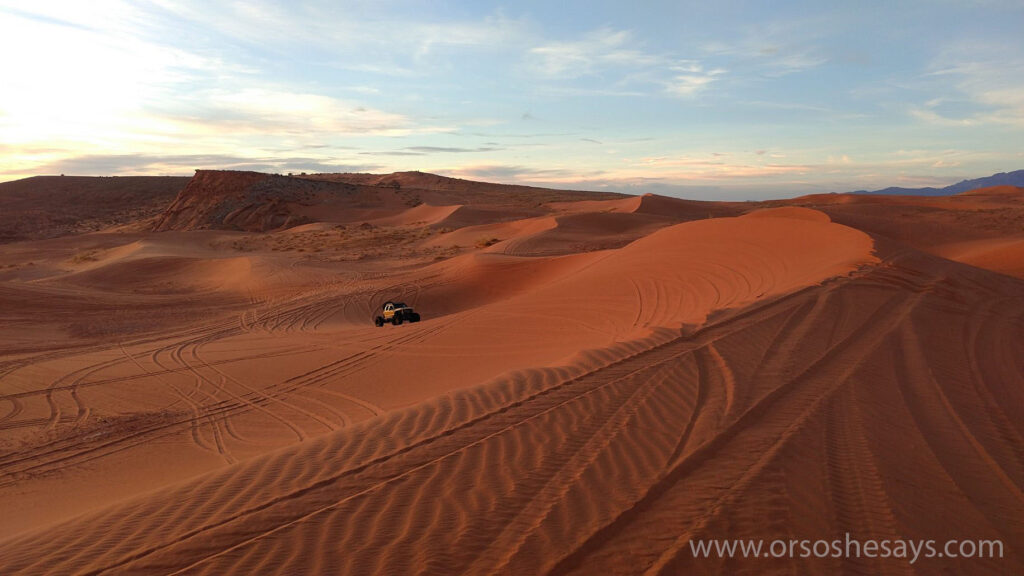 Paddle boarding, Kayaking, Scuba Diving, Fishing, & Boating at Quail Creek Reservoir
Sand Hollow has great beaches and is a great spot for similar activities, but Quail Creek is for those who like to avoid the crowds and don't mind the lack of sandy beaches. The water in the reservoir is some of the warmest in the entire state! If you don't have paddle boards or kayaks of your own, you can rent them from a shop at the north end of the parking lot. If you're planning on taking a ski boat, call Quail Creek State Park first to make sure there is room, as they only allow a certain number on the water.
Play Basketball, Pickleball, & Baseball at Bloomington Park
It's not always easy to find a basketball court for a friendly game. With 4 sons and a husband who love basketball, it's always important for them to know where they can get a game going. Bloomington Park is the place, and it has much more than a basketball court. There are baseball fields, pickleball, volleyball, picnic tables, a playground, and disc golf. Perfect for a laid back day with the family!
Beginners Mountain Bike Trail & Target Shooting at Bearclaw Poppy
Said to be one of the only true beginner trails in St. George, but fun for those of all skill levels. Bearclaw Poppy, named after a flower that grows in the area, is a favorite for those introducing their family to mountain biking. It has flowing hills and signs guiding those who want to stay with the beginner experience, and those who want it to be a little trickier. And of course, any time a rider is uncomfortable, they can hop off their bike and walk for a minute.
I saw reviewers talking about bringing their children, as young as 6 to ride the trails. The suggestion is to start on the Bloomington Trail end, South of St. George and remember that it is a directional trail, so be sure to follow the signs for riding up or downhill. Unless otherwise noted, you're supposed to ride one way. People also love to target shoot in the designated spot there. Both great family activities!
Take Your Truck or 4WD Vehicle to Toquerville Falls
Okay, so Toquerville Falls is a bit of a drive from St. George, but not too bad. It's about an hour. But, if you like taking your vehicle off-roading and love waterfalls, this 11 mile round-trip drive was made for you. (Four-wheel drive, high clearance, and spare tire are recommended!!) The views are beautiful and the kids will love getting wet in the waterfalls. Maybe pack a picnic and your swimsuits to take the experience up a notch. This place can get somewhat crowded in the afternoon and during St. George's busy season, but it's a great family activity!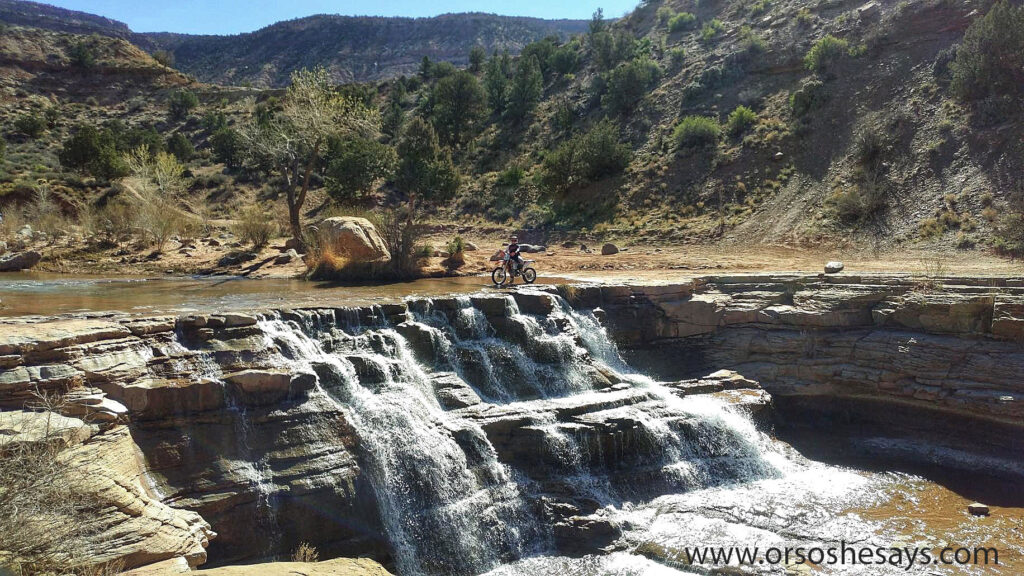 Visit the Saturday Market at Tuacahn
If you love farmer's markets, you'll really enjoy the Saturday Market at Tuacahn. The whole family will enjoy checking out the craft, food, and art booths. It's a great place to grab some souvenirs or gifts. Plus, there's free entertainment! Be sure to check Tuacahn's website for the Saturday Market hours.
Explore the Ghost Town of Grafton
If your family loves history and exploring, you might want to stop at the abandoned town of Grafton, just outside the entrance to Zion's National Park. This ghost town, featured in movies, such as Butch Cassidy and the Sundance Kid (the bicycle scene), was originally settled by 5 "Mormon" families (members of The Church of Jesus Christ of Latter-day Saints.) You are actually able to enter most of the buildings and you can visit the cemetery, as well. Be sure to bring along some sunscreen, and water. Most visitors mention staying for just an hour or two, but found the entire town fascinating.
Play & Hike On & Around Dixie Rock
You'll know it when you see it… the big red rock formation with "Dixie" written on it, in big white letters. It's usually referred to as "Dixie Rock," but the official name is Sugarloaf. It's a local favorite for families to let their kids run around to play on the rocks, go on short family friendly hikes, and explore caves. Word on the street is that teenagers like to occupy the top of Dixie Rock late at night and basically… um, kiss strangers. But, when that's not going on, you will definitely appreciate the view of St. George that it offers and it's a great place to pull out your camera and get some fun pictures of the family.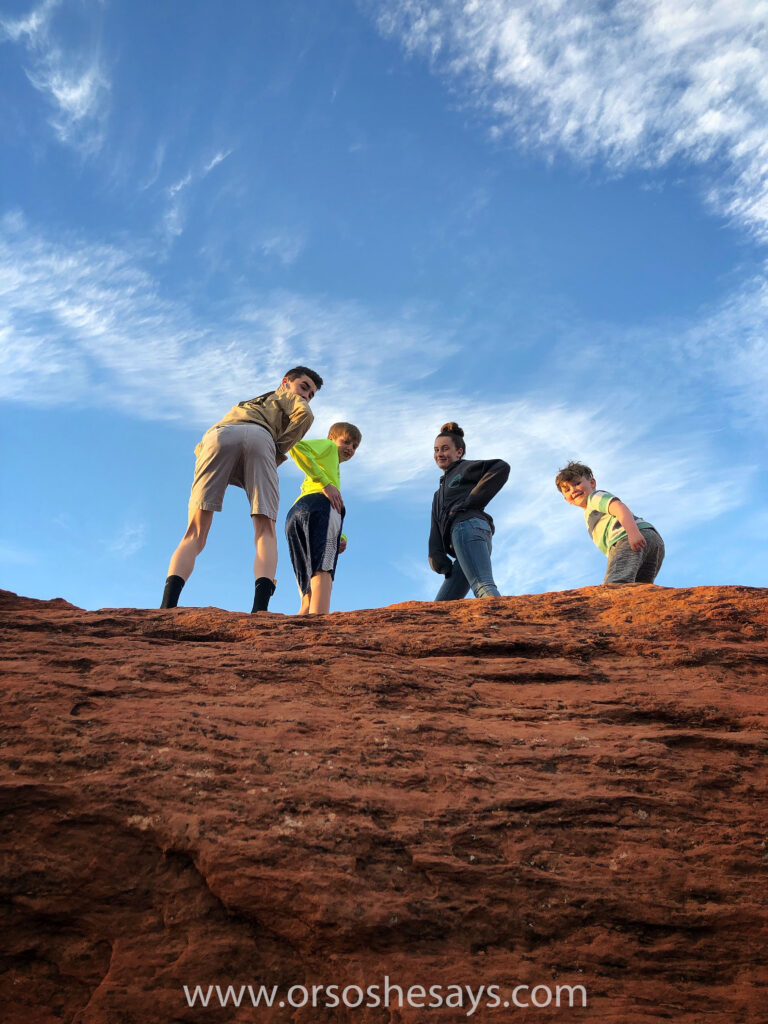 Go Swimming, Cliff Jumping, Boating, & Enjoy the Waterfalls at Gunlock State Park
Just about half hour from St. George, the reservoir at Gunlock State Park is a site to see. Surrounded by red rock and waterfalls, this warm, calm water is a great place for a variety of activities: paddle boarding, ski boating, fishing, kayaking, cliff jumping, and swimming. Be sure to bring your camera, especially when the waterfalls are flowing. Google "Gunlock State Park" and look at the images. You'll be impressed! To see when the waterfalls are flowing, visit Gunlock State Park website. Pack a picnic lunch too!
Where to Eat with the Family in St. George, Utah
I got a bunch of restaurant suggestions in St. George, when asking my friends. But, I wanted to really narrow it down to places that are family friendly, not huge chain restaurants, not super expensive, and get LOTS of great reviews. I'm kind of a review nerd. They're important to me. So, without further adieu…
Veyo Pies
Veyo Pies is about 20 miles from St. George, but if you have pies on your mind (and, who doesn't?) then the drive is totally worth it. People rave about practically everything there… the pies, the BBQ sandwiches, sweet rolls, meat pies, everything! Just be sure to get there before 6pm, Monday through Saturday, before they close. Plan on about $14 to $16 for a pie… and, may I suggest the Veyo Volcano Pie. 🙂
Mad Pita Express
This is a great stop for lunch. Customers love the spicy chicken gyros, kebabs, fries, lemon soup, potato dip… practically everything on the menu! It can get a little busy here, so that may be something to keep in mind.
La Cocina
This Mexican street food restaurant is another perfect stop for lunch. The street tacos, nachos, and salsa bar are clear favorites! If you're not wanting to spend a lot of money for a meal, the prices here are super reasonable.
TwentyFive Main
This is a personal favorite. Reviewers love all of the breakfast, pizza, pasta, and sandwiches… but, the reason I go to TwentyFive Main is for the yummiest cupcakes. If you're a cupcake person, there are only 3 cake places in Utah that have my stamp of approval (so far), and I've tried a lot of places! One of them is Sweet Tooth Fairy, the other is Nothing Bundt Cakes, and last, but not least, is TwentyFive Main in St. George. Every time I go, I get a dozen cupcakes and hide them from my kids. They're so good! I especially love the strawberries and cream, and the oranges and cream. If you go an hour before closing, and there are any cupcakes left, they usually sell them at a discount… at least when I was there. Hopefully, they still do that!
Red Fort Cuisine of India
This is some of the best Indian food around. It's not the cheapest place… more of a mid-range restaurant, but the atmosphere is wonderful and the food is even better. Red Fort Cuisine of India actually won "Best All Around Restaurant" for Southern Utah, as well as "Best Lunch Spot," and "Best Asian Food." On weekend nights and busy holiday weekends, the wait time can get a little long, so with a family, you may want to call ahead to find out the wait, or consider ordering take out.
Angelica's
If the long line doesn't scare you, the street tacos at Angelica's are totally worth it. The line moves fast, the restaurant is clean, and the staff is notoriously friendly. Reviewers love the quesadillas and burritos, as well. Any list of where to eat with the family in St. George, Utah would not be complete without Angelicas!
Larsen's Froststop Drive-In
Sometimes you just need a burger, fries, and a shake. People have been going to Larsen's in St. George since they were kids. It's an old fashioned burger joint that has become a family tradition for many. Be sure to grab a Glacier before you leave… a slushie with soft serve ice cream. They're the favorite!
Anasazi Steakhouse
I've tried to keep this list of family-friendly restaurants in the low to mid price range, but Anasazi Steakhouse will be the big exception. This steakhouse is… well, more like steakhouse prices, but it's an "experience restaurant" with amazing food, that the whole family will love. So, if you feel like a splurge, try this place! The family will love cooking their own steaks on the hot stone and enjoying fondue foods.
Where to Stay with Family in St. George, Utah
It's reasonable to expect that every family headed to St. George has their own needs and desires, when it comes to finding a place to stay. So, I wanted to give you 3 different options. All three are great for families, and all three get fantastic reviews.
This hotel is budget friendly, has a pool, and complimentary breakfast. Guests love the clean rooms and the friendly staff. Top rated of the budget hotels. If you have a small family and are saying for a short amount of time, this may be worth looking at.
This mid-range hotel has a great view of St. George, as it sits on top of a cliff. Each boutique room has it's own balcony… just one of the reasons it was named one of the "Spectacular Hotels You Must Add to Your Bucket List." Pool and breakfast, as well. Great for a small family looking for an atmosphere hotel.
If you have a big family or larger group, you can save a LOT of money by renting a vacation home, rather than renting multiple hotel rooms. Plus, it's nice to be in a residential setting, rather than a business location. You have the use of a kitchen, laundry room (bring home clean laundry!), a TON more space, a garage, and any amenities the home and neighborhood has to offer, typically for a better price than hotel rooms. This vacation rental, Dixie Family Adventure, is our most favorite spot to stay in St. George! I emailed the management company and was able to get a discount code for you to use when booking. I'll share that, below.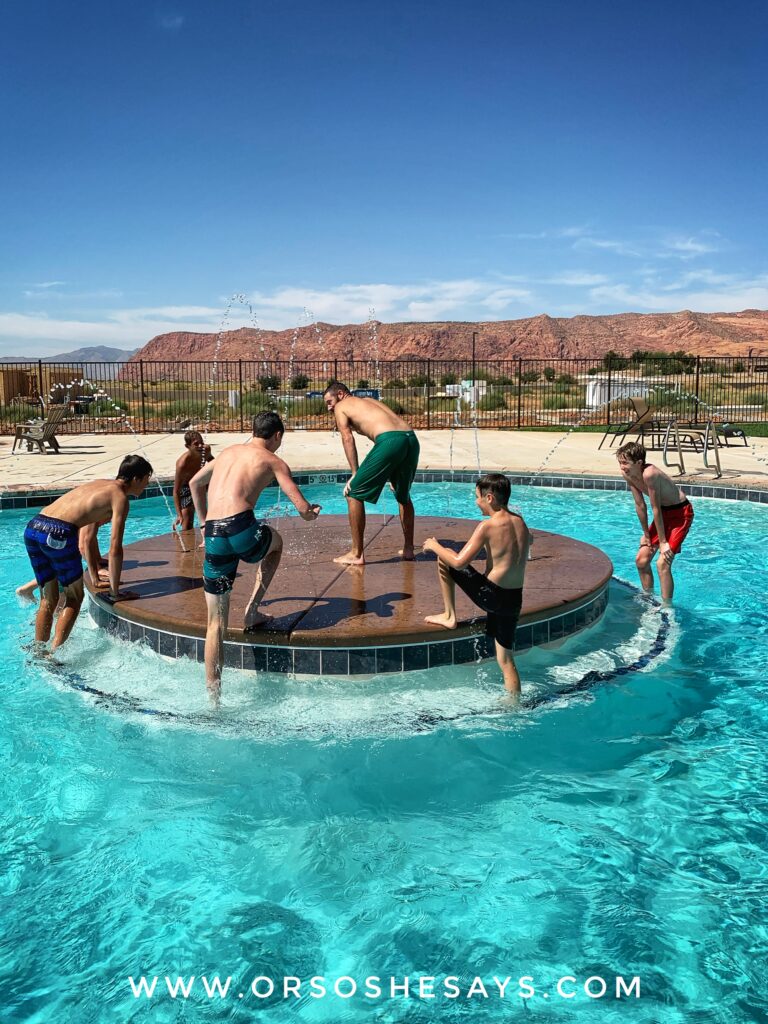 Our family loves staying at Dixie Family Adventure at The Ledges in St. George for several reasons:
Sleeps up to 23 people in comfortable beds (plus porta-crib & other baby items, such as high chair, stroller, booster, etc.)
Private hot tub on the back porch
Pool and hot tub directly across from the condo
Pickleball courts & Ledges Golf Course in neighborhood
Gas grill on back porch & gas fire pit on upstairs outdoor patio
Fully stocked kitchen: Bosch Mixer, Ninja Blender, Cuisinart Ice Cream Maker, Instant Pot, and more!
Smart TV in every room, plus Xbox One in the loft
Family Fun Extras: board games, scooters, portable basketball hoop, cornhole & other outdoor games, pool toys, life jackets, children's books, pogo sticks, stilts, and more.
Right by Snow Canyon State Park & close to Tuacahn
Hiking and biking trails right outside the neighborhood
Outside of busy downtown St. George, but just a 10 minute drive away.
There are so many things to do for families here, in a comfortable, beautiful setting. You can stay for a short amount of time, but like I mentioned earlier, where you save the most money is on stays longer than a few days, because there is a one-time cleaning fee included. And of course, if you would require multiple hotel rooms for your family/group, a vacation rental is a smart way to go. You can all stay in the same place and enjoy so many more perks. It's not only smart, but I believe the situation is much more ideal!
Booking This St. George Vacation Home
This location is booking out months in advance, but there are open weeks and weekends here and there. Just check the online calendar on the Red Rock Vacation Rental website. Like I mentioned above, I emailed the management company, and they are willing to offer 10% off your stay, specifically to the readers of my blog. Your discount promo code: DixieFam10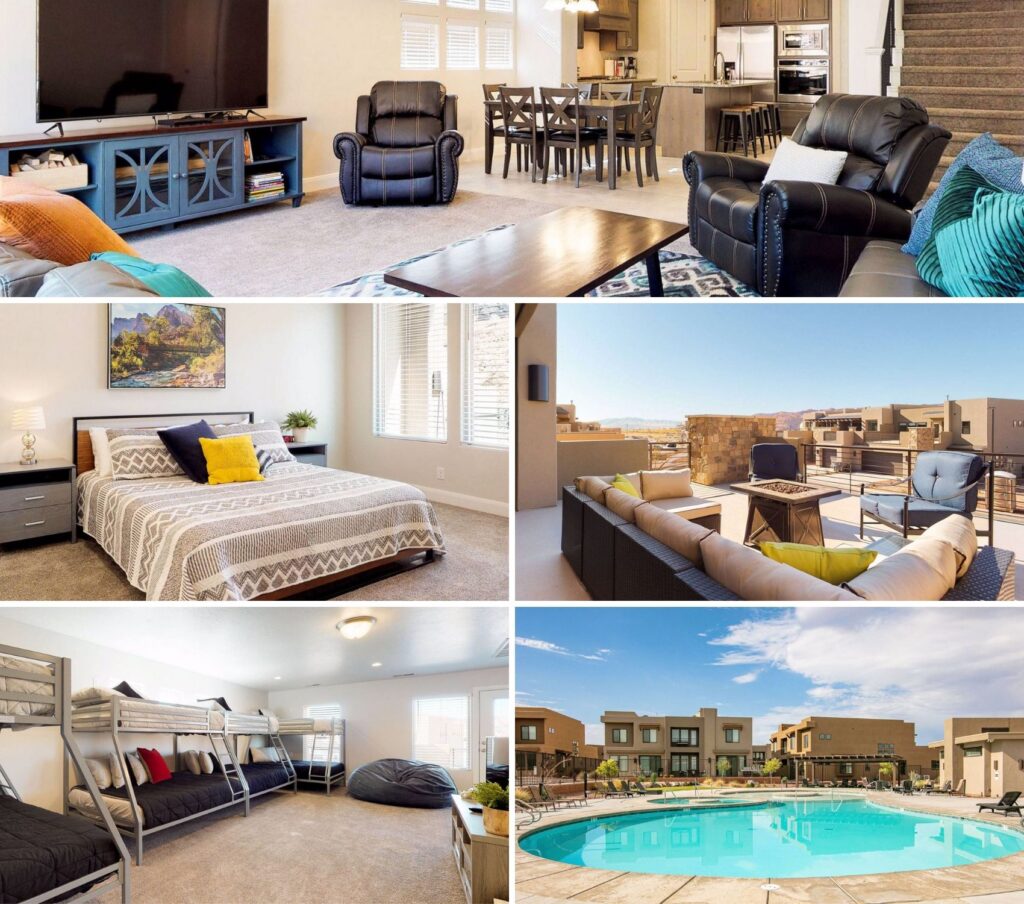 Download & Print Things to Do in St. George with Kids
Keep all of the suggestions in this post handy by downloading and printing this pdf file!
Pin This Image to Save or Share This Post
You can pin this image below, or for more image options, click the Pinterest button on the header of this post.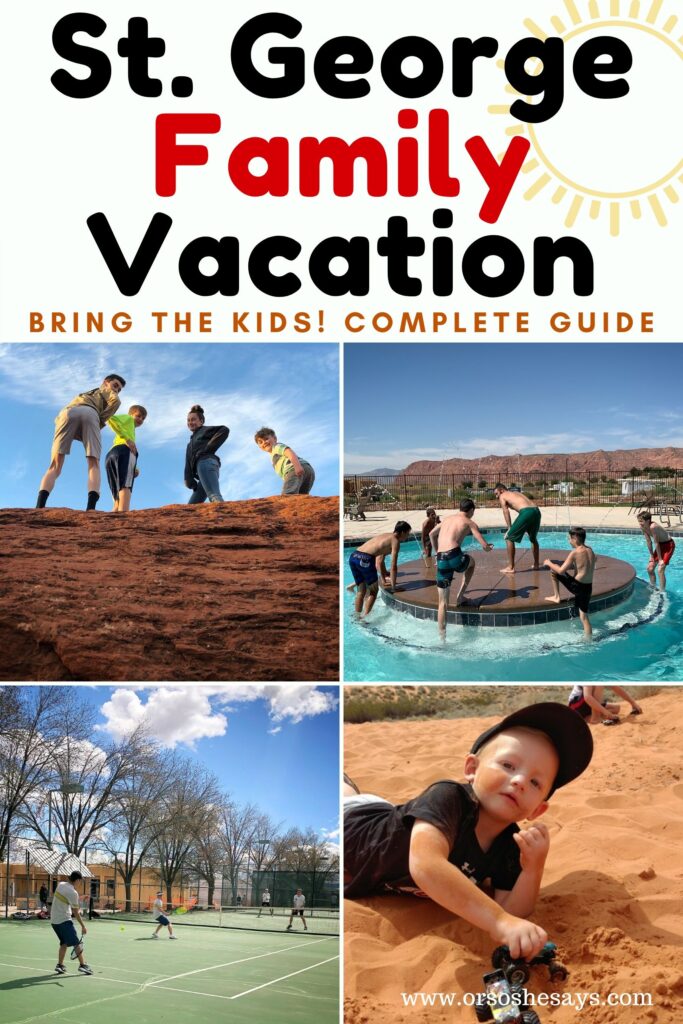 If You Like This Family Vacation in St. George Post, Check Out:
Join 180,000+ others & follow OSSS for lots of family ideas!
NEWSLETTER (free most-requested family recipes download included!)
PINTEREST (lots of awesome family related ideas!)