After the success of the last post, 100 Clean Family Movies, I figured it was time for more. I know my family needed a new list of family movie ideas, so putting this together is going to be so handy for me, and I hope it is for you too!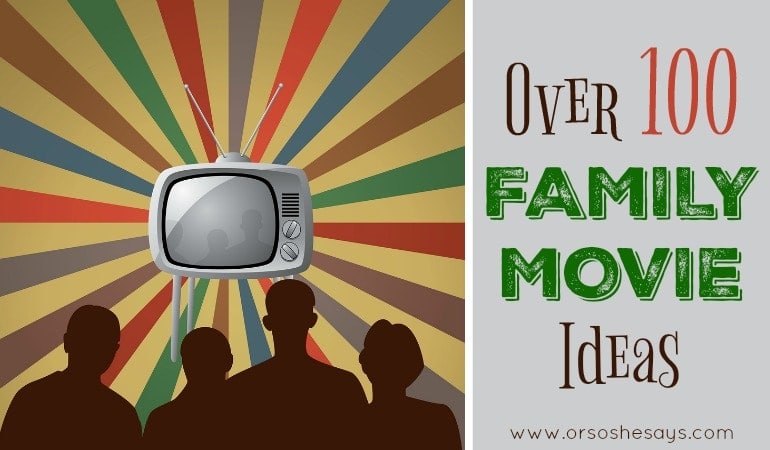 Now if this list is anything like the last one, y'all might have some input. Let me just say this… I did my darnedest to check every show's parental reviews, in hopes of finding family movies with as little garbage as possible. I definitely want as little swearing or sexual content as possible, so these movies should all be fairly low in that area, to none. None is clearly better… but, in this day and age, sadly it's not that easy to find. But, I did my best and I plan on using this list for many movie nights to come.
Over 100 Family Movie Ideas
Although, I did some research on the movies, I haven't seen them all, so if you have the inside scoop on any of the content, feel free to share. Or, if there are any movies you would like to add to the list, let me know and I may end up including them in the next family movie idea post. Weigh your choices on the age of your kids and personal standards. I wanted a good mix so you could choose based on your family. Some movies, may have a more mature story line than others.
So, gather the popcorn, some Red Vines (yum!), and some cuddly blankets. Family time is the best time!
Family Movies Ideas for Family Movie Night
Flipped
Max (2015)
The Apple Dumpling Gang
Corrina, Corrina
My Dog Skip
Galaxy Quest
The Iron Giant (Signature Edition)
Iron Will
Angels In The Outfield
Andre (1994)
The Dark Crystal
Little Big League
National Treasure
Secretariat
Dreamer: Inspired by a True Story
Adventures in Babysitting
The Last Mimzy
The Indian in the Cupboard
Flight of The Navigator
The Pacifier
Fantastic Mr. Fox
The Spy Next Door
TRON The Original Classic (1982)
Race To Witch Mountain
The Water Horse
Journey to the Center of the Earth
The Jungle Book (2016) (Theatrical)
Alvin and the Chipmunks
Scooby-Doo: The Movie
Zathura
Queen Of Katwe
The Great Gilly Hopkins [DVD]
Inkheart
Cheaper By The Dozen (2003)
Bridge To Terabithia
Paulie
The Borrowers
Fly Away Home
Soul Surfer
Duma (2005)
Arthur & Invisibles
Camp Cool Kids
Woodlawn
The Hundred-Foot Journey (Plus Bonus Features)
My All American
McFarland, USA (Plus Bonus Features)
Nancy Drew (2007)
The Lizzie Mcguire Movie
Mr. Popper's Penguins
Yours, Mine & Ours
Goosebumps
Earth to Echo by 20th Century Fox
Paddington
Nine Lives
Secondhand Lions (2003)
Ernest Goes to Camp
Labyrinth
Blank Check
*Batteries Not Included
The Addams Family
Hocus Pocus
White Water Summer
Little Man Tate
On the Way to School
Living with Wolves/Wolves at Our Door
Miracle (2004)
Father of the Bride (15th Anniversary Edition)
From Time To Time
Fluke
With Honors
The Chronicles of Narnia
The River Wild
The Black Stallion
The Man From Snowy River
The Journey of Natty Gann
While You Were Sleeping
The Princess Bride
Lemonade Mouth
Letters To Juliet
Rear Window
Life Is Beautiful (English Subtitled)
The Count Of Monte Cristo
Emma
Little Women (Collector's Series)
Pride & Prejudice
Two Brothers
Chariots Of Fire
Disneynature Chimpanzee
I Am David
The Truman Show
Willow, Special Edition
Spirit: Stallion of the Cimarron
Disneynature: Born in China (Theatrical Version)
The Wizard of Oz
The New Adventures Of Pippi Longstocking
Brain Donors
City of Ember
Dudley Do-Right
Fairytale: A True Story
Getting Even With Dad
Gone Fishin'
Good Burger
Gordy [DVD + Digital]
How to Eat Fried Worms
It Could Happen To You
It Takes Two
A Kid In King Arthur's Court
Maleficent (Plus Bonus Features)
Mom and Dad Save the World
Moms' Night Out
A Simple Wish
Pin this image to save the post for quick reference later!

If you loved this post on family movie ideas, be sure to check out:
100 Family Movies for Family Movie Night