Do you have a young Jedi in training? If so, you are going to love today's last-minute Valentine's Day craft: an R2-D2 Valentines Box!
Not only is this Star Wars craft incredibly easy, but it will wow younglings from across the galaxy. This is certainly the droid you're looking to bring to your Valentine's Day party. Keep reading to find out how to make this adorable R2-D2 Valentines Box.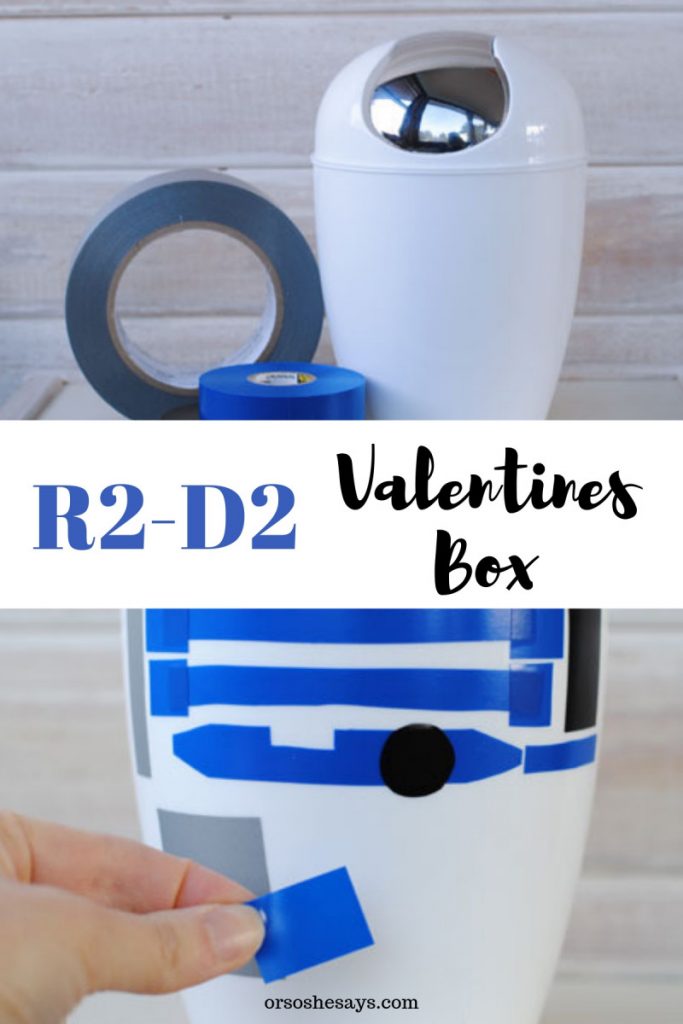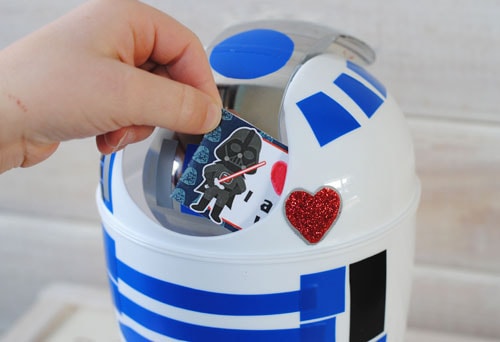 In order to make this R2-D2 Valentines box, you'll need a few basic supplies.
I ordered my white swing-top garbage can from Amazon, however, you can find this at any local grocery or dollar store. There are a lot of size options to choose from when choosing your swing-top garbage can. I wanted mine to be smaller, but you can make yours as big as you'd like. After all, R2-D2 is a life size droid!
To make things easier, I've placed the full list of supplies below:
Garbage Can
Multi Colored Electric Tape
Red Acrylic Paint
Red Glitter
Once you have all of your supplies in hand, you'll want to start decorating your R2-D2 Valentines Box. Since all of the designs are made with colored electrical tap, you'll want to make sure you buy blue, black and silver. I purchased mine at the local hardware store, but you can also find them online.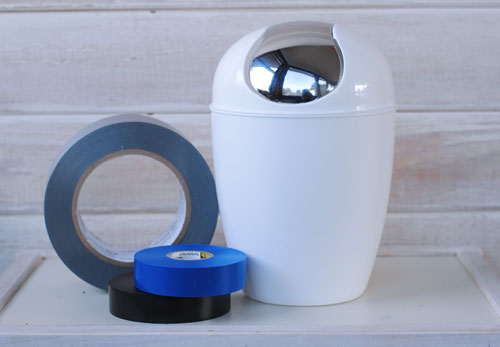 First, cut shapes of tape and stick them onto the garbage can. You can either follow your own basic design or use mine as a guide. However, I would suggest looking at a photo of the real R2-D2 to make it as accurate as possible. I love using electrical tape because it's easy to remove. If you aren't happy with the placement, you can easily remove it without leaving the sticky residue behind.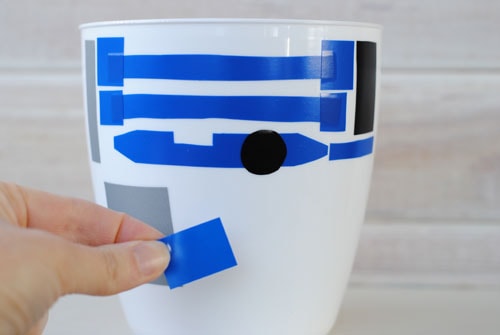 Once you've placed all of the tape onto your R2-D2 Valentines Box, you'll want to put R2-D2's red light on. I decided to turn R2-D2's light into a red heart for Valentine's Day. For this step, you'll want to cut out a square of gray electrical tape. On that piece of tape, paint a red heart using the red acrylic paint. Make sure the paint is nice and even. Before it dries, sprinkle it with red glitter to make it pop. Once it dries, cut around the tape and leave a small border around the heart. Now, you can stick it onto your R2-D2 Valentines Box!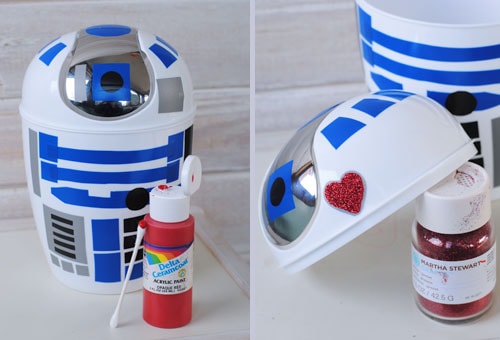 This adorable droid is now ready to be filled with love notes, cards and treats! Love is universal, even if you're in a galaxy far, far, away.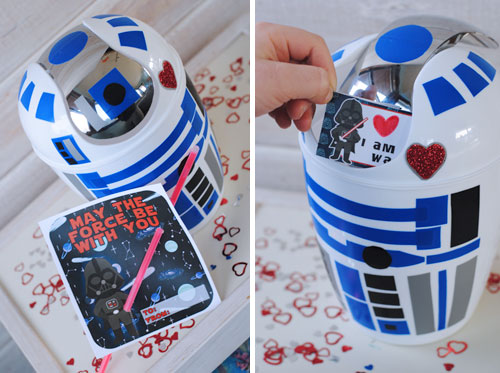 I hope your Valentine's Day is out of this world! And if you want to be immersed in the Star Wars universe even more, make sure you book your Disneyland vacation to experience everything that the force has to offer. To book your Disneyland vacation package, visit getawaytoday.com or call 855-GET-AWAY to speak to a travel expert directly. Plus, you can even use promo code OSSS10 to get an additional $10 off your hotel and tickets package. Make sure to mention that Or So She Says sent you!

Check out more kid-friendly Valentine ideas on the blog:
Cupid's Arrows Valentine Craft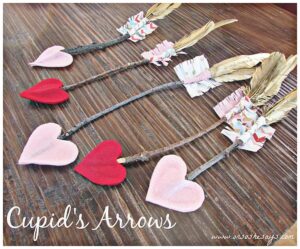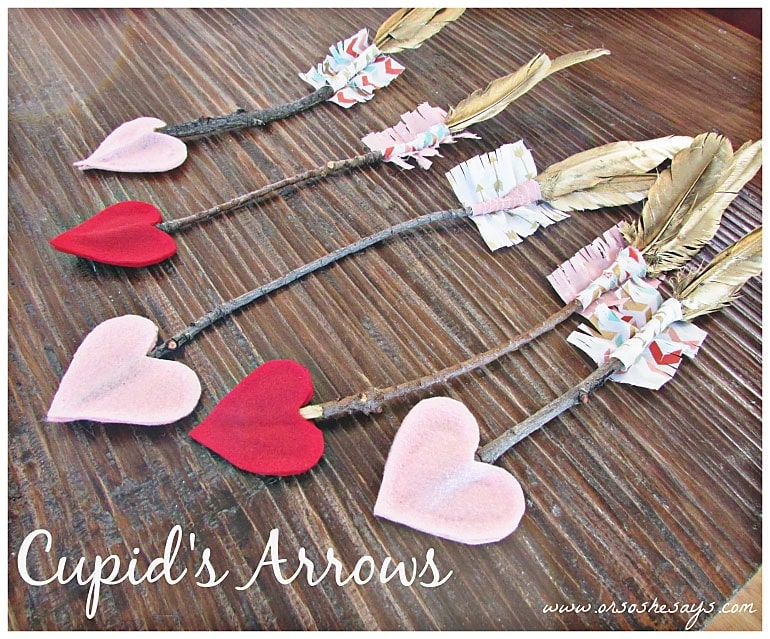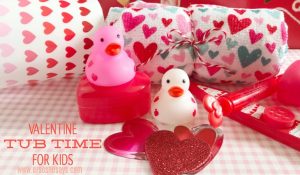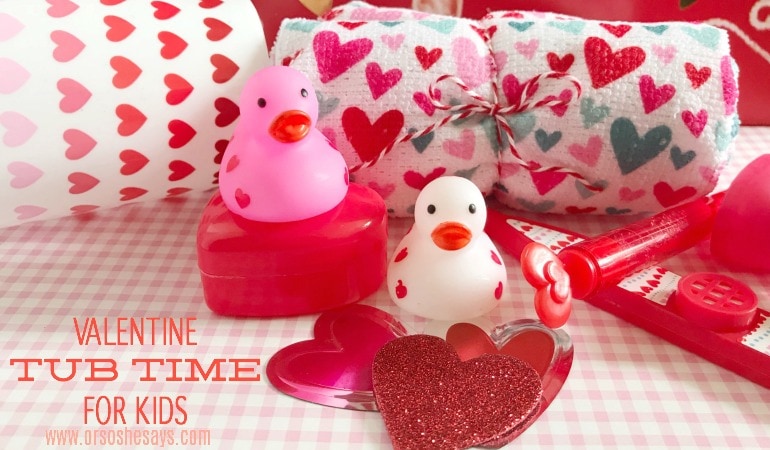 Valentine Activities for Preschoolers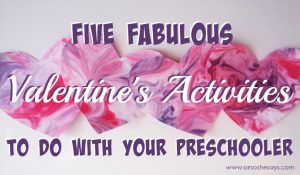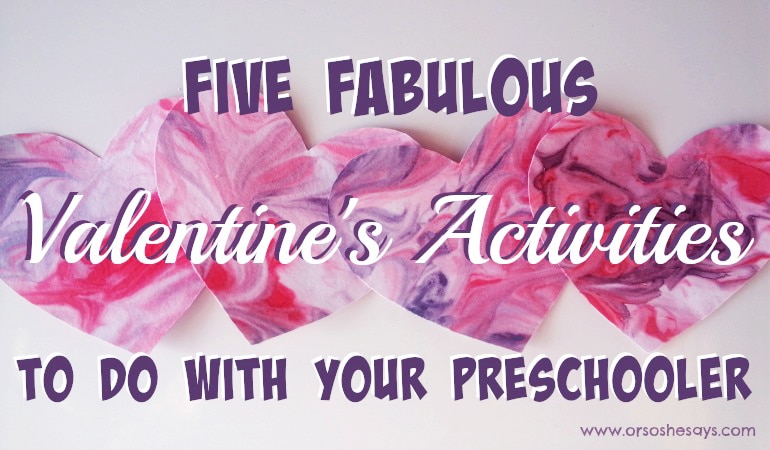 Get your R2-D2 Valentines box supplies below:
Umbra Mini Waste Can 1-1/2 Gallon with Swing Lid, White
3M Scotch #35 Electrical Tape Value Pack (10457NA)
Liquitex BASICS Acrylic Paint 8.45-oz tube, Cadmium Red Deep Hue
Apple Barrel Acrylic Paint Set, 18 Piece (2-Ounce), PROMOABI Assorted Colors I
Sulyn Glitter 4 Oz. Shaker Jar, Red, 4 Ounces