Bread pudding is definitely at the top of my 'favorite desserts' list, but there's something about it that just seems hard and time consuming. Oh my friends, it's not. At least, this recipe for Bread Pudding with Butterscotch Chips is not. I can have it prepared and ready to bake in 10 minutes and ready to eat just one hour later. And, I don't think there has been one time that I've made it where I haven't been giving out the recipe afterwards.
Not only is this bread pudding with butterscotch chips recipe quick and easy to make, but it's a memory maker. We have this for our Christmas morning breakfast every single year and it would be sorely missed if it wasn't there. It's just part of Christmas and will continue to be for years to come. The butterscotch smell is the most perfect warm, fall smell in the home. Whether for family or friends, it's the go-to breakfast dish to serve for a crowd.
Bread Pudding with Butterscotch Chips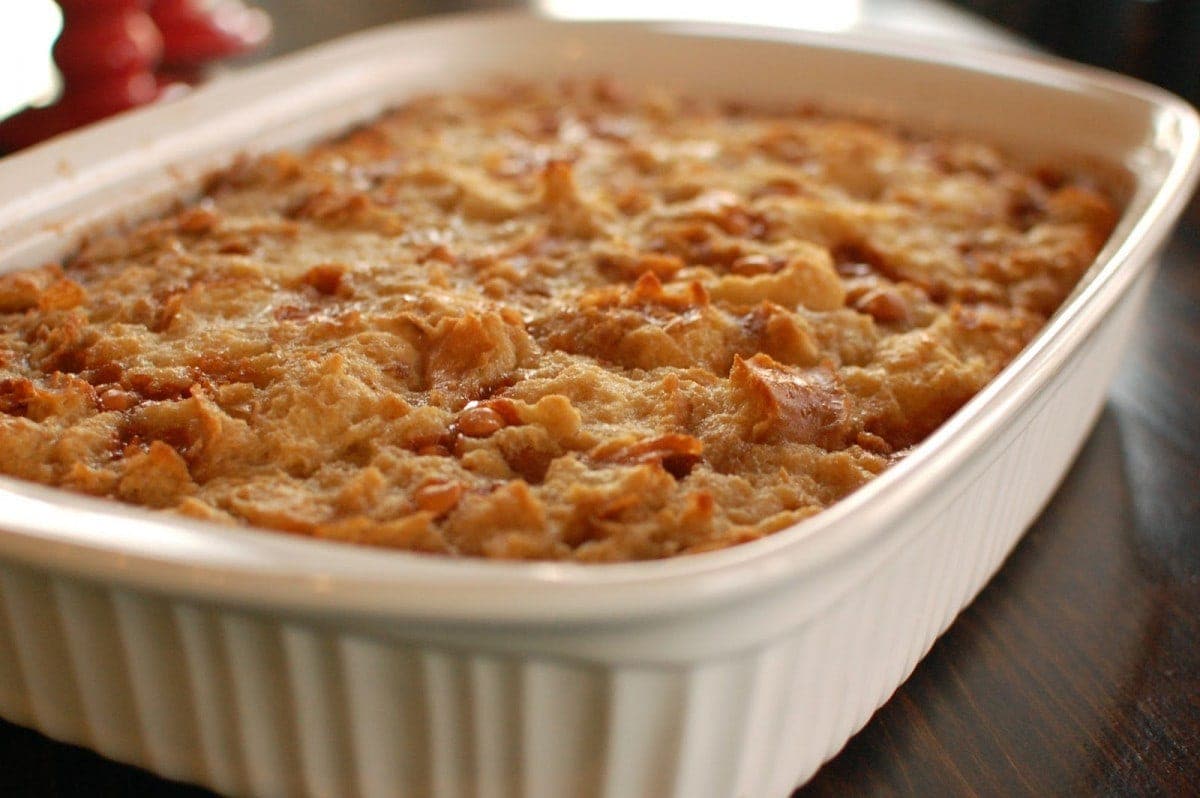 Need another reason to try this tasty bread pudding recipe? Here you go… all you need are 7 simple ingredients, and I'm guessing you'll only need to head to the store for two of them: French bread and butterscotch chips. Am I right? I love recipes like that. (Here's 5 more of my favorite recipes like that, here.)
This is also a fun one to let the kids make with you. My kids love breaking the bread apart into little pieces and dumping everything in the bowl. It's one of those recipes that is hard to mess up, so go ahead and invite the littles to help out. They'll love it, almost as much as they'll love plopping or squirting the whipped cream on top (the best part!)
Butterscotch Bread Pudding Ingredients
One Day Old French Bread
Milk
Brown Sugar
Vanilla
Eggs
Butter
Butterscotch Chips
Instructions
Heat oven to 350 degrees.
Break approx. 11 ounces of the bread into bite-size pieces and place in bowl.
Pour four cups of milk on top.
Add two cups of LIGHTLY packed brown sugar.
Pour in half a cup of melted butter.
Add 1 cup of butterscotch chips. 2 tsp. vanilla, 3 beaten eggs. Stir it up.
Pour it in a buttered 9×13.
Bake for one hour until it jiggles like a thigh…mine, not yours.
How to Make Whipped Cream
Pour 1 cup of heavy cream into a bowl with 1/2 cup of powdered sugar and 1 tsp. vanilla.
Whip with a hand mixer until thick.
If you would rather use canned whipped cream, that works too. It's not my most favorite, but I've been known to use it if I want to skip the step of making my own.
Enjoy!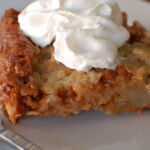 Butterscotch Southern Bread Pudding
Ingredients
1

loaf day old French Bread

approx. 11 ounces, torn into pieces

4

cups

milk

3

beaten eggs

2

cups

lightly packed brown sugar

1/2

cup

melted butter

2

tsp.

vanilla

1

cup

butterscotch chips
Instructions
Preheat oven to 350 degrees.

Butter a 9 x 13 pan.

In a large bowl, combine all ingredients. Mix well.

Pour into prepared pan.

Bake in oven for 1 hour until nearly set.

Serve warm or cold with whip cream on top.
A Couple Other Bread Pudding Breakfast Recipes to Try
Blueberry Bread Pudding – If you're feeling like more of a summer or spring flavor, this is the recipe for you. It's so delicious!
Caramel Croissant Bread Pudding – There's plenty to be excited about here. Buttery, flaky croissants… warm, gooey, homemade caramel sauce. This is a recipe made in heaven!
Other Recipe Ideas for Serving Breakfast to a Crowd
Southwestern Breakfast Bake – This is something I like to serve in addition to a bread pudding. It's a great savory recipe to offset the sweet, and like the bread pudding recipe, super easy to make!
Biscuits and Sausage Gravy – This is the other recipe that my kids count on for Christmas breakfast. I can confidently say I'm a biscuits and gravy connoisseur, and this version is a winner.
My Favorite Buttermilk Pancakes – Not to brag or anything, but these are the best pancakes in the world. I usually quadruple the batch because they go so fast and if there's any chance of a leftover, they're great to have again the next day!
Pin This Image to Save Post