Need some 3rd grade Valentine's Day class party ideas?? We've got you covered! As a mother of a 3rd grader, I know there is a fine line between what is too baby-ish and what is too advanced. You have to find a happy medium! After scouring the internet for lots of super cute Valentine's Day ideas for a class party, I think I came up with a great list that you will love!
Whether you're a school teacher, PTA member, or just a super cool parent, these Valentine's Day class party ideas for 3rd graders could be just what you need to make your kids' Valentine's Day extra awesome this year. There are craft ideas, recipes, games, and actual valentine's to pass out to everyone. You're gonna have the coolest V-Day party EVA!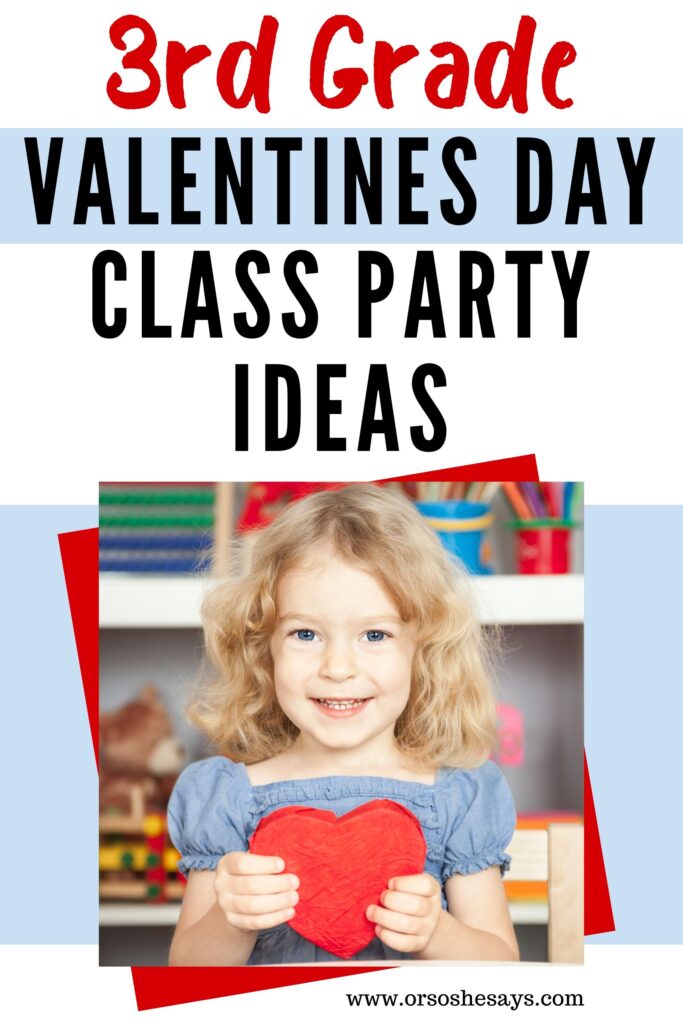 Third Grade Valentine's Day Class Party Ideas
Every list of Valentine's Day school party ideas needs ideas for treats and drinks. Kool-Aid is always an affordable option that makes kids happy.
Have a bunch of playdough made to pass out to each kid and use it to play some fun play dough games. There's so many educational ones on Pinterest too! OR… make playdough together as a class!
This Valentine's version Goldilocks is a fun story to share with the classroom. The kids can practice cutting out their own hearts afterwards!
My kids love sticky notes and are always taking them to school. They like to leave notes for their friends with them, decorate their lockers, etc. So, I love this simple 'Stuck on You' valentine, especially bundled with a cute pen. It would make a simple valentine from the teacher, room mothers, or a prize for games.
Need even more Valentine's Day school party ideas?? Here's several super simple Valentine's games that are simple to incorporate into the classroom.
Another cute prize or Valentine idea from the teacher or room mothers. There's always lots of cute Valentine pencils available, like these!
This may be the most favorite Valentine's Day game I've ever done with my kids in homeschool. They hope to do it again every year! It could definitely be done with a larger classroom, possibly split into groups.
Valentine's Day is about love, so why not add a little love to the classroom with these fun love-themed games. We love Valentine's Day school party ideas like this!
Love Games for Kids from The Spruce
Kids love making crafts and this one is ADORABLE. Paper bags and sheets of felt are super affordable and this is something that is definitely unique. Their sweetheart (mom and dad??) will be so happy with this valentine!
Valentine's Day school parties aren't all about the decor and treats… you need some activities too! This one is perfect.
My daughter loves collecting cute pens. There are so many fun ones on Amazon! We love these diamond pens or hearts on a rope pens. This simple valentine would make a cute gift from the teacher, room mothers, or a prize for Valentine's games.
This is something that the whole class can help with! Have them make a paper hearts chain to stream around the room. In addition, they could write something kind about a class member on each one.
Give the kids a little cup of Skittles, M&M's, or Conversation Hearts and have a game of Bingo! The kids can eat their treats afterwards.
I've never met a kid who doesn't love Goldfish crackers. These Goldfish valentines would make a perfect game prize or gift to the students!
This is a clever variation on messy crumbs-all-over-the-floor cupcakes. Drop a pudding up in a cupcake liner, add a few fun decorations and a squirt of whipped cream, and there you go! Super cute and easy.
With just a handle of candy, the 3rd grade students can play a whole myriad of Valentine's Day games!
Valentine's Day Minute To Win It Ideas from Makoodle
If the 3rd grade kids love playing Bingo, they'll love this Roll and Cover dice game too. Just give them a cup of Valentine's treats to use on their board (and eat after) a dice, and this printable, and you're good to go! You can get a hundred white dice for under $10 bucks here!
Do you remember making tissue paper crafts in school too? I loved it! This is a super easy craft the kids can make, while watching a fun love-themed movie, and munching on treats. Such a cute Valentine's Day school party idea!
At our local school, the third graders have a tutor day in February, where they get to be the big kids and help the Kindergarteners. It's a chance for them to tutor, while having some fun together. This is a cute Valentine's math worksheet, that is easily made 'fun' by adding some candy hearts! Education and fun together… sweet! You can also easily copy the idea and make your own worksheet for 3rd graders!
And, for the older kids… Find Your Heart Mate game is another clever way of practicing math and having a blast at the same time!
This is another fun game to use dice with, like the Roll and Cover game shared above. Play both of them!
Oh, the possibilities that this activity brings… so much imagination at work! I love the idea of using candy hearts and toothpicks… the kids will LOVE this!!
Another simple drink idea that will light up the room. 😉 Capri Suns are super affordable too and are nice for keeping sticky drinks off the floor… a cup of juice is asking for trouble.
How sweet is this little lei craft? This is a perfect 3rd grade Valentine's Day craft idea with some definite "love" involved.
Isn't this so cute?? Memory games are so good for the brain and even better when they taste good! I love the idea of doing this for a Valentine's Day class party activity.
Valentine's Day Matching Game from Creations by Kara
We play a game similar to this at Christmas time and it's always a big hit. I love the idea of a Valentine's version and the kids will get such a kick out of it!
Left Right Valentine's Story from Cul-de-sac Cool
Valentine's Day is about love, so how about giving the kids a handful of conversation hearts, some glue, and have them write a love letter using the hearts?! It will bring out their creativity and happy thoughts. 🙂
Conversation Heart Love Letter ~ Source Unknown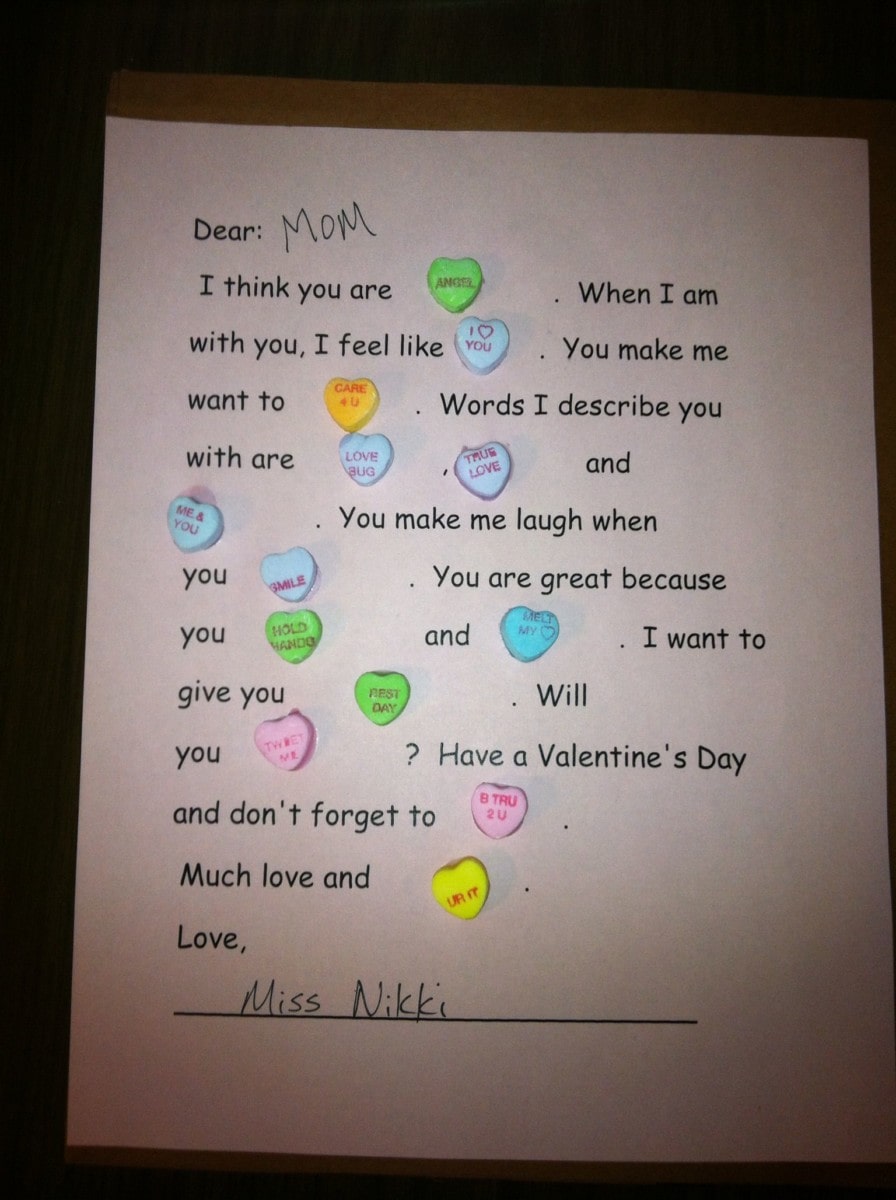 This is such a cute treat to have for the kids! It could also be done with regular non-jello fruit cups, but I actually prefer the Jell-O. At my house, the minute a fruit cup is opened by anyone under the age of 14, the juice go spilling everywhere and I curse the day that I bought them. However, the Jell-O would totally solve that problem!
Read Valentine's Day books together and then have the students make origami heart book marks! I love this!
Origami Heart Book Marks from DIY Candy
This Valentine's Day spin wheel would be fun for the kids to put together and play with their classmates.
How simple is this game?? Simple, but always super fun! I would probably make the hearts a bit bigger and tape them down to the floor OR tape them on the back of a chair, so they're not actually stepping on the hearts (and damaging them), but they're sitting their back against it, if that makes sense.
I hope you have the best 3rd grade Valentine's Day class party!!
If you liked these 3rd Grade Valentine's Day school party ideas, check out:
Additional Images to Save Valentine's Day School Party Ideas Post: