Teach your family to walk by faith in the footsteps of Jesus. The path Jesus made for us will lead us back to Heavenly Father. This family night lesson is perfect for Summer! You can apply it to so many different outdoor activities and outings. Give this little lesson while you are on a family hike or at a camp out! Building faith and growing testimonies does not just happen in churches or while quietly sitting at home. Some of my favorite gospel lessons have been taught while driving in the car or marching through a beautiful forest.
Teach your family how to walk by faith in the footsteps of Jesus. His footprints lead us back to Heavenly Father.
How do you walk by faith in the footsteps of Jesus?
The scriptures encourage us to become like Jesus Christ and to walk even as he walked. (1 John 2:6) How does walking the path of Jesus help us to become like Him?
When I was little, I used to put on my dad's giant snow boots and march around the house. I liked to wear my daddy's shoes. They were big and warm and slipping them on my feet made me feel like I was just like my dad. I even had a little song I would sing as I marched around. I loved my dad and it made me happy to be like him.
Jesus Christ is our perfect example. He loves us unconditionally. He came to earth to save us from sin. While He was here, He lived a life of faith that demonstrated how we should live as well. He showed us the way back to Heavenly Father. The path Jesus walked, is the way to happiness!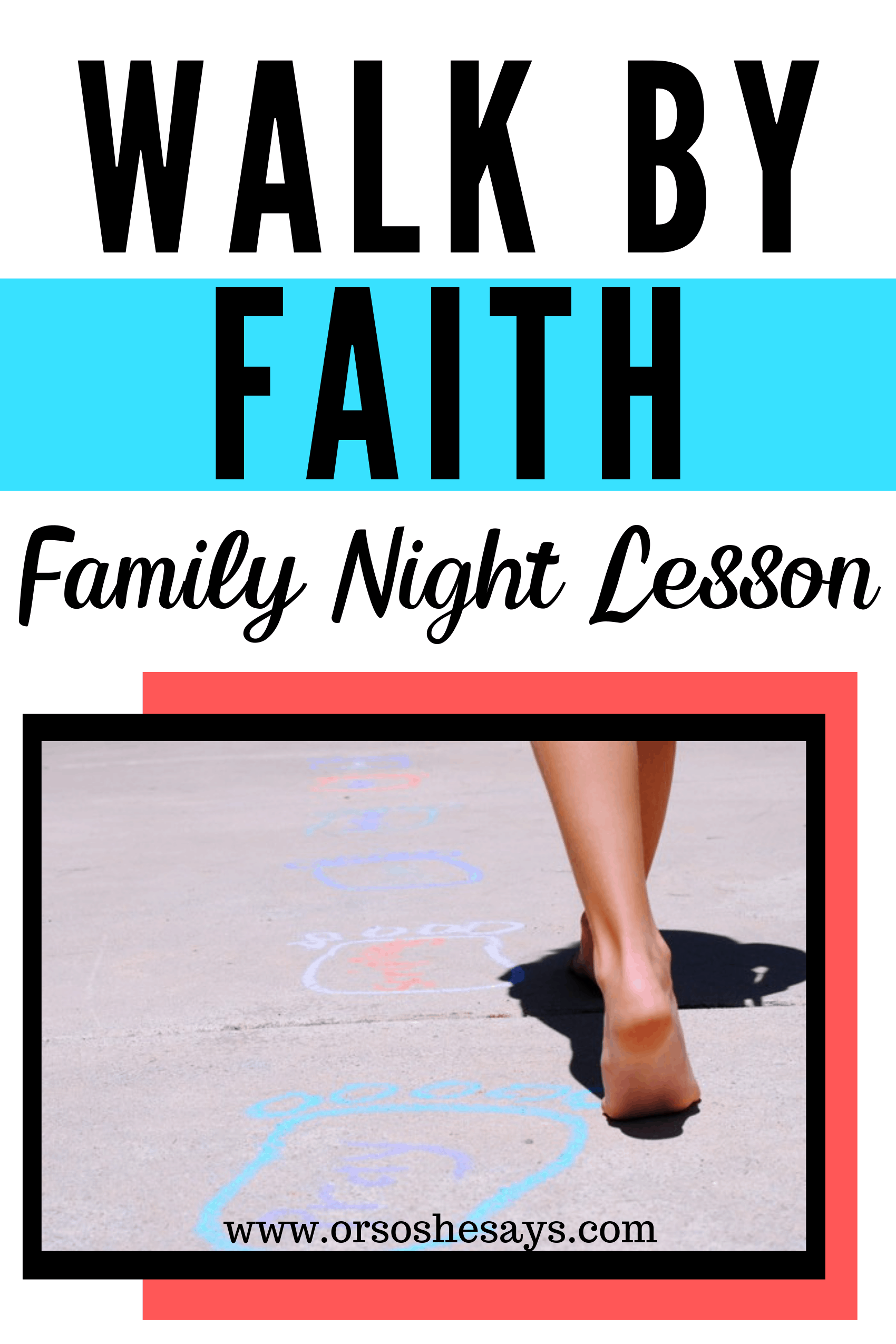 If we can learn to walk by faith not by sight, we can find joy and salvation.
What are some of the big steps we need to take to walk by faith?
One important step we need to take to follow Christ's example is to be baptized. Jesus was baptized in the river Jordan by his cousin John the Baptist. Jesus was perfect, but he needed to be baptized to show us the way. When we are baptized, we make a covenant with Heavenly Father that we will remember Christ. In return, we are promised that we will have the Holy Ghost as our companion. We are also promised that we will be resurrected one day to live with Jesus and Heavenly Father again. Baptism in an important step on the path of faith.
Not all of the steps we take a big giant ones. Small, daily actions are also footsteps along the path of faith to become like our Savior.
What kind of small steps can you take each day to become like Christ?
Sometimes it is the little decisions that keep us headed in the right direction. Baby steps add up over time.
Read the Scriptures
Pray for a Desire to Improve
Keep a Journal of Thoughts about Christ
Bear your Testimony
Read Conference Talks about Jesus
Make an Effort to Speak Kind Words
Turn off Media that Offends the Holy Ghost
Attend Church
Use Good Language
Respect your Parents
Find Small Ways to Serve
President Thomas Monson said, "In a very real sense, all can walk where Jesus walked when, with his words on our lips, his spirit in our hearts, and his teachings in our lives, we journey through mortality."
Jesus Christ told his disciples, "Come, follow me." The same invitation is extend to us our our families! Walking by sight is not necessary. He's here with us every step of the way and it is worth the blessings that come from our efforts.
God has said, "I, the Lord, am merciful and gracious unto those who fear me, and delight to honor those who serve me in righteousness and in truth unto the end.
"Great shall be their reward and eternal shall be their glory.
"And to them will I reveal all mysteries, yea, all the hidden mysteries of my kingdom from days of old, and for ages to come, …
"Yea, even the wonders of eternity shall they know, …
"And their wisdom shall be great, and their understanding reach to heaven; and before them the wisdom of the wise shall perish, and the understanding of the prudent shall come to naught.
"For by my Spirit will I enlighten them, and by my power will I make known unto them the secrets of my will—yea, even those things which eye has not seen, nor ear heard, nor yet entered into the heart of man" (D&C 76:5–10).
What a beautiful promise! I love knowing that as we have faith, our faith will increase. Faith is power, knowledge, blessings, comfort, and so much more. I am so thankful to the Holy Spirit for helping me as I strive to increase my faith.
You can do this fun walk by faith activity with your family to help them remember that each little step we take in faith leads us closer to our Savor.
I used sidewalk chalk. You could use sticks to draw in the dirt or make paper footprints and write on them with markers. The concept is the same!
Draw 8-10 big footprints in a line.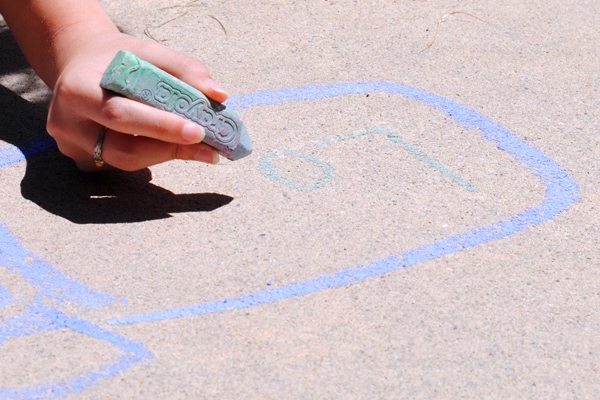 Let your children list some steps they take that show they are walking by faith. It can be some things from the family night lesson or some new ideas! Write the words in the footprints.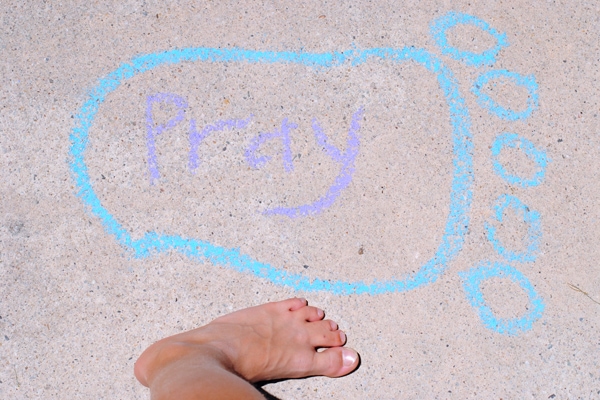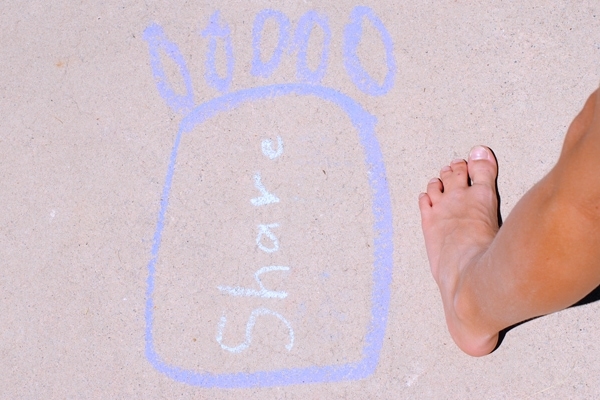 Then, walk along the path of footprints.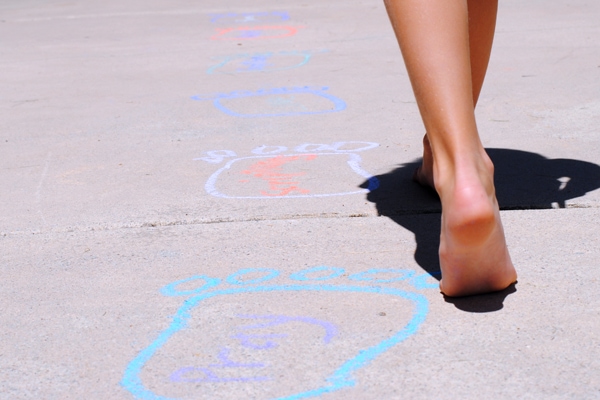 Talk about how easy it is to take each small step. It is not hard to follow in the Savior's footprints. He helps us and guides us along. I've heard it said that walking by faith rather than by sight is like standing under a streetlight at night, then stepping away to take a few steps into the darkness. As you slowly move away, your eyes slowly adjust to the darkness and we can see a little further into the distance. As we continue to take steps, our eyes continue to adjust. It truly is like that! Sometimes it's hard to know what comes next in life and sometimes pressing forward can actually seem scary. But, God will be by our side and direct our path, as we continue on, committed to following Him.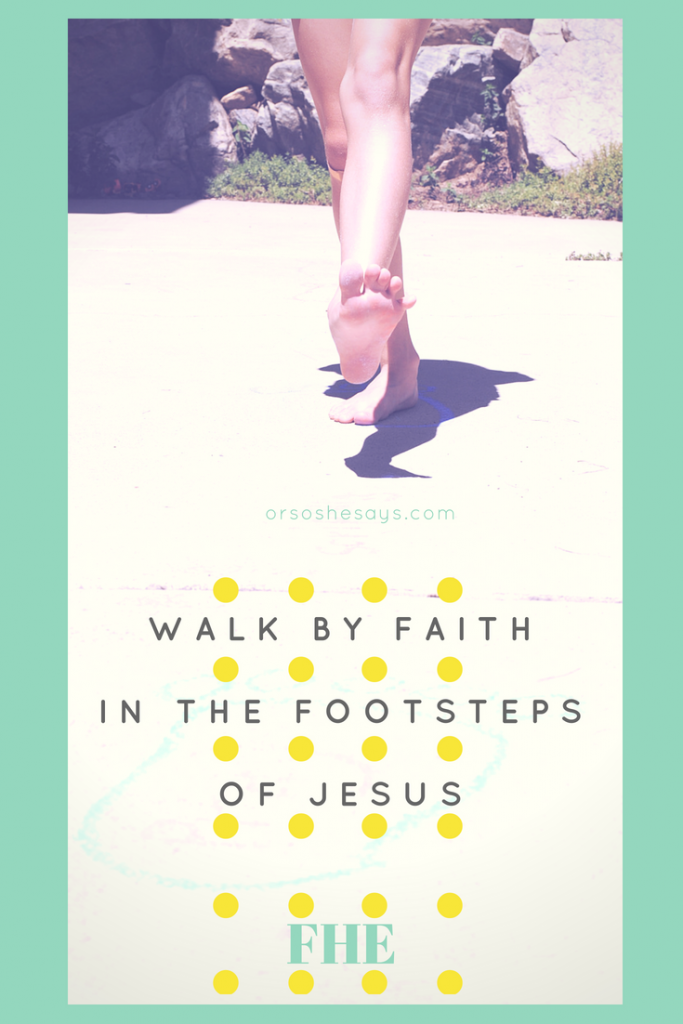 If you loved this post on the importance of faith, check out:
The Ultimate Collection of Faith Quotes
The Ultimate Collection of Scriptures on Faith
Growing Your Faith in God – Family Night Lesson
Shield of Faith – Family Home Evening Lesson
Some additional thoughts on faith:
Any time I teach my children, I like to spiritually prepare myself by reading the scriptures, listening to talks, reading books, praying, etc. I thought I would share with you a few additional thoughts on faith to help prepare your mind and invite the Holy Ghost before you teach the family.
"It is by faith that you can lay hold upon every good thing. I pray with all my heart that your faith will be increased that you are a daughter of a loving God. I testify to you that you have been one of the valiant ones to reach the point where you now are in this journey of life. Just as you are marked as a target by the enemy of righteousness, you have been protected and watched over by your Heavenly Father and the Lord Jesus Christ. They know you. They know all of the forces and individuals around you. They know what is ahead of you. And so They know which of the choices you make, which of the desires you decide to satisfy, and which of the circumstances around you will make the most difference in keeping you walking in the light. I testify that by the Spirit of Christ and by the Holy Ghost, you may walk confidently in whatever difficulties will come. Because you are so valuable, some of your trials may be severe. You need never be discouraged or afraid. The way through difficulties has always been prepared for you, and you will find it if you exercise faith.

You must have faith to pray. You must have faith to ponder the word of God. You must have faith to do those things and go to those places which invite the Spirit of Christ and the Holy Ghost." Elder Henry B. Eyring

"We are not obedient because we are blind, we are obedient because we can see" Boyd K. Packer
"I delight in the examples of those in the scriptures who walk by faith on their earthly journey. Each time I walk with Abraham and Isaac on the road to Mount Moriah, I weep, knowing that Abraham does not know that there will be an angel and a ram in the thicket at the end of the journey. We are each in the middle of our earthly path, and we don't know the rest of our own stories. But we, as Abraham, are blessed with miracles." Susan W. Tanner