Be prepared for a Family Night full of action and adventure! This lesson is perfect for active children. Sometimes (usually), my kids like to fight during our Family Night lessons. This week, fighting is encouraged. How cool is that?! Read on to find out why…
Have you ever heard the term, "Put on the whole armor of God?" What is the armor of God? Do we need it today? This Family Night lesson will help you teach your family to use a Shield of Faith to withstand the fiery darts of Satan. Sounds like an adventure to me.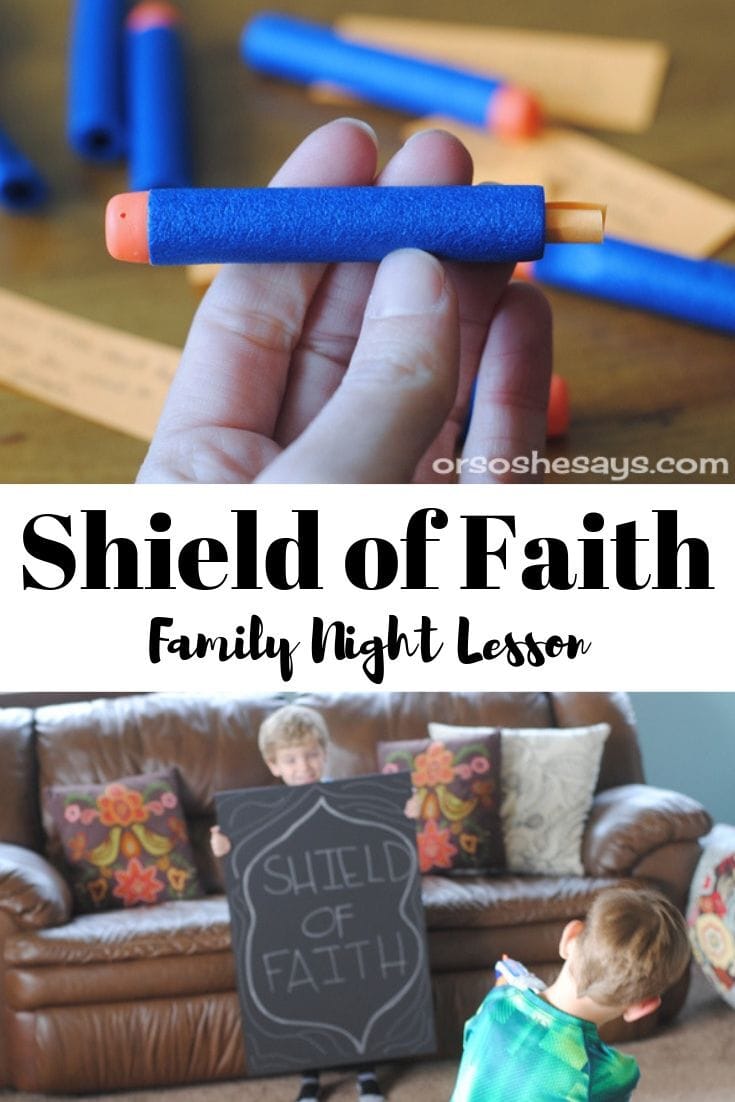 LESSON:
Start by reading from the Bible. Take turns reading Ephesians Chapter 6 Verses 10-18. In these verses, the Apostle Paul writes a letter to the Ephesians about how to fight against wickedness. He draws an analogy between putting on physical armor as protection in battle to wearing spiritual armor to fight against spiritual temptations.
There are many things we can do to put on the whole Armor of God each day. The scriptures talk about several elements to the Armor of God. This lesson focuses on the Shield of Faith.
The Shield of Faith has many important purposes! The shields during Paul's time were not small medieval shields like you might picture a knight in shining armor holding. The Roman shield was called a scutum. The scutum covered the warrior entirely. They could be about three and a half feet tall and three feet wide! That is almost the size of a door. They were much bigger than an average shield and did more than just deflect sword blows.
There were several purposes to the scutum, or, roles that it played in battle. Use the actual purposes as an analogy for the spiritual purposes of the Shield of Faith in our own lives.
Identify- The shield is the first barrier against an enemy attack. It is the first thing that the opposing warriors will see when they come to battle. Often, the shields were painted with identifying marks. It identifies a soldier. When you pick up a Shield of Faith, you are making a stand by identifying yourself as a Christian. It is meant to be taken up in all circumstances. It is a symbol that you are choosing to be on the Lord's side and be a force for good in the world.
Guard-The shields during the Roman times were made of wood and then covered with animal hide. Before battle, the soldiers would wet the hide with water. When wet, it could extinguish flaming arrows. So, when the burning arrows flew over the city walls, they could not do the harm that was intended. The flames were snuffed out. We can use our Shield of Faith to extinguish the fiery darts of the Devil. How? By taking the time to be prepared. Pray before school. Ask for a priesthood blessing if you are struggling with a choice or with your testimony. Read your scriptures and learn about the Gospel. Attend church meetings to increase your understanding of the commandments. Actively serve in the community and in your home. Take the sacrament each week to repent and come closer to Christ. When you prepare yourself and do things to increase your faith, it is like you are wetting down your shield to snuff out Satan's flaming arrows!
Deflect- The shield not only blocked the warriors from attack, but it could also be used to press forward against the opponents. With a little effort, it could knock the opponent backwards! Even though a shield is thought of as a defensive part of the armor, it can also play a small offensive role as well. We can choose to use our faith in Jesus Christ to push temptation from our life. When we are getting bombarded with temptations, we have the ability to fight back. Choose to turn off the bad movie, walk away from the risky party, stand up for someone getting bullied, and be an example of modest dress and behavior. With the Shield of Faith you can push against the tide and trends of the world to stand for what is right.
Protect– There is great strength in numbers. The more shields up, the better protected the group is from attack. When fighting as a group, a regiment of soldiers could strategically position their shields to form a testudo ("tortoise") around themselves that created a safe enclosure for the men. It was like a blanket of protection. When we hang out with friends and associates that carry a Shield of Truth, the combined faithfulness helps to encircle the group with protection from Satan. Think of it like building a solid wall that is almost impossible to penetrate. This is why choosing good friends who desire to keep the commandments is so important. It is an umbrella of protection from temptation.
Why is it called the Shield of Faith? Faith is: Confidence in something or someone. As most often used in the scriptures, faith is confidence and trust in Jesus Christ that lead a person to obey Him. Satan's attacks can sometimes cause us to doubt God. When we loose our trust in God and in His commandments, that is when we make mistakes. Without faith, we believe that what Satan has to offer is better than what our Heavenly Father has promised us. Faith is what keeps us steady. It is the buffer between us and Satan's lies. When we believe in Christ and believe in His promises, the lies of the enemy loose their power and we become victorious. Our faith is our shield.
ACTIVITY
Satan is a clever trickster. He knows how to hit us with just the right temptations. Sometimes they seem to come out of nowhere! We need to have our shield ready! You will need poster board, markers, paper, a nerf gun and nerf darts for this activity.
Cut strips of paper and write onto them temptations or situations that Satan might use to tempt us to loose our faith. I let my kids help think of things that are relevant to their lives. They are young, so our temptations might be different than a high school student.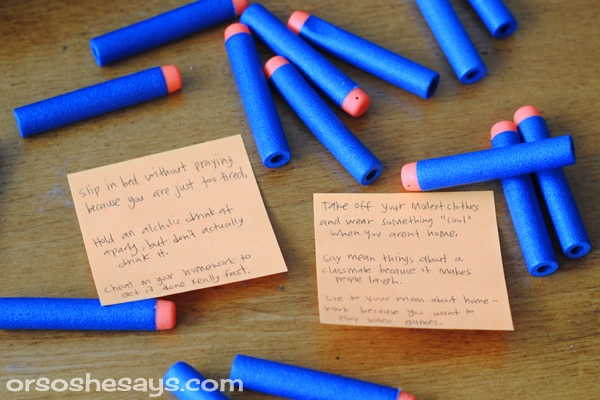 Then, cut the situations out of the paper and roll them up. Slip the paper into the ends of the nerf gun bullets.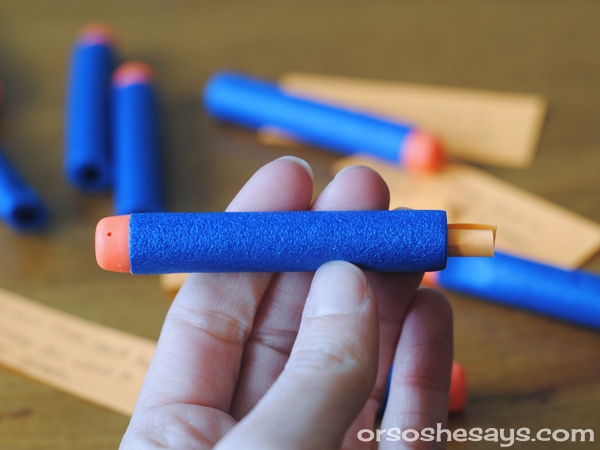 Now that your bullets are ready, it is time to put together a Shield of Faith to protect your family from the temptations of Satan. You could really make your shield out of anything you have around the house. An old box, a couch cushion, poster board, etc. I had a nice black Styrofoam poster board in my closet that worked great! Draw a shield on the board. You can let your family decorate it, or have it ready in advance. Whatever works for you!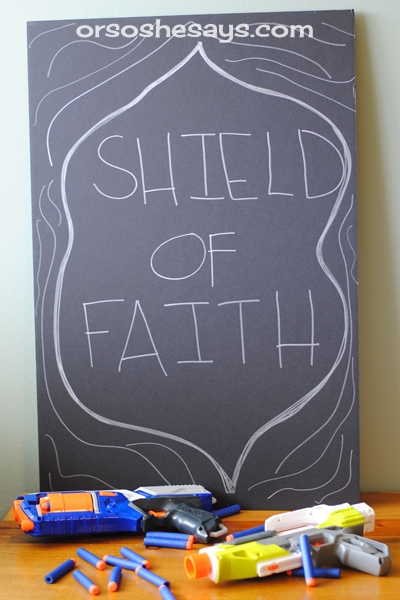 Now, it is time for the fun to begin! Load the nerf gun or guns with the fiery darts of the Devil. Place one person behind the Shield of Faith and then see if it protects them from the bullets. When you also want the Best range Bags, here's some awesome reviews for it.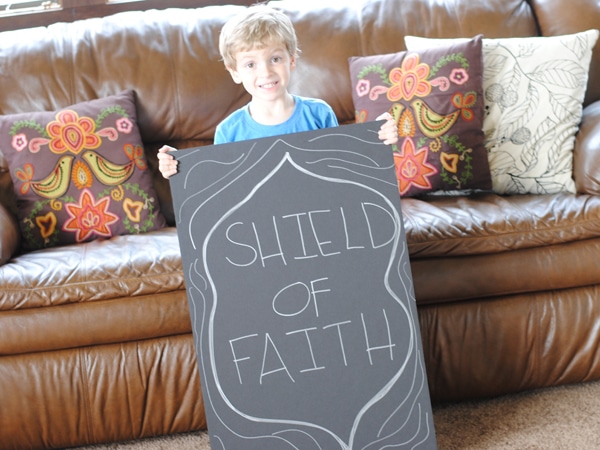 It is fun to watch the bullets bounce off the shield! It was kind of loud and my kids thought it was great. Take turns shooting bullets at each other. Make sure to hide faces behind the shield to protect the eyes.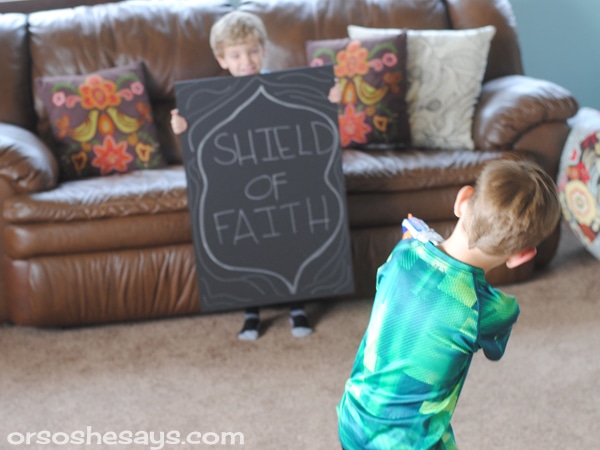 Remember to tie the activity back into the lesson. When we have faith in Jesus Christ and in God's plan for us, it protects us from temptations of the world. We are able to stand up for our beliefs and not be hurt by sin. You can unroll the papers from the darts and read them out loud together. It is important to put on the Armor of God each day!
I hope you have fun with this lesson. Have a great Family Night this week!
For more Family Night ideas, check these out:
Name Game – God Knows My Name Family Night Idea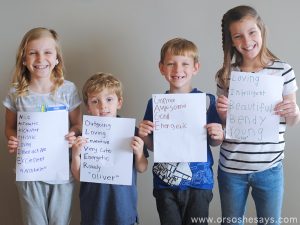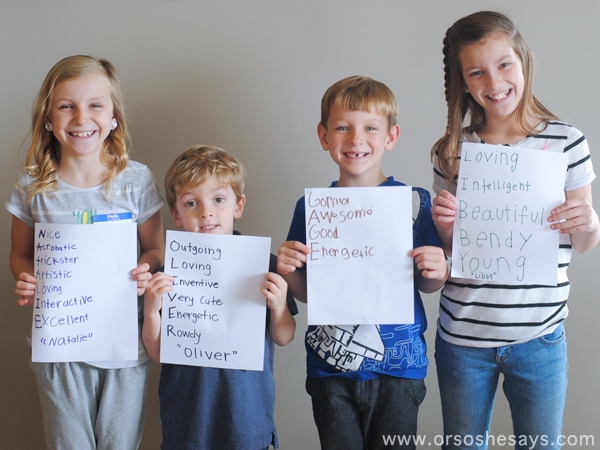 The Stories that Bind Us – Creating Family Unity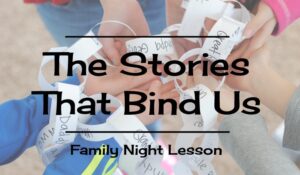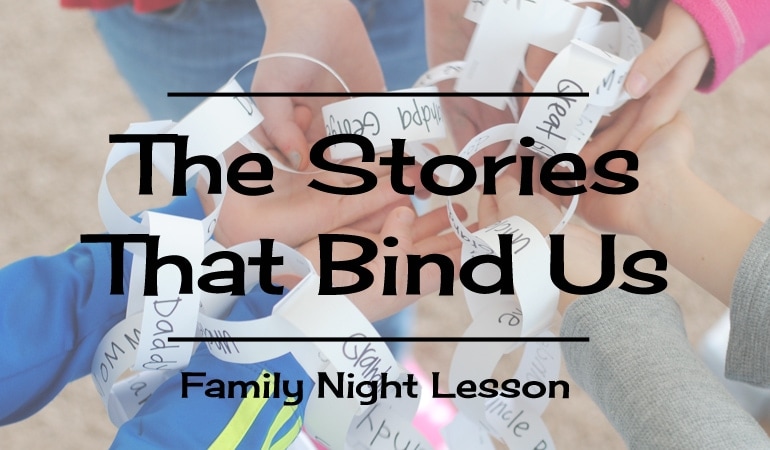 Plant Happiness with Rainbow Seeds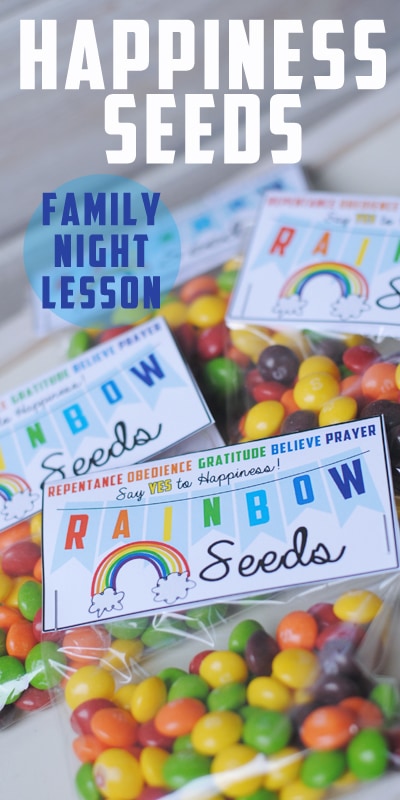 Save