So, every year, we like to go on one big family vacation. In the past, we have gone on a Disney Cruise, Royal Caribbean cruise, and to Disneyland. They have all been so amazingly fun and a great way to bond as a family. Whether elaborate or really simple, I'm a huge believer in family vacations. This year was a little different for us, because I gave birth to our 7th child… my sweet little Grace. I wanted to do something a little more laid back and flexible, so we opted to spend a week in Southern California. We had an amazing time!! If you're due for a family vacation, I highly suggest it and I also suggest my travel agency who helped me plan it all, at no cost. They made everything so easy!
This was definitely an awesome California family vacation!!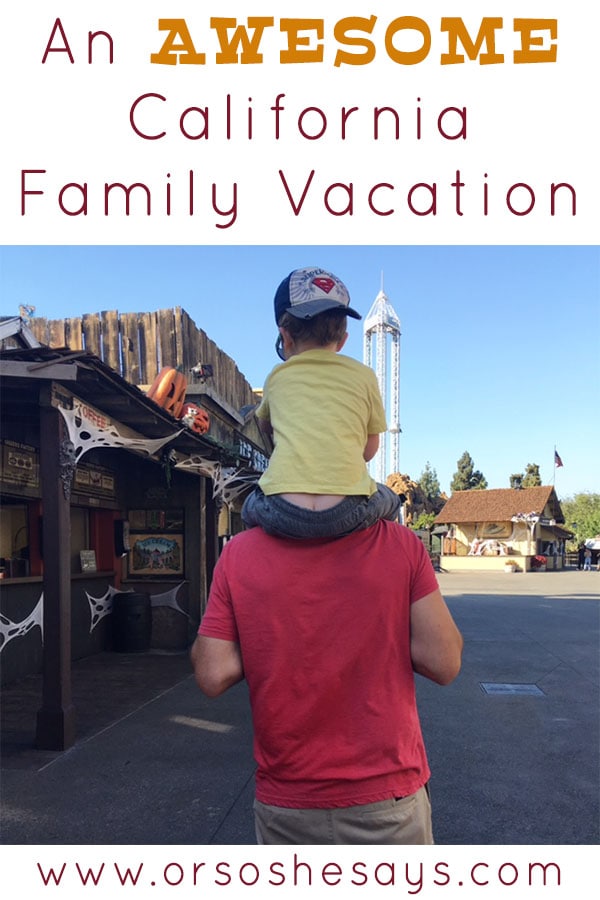 We decided to stay at the Hyatt Regency Resort in Huntington Beach so we could be right next to the Pacific Ocean. The resort is super cool, because they have a private walk-way bridge that goes over the street and lands you right on the beach. They'll even hand you beach towels and umbrellas as you cross. No need to bring your own! There's also a few little restaurants that we could walk to from the beach, and many more just about a mile away. The resort has pools everywhere you turn, so between the pools and the ocean, my kids were in HEAVEN.
My little guy, enjoying his new baby sister at the hotel, on the way to California…
Checking out all the rooms and cool features at Hyatt Regency!
First item of business, head to the ocean!! My kids loved playing in the waves… well, all but a couple of them, who had sand aversions and shark fears. 😉
Benny definitely did NOT have any aversions to sand. In fact, he loves to nestle his face right in it and relax.
He's nuts.
The last time we were in California, my older boys and husband skipped a day of Disneyland and went to Knott's Berry Farms. They loved it so much, they wanted to go again, but this time, bring everyone! Before walking into the park, we tried out their restaurant. It was awesome! Everybody loved everything… especially the cornbread and jam. Mmmm…
Because we have a variety of ages of kids, we decided to split into two groups. My husband took the older kids to hit up the "scary" rides, and I took the younger ones over to the younger-kid area… which I didn't mind. It was easier for me, with Grace.
My kids are literally obsessed with their new little sister…
There was no shortage of fun rides for the kids to do. And, because we went on a weekday, the park was really empty!
We spent the whole day there and had a great time!
Waiting for dad and the older kids to get off the roller coaster…
I could never do this… and, the little kids gave me the perfect excuse!
I love this picture!
Okay, funny story. So, my husband and kids were on one of the crazier roller coasters at the park and afterwards, my husband realized that his phone was missing… it flew out of his pocket! Luckily, it didn't hit anyone on the head. Using the Find My iPhone app on my phone, we found his phone… it had landed on the roof of the women's bathroom. Eeek! That phone is his work phone, so we couldn't just walk away from it… so, we had to wait until the coast was clear, so he could jump on the roof to get it, without looking like a creepy perv. Phew! We made it. The phone still worked, but the screen was shattered.
Check out Part 2 and I'll tell you a little more about our hotel stay, an educational outing, and our trip to Universal Studios! If you're interested in going on a similar family vacation, be sure to contact Get Away Today. They'll hook you up!!
Our California Family Vacation, Part 2