Hello, 'Or so she says…' readers! It's Kimberly from Get Away Today. I'm back again to share some helpful Disneyland tips and tricks with all of you. For this month, I want to tell you what advice I've learned about how to make the most of Disneyland in the rain. For many, there is absolutely nothing worse than meticulously planning a vacation, only to have the weather mess things up! When you go to Disneyland, you are most likely hoping for sunny, clear skies and warm temperatures. But that's not always the case! Don't worry; there are a lot of ways to survive Disneyland in the rain, and to even have a great time, too.
Pin this image to save Get Away Today's tips for making the most of Disneyland in the Rain!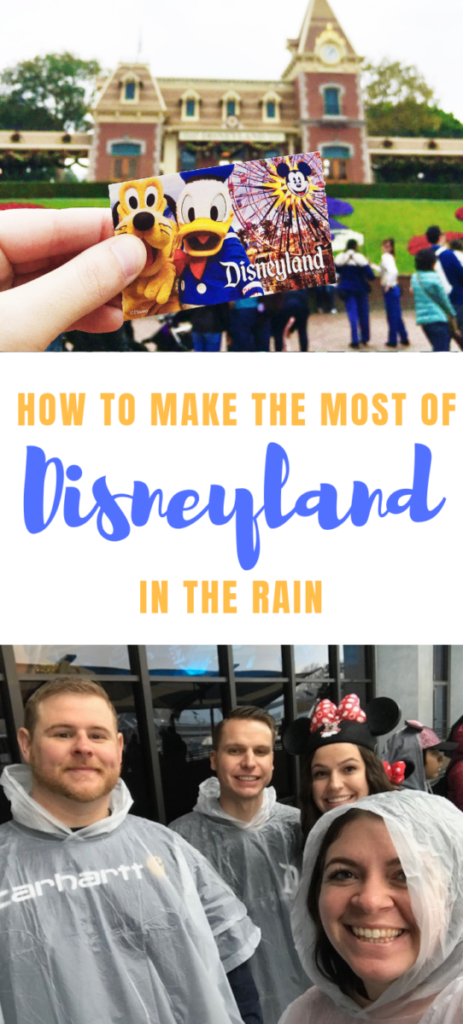 How to Make the Most of Disneyland in the Rain
Perhaps the most important tip for enjoying Disneyland in the rain is doing as much planning ahead of time as possible. Sometimes you are limited in the dates you travel, and have no choice but to travel when they is a high chance of rain. If that's the case for you, keep reading for out tips!
Disneyland in the Rain – Plan Ahead
Even if you don't know for sure it will be rainy days when you visit Disneyland, you can pack for it! Many of the supplies we suggest won't take up much room in your bag, so they are definitely worth including in the Disneyland packing list. Some are even inexpensive enough you could purchase them at your destination, perhaps at a local convenience or big box store. Here are the essentials you'll need to make the most of Disneyland in the rain:
a rain poncho or light, waterproof jacket
an umbrella and/or waterproof head covering
waterproof footwear and quick drying socks
a waterproof cover for your stroller or wheelchair
a waterproof bag to carry all of the above!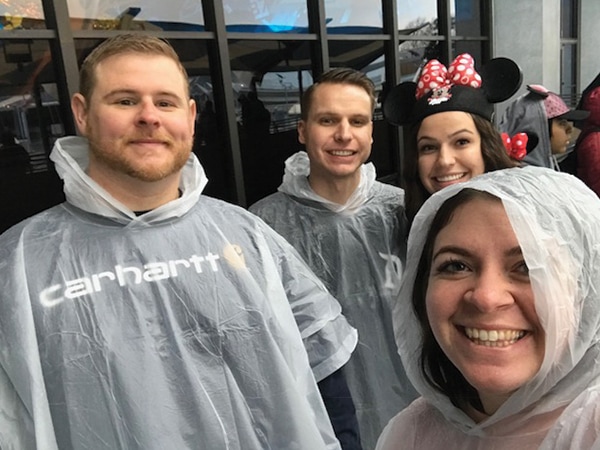 Sure, you could remain optimistic and just tell yourself it won't rain.. but if it does end up raining on your Disneyland vacation, you don't want to be forced to purchase rain gear in the Disneyland Resort at the last minute. I'm sure you can guess that items are much more expensive inside the Park than they are elsewhere.
If you don't have comfortable, waterproof shoes, there is a clever little hack for surviving Disneyland in the rain; wear gallon sized plastic bags or grocery bags over your socks! Then you can slip on regular walking shoes over the bags, but your socks and feet will stay dry. It may not be a glamorous outfit choice, but having wet feet is probably worse than looking unfashionable!
Disneyland in the Rain – Perks
Do you want to know one of the perks of visiting Disneyland in the rain? Some people just don't want to deal with the inclement weather, so you might have much smaller crowds for yourself! This means shorter wait times for rides, attractions, events and food in the Disneyland Resort. Even if other tourists are as brave as you, and are trying to make the most of Disneyland while it is raining, the locals and annual pass holders will most likely opt to head to the Resort during better weather. That is a significant group of people who are NOT in your way in line for rides that stay open in the rain. Yay for you!
Disneyland in the Rain – Rides that Stay Open
Speaking of rides that stay open, I should probably share a list of what you can expect to find available at Disneyland when it rains! Of course, this list is subject to refurbishment dates or other closure needs, but it's a good place to start. I've divided the list between what's open at Disneyland and Disneyland California Adventure Park.
Rides Open at Disneyland in the Rain:
Space Mountain
Buzz Lightyear Astroblasters
Star Wars Launch Bay
Star Tours
Great Moments with Mr. Lincoln
"it's a small world"
Indiana Jones Adventure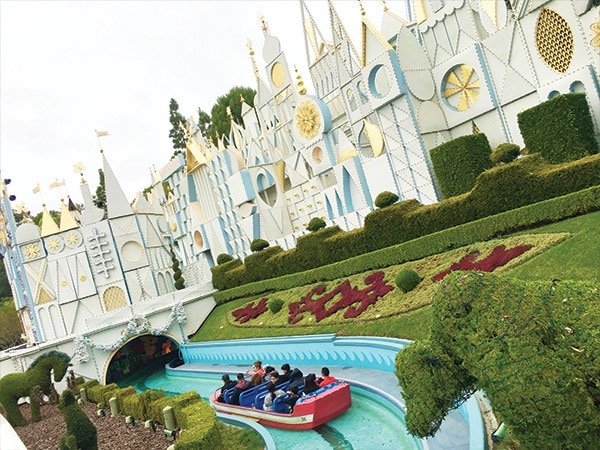 Rides Open at Disney California Adventure Park in the Rain:
Frozen LIVE at Hyperion Theater
The Little Mermaid – Ariel's Undersea Adventure
Monsters Inc., Mike and Sulley to the Rescue
Animation Building – Including Turtle Talk with Crush
Soarin' Around the World
Disney Jr. Dance Party
Guardians of the Galaxy – Mission: BREAKOUT!
Disneyland in the Rain – Dining
This might be the hardest part about making the most of Disneyland in the rain. Since many dining areas are uncovered, what is covered will go quickly. But it is definitely still possible to have some pleasant meal or snack times at Disneyland when it's raining. For example, if you use the Mobile Ordering feature in the free, Disneyland App, you can do your best to schedule food purchases during slower times. And you won't have to wait in line in the rain when you use Mobile Ordering since it's a service that allows you to order and pay for your food remotely. Mobile orders are picked up in a separate place at participating vendors, so you'll just walk up to the designated area and grab your food. Then take cover! Eating at off-peak times (an early dinner, for example) can reduce the size of the crowds at indoor eating areas in places like Smokejumper's Grill or Hungry Bear Restaurant. A rainy day at Disneyland is probably one of the best times to splurge on Character Dining, too. Making a reservation for Character Dining will guarantee you a seat inside when it's time to eat. If that's not something you choose plan ahead for, you can always check for last minute availability by using the Disneyland App.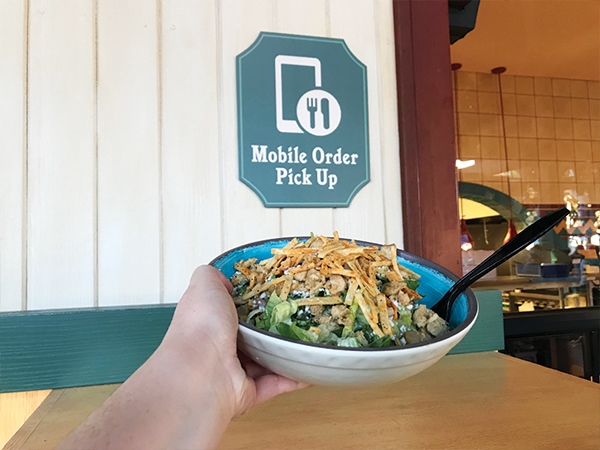 Disneyland in the Rain – Overview
While it may be a little more work before, during and after your vacation (more laundry, anyone?), visiting Disneyland in the rain is definitely worth trying! Planning ahead and having the right attitude will make a world of different. After all, how hard can it be to stay smiling in the Happiest Place on Earth, even if it is all wet?
If you're interested in booking a Disneyland or other vacation, you can see all of Get Away Today's offers online. Or, feel free to call our expert travel agents at 855-GET-AWAY to talk with them about your plans in person. When booking, be sure to mention 'Or so she says…' sent you, and use my code OSSS10 for an extra $10 off your vacation package.