Happy Fourth of July! Do you have any exciting plans tomorrow? There is something extra special about festivities that happen around the Fourth of July. Well, this is Darleen from Darling Darleen, and at our house we go all out on this patriotic holiday. I make sure we are all donned in red, white and blue outfits…of course! When we lived in the Northeast we spent many 4th of July holidays in Boston and on the beaches in Cape Cod, attending the parade and fireworks show. Since living in the South, we've picked up a tradition that many of the neighborhoods do, which is a bike parade! This was new to us, but we love the idea.
We love this because you can take your party on the go–whether hitting up your town's annual parade or having a festive picnic at the park. Visit the dollar store or your local craft store just a few days prior to the 4th or better yet TODAY. They usually mark down holiday party items a couple days before the actual day. Pick up paper pinwheels, streamers, garland, flag picks and the inexpensive what-is-this-used-for items. Chances are most of it will look pretty darn good on an 8-year-old's bike.
Add paper accessories to the girls' bikes and little windmill sticks. We love to fill the bike baskets with fresh flowers or other fun goodies like candy or necklaces that can be handed out at the parade.
Don't forget to decorate your wagons too! Perfect to use also for a picnic on wheels. Load up your wagon with goodies and little walkers and then roll to your destination.
Festive paper streamers can take the tires of a bike to new colorful heights. We flipped our bike over, taped the streamer and slowly spun the wheel as we snaked the streamer in and out and around the spokes.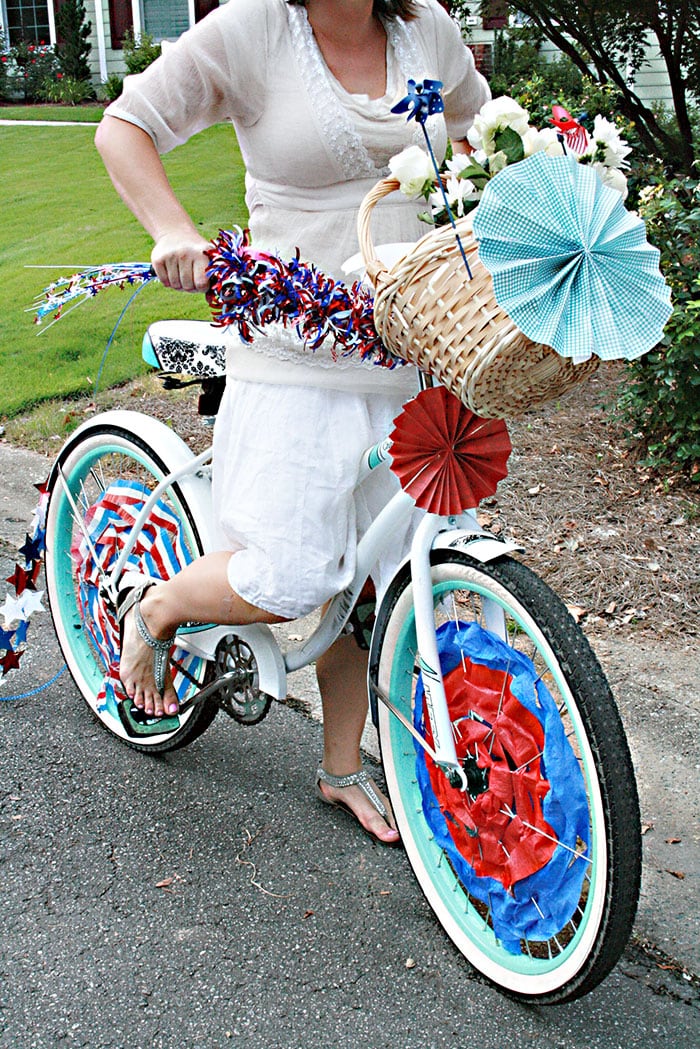 Now you are ready to roll out your bike parade in patriotic style! Make plenty of noises. Bring horns or attach decorated tin cans to the back of your bike. Let the festivities get rowdy!
Last but not least, show your spirit by bringing your American flag! Happy Fourth of July!