Jesus is known by many names, and a better understanding of them will help us develop a more personal relationship with Him. This family night lesson will discuss the names by which Jesus is often known.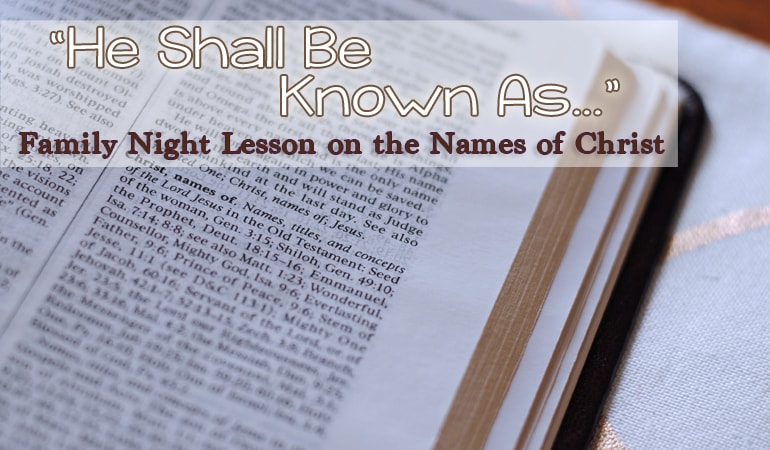 Over a century ago, in a small city of Bethlehem, a baby boy was born in a stable. His mother gently wrapped him in swaddling clothes and laid him in a manger. He was welcomed into this world by heavenly angels and humble animals for there was no room for him in the inn. This sweet baby was Jesus, the Son of God.
Before Christ was born, his birth was foreseen by the prophet Isaiah. The prophet said this in Isaiah 9:6 "For unto us a child is born, unto us a son is given: and the government shall be upon his shoulder: and his name shall be called Wonderful, Counsellor, The mighty God, The everlasting Father, The Prince of Peace."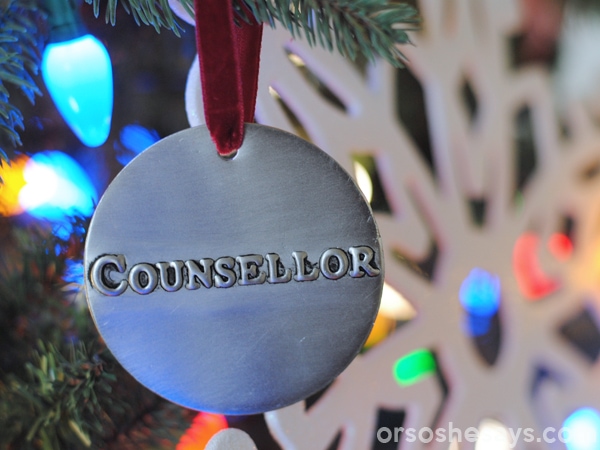 I love the beautiful picture those words create in my mind. The concept of Christ having numerous names is the foundation of this lesson. Jesus "shall be called" so many different things in the scriptures. How can understanding those names help us to build a relationship with Him? What names do we personally call Jesus when we think of him?
Our focus on Christ is strong during the Holiday season, but this important lesson can be taught during any time of the year.
Lesson:
Jesus Christ is known throughout the scriptures as many different things. Take a minute to look up in the Bible Dictionary the Names of Christ. There are hundreds! Read through them in small groups our out loud as a whole.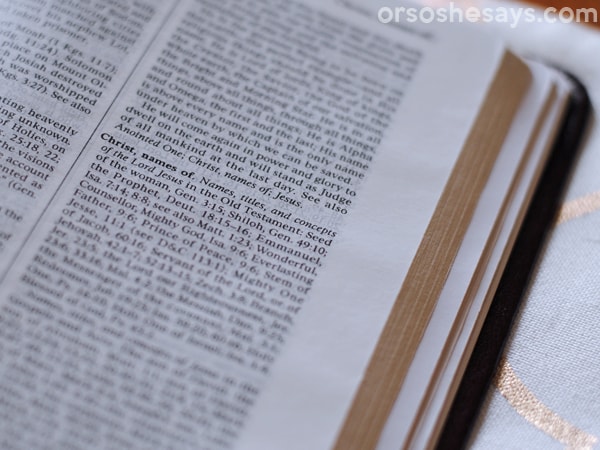 Ask the question: What kind of meaning does that specific reference mean to you personally? How do the different names affect how you feel?
For example: I love thinking of Christ as my "Rock." Sometimes, as a parent, I get so worried about my children and the scary things going on in the world. Bad news is always being broadcast and it can make me feel weak. Knowing that I have a "Rock" to lean on strengthens me. It helps me to shift the burdens of my mind onto Jesus. He is solid. He is a sure foundation. He is my Rock.
Let each person in your family pick a few of their favorite names to share with the group. Write them down to display throughout the week.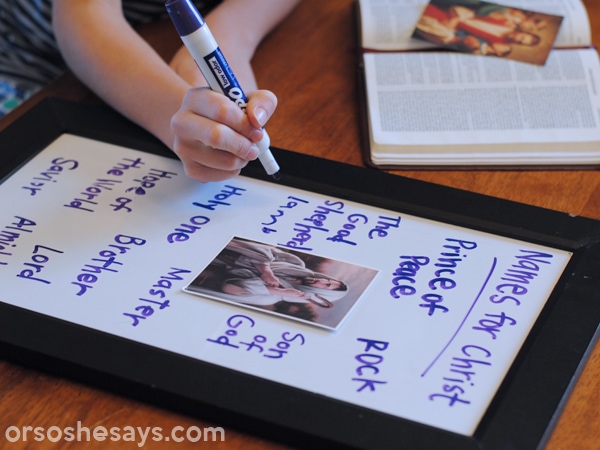 Each of the names of Christ signify a different attribute or characteristic of the Lord. While writing, the prophets used the term for Christ that best fit the meaning they were trying to convey at that point in their record keeping. You can see the deep relationship that the prophets of the scriptures had with their Savior. They expressed this understanding in the varied ways they referred to and talked about Him in their writings.
You can see the diversity of Christ's mission and character through these five common names:
Savior: means that Christ came to save his people from their sins.
Holy One: signifies that he is holy and without sin, being perfect in all things.
God of the Whole Earth: reflects his universal interest in all men and their redemption.
Lord of Hosts: indicates that Christ is a God of battles.
Lord Omnipotent: means that Christ is the Lord of all, possessing all power.
Susan Ward Easton said, "The names given to our Lord take on new significance when they are approached through a thoughtful and sensitive study of their meanings. His profound character, his singular mission, and his divine relationship to man are thereby more clearly revealed."
How can knowing Jesus and understanding his roles increase of love for him?
Think about the people you care the most about. How much time do you spend with them? Do you know their favorite food or color? Do you know what they did for their birthday this year? Do you know what they like to do for fun?
Spending time getting to know people creates bonds. It is the building block of friendships and families. We cannot actually spend time with Christ. But, we can get to know him by spending time reading about his life in the scriptures.
Learn the words that Christ spoke. See how he served the poor and the needy. Watch how he treated his mother. Listen to the way he taught his friends. Study his sermons. Feel what the Holy Ghost can teach as you read the scriptures.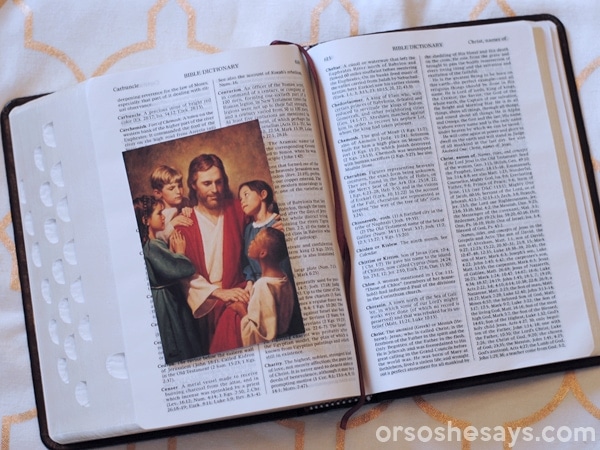 The more you know of Christ, the more you come to love him.
What do you call the people you love? My kids call me "Mama." I call my daughter "Daisy" even though her name is really Natalie! We call their Grandma "Granny B." I call my brother Ryan, "Rio." These are nicknames. Do you have a nickname?
Usually, nicknames come about because of a funny story or experience you have had with a person. I got my nickname "Adelvise" because when I was little, my brother visited the Swiss Alps. He saw the pretty little edelweiss flowers growing around the mountainside and it reminded him of his cute little sister Adelle. My brother and I share a bond because of this special name that he gave me over 25 years ago!
A name is an extremely large part of who we are. It is what we use to identify ourselves to others as well as what others use in order to recognize us.
We typically give special names to people who are closest to us – to our families and best friends. If you had to think of a name for Christ, what would you choose? In your happiest times, or during your trials, when you call out to Christ what do you say?
Do you call out to your "Brother," "Master," "Redeemer," "Friend," or "Savior?"
Share this challenge with your family: I hope that you can come to know Jesus well enough that you feel comfortable calling out to him in a familiar and personal way. That you can build a relationship with Jesus so he is more than just a baby in a manger, but a true friend.
Christ is the Light of the World, the Prince of Peace and the Good Shepherd. His life brings meaning to ours. His redeeming love saves us from sin. His promises bring peace in this troubled world. He is our Rock and Salvation. To know Him, is to love Him. His many names teach us of his divine characteristics and holy mission.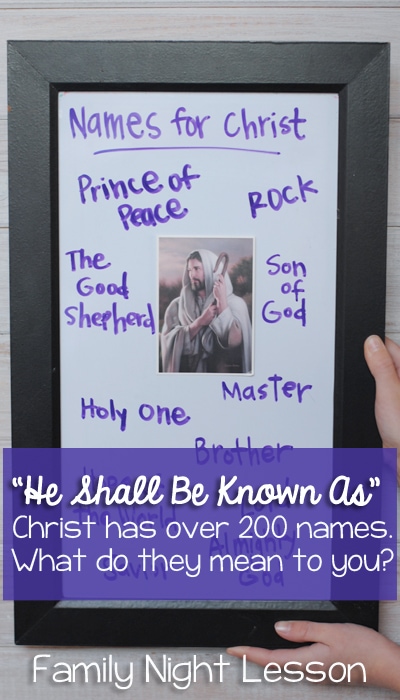 For more great posts, check these out: