It's always fun to start a new year here on 'Or so she says…' because I get to introduce to you a bunch of new and fabulous bloggers who have joined the blog team. There is sooooo much talent and creativity out there and my behind-the-scenes gals and myself work really hard to find our very favorites and slap a 'she' in front of their name. We're pretty excited about these gals, both new AND the ones who are sticking around for another year. There will be oodles of blog posts and ideas coming your way. So be here, every day, yo. There's always something new… recipes, parenting tips, travel ideas, crafts, gift ideas, and so much more!
Today, I want to introduce you to Jen from Baked by an Introvert.
I was quickly attracted to her blog because of all the original (and scrumptious sounding) recipes, beautiful pictures, and her cute personality. I love that she embraces being an introvert, but still puts herself out there and shares her talent with the world. Be sure to check out her blog and give her some love. (Love = shares, pins, comments!)
A few of my favorite posts from her blog: Mixed Berry Magic Bars, Banana Chocolate Toffee Cupcakes, and Mixed Berry Vanilla Yogurt Muffins.
.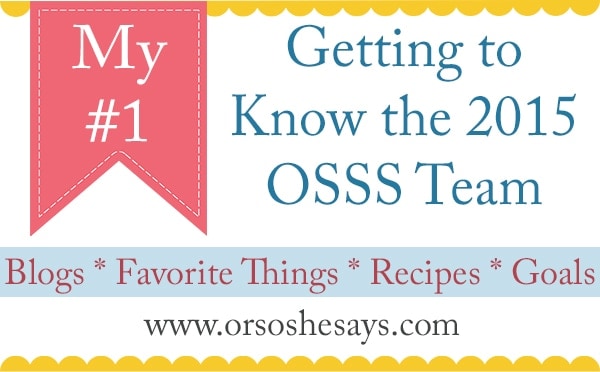 I'm Jen! You can find me baking and sharing recipes at Baked by an Introvert. If you couldn't tell by the title of my blog, I am a person of quiet nature. I was born and raised in North Carolina. There I met my husband who I've been married to for six years now. We currently don't have children but we do have our pets who are equally as special.
My #1 blog post from 2014: would have to be my Apple Pie Profiteroles. I'm still a newbie when it comes to blogging and photography, so you can imagine my excitement when I was able to illustrate a pour shot. It's tough to photograph a moving object.
My #1 most pinned post from 2014: is my Butterscotch Toffee Cookies. I had experimented with different cookie bases and once I found my favorite recipe, it was a hallelujah moment. I've put everything in this base, including butterscotch and toffee.
My #1 favorite book: is Quiet by Susan Cain. This book sheds light on the introverted personality type. I struggled for most of my life thinking that something was wrong with me. As a kid, my teachers where always concerned because I wouldn't speak in class. I had a hard time making connections with my peers and I often felt happiest when I was alone. I struggled with depression and hated myself for being the way I was. After reading Quiet, I was able to hone in on my strengths and learn to accept that I simply process the world differently.
My #1 favorite beauty product: is hands down Bare Essentials powder foundation. I love this stuff! I've used it for well over ten years now and refuse to use anything else. It's not a high coverage foundation, by no means but it adds life and youth to my aging skin.
My #1 favorite healthy recipe: is actually one of my own. I love these Almond Butter Oat Bites. I am more of a snack girl instead of eat a proper meal girl. These are perfect for a quick snack and they are super easy to whip up!
My #1 favorite movie: would have to be … I'm going to go with the Notebook. I'm not sure it is 100 percent my number one, but it is one that I can watch over and over again. That doesn't happen with too many movies that I see. Besides, I'm a sucker for a sappy movie with a good love story.
My #1 family vacation: would have to be the Florida Keys. We went after my husband's college graduation and I had the time of my life there. The water is beautiful, the locals are friendly, and the weather is always nice. The memories made there will never be forgotten.
My #1 place to spend money: is Target. I bet it's yours too! Who doesn't like Target? I can have one thing that I need to get and end up walking out with a cart full. Please tell me I'm not the only one this happens to.
My #1 personal mantra: is simply a reminder that I need to keep moving forward. Often times I get stuck in this rut and begin to feel overwhelmed or want to give up on projects I've begun. I have to remind myself that the feeling is temporary. The satisfaction of pushing through and completing a goal is long term. Keep moving forward!
My #1 goal for the new year: is to take the steps needed to grow my blog. I thoroughly enjoy developing recipes, learning photography, and sharing my trials with those who care to read. Turning a hobby into a career is a huge learning curve but I'm determined to make it happen!