Happy Mother's Day to you, and to all the special moms in your life. It's Heather, back to share a few ideas to help you as you play with your young children.
Spend a few minutes with your little ones and you realize how much they love to play. Play is vital to their emotional, physical, and social growth. It helps them build confidence, self esteem, and even teaches them to control their emotions. But… their games and activities can start to grate on moms. The next time you wonder if you can spend one more minute playing kitchen or Candy Land, remember all the benefits that come to kids from playing. And use the following suggestions to make things a little easier during play time with toddlers. Remember, you are not alone. These feelings are very normal.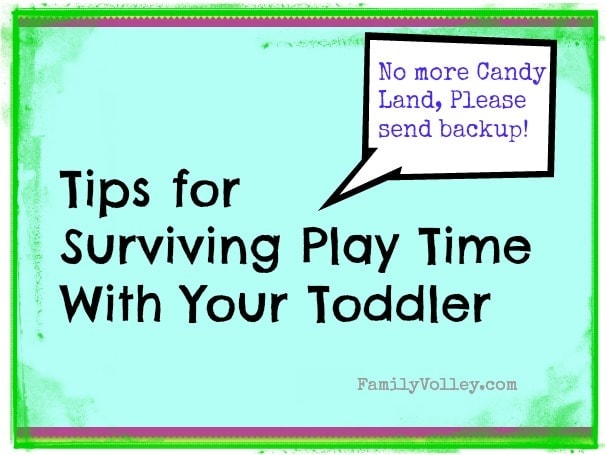 First, Toddlers love to play "copy cat." Part of the reason playing with our little ones can get so difficult, is because my mind is always racing with all the other things that I need to do. Laundry, dishes, vacuuming, grading papers. The list goes on and on. Sure, I want to play, but I need to work too. Instead of keeping the two seperate, include your kids when you do your chores and jobs. After all, they want to be just like us. Beat them to the punch and ask your kids if "they want to play with you." You can play "laundry basketball" or "mix, mix, mash," and any other fun name you can give your daily mom jobs. What is laundry basketball? It is stepping up on the stool I keep put by the washer and "shooting" the clothes in. And "mix mix mash" is the game we play as I make meals and they mix and stir in their own empty pretend bowls. Not only does it help build a positive attitude towards work, but we are having fun together and I am still able to get things done. Our kids want to be like us, they love to copy us. So let them.
Second, Remember when you were a kid? Most of the frustrations I struggle with as a mom, can be calmed by changing my perspective. By taking just a few minutes to think of life through our children's eyes. When I actually think about what it was like to be a child, when I think about how it felt when my mom played with me, it makes it a lot easier to play Candy Land for the 100th time in a row. And it puts me in their mindset so I can get inspired to make the "tea party" more fun and realistic for them. Get down on the floor and play. You will see that as soon as you are willing to fully invest, it actually becomes a lot more fun. This means that when we are on the floor, we have to put your phone and computer away.
It also means that I might have to be silly. This can be really hard for me. There was a time when our son went through an animal phase. He wanted me to talk like the animal he was pretending to be and act like that animal too. I fought playing along for so long because I felt silly. Then, one day we were in the grocery store and he wanted me to talk to him in dog talk. I remember being embarrassed and worried that people around me might hear. Then it hit me, who was more important, the strangers standing in line, or our son? I started to play along, and a grandmother in the line next to me tapped my shoulder and said "he will never forget today." It taught me such a good lesson. It is okay to play. It is part of my job as a mom.
Third, play hard, but not always long. Giving your child all you have in short spurts is better for you and for your child. Instead of pretending for hours that you are interested in their game, when you aren't. Our kids know when we are faking it. They can see right through us. It is more important to be in the moment, even if it is short, and then, when you move on, it will be okay. Your kids will know you have been fully invested in them, and you will know you gave them your all too.
Fourth, You Choose the Activity. Our kids just want to be with us. They don't usually care what you play. So… Pick something you like to do. For example, I have always loved to color. I love crayons and markers and coloring books. When playing Chutes and Ladders gets tough, I suggest coloring. They are always excited and so am I.
Fifth, Be You, Let Your Talents Shine! It is so important for our kids to know who we are. They want to know us. Are you good at cartwheels? Are you like my really cool mom, and you can still ride a skateboard or pogo stick for hours? Maybe you do a great monkey impression. Well, show your kids. Let them see your talents. And teach them what you can do. It will be a fun thing for you to do together. And make it much easier to play with them when it is something you like and know.
Last, Parallel Play. Playing with our children doesn't always mean you have to be doing the same thing. They can color or look at books while you fold laundry. Usually our kids just don't want to be alone. They want to be around us. It's okay to do different things in the same room, or next to one another.
It can become stressful to play with our toddlers every day. But instead of letting it get to us, us the above advice and have some fun. You will quickly see that playing together makes every day better and will make you and your child more happy.
WHAT IS YOUR FAVORITE GAME TO PLAY WITH YOUR KIDS?
DOES PLAYING EVER MAKE YOU CRAZY?