Hello 'Or so she says…' readers! It's Kimberly here from Get Away Today. I'm sure you've heard all about Star Wars in Disneyland by now, but today I want to share all the new information we have received from Disney in one convenient location. Star Wars: Galaxy's Edge is sure to be an out of this world experience, and today I'll let you know what you can expect on your visit to Disneyland after this new land opens in just a few weeks.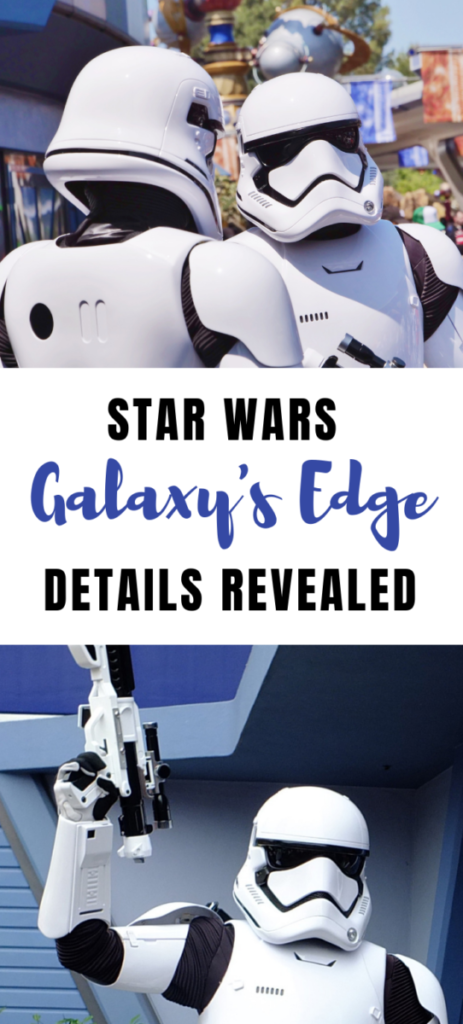 Star Wars: Galaxy's Edge Disneyland
With two new rides, new food and new merchandise modeled closely after the Star Wars franchise, you will find truly unique and immersive experiences at Star Wars Land Disneyland in 2019! Star Wars: Galaxy's Edge is located on the planet Batuu, which was created entirely for the Disneyland Resort. Can you believe that with just valid Disneyland Resort admission, you can get lost in a galaxy far, far away?
Star Wars: Galaxy's Edge Disneyland – Opening Date and Reservations
Star Wars Land Disneyland opens May 31, 2019. For travel May 31 – June 23, 2019, guests will need to make no-cost reservations with Disneyland to access Star Wars: Galaxy's Edge. This additional reservation will be an effort to assist with the increase of crowds expected at Disneyland after Galaxy's Edge opens. Guests staying in one of the three Disneyland Resort Hotels May 31 – June 23, 2019 (Disney's Paradise Pier Hotel, Disneyland Hotel or Disney's Grand Californian Hotel and Spa) will automatically receive a reservation for each registered guest. So be sure to list every person staying in the room(s) with valid Disneyland Resort admission tickets so everyone can get a reservation to Star Wars: Galaxy's Edge. If staying in other hotels near Disneyland, reservations to access Star Wars: Galaxy's Edge will be made via Disneyland.com. Again, these reservations are no additional cost, and are only required for visits May 31 – June 23, 2019.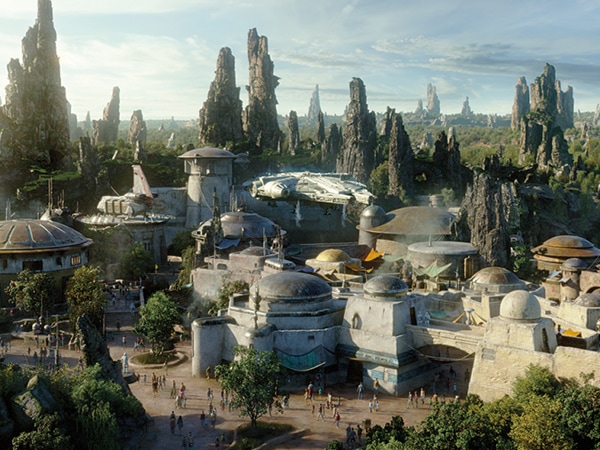 Photo courtesy of Disney Parks Blog
Star Wars: Galaxy's Edge Disneyland – Rides
With the initial May 31, 2019 opening of Star Wars: Galaxy's Edge in Disneyland, one of two rides will be available. Millennium Falcon: Smugglers Run will take you on an immersive, thrilling ride through the galaxy in groups of six. This ride is designed for riders 38 inches or taller and features small drops and dark surroundings. Keep that in mind when deciding who in your group might enjoy flying the Millennium Falcon. You can get a sneak peek of how to fly the Millennium Falcon on the Orange County Register.
Later in 2019, Disneyland will open Star Wars: Rise of the Resistance. Not much has been released about this ride, except for the fact that it will boast never-before-seen technology in an amusement park ride. We also know that it will put guests in the middle of a battle between the Resistance and the First Order.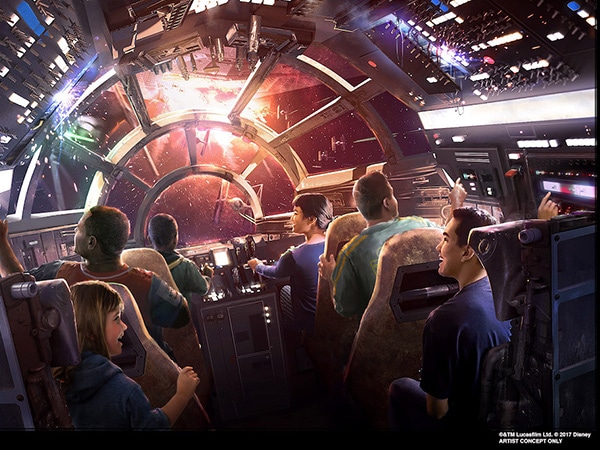 Photo courtesy of Disney Parks Blog
Star Wars: Galaxy's Edge – Food
There will be a number of food options in Star Wars Land Disneyland, tantalizing guests with intergalactic specialties known only in Galaxy's Edge. Stop by Oga's Cantina for a family friendly dining atmosphere featuring drinks and bar snacks. Entertainment will be provided by droid DJ R-3X, who will be spinning tracks in the Cantina. For the first time ever, guest will not only have access to alcoholic beverages in the Disneyland Resort, but to blue and green milk from Bubo Wamba Family Farms. Not actually dairy-based milk drinks, blue and green milk will be refreshing, nondairy smoothies. Blue milk will feature a berry flavor, while green milk will be tropical. You can also find blue and green milk at the Milk Stand in Star Wars: Galaxy's Edge.
In Docking Bay 7 Food and Cargo, there will be a number of dining options. Much like a food truck found on Earth, Tuggs' Grub will provide food from intergalactically renowned chef "Cookie" Tuggs. After Maz Kanata's castle was destroyed by the First Order, chef Cookie turned his talents to cooking exotic dishes in his own traveling diner. His intergalactic food truck will be the main source of food in Star Wars Land Disneyland, and will feature dishes such a Ithorian garden loaf (a vegetarian dish), Burra fish and Endorian tip-yip (a chicken dish).
Ronto Roasters will offer guests of Galaxy's Edge fire roasted meats that are cooked to absolute perfection by the droid 8D-J8. And if you're looking for every Disneyland guest's favorite snack, stop by Kat Saka's Kettle for a unique blend of popcorn. This food stall will offer a mix of sweet, savory and spicy popcorn.
Star Wars: Galaxy's Edge – Merchandise
No one will want to leave Star Wars Land Disneyland empty handed, and you won't have to when you see all the outpost stalls in Galaxy's Edge. Stop by Savi's Workshop to spend about 20 minutes crafting your very own unique lightsaber! It will be as authentic to the Star Wars franchise as possible and will make a great souvenir to take home. Another opportunity for a hands-on souvenir experience in Star Wars: Galaxy's Edge can be found at The Droid Depot. Visitors of this outpost will be able to build actual droid sidekicks who will be able to interact with other robots and characters in Star Wars: Galaxy's Edge.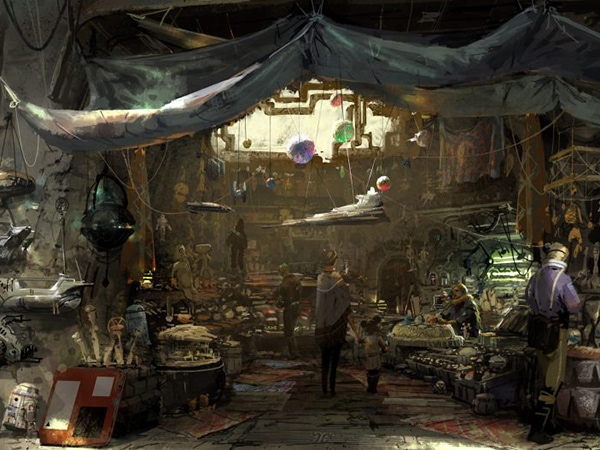 Photo courtesy of Disney Parks Blog
If you want to look the part of a native in Galaxy's Edge, you have three outpost choices for apparel, uniforms, gear and more. Visit Black Spire Outfitters, First Order Cargo, or Resistance Supply. Here you'll find authentic items to help you blend in with the locals.
To adopt a one of a kind pet during your visit to Star Wars: Galaxy's Edge, stop by The Creature Stall. You will also find rare, valuable items at Dok-Ondar's Den of Antiquities, since Dok-Ondar is known for his extensive travels and collections through the galaxy.
Other outposts to visit are The Jewels of Bith and Toydarian Toymakers. Keep in mind that at all the outposts in Star Wars: Galaxy's Edge you won't find typical Disney-branded merchandise; everything available in Star Wars Land Disneyland will be as if it came straight out of the movies.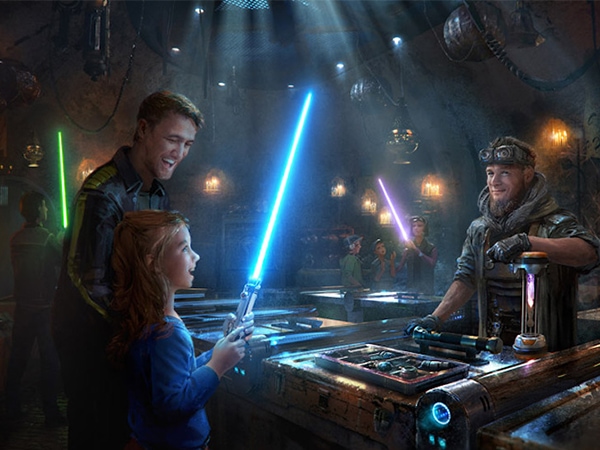 Photo courtesy of Disney Parks Blog
We also have info regarding how to make your Star Wars: Galaxy's Edge visit unique and personalized. If you download the free Play Disney Parks app, your smartphone will become a Star Wars Datapad. It will prompt you to interact with droids and Cast Members throughout Galaxy's Edge, and the more you do, the more immersive the visit will become. the Play Disney Parks app will help you translate languages, discovers hidden items in cargo areas and uncover secrets about the new land. And while you're downloading the Play Disney Parks app, be sure to download the free, official Disneyland App so you can keep track of ride wait times, show time and even order food in Disneyland.
Star Wars: Galaxy's Edge in Disneyland – Book with Get Away Today
For the best deals on Disneyland tickets and hotels near Disneyland, book with Get Away Today. We offer a Best Price and Best Service Guarantee and would be happy to help you book a vacation package. We have such great deals, like 5-Day Park Hopper Tickets for the price of 4 for travel May 23 – December 31, 2019, as well as 25% off select Anaheim area hotels. When you call Get Away Today to book, be sure to ask about Extra Night Free specials and our agents will let you know what's currently available at hotels near Disneyland. Whether you visit us online at www.getawaytoday.com or call 855-GET-AWAY, let the agent know 'Or so she says…' sent you, and use code OSSS10 for an extra $10 off your Southern California vacation package.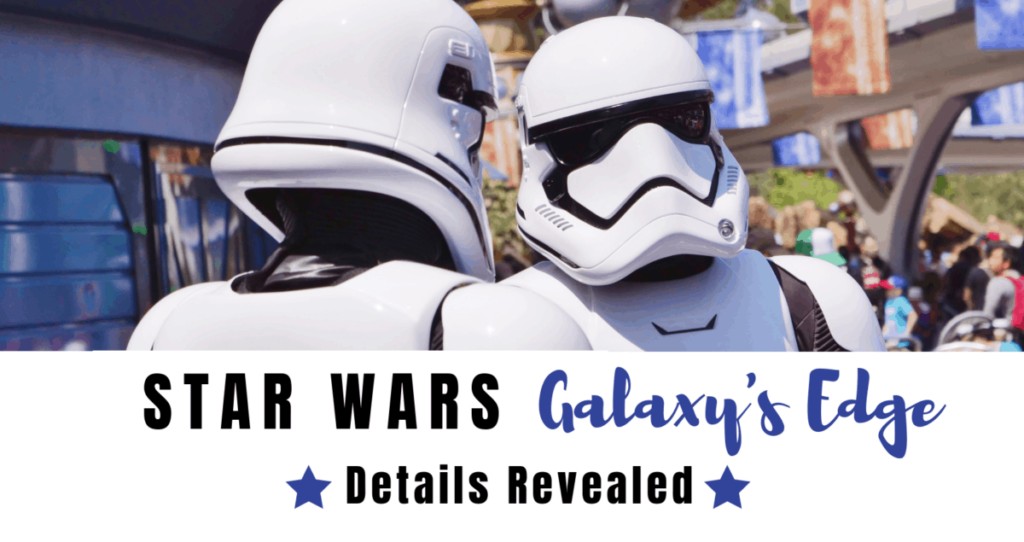 More posts you'll love: