Hi everyone, it's Kimberly with Get Away Today, here to talk to you about The Happiest Place on Earth. With so many changes happening at the Disneyland Resort, it's hard to keep up with them all. New lands to explore, places to eat and new technology can feel overwhelming. However, there's no need to worry! Today, I'm going to give you the ultimate guide to the Disneyland app. After reading this, you'll be an expert on things like Mobile Ordering, MaxPass and Play Disney Parks in no time. So, sit back, relax and get ready to dive into the magic of the Disneyland app!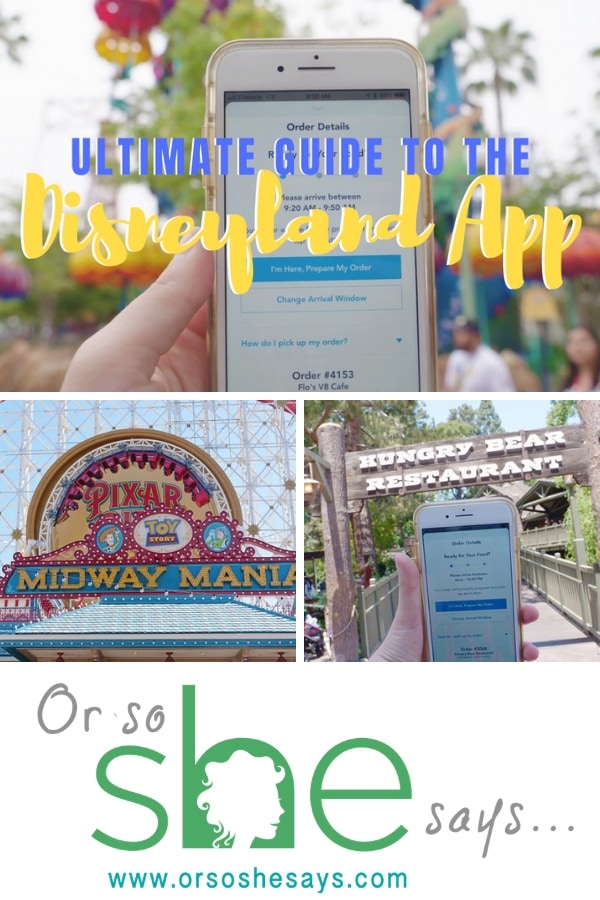 How to Download the Disneyland App:
First things first, I should probably explain how to download the Disneyland app. Luckily, this app is available for both Android and Apple users within the app store. Plus, it's absolutely free! Once the app is finished downloading, you'll be asked to create a Disney account. If you already have an account, you can easily sign in with your username and password. If not, don't fret! Creating an account is free and only takes a couple of minutes to set up. Once you're logged in, the fun can begin!
Theme Park Info:
Have you ever felt overwhelmed trying to figure out wait times, character meet and greets and entertainment showtimes? Fortunately, the Disneyland app has it all at your fingertips. If you click on the Park Hours section, you'll be able to see what the exact hours are for Disneyland Park, Disney California Adventure Park and Downtown Disney District for the duration of your stay. This is great information, especially if you're planning on using a Magic Morning during your vacation.
In addition to this, you can easily check showtimes for Disneyland Resort entertainment. Here, you'll be able to find times for nighttime entertainment, parades, fireworks, shows and more. As a tip, always check the app during your stay for entertainment showtimes. Depending on what time of year you go, the fireworks might only do one showing throughout your entire vacation. By checking ahead, you won't miss any of the must-see nighttime spectaculars.
Within the Disneyland app, you can also view an interactive map of the park. Not only will this show you current wait times for attractions, but you can also filter the map so it shows the locations of character appearances, dining options, entertainment and even restrooms.
With the Disneyland app, you'll never have to worry about getting lost in Disneyland ever again.
(However, I think Disneyland would be my favorite place to get lost in!)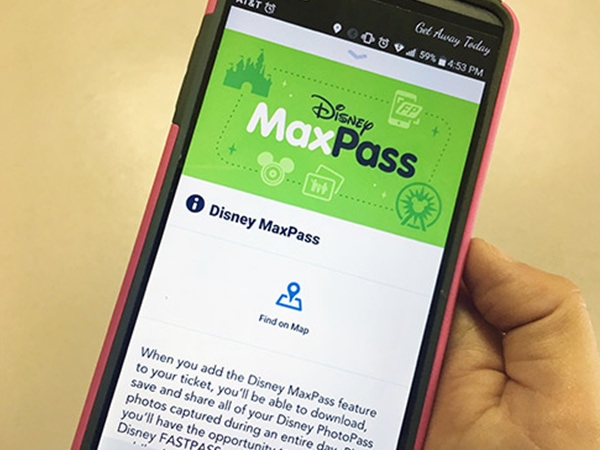 MaxPass:
MaxPass is one of the newer Disneyland app features, but I honestly don't know how I ever lived without it. If you're unsure as to what MaxPass is, it's essentially a feature that allows you to reserve FastPasses directly from your mobile device. This means no more running back and forth between Disneyland Park and Disney California Adventure park! The best part? MaxPass also includes PhotoPass, so you'll be able to download and keep all of your Disney memories for the day. It doesn't hurt that the photos are done by professional photographers either.
Although this feature is $10 per person/per day, I think it's totally worth the cost. What's nice about MaxPass is that you don't have to use it everyday of your stay. If you want to splurge on one day of your stay or only use it when the parks are busy, that's totally fine too. No matter when you choose to purchase it, MaxPass is a HUGE time saver and totally worth every penny.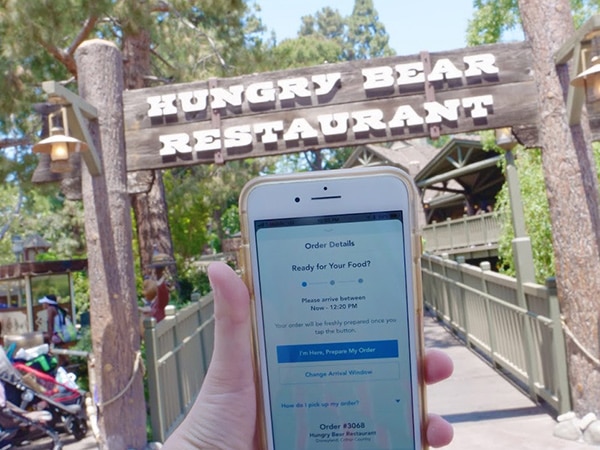 Mobile Ordering:
What's a trip to Disneyland without trying as many treats and eats as you possibly can? With Mobile Ordering, you can order meals from select restaurants directly from the Disneyland app. This means that you'll be able to eat without the long wait. Truly, what more could you ask for? To use the Mobile Ordering feature, you'll want to click on the Order Food section, listed under My Plans on the main menu. This is where you'll be able to see what restaurants you can choose from and what items you can order. Once you've placed your order and selected your time slot, all you need to do is head over to the restaurant and select the "I'm Here, Prepare My Order" option. After this, all you need to worry about is enjoying your delicious meal.
Luckily, the Disneyland Resort now has 18 dining locations to choose from in both Disneyland Park and Disney California Adventure Park. Plus, they have four more slated to come soon. I've placed below what restaurants currently have Mobile Ordering below:
Disneyland Park:
Bengal Barbecue
Edelweiss Snacks (Coming Soon)
Galactic Grill
Gibson Girl Ice Cream Parlor
Harbour Gallery
Hungry Bear Restaurant
Jolly Holiday Bakery Café
Red Rose Tavern
Refreshment Corner (Coming Soon)
Royal Street Veranda (Coming Soon)
Stage Door Café (Coming Soon)
Tiki Juice Bar
Disney California Adventure Park:
Award Wieners
Bayside Brews
Clarabelle's Hand-Scooped Ice Cream
Cocina Cucamonga Mexican Grill
Corn Dog Castle
Flo's V8 Café
Lucky Fortune Cookery
Pacific Wharf Café
Paradise Garden Grill
Smokejumpers Grill
Not only will you save time by using Mobile Ordering, but you'll also be able to quickly snag a Dole Whip (or two) before getting ready to watch Fantasmic! Doesn't sound too bad, right?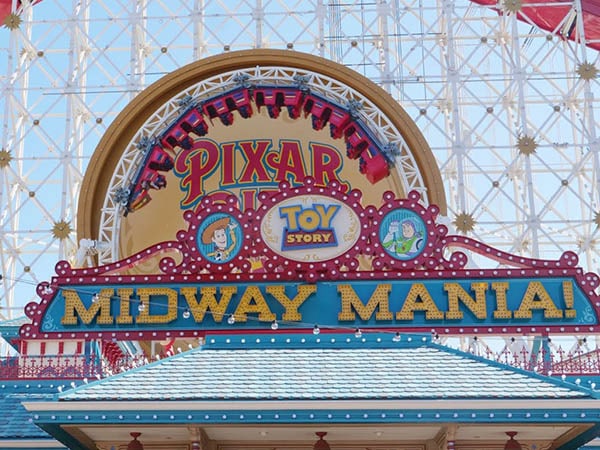 Play Disney Parks:
I think it's safe to say that one of the hardest parts of a Disneyland vacation is having to wait in line. You're so excited for each attraction, that it seems like time stands still when you have to patiently wait for your turn. However, Disney just released the perfect solution to in-line boredom. The Play Disney Parks app is filled with games, music and fun that will make your time standing in line go by in a flash. Although Play Disney Parks isn't a part of the official Disneyland app, it's an app that Disney created specifically for park guests.
With this app, you'll be able experience games and activities at different attractions and locations throughout Disneyland Park and Disney California Adventure Park. For example, you'll be able to find ride-specific games at attractions like Toy Story Mania!, Peter Pan's Flight and Space Mountain. At Peter Pan's Flight, the game "Off To Never Land" allows you and three other players to share happy thoughts with a series of questions, stories and jokes, while at Space Mountain, you can explore the darkest reaches of space by completing various training missions.
The best part? This app is completely free to use and is such a lifesaver for kids (and adults) who don't love the long waits. To download this app, just search Play Disney Parks in your app.
As you can see, the Disneyland app is almost as magical as the Disneyland Resort itself. Of course, if you're thinking about planning a Disneyland vacation, make sure to visit our website getawaytoday.com or call 855-GET-AWAY to speak to a travel expert directly. Not only do we guarantee the best price, but we guarantee the best service as well. When you do book, don't forget to use promo code OSSS10 to get an additional $10 off your vacation package. Let them know that Or So She Says sent you!
See more posts like this one:
Disneyland Tips for the Pregnant Mom
Disneyland Tips: How to ROCK Your Disneyland Vacation
5 Tips for Christmas at Disneyland – Including How to Manage Crowds