Hello friends! Sam from Atkinson Drive here, and I am thrilled to be sharing with you on this beautiful first day of 2015!
I'm a beach-loving mom and wife who grew up in Florida, and now lives in Indiana. I have two beautiful boys who keep me on my toes, and I wouldn't have it any other way! The Atkinson Drive blog started as a way to share my projects and activities with friends and family who live across the country. As my readership has grown, so has the scope of atkinsondrive.com. Now I spend my time writing about how I strive to live beautifully – and creatively – in my home. It's not always perfect or pretty, but I hope that my experiences (both the successes and failures) can help inspire others to bring love, laughter, and inspiration into their own homes!
I hate to be one of "those people," but my number one New Year's resolution this year is to lose weight and get healthy.
Ever since becoming a mother I have put my children and household first, and myself last on the list of things to take care of. But, I have come to the realization that taking care of myself is doing what's best for my kids. That's why I've decided to exercise at least three times each week and eat more good-for-you whole foods.
I'm sure many of you can relate to my situation. I mean … it's really hard to get all of the fresh fruits, vegetables, and nutrients required to stay healthy; especially with little ones running around! That's why many of my meals (especially lunches) end up being of the smoothie variety.
This peanut butter banana green smoothie is really delicious, and packed with good stuff. What I love the most about it is that you can switch out the different ingredients to give you an almost infinite number of green smoothie recipes!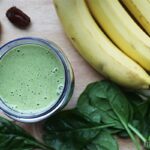 Peanut Butter Banana Green Smoothie
Ingredients
1.5 C. Cashew Milk
1 Handful Spinach
1 C. Banana
1 tsp. Chia Seeds
1 tsp. Flaxseeds
2 Tbsp. PB2
1 Pitted Date
Instructions
Blend all of your ingredients together until smooth, and enjoy!
This drink is most creamy and flavorful when you use frozen bananas. It replaces the ice and keeps it from tasting watered-down. Check out my quick and easy method for cutting and freezing bananas for smoothies.
If you are using this as a meal replacement shake, it's just the right size. But, if you are just looking for a healthy snack, split it up and share with your kids. I bet they'll love it – mine did!
Looking for more tasty smoothie recipes? Check out my protein shakes!