Today's post has some tips from the Vicks Winter Wellness campaign to help you care for your family during this season. Get healthy and happy again!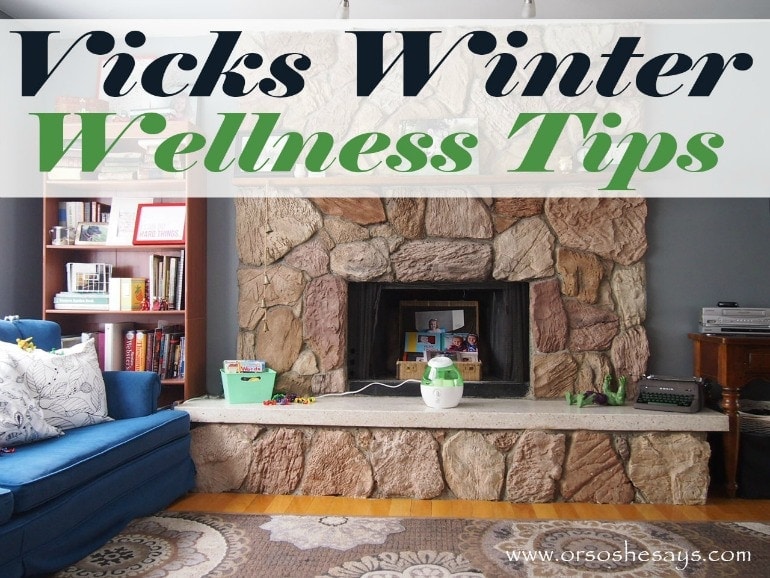 This is a sponsored post. All opinions are my own.
Hey all! It's Liv back again to share some winter wellness tips with you from myself and Vicks! I'm so happy to be able to participate in a campaign like this with a brand I've used for years as a parent, and that I remember using as a kid, too! Being from Maine, I'm used to nice, thick humidity… the air is so dense in the summer time you can practically taste it. Now that I live in Utah, it's especially hard to cope with the dry air. It's a huge change for me!
To help my family and myself feel better during the winters here, I love using a humidifier. During the day I plug it in away from the kids, and at night I put this mini humidifier on top of my daughter's book shelf. But what's the point of putting moisture into the air, you ask? Well, lemme tell ya. Dry air causes my skin to crack, and it makes my husband and daughter more prone to bloody noses, especially in the night. The dry air plus inversion (the smoggy gunk that gets trapped in the valleys where we live in Utah) makes my throat scratchy, too. It's so gross and uncomfortable! Also, the use of a humidifier can actually help prevent the flu virus from surviving in the air and on surfaces of your home. If avoiding barf isn't reason enough to use a humidifier, I DON'T KNOW WHAT IS.
Vicks sent me a whole wellness care package that not only included this mini, visible vapor humidifier, but a monitor as well. It's color-coded so I can figure out the best humidity level to keep my family feeling comfortable. It's not as physically palpable as the air I grew up with in Maine, but it's pretty nice 😉 All of Vicks humidifiers are available online at Walmart, as are the products I want to tell you about today.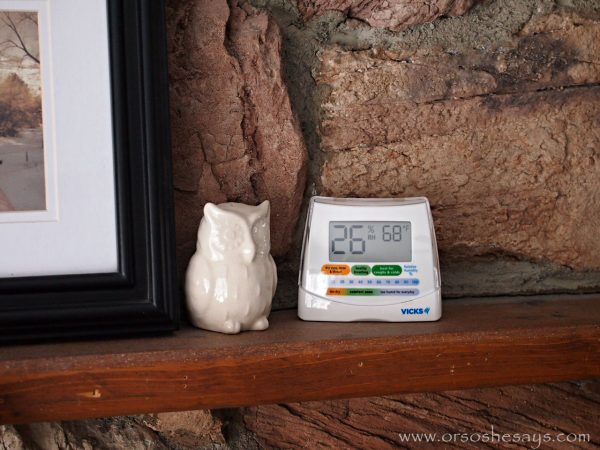 If you're like me, when your kid gets a fever you may freak out a little. Or a lot. Okay, I admit it, I immediately start worrying about throw up and dehydration and hospitalization and IVs for fluids. I tend to over-react when the little foreheads in my house heat up. But I can calm down a little when I use Vicks' SmartTemp thermometer, especially since it can be synced with a free app to allow me to keep track of my kids' fevers and the ups/downs. Using an accurate, digital thermometer takes the guesswork out of a fever.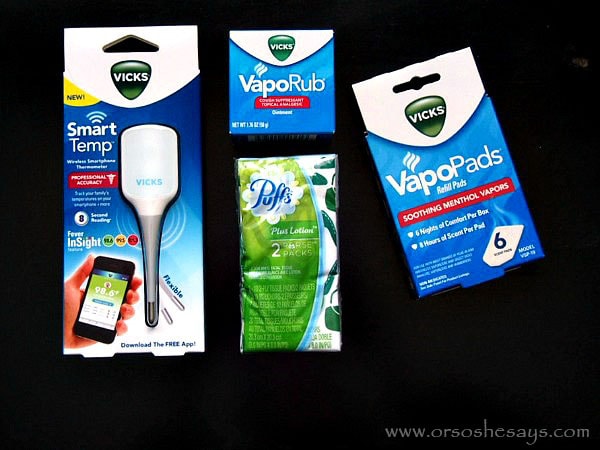 Like I mentioned, I put a humidifier in my daughter's room at night when she sleeps. Vicks recommends leaving the door open a crack so the humidity can better circulate. And when my daughter's actually sick, she loves the VapoRub. Remember that when you where a kid?! It was so soothing to have that menthol rubbed on my chest. I still use it today, and when my kids were younger I put it on their FEET with socks to help with congestion. It's a great way to still give them the benefits of VapoRub without them getting their hands into it.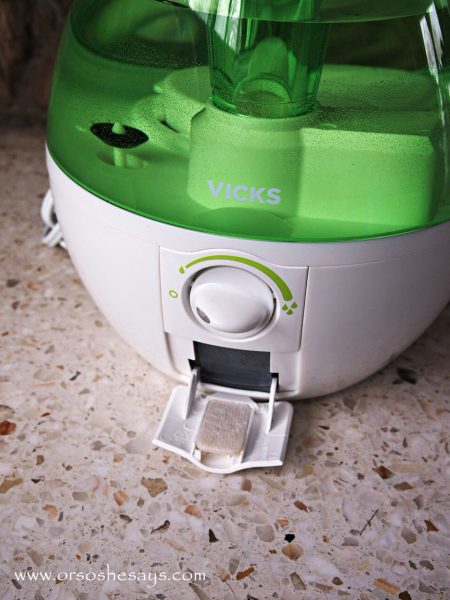 Filling the air with humidity can ease cold and flu symptoms, and this mini humidifier also has a little door to open up and insert fragrance pads. My kit came with the traditional eucalyptus oil and menthol VapoPads for soothing, scented vapor. And they also have lavender to help calm the crazy kids. It's great Vicks thought of a way to allow the safe use of fragrance with their humidifiers since essential oils are NOT good for a humidifier! And speaking of smells, there's a little fishy that can be dropped into the Vicks humidifier to keep it free from mold and stink. My old humidifier was such a mess and I wish I'd known about preventative measures like this fish!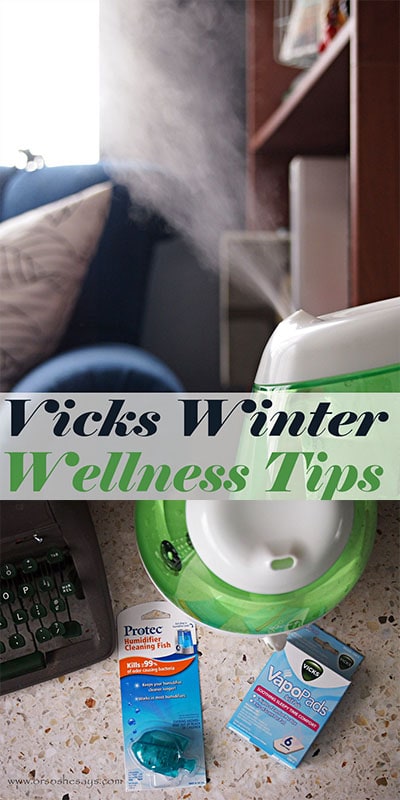 I just dropped that little guy in and it floats around keeping the humidifier water cleaner, longer.
So, not only can a humidifier prevent the survival of the flu germs that get us sick, but it can help temporarily ease the sore throat, congestion and general aches that come with the flu or a cold. And there's a whole host of products that can work with the humidifier, like the VapoRub I mentioned, Puffs Plus Lotion tissues for chapped noses, scented pads for the humidifier, and a hygrometer so you can figure out how much humidity your home needs. I hope these tips help you get through this season full of germs, and come out healthy again on the other side!
This is a sponsored post written for Vicks Humidifiers. I was compensated and provided complimentary products for this post. All opinions are my own.
Save