I was recently searching for "recipes that kids love," and was so disappointed in the results. Hot Dog Sliders with Mango Salsa?? Peanut Butter, Jelly & Pork Sandwiches?? Who are the children that eat such things? I'm so confused.
As a mother of 7 children, ranging from 4 to 19 years old, I figured I should contribute to this lacking internet, rather than complain about it. Although, I would love MORE favorite kids recipes in my arsenal, I can definitely share a good handful of kid-friendly (more like "kid-loving") meals that are super easy to make. Hopefully, this list will make your life easier and your kids happier. I know I'll be referring to it often, as I have a major case of mom-brain… I can't remember anything anymore, even my own ideas!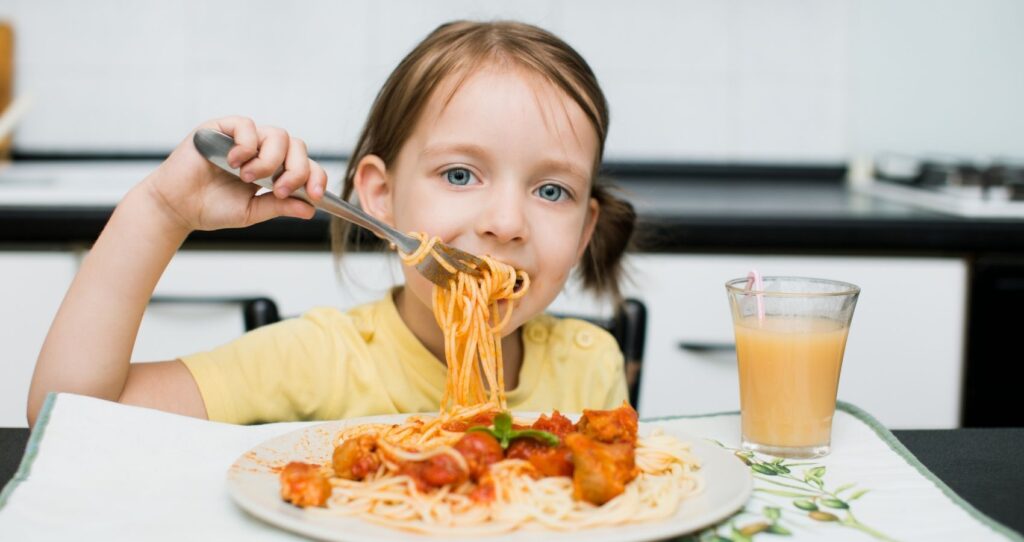 Recipes That Kids Love (From a Mother of 7!)
Oh, and I just wanted to reiterate… my kids love ALL of these recipes. I'm not sharing anything they don't ask for and get excited about. I'll be sure to include main dish recipes, as well as desserts, lunches, and any other category. Enjoy!
Main Dish Recipes That Kids Love
This dish is basically an amazing chicken Alfredo, with some spice to it. You can control the amount of spice, and that little addition really takes an already great dish up to AMAZING. It's simple to make and something the family, especially older kids will enjoy. Serve it with a Caesar salad (bag mix is easy!) and breadsticks.
This is something my kids tell their friends about and beg me to make when they come over. I'm always doubling this recipe and it's gone in no time! It's definitely a high quality Chicken Fried Rice recipe that will have the whole family talking. The melted butter poured on top, at the very end… heaven!
Okay, they might not be as greasy as White Castle, but they have a strong resemblance. And, making hamburgers in a sheet pan is an experience we should all have! It's pretty slick… plus, the kids are always impressed with this easy meal. Serve with the best potato salad in the world, or if you're wanting something even easier, a bag of chips!
We used to have a Winger's near our home that closed down. We were so sad! My kids always loved the free popcorn, while we waited, and the Sticky Finger Salad. Those darn Sticky Fingers are so yummy!! Luckily, I found a great recipe that enables us to make this favorite family meal at home.
Italian night is always a good night, in my home. Garlic bread, salad, and Baked Ziti make for a happy family! I love how kid-friendly this recipe is. No onions or big chunks of veggies necessary! Oh, and the sausage, over the ground beef, really makes this recipe extra special.
There's a reason that this is one of the most popular recipes on my blog… it's literally SO easy and quick to make, and it's so good! Oh, and it's incredibly easy to personalize to the tastes of your family members. My kids are pretty veggie-picky, so I usually stick to only corn, peas, and chopped carrots. But, there's a whole slew of veggies that you can add to your dumplings, and it will taste great, no matter what!
This is a great recipe to have the kids help make. It's kinda fun! Simply stir up the chicken mixture and envelope dollops of it in puff pastry. It makes a scrumptious, light dinner, and even better if served with a chicken gravy. Do it!
Speaking of recipes that kids like, my son and I invented this one together, many years ago, in an effort to compete with the lunch ladies at his school. He claimed this was his favorite school meal and really wanted to have it at home. Now, I haven't tried the school lunch version, but I'm pretty sure we won… hard. This recipe has been a hit in my house, for years now. Even 10 years later, my son still gets excited to have it! Follow this dinner with these memory-triggering, mouth-watering Lunch Lady Peanut Butter Bars and you've got a killer themed dinner. 😉
Does your family like Mexican food, as much as mine?? We looooove it! This authentic recipe for enchiladas and Spanish rice has been in my arsenal for years, and it never disappoints. This is another one of those recipes that you can easily control how hot/spicy you want it. We like ours pretty spicy, but I know that's not for everyone. Either way, this meal is always a winner!
Every week, when I asked my kids what the want for Sunday dinner, they typically say, "anything with mashed potatoes and gravy." That anything usually turns out to be roast beef, hamburger gravy (recipe shared above), or Saturday Chicken. Neither of the three will result in anything but celebration. Saturday Chicken is a recipe that goes back to my childhood… something my mother would always make for me and my siblings. It's fun to carry on the tradition… and, it's also fun to eat it. Be sure to make lots of extra gravy, to smother the potatoes in, as well. Oh, and dip the rolls in. Make rolls too!
I was first introduced to this recipe at a family reunion. My sister in law made it for the crowd and it was incredibly good. I was completely floored when I heard how easy it was to make! Food in cans made a soup this good?? Yep. It's that kind of easy. Add some fresh ingredients, like chopped avocado, tomatoes, cheese, sour cream, and tortilla chips, and your kids will be coming back for more! This is a great recipe to freeze in freezer bags, as well.
Breakfast Recipes That Kids Love
Okay, this is more of a dessert breakfast, that we typically have on Christmas morning (with a savory dish), but if you have kids, you definitely want to have this recipe in your stash. It's so easy to make with super simple ingredients. Squirt a little whipped cream on top, and it's the best morning, ever.
This crepe recipe goes back to my college days, when a good friend would make them for me on a regular basis. They were one of the highlights of my time at school and I'm so thankful he shared the recipe with me! It's easy to make crepes appeal to all sorts of taste buds… set out a spread of Nutella, fruit syrups, brown sugar, sliced bananas and strawberries, maple syrup, etc. and everyone will be happy!
These bran muffins are so moist and make the perfect on-the-go breakfast. I like to make a really big batch of them, then store the extras in the freezer to use at another time, when the cravings hit again. You don't have to add the apple pieces to the recipe, but I think it really takes things up a notch.
As long as it doesn't have onions added, it will usually be a hit in my house. This breakfast has a little spice to it, but my teenagers are all over it, and so thankful I omit onions. The combination of the crumbled sausage and chopped green chilies with eggs and biscuits make for a hearty breakfast that's packed with flavor. It's super easy to throw together and can even be made ahead of time. Serve with some fresh fruit, to make the morning meal a little more special.
I will not claim any of my children that don't like biscuits and gravy. It's required in my house. Growing up, with a Southern man as a father, it was required of me, as well. And, I was all over it. Anything with gravy, and I'm there. This is the best recipe I've found for this amazing breakfast, and my kids think it's Christmas, every time I make it. Serve it with scrambled eggs and hash browns. Yum!
These pancakes will knock your socks off, and if you choose to share, you will be come the designated pancake-maker for the rest of your existence. They're fluffy, but not cake-y and a syrup-absorbing soggy mess (worst pancakes ever!) The hint of chewiness will rock your ever-loving world. That, my friends, is the least dramatic I can be about these pancakes. Go ahead and put this recipe in your favorite family recipes book, right now.
This is one of those recipes that is ready as soon as the scrambled eggs are done. It's that easy, but always a crowd pleaser. In fact, I often serve this at multi-family vacations, for breakfast in the morning. We also had this for a baby shower breakfast. Everyone loves that they can create their own fajita, and you will love that you can eat with everyone too, not stand around cooking at the stove, while everyone else is dishing up. Be sure to set out lots of tasty additions, like chopped avocado, warm black beans, shredded cheese, salsa, and sour cream!
I grew up on this scrumptious banana bread, my kids have grown up on it, and I have a feeling that my future grandkids will, as well. It makes the house smell amazing, bringing everyone to the kitchen, and this warm bread, slathered in butter, is gone in no time. Sometimes I can manage to hide a loaf, to freeze for another day, but that's a rare occurrence.
Easy Lunch Ideas for Family Gatherings & Meals
This has been officially dubbed, "Boat Sandwiches," because it's a perfect, easy meal to bring out on the boat, for a day at the lake. We've had it so many times while boating, that its earned the new name. However, I also bring it along on picnics or keep several in the fridge at home, for the kids to pull out after school, and slice a piece off. It's not very often that the words, "Walmart has the best ____" will come out of my mouth, but this simple "recipe" (if you can call it that) has me saying that about one particular agreement. Click the link above to see how to make these, why we love them so much, and what ingredient I rely on Walmart for!
Without fail, if I'm making these, the teenagers walk in and say, "Oooooh, yay," or some variation of that. They love when I serve these at family gatherings or keep a whole container of them, pre-made, in the fridge, for a quick and delicious lunch. We also like to bring these on 4-wheeler/dirt bike trips to the sand dunes. I'll wrap them individually with Saran Wrap and throw them in the cooler with freshly chopped fruit. The kids also love potato chips, on the side. Super easy. This is a fun variation of the standard chicken salad sandwich… what's not to love about ranch and bacon?!
This is a sandwich that mostly my teenagers go for. The little ones can't seem to handle the coleslaw, but luckily my older ones have learned how great it can be, especially when combined with pastrami on a Rachel Sandwich! I first discovered this sandwich on an anniversary trip to Salem, MA. I went there, partly to learn about the Witch Trials, that I had always found fascinating (and, sad.) But, I mostly came home excited about this new sandwich. So, there's that. If you have older kids, who are cool with coleslaw, definitely try this recipe out!
My kids think a visit to Olive Garden is such a treat. It's one of our standard "date places." So, by the time their turn for a date rolls around, they are usually pretty anxious to request Olive Garden. One of our favorite dishes to order is the soups, specifically the Chicken Gnocchi Soup. This copycat version is pretty dang similar and so nice to be able to make at home. Paired with some French bread, breadsticks, or homemade bread (and maybe a salad too), you have a family-friendly dinner, ready in no time.
Pin This Image to Save Kid-Friendly Recipes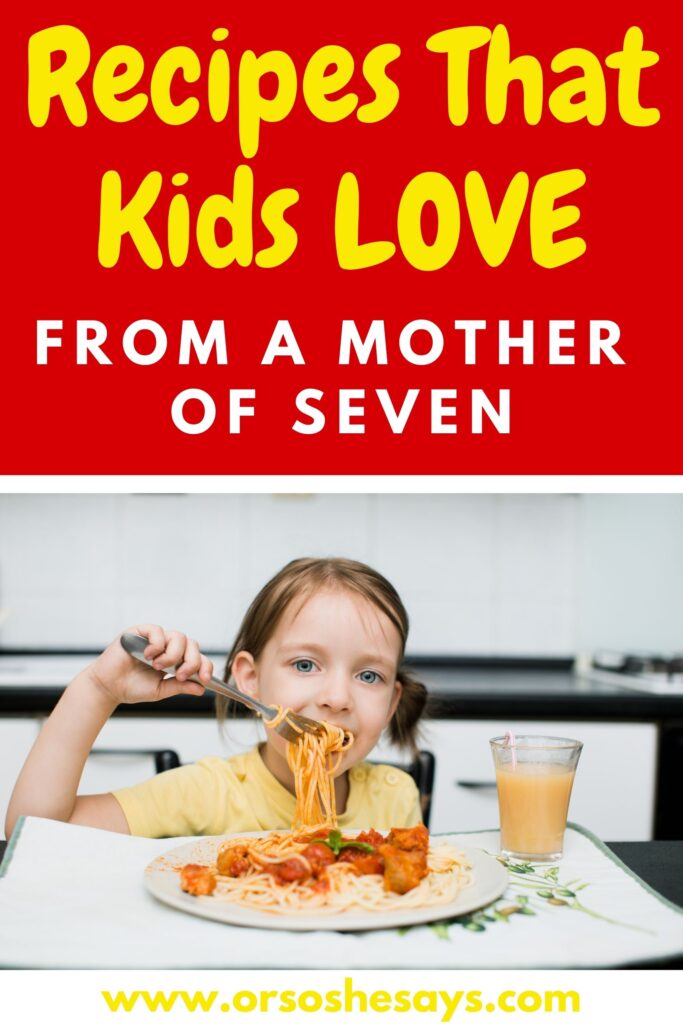 If you liked these recipes for kids, check out: