Garden fresh tomatoes are drizzled with olive oil and balsamic vinegar, sprinkled with minced garlic, salt, and pepper, and roasted until perfectly caramelized in this delicious summer side dish!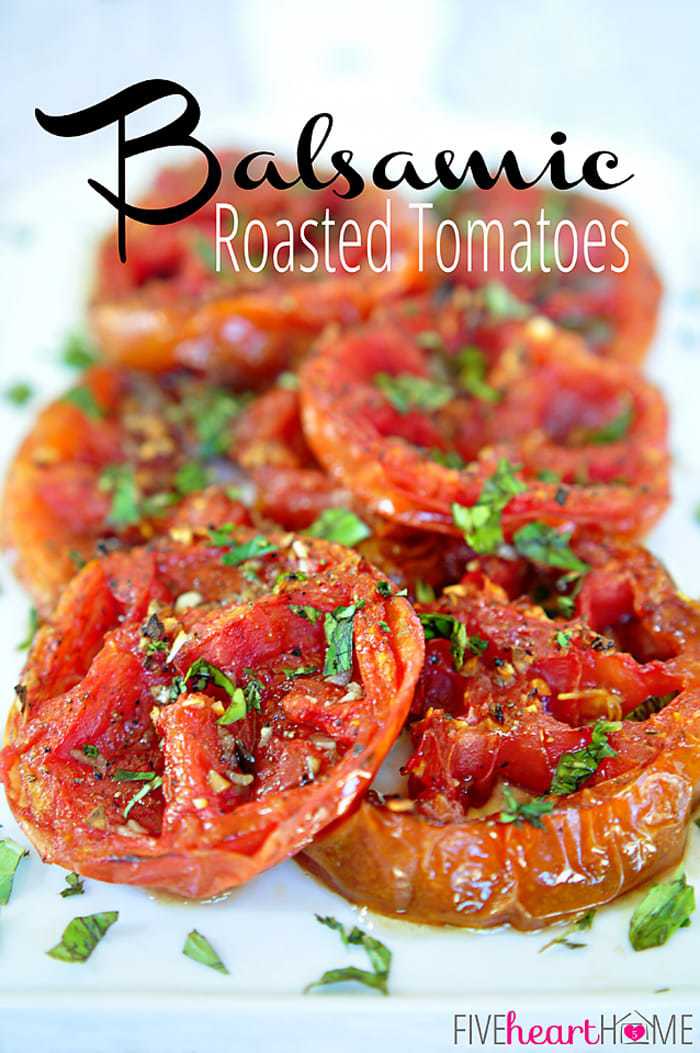 Happy July, everyone! It's Samantha from Five Heart Home, and I'm always happy to have the chance to visit with y'all when my monthly Or So She Says post rolls around! Today I brought over a to-die-for seasonal side dish that showcases prime summer produce in an unbelievably tasty way.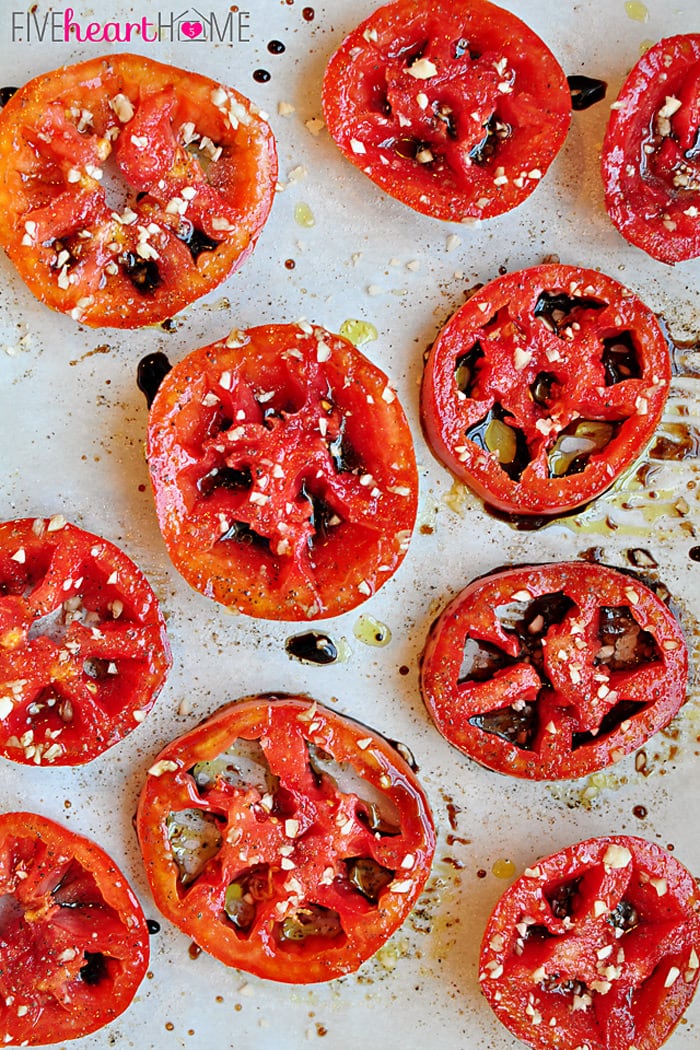 So here's the scoop…I love, love, LOVE tomatoes, and all year long, I look forward to plentiful, homegrown, summer tomatoes! My in-laws have a huge garden, and they are generous enough to share their bounty with us, including bright red, gorgeous tomatoes of every variety. Believe me when I say I take advantage of those plentiful tomatoes all summer long, popping cherry tomatoes like they're candy, turning giant tomatoes into sandwiches and Caprese salads, and whipping up plenty of fresh salsa. Sometimes, however, I decide to try something new, like baking them into a side dish. In fact, that's how this recipe found its way to my kitchen, and wow…I'm not sure where it's been all my tomato-lovin' life!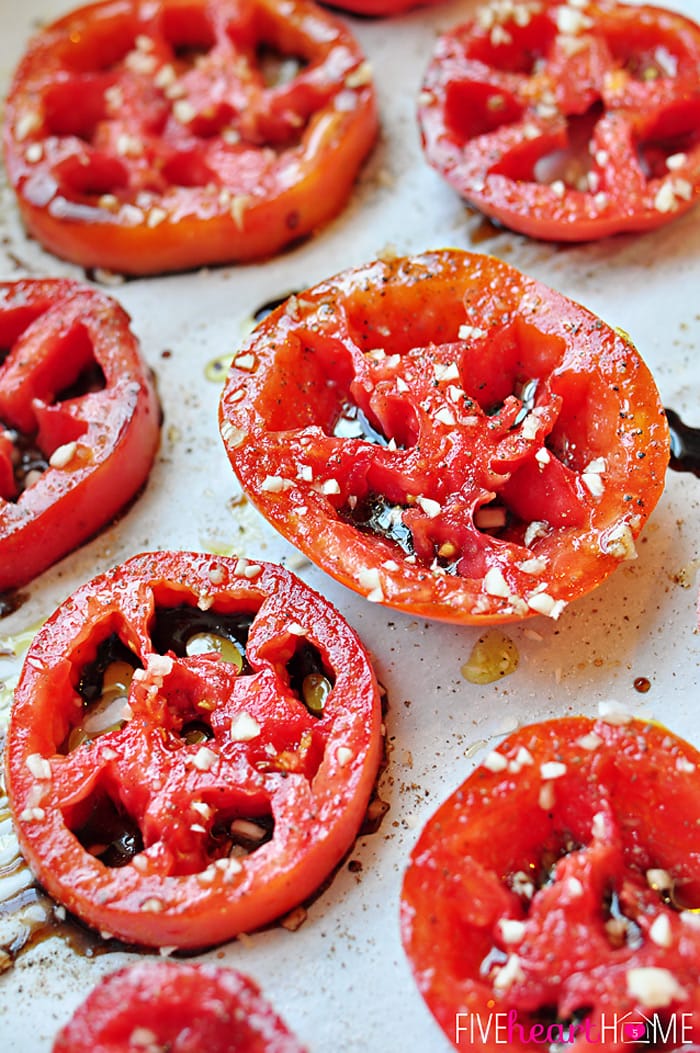 These Balsamic Roasted Tomatoes are beyond delectable, y'all. Fresh ingredients and a simple preparation often yield the most delicious results, and that is certainly true of this recipe! All that's required is to thickly slice some ripe, plump tomatoes, scatter a bit of minced garlic on top, and then sprinkle them with extra-virgin olive oil, flavorful balsamic vinegar, salt, pepper, and sugar. After roasting at a high temperature, the finished tomatoes become caramelized with an intensely concentrated tomato flavor that is simultaneously sweet and savory. The garlic plays off of such flavors beautifully, as do the chopped fresh herbs that garnish the finished dish.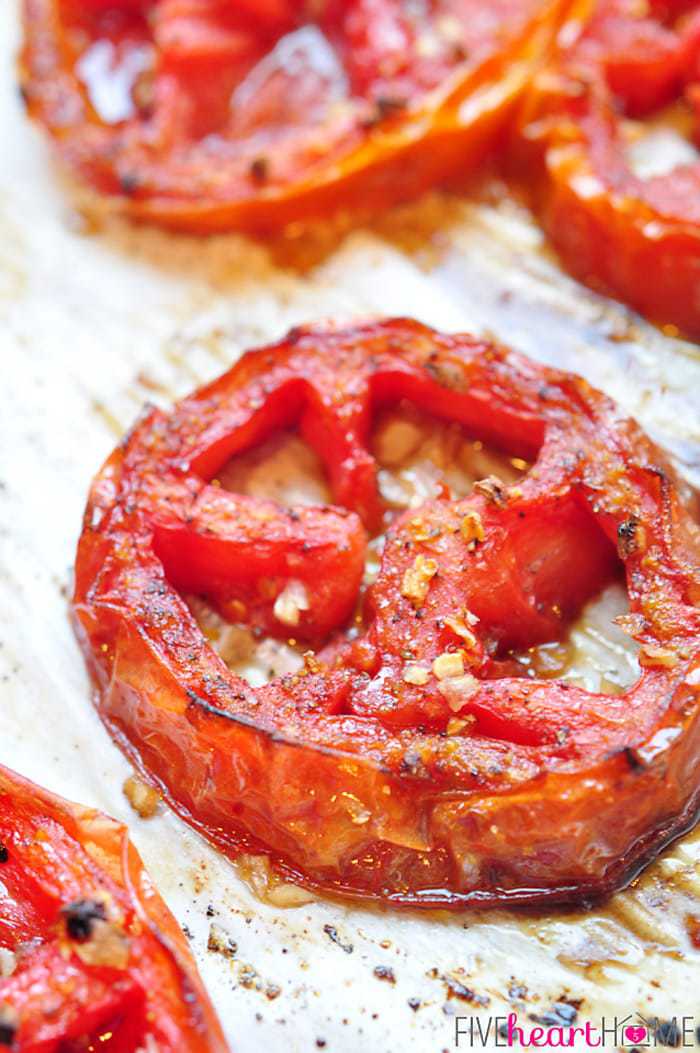 I dare you not to eat all of these tomatoes straight off the pan! But if you can manage to restrain yourself, they are delicious warm or at room temperature. And if you think they're good plain, just wait until you try them on top of pizza, pasta, salad, bruschetta…you name it!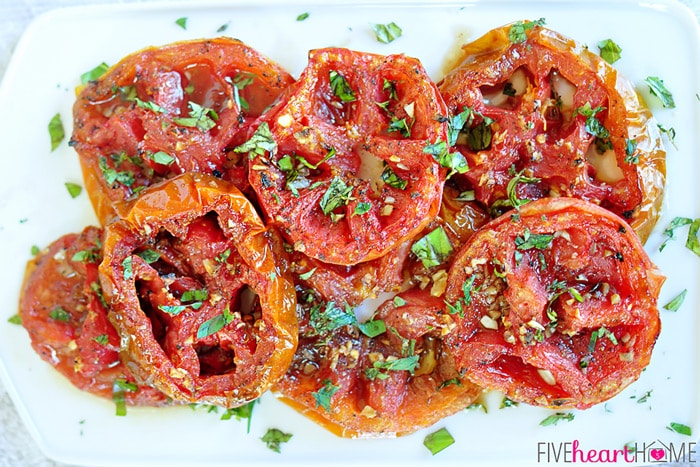 Now for just a few tips and tricks to ensure that you have roasted tomato success! To avoid a messy, hard-to-clean pan and tomatoes that may or may not end up sticking, I recommend wrapping a (rimmed!) baking sheet in foil and then laying a piece of parchment paper on top. While prepping your tomatoes, you'll want to make sure you remove all seeds and even poke a few holes in any tomato end-pieces, so that liquid can drain rather than accumulate during the baking process. After all, you want your tomatoes to roast rather than steam! And finally, this recipe is adaptable to just about any variety of tomato, but be sure to keep an eye on your tomatoes the first time you roast them this way since the thickness of your slices will dictate the cooking time. You're going for dark, caramelized tomatoes here, not charred ones!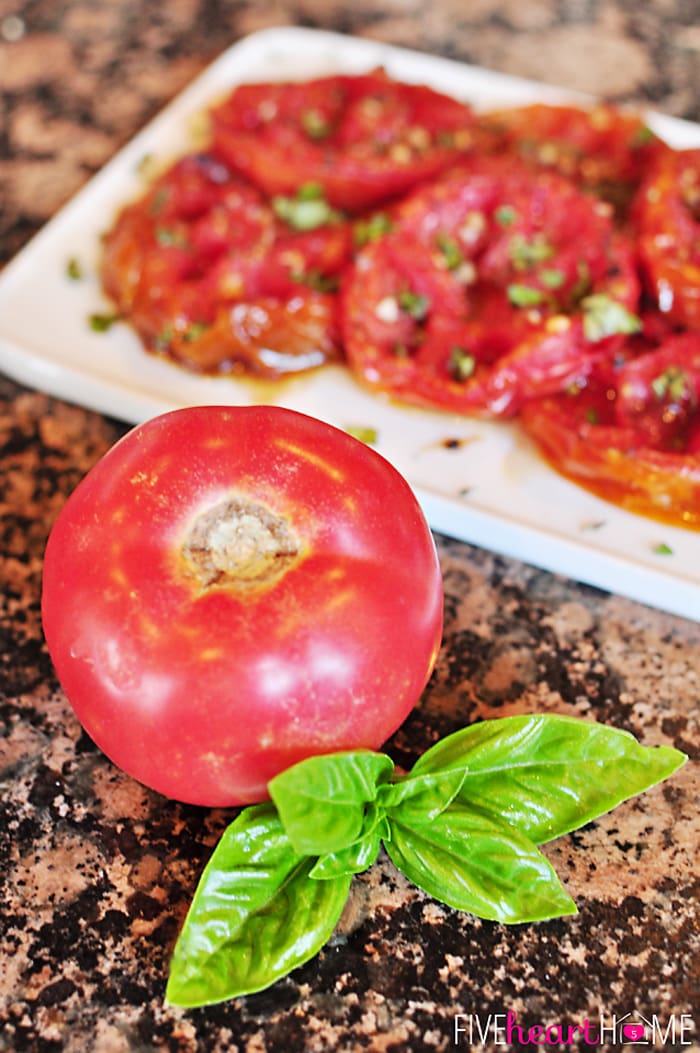 So if you find yourself with a plethora of tomatoes from the Farmers Market or your own garden, I think you will be amazed at the flavor that develops by cooking them like this. I've always felt that roasting brings out the very best in fruits and veggies, and tomatoes are no exception to this rule. In fact, this might just be my favorite roasted outcome yet!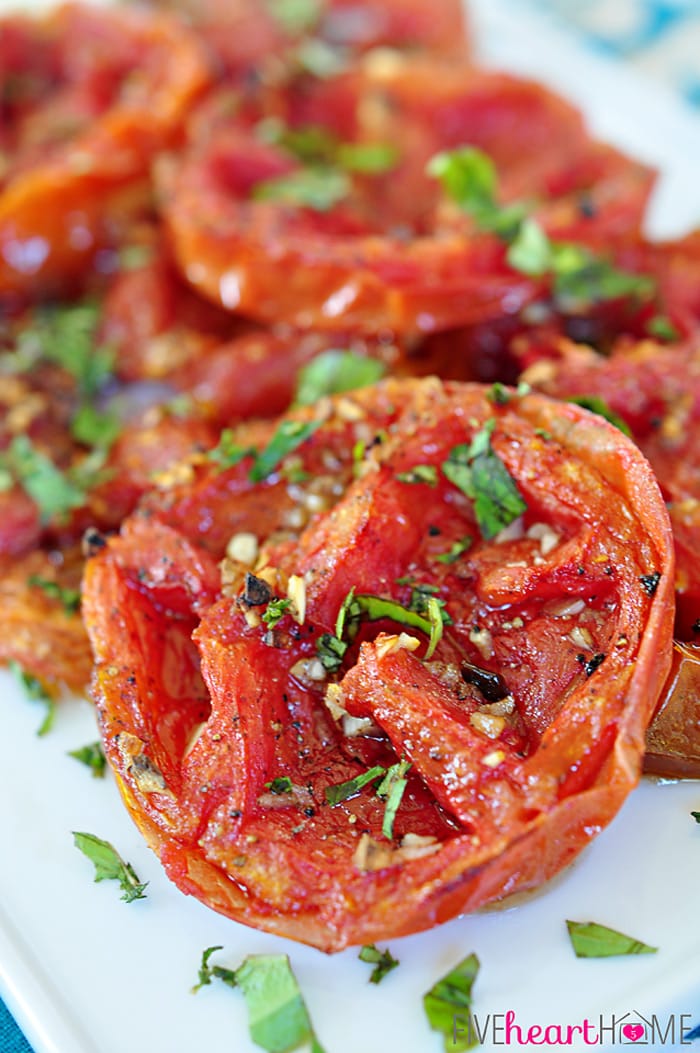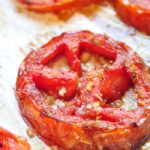 Balsamic Roasted Tomatoes
Garden fresh tomatoes are drizzled with olive oil and balsamic vinegar, sprinkled with minced garlic, salt, and pepper, and roasted until perfectly caramelized in this delicious summer side dish!
Ingredients
5

extra-large tomatoes

or an equivalent amount of smaller tomatoes

2

large garlic cloves

minced

4

tablespoons

extra-virgin olive oil

1 1/2

tablespoons

balsamic vinegar

2

teaspoons

sugar

1

teaspoon

salt

Freshly ground black pepper

2

tablespoons

chopped fresh herbs

see notes
Instructions
Preheat oven to 450°F. Wrap a rimmed baking sheet with aluminum foil, and lay a sheet of parchment paper on top.

Cut tomatoes into 3/4-inch slices. (I got about 3 slices out of each jumbo tomato. If using smaller tomatoes, like plum tomatoes, just cut them in half.) Remove all seeds and juices and poke a few holes in the bottom of any tomato end-pieces. Drain, cut side down, on a paper towel for a few minutes.

Arrange tomato slices on prepared baking sheet. Sprinkle tomatoes with minced garlic and drizzle with olive oil and balsamic vinegar (I use a small spoon to sprinkle them so I don't end up dousing too much). Sprinkle tomatoes with sugar, salt, and freshly ground pepper, to taste. Roast for 25 to 30 minutes (check at 15 minutes the first time you make them) or until tomatoes are soft, dark, and caramelized. Sprinkle with chopped fresh herbs and serve hot or at room temperature.
Recipe Notes
Using foil on your pan will make clean-up easier, and parchment paper will prevent your tomatoes from sticking. Be sure to use a rimmed baking sheet to catch any juices.
If the end-pieces of your tomatoes end up forming bowls, liquid will accumulate in them during the cooking process and cause them to steam rather than roast. Poking a few holes in the bottom eliminates this problem.
These tomatoes are delicious sprinkled with chopped fresh basil. Parsley is tasty as well, or you can use a combo of basil/parsley/oregano/thyme.
The first time you make these, and particularly if you are using smaller tomatoes, really watch the cooking time...especially towards the end, as they can go from done to burnt quickly.
This amount of olive oil and balsamic vinegar is appropriate for a 18x13x1" sheet pan full of tomatoes, regardless of the size/types of tomatoes that you start with. If you use less tomatoes, be sure to cut back on the oil, vinegar, and seasonings.
Adapted from The Food Network.
If you like this dish, I'd love to have you swing by Five Heart Home for more quick and easy, family-friendly, real food recipes!
2-Ingredient Baked Parmesan Zucchini Rounds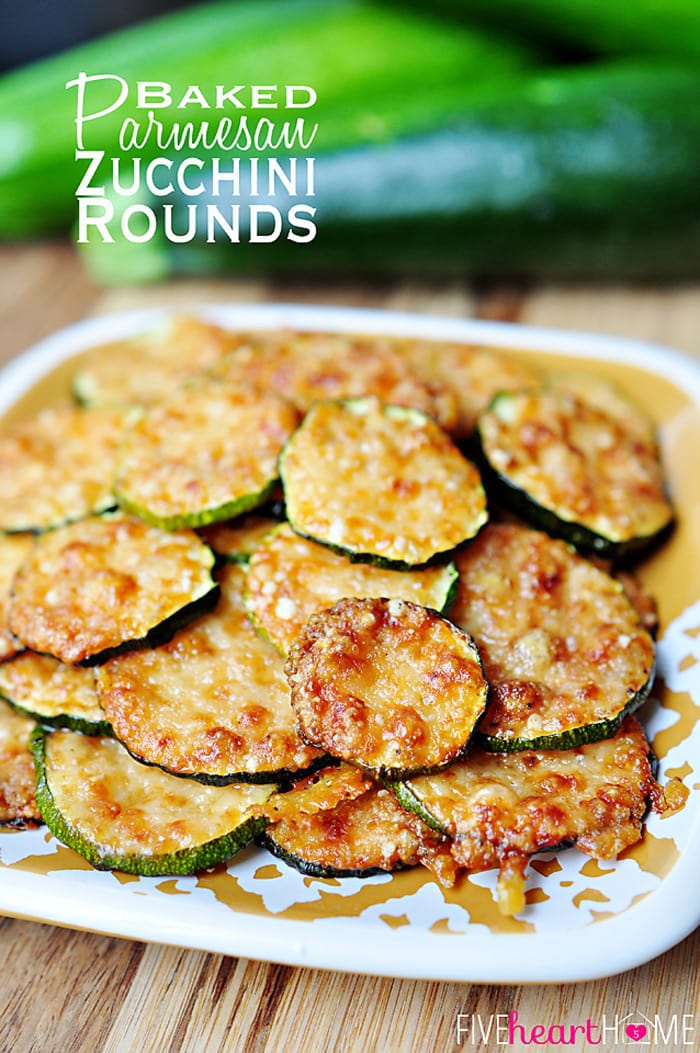 Tomato Cucumber Pasta Salad with Avocado, Olives, Feta, & Dill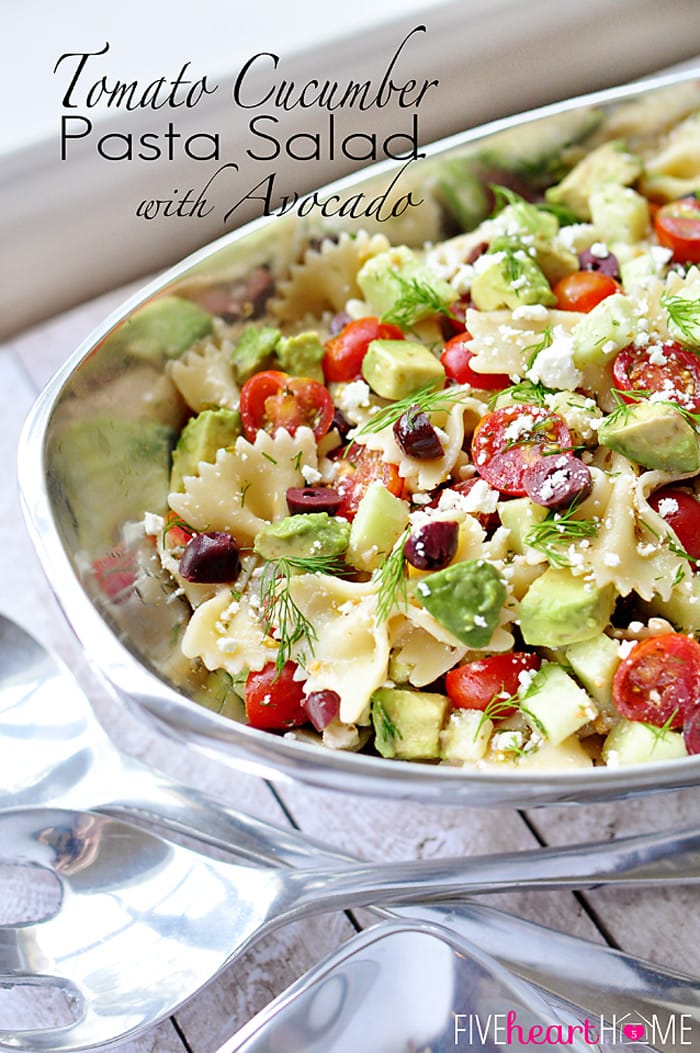 See you next month, friends! In the meantime, feel free to connect with me via the social media links below. 🙂
BLOG | FACEBOOK | PINTEREST | INSTAGRAM | GOOGLE+ | BLOGLOVIN' | TWITTER