Summer is such a fun and busy time! Whenever we can we like to get outside with the kids and enjoy the weather. One of our favorite things to do is to go to the lake and swim, boat, play on the beach, and picnic. You can also volunteer to do some cleanup of Coastal waste to keep our beaches clean. I know that when getting things together to go to the beach, it can be tricky to know exactly what to bring to make your beach trip as fun and enjoyable as can be (especially if you have kids!). Having fun, keeping the kids protected from the sun and safe in the water, setting up a comfortable place to relax on the beach, etc. are all important things to keep in mind. This list is chock-full of TOP-RATED beach products that will help to make your next family beach trip as fun, care-free, and relaxing as possible!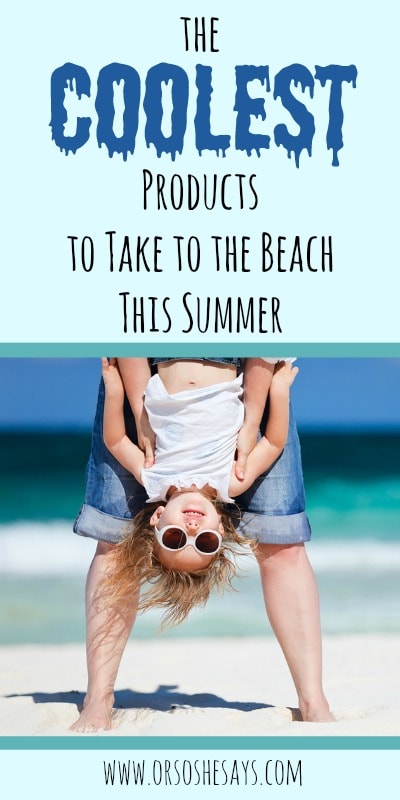 The COOLEST Beach Products for Summer:

Pacific Breeze EasyUp Beach Tent
This lightweight, compact beach tent provides protection from the sun, rain and wind for all outdoor activities, SPF 50+ sun protection and large windows for ventilation
This Handy Mat is perfect to take with you wherever you go. Includes built-in handles and convenient pockets on both sides. Folds out to 60″ x 78″ and folds to a compact 10.5″ x 15″. Perfect for picnics, beaches, RVing and outings.
O2COOL's 5-inch portable fan is perfect for indoor or outdoor activities, use in a hot office or at school, on a picnic and especially during a power outage.
(Great to have to keep babies sleeping in the shade cool!)
Bo-Toys Beach Sand Toys Set in Zippered Bag Castle Bucket
Beach set in zippered bag castle bucket 15 pc set. This colorful set of plastic sand toys includes everything you need for a fun day at the beach! Castle bucket with a handle, 2 hand tools, watering can, sand sifter (bucket cover), 2 castle molds, and 8 molds.
Stearns Puddle Jumper Deluxe Life Jacket
Life jacket/swim aid for toddlers–designed for mobility, keeps kids' faces up and out of the water, Coast Guard Approved, Type III Performance
(Seriously LOVE these life jackets!)
There's no better kite to get your kids started than our Huge Rainbow Kite. Unlike typical kites, it's purposely designed to be stable and easy to launch in nearly every type of wind from a light breeze to a stiff blow.
Microfiber Beach & Travel Towel
Beautiful retro cabana design in 6 vivid colors and a custom designed cotton pouch. Microfiber towels with character.
Northpoint Kids Hooded Beach Towel
They'll love drying off by the beach, pool or even bath in fun style with our Kids Hooded Beach Towel. Towels are printed with high resolution bright colors in a choice of 9 characters sure to delight the little ones. Large cover up poncho hood will keep them warm, cozy and dry.
(So adorable! Check out the Mermaid towel for the girls, too!)
Just Spike It, right next to your beach chair or towel directly into the sand holds your drink, snack, glasses, cell phone, sun screen, lip balm anything you want easily available within reach & sand-free
Waterproof Case YOSH Universal Dry Bag
The resilient YOSH® Universal Waterproof Case Bag allows you to enjoy your active lifestyle without worrying about harming your device as the case bag protects your phone or device from elements such as dirt, dust, sand, and-yes-even water! Each case bag is tested under water for two hours to ensure resilience.
VicTsing Bluetooth 3.0 Wireless Waterproof 5W Speaker
The beautiful sealed silicone cases and interface design ensure Waterproof, Shockproof, dustproof, can be used under harsh environment (such as, outdoor and shower). It has built-in MIC Bluetooth speaker and hands-free function, so you can conveniently pick up a call by this mini speaker in car, bathroom, at home or office, anywhere during it is connected to your Smartphone.
Anker PowerCore+ mini 3350mAh Lipstick-Sized Portable Charger
The Anker Advantage: Join the 10 million+ powered by America's #1 USB charging brand. Fast Charging Technology: PowerIQ detects your device to deliver its fastest possible charge speed up to 1 amp.
Mac Sports Collapsible Folding Outdoor Utility Wagon
Easily haul your gear with the MAC Sports Folding Utility Wagon. It opens in SECONDS! The lightweight durable design has a 150 lb. capacity and is a must have to transport heavy bulky loads. Great for trips to the beach, park, camping, outdoor sporting events, gardening and much more!
Keep sand and water away with mesh see through bottom. Handle large amount of toys thanks to an innovative design . Hold up to 25 lbs so you can virtually bring anything you ever need. Great for kids with small items.
Trademark Global Bocce Ball Set
8 – bocce balls – Can be played almost anywhere on a variety of surfaces. Includes a heavy duty carrying bag.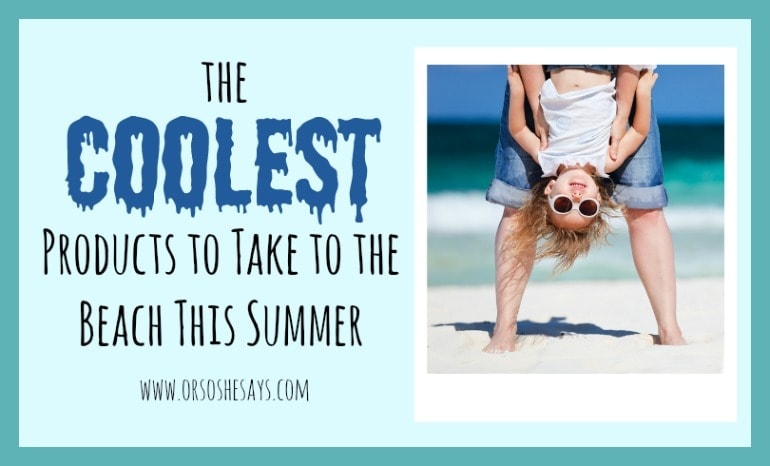 Want some great outdoor game ideas?: The BEST Outdoor Family Games
Planning to take a picnic to the beach?: Must-Haves for the Ultimate Family Picnic
Save