This is a sponsored post written by me on behalf of Jockey for IZEA. All opinions are 100% mine.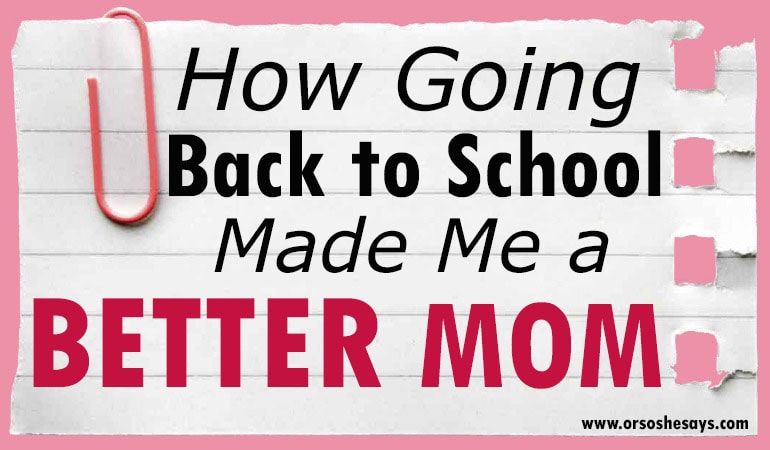 Hey everyone! It's Liv again, and I'm glad to be back with you here on 'Or so she says…'. Have you heard about the new Jockey #ShowEm campaign? It's not just about selling underwear; it's about supporting and celebrating the values that make up who we are, underneath the exterior we show the world. When Jockey asked me to #ShowEm what's underneath me, it couldn't have come at a better time. In August I started a new adventure, which requires courage, perseverance and the support of my family.
This year, just like my 1st grader, I went back to school. I got a Bachelor's Degree in 2007, and worked full-time before deciding to have my daughter and stay home in 2010. Right after graduating college, I earned a few certifications to teach Pilates and Yoga, and taught classes before and after my day job. Thankfully, that was the work I picked back up six weeks after my daughter was born. It was important to me to be able to care for my daughter and get out of the house to work when she was young. I felt like a better mom when I had personal outlets to call my own. I've always loved Yoga, and the four years I spent teaching instilled a desire in me to get a 200-hour Yoga Teacher Training certification someday.
Fast forward to this year, and my siblings came together on my birthday to donate the tuition money I needed in order to take that 200-hour certification at my local community college! I was shocked and so grateful for the opportunity they helped provide to me. With their financial help, I don't have to worry about putting any strain on my family as a result of my schooling. All I have to worry about was juggling family, my part-time work, church obligations and my school work 😉 Nothing major, right?! After years of wanting to take this training, I finally got the courage to dive in.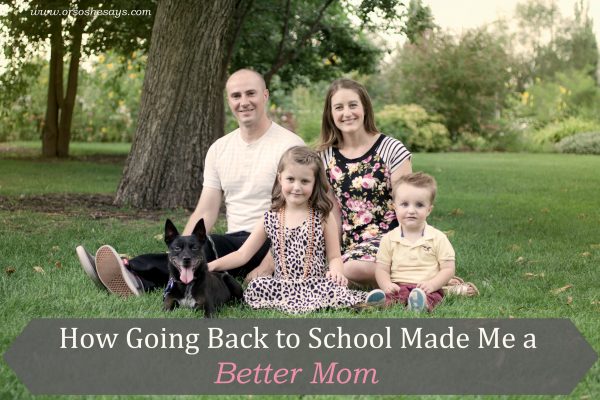 So, how has going back to school helped me become a better mom? Well, let me explain a little:
I'm forced to prioritize better. In order to complete assignments on time and study for tests, I can't Netflix binge any time I want. My life and my kids' lives are better organized now that I'm in school because I need to have time to study without interruption. We get more done since I have project deadlines to meet. I know it will be difficult to keep it up, but with perseverance I can come out on top!
I better relate to my daughter and her own back-to-school fears this year. We were able to talk about how we both feel about the new school year, and what we were worried about. It helped her to know I was facing a new schedule and would be trying to make new friends just like her. Now I have to practice what I preach about showing courage and trying new things! Hopefully that example will be clear to my daughter.
Ever heard the saying "A happy wife makes a happy life"? Well, it's so true for me and my family! When I'm able to pursue things of meaning to me as a person (rather than just as a wife/mother) I'm a better mom and am better able to care for my family. My own well-being directly relates to the well-being of my family. Family means everything to me, and especially since they were essential in helping me pursue this dream in the first place, I'm excited to give back tenfold to them!
Do you have something you've been wanting to do for a long time, a dream you'd like to live out? This yoga training is something I've wanted to do for about 8 years. I always put it off, though, because of money, family obligations, and time constraints. I've made do with various other certifications, but they're not as credible or comprehensive as this 200-hour course. I'm grateful for the opportunity to nurture this dream and make it a reality. Admittedly, I was terrified of going into my first classes in August, and I worried I'd be out of place or TOO OLD (yikes!) on the college campus. But after a few weeks in class, I know I can be a stay-at-home-mom and a student without failing either role. And I'm not too old! Although I'm just a wee bit over 30, some of my classmates have commented that they're surprised to hear I have kids, and graduated from college so long ago.
I feel good about the example I'm setting to my children as I attend school and work toward my dream. I want them to see that hard work pays off, and that education is important. We never have to stop learning or working toward our goals and, in my case, my family boosted my courage so I could make it happen for me this year.
This post is sponsored by Jockey, a brand that supports the complete person. They embody the values of courage, family and perseverance and invite you to do the same. Are you doing something courageous this year? Are you in the midst of a trial? Have you had an amazing experience with your family lately? Check out the meme I was able to make on their site, and make your own #ShowEm meme! Join me and Jockey and #ShowEm what matters to you, too! Create your own captioned photo using the Jockey Showem Meme Generator, and share with the world to #ShowEm what's underneath! Feel free to tag @orsoshesays on Instagram or Facebook so I can see! I'm proud to work with a brand that supports family, and the courageous things we do each day as individuals. It's nice knowing my bravery to go back to school is appreciated! What's YOUR value?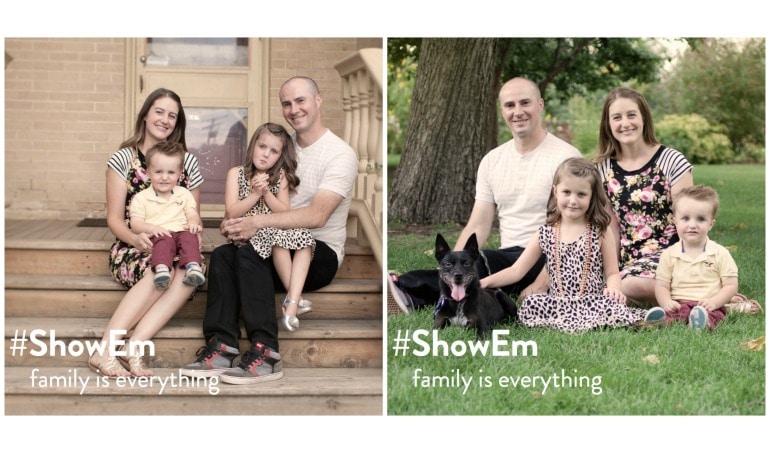 If you make your own #ShowEm meme, feel free to tag @orsoshesays on Instagram or Facebook so I can see!
Save
Save
Save
Save
Save
Save
Save
Save
Save