Spiders give me nightmares. I'm sure I'm not alone…aren't they nasty?? We've killed several black widows in and around our home. Anyway, all bugs are nasty, except potato bugs and lady bugs. Oh, sometimes I think black ants are cute. Sometimes.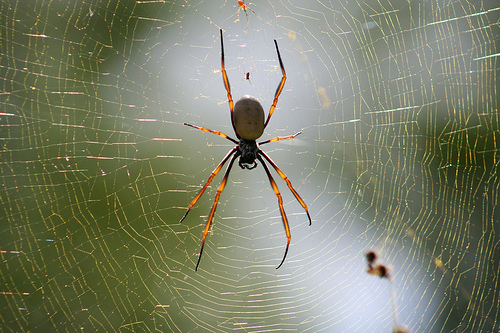 I've had my house sprayed several times a year by
Orkin in Los Angeles, CA
to keep the spiders away, and for some ridiculous reason, it
just
occurred to me that I should spray the house MYSELF! I'm slow. With my review-reading fascination, I knew I could find something that could do as good as the exterminator, or better.
And, I found it. It's called
Cyper WP
, the top-reviewed insecticide for household (and outdoor) use. This one pound canister makes up to 40 gallons and can treat your house 20 to 40 times! With shipping, you're looking at $37 bucks. Let's calculate the savings…$75 dollars to have my house sprayed 3 times a year, I could save $188 dollars per year by using this, instead of an exterminator. What could I buy with $188 dollars?? 2 massages, 2 Jamba Juice smoothies, and golfing for 2…an awesome date with my husband. Or, I could buy diapers, lots of them.
Along with the Cyper WP, you'll need a
garden sprayer
…
This stuff is supposed to do a fabulous job of knocking-out scorpions, ants, roaches, spiders, stinkbugs, etc. It's in my shopping cart.
Want to take the all-natural route and/or make a spider repellent yourself?
Spiders tend to avoid many natural oils. So, take a squirt bottle, add a few drops of an oil (lavender, peppermint, citronella, tea tree) inside with a little squirt of dish soap. Fill the rest of the bottle with water. Squirt anywhere you tend to find spiders or webs.
Another option is 1 tsp. of melted coconut oil mixed with warm vinegar. Add it to a squirt bottle and spray your little heart out.