Hi there! My name is Liz and I blog over at Liz on Call. I'm excited to be part of the 2015 team here at Or So She Says! I just want to take a quick minute to introduce myself. I am a mom of 3 beautiful kiddos that are full of energy. My husband and I have been married 8 years and our family is our life.
Although we graduated from the same high school, the same year, we didn't meet each other until 8 years later! Crazy right!?!? I was able to stay at home with our kids once our 2nd child was born and started blogging to share all the projects, recipes and crafts that I actually had time to work on while I was at home. It turned into more than a hobby and I have loved sharing my ideas with my readers. Where does the name Liz on Call come from? Well it just so happens that my last name is Call. But more than that, I think that as a mother, wife, friend, sister, church goer, woman… I am always on call to be whatever my family and friends need me to be. At Liz on Call I share recipes, simple crafts, kid crafts, gift ideas, party ideas and printables. We just moved into a new house and I can't wait to start working on some new projects and sharing them there. Come stop and by and say Hi sometime!
For my first post here at Oh So She Says, I'm sharing a super delicious caramel cashew popcorn recipe! I absolutely love making flavored popcorn. And this recipe does not disappoint. When I was growing up my parents would take us to a local frozen custard shop and my dad would always order a caramel cashew mix. Once I tasted that, I was hooked! Since then, there has never been a need for me to try anything else. I always want to get caramels and cashews. The sweet caramel with that hint of salt from the cashews mixed with the creamy custard just can't be beat. Since I love that combination with frozen custard I decided to give it a try with some popcorn. This caramel cashew popcorn is ooey and gooey and reminds me of going to the frozen custard shop with my family.
Sometimes I shy away from caramel that you have to cook on the stove, but this recipe is really simple. I decided to use whole cashews for this popcorn because I love them and I like the way they look in the popcorn. It's all about the looks! 🙂 You could always use halves and pieces of them if you like that better. Can you see the gooey deliciousness?!?!
I needed to take some treats to some of my friends from church. I loaded up some cute popcorn boxes with the caramel cashew popcorn. So far it's gotten 8 thumbs up! 🙂 (I delivered it to 4 people! haha!) This is a great treat for gifting. Warning: if you don't gift any away, you may end up eating the whole batch by yourself!!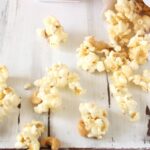 Caramel Cashew Popcorn
Ingredients
12-13

cups

popcorn

about 2 bags microwave popcorn

2

cups

cashews

3/4

cup

butter

not margarine

3/4

cup

white sugar

1

cup

light corn syrup
Instructions
In a big bowl mix together popcorn and nuts.

**tip** To get rid of kernels that didn't pop, pour bag of microwave popped corn into a brown bag and shake. Kernels will fall to the bottom of the bag.

In a medium sauce pan on medium high heat, melt together butter, sugar, and corn syrup.

Turn up heat if necessary and bring to a rapid bowl.

Boil for 3 minutes stirring constantly. (mixture will look foamy)

Remove from heat and immediately pour over popcorn and nuts.

Gently stir everything together until everything is completely coated.

Pour out onto waxed paper or buttered pan and spread out to cool.

Once cooled, break in to pieces.

Store in airtight container or zip seal bags.
As you start cooking your butter, sugar and corn syrup on the stove it goes really fast. Once the mixture boils, it will look foamy, that is ok. The mixture will go from a buttery yellow color and slowly it will begin to darken, not too much, just a little. Keep stirring constantly for 3 minutes before it's time to pour over your popcorn and nuts. I use a big spoon or scraper/spatula to gently stir everything together and coat everything as evenly as possible.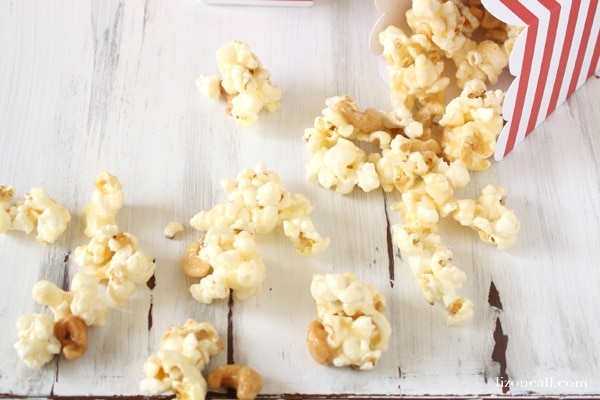 If you love caramel and cashew together like me, you'll want to try this popcorn recipe.
Thanks for hanging with me today. I can't wait to share more with you all this coming year.
Happy Cooking!
Liz
Here are some other flavored popcorn recipes you might like: