Hey everyone, it's Adelle from Packed with Fun, the official blog of Get Away Today. I am excited to help you countdown to the spookiest time of year at Disneyland – Halloween Time! If you are traveling during one of the most fun times at the Happiest Place on Earth, I have the best way to make the wait fun. This Disney Halloween Countdown Chain is so easy it is scary! Get ready for the perfect way to countdown to your not-so-spooky Disneyland vacation. If you're not heading to the parks during Halloween Time, you can still use this Halloween countdown just to count the days till Halloween in your very own neighborhood.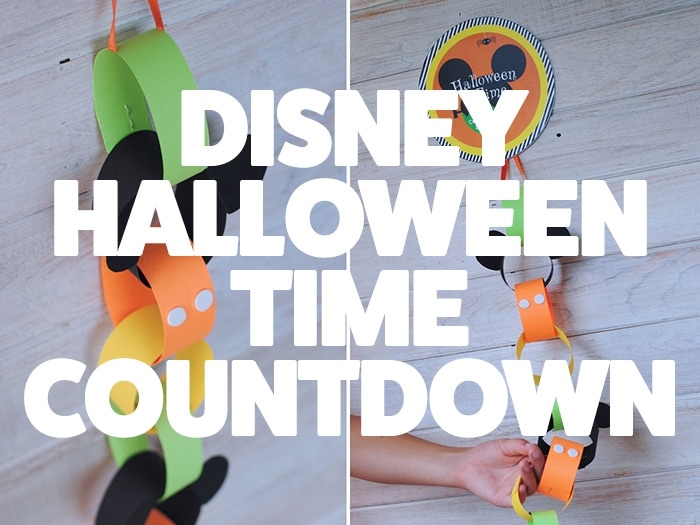 Fall is the perfect time to visit the Disneyland Resort. From early to mid-September through October begins the happiest haunting on earth! The park is enchanted with Halloween decorations, spectacular firework shows and ghostly entertainment. AND for the first time ever, California Adventure is joining in on the Halloween fun! Oogie Boogie from the Nightmare Before Christmas will be overlooking the entrance to California Adventure Park. Even Radiator Springs will become 'Radiator Screams' with even haunting decorations and frighteningly delightful ride overlays.
The anticipation of a vacation can sometimes be the most frightfully exhilarating part of your trip! Why not make the eagerness even more exciting by creating a way to countdown the days until your not-so- scary Disneyland vacation?! This Disney Halloween Countdown chain is perfectly themed and all you have to do is take a link away per day to find your vacation sneak up closer and closer until it is finally time to go.
Materials Needed for Halloween Countdown Chain:
2 Sheets of Black Cardstock
1 Sheet of Yellow Cardstock
1 Sheet of Orange Cardstock
1 Sheet of Green Cardstock
White Sticky Foam Paper
4 Inches of Ribbon
Scissors
Stapler
Tape
Disney Halloween Countdown Chain Template: Disneyland OR Disney World
To get started, you will need to print and cut out the template for the destination you are traveling to. If you're just counting the days till Halloween at home, you obviously don't have to use this part of the free printable. This template will have the countdown topper and the pattern for the Mickey Mouse ears chain link.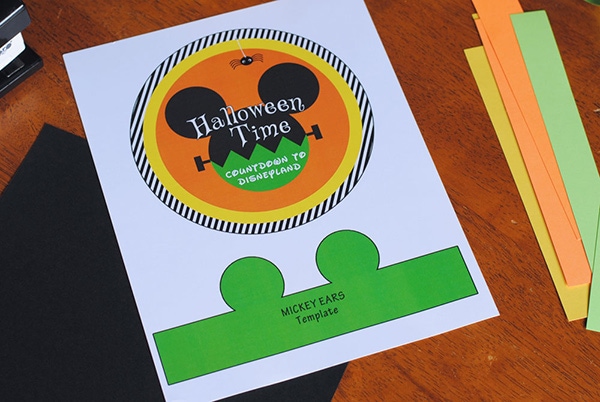 Once the Halloween countdown templates are cut out, set the header aside and use the Mickey Ears pattern to trace the shape onto your black cardstock. You should be able to fit about four links onto the paper depending on how you place the links. Once they are traced, carefully cut them out.
You will notice that this pattern has two Mickey Mouse ears. You will need to fold the ears up at a 90-degree angle and crease the fold so they stay in place.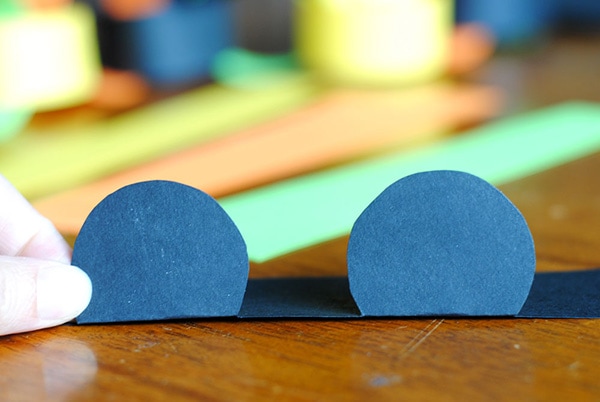 For the next step, you will cut strips for the colored portions of your chain. The yellow and orange strips will be slightly larger than the green at about 1 ¼ inches wide. To help green strips fit between the Mickey Ears better when you put the chain together, the green will be a little more narrow at 1 inch wide.
As soon as all of your pieces are cut, it is time to start the fun part! To start building your Disney Halloween Countdown Chain, fold the Mickey Mouse ears into a circle and use a stapler to attach.
Next, you'll need to link an orange strip through the black circle and staple it into place. Continue linking through the circles in the pattern of: black, orange, yellow, green. In theory, this is supposed to be Mickey Mouse, with his green Halloween hat, black for his head, orange for his pants and yellow for his shoes! It's a subtle little detail, but we at Get Away Today know that sometimes the magic is in all the little things!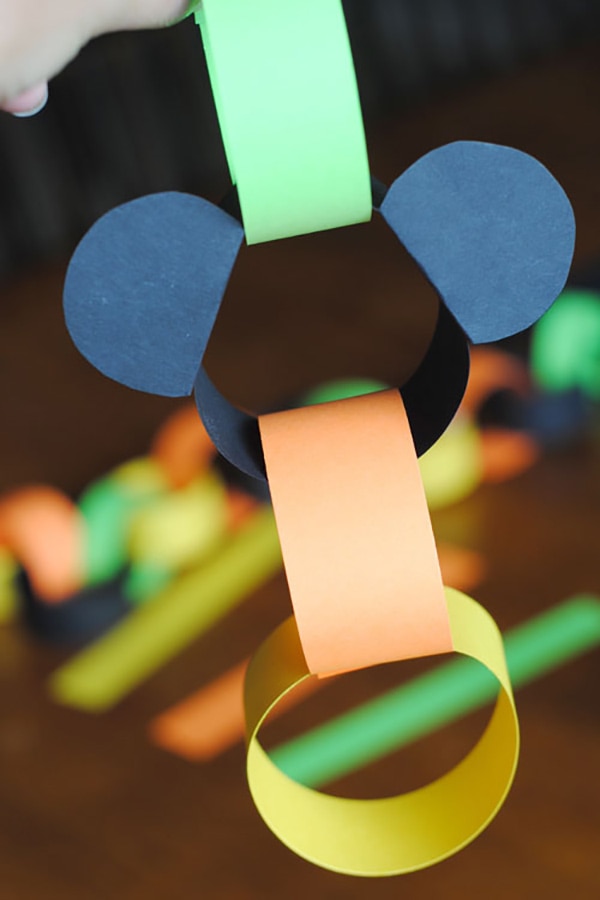 To make his pants look more like pants, cut some white buttons out of either regular paper or sticky foam paper and place them onto the orange links.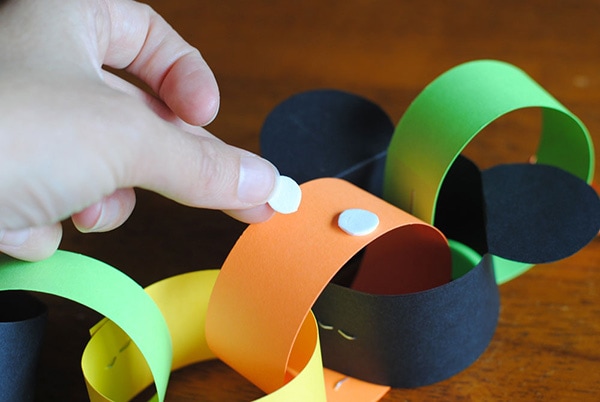 You can do this enough times for the amount of days you want on your countdown chain. I think a two or three week countdown is a pretty good amount of time, but you can do however long will make you and your family most excited!
When you have finished, you will add the header to the top of the chain. Lace a small bit of ribbon, about 5 inches, through the top link of your chain, then tape the ribbon to the back of your header paper.
Now you are all done! Be sure to hang your cute new Halloween countdown chain somewhere visible for your family and cut off one chain a day!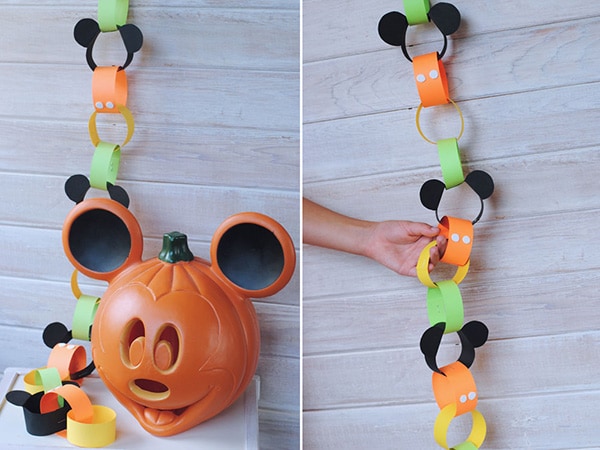 Don't forget to book your scary good deal through Get Away Today. No tricks here, we offer the best prices on discount Disneyland packages and discount Disneyland tickets! When you use promo code OSSS10 you can save an additional $10 off your Southern California vacation package. Happy Hauntings!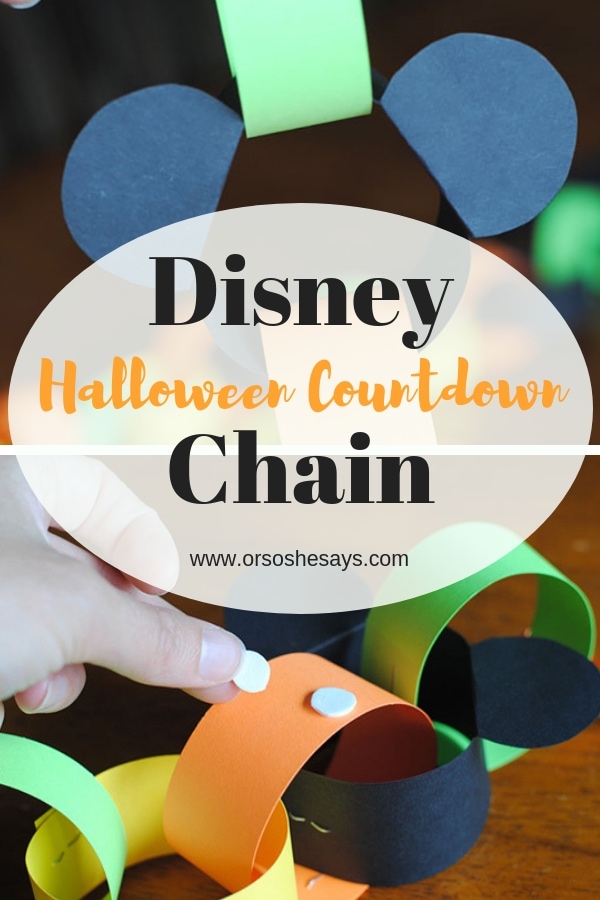 For more Disney and Halloween fun, check out these posts:
Disneyland Halloween Time 2017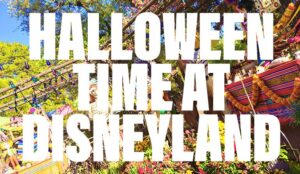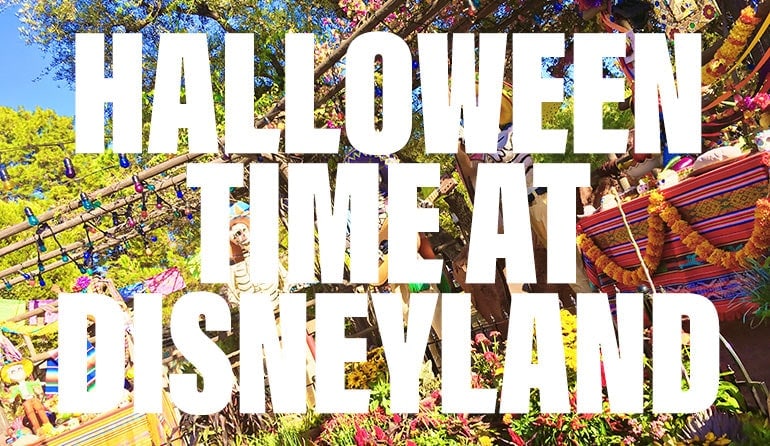 Top 7 Reasons Why This is the Scariest Halloween Season EVER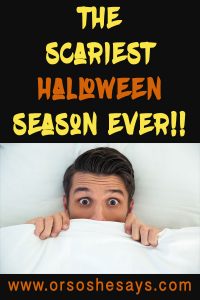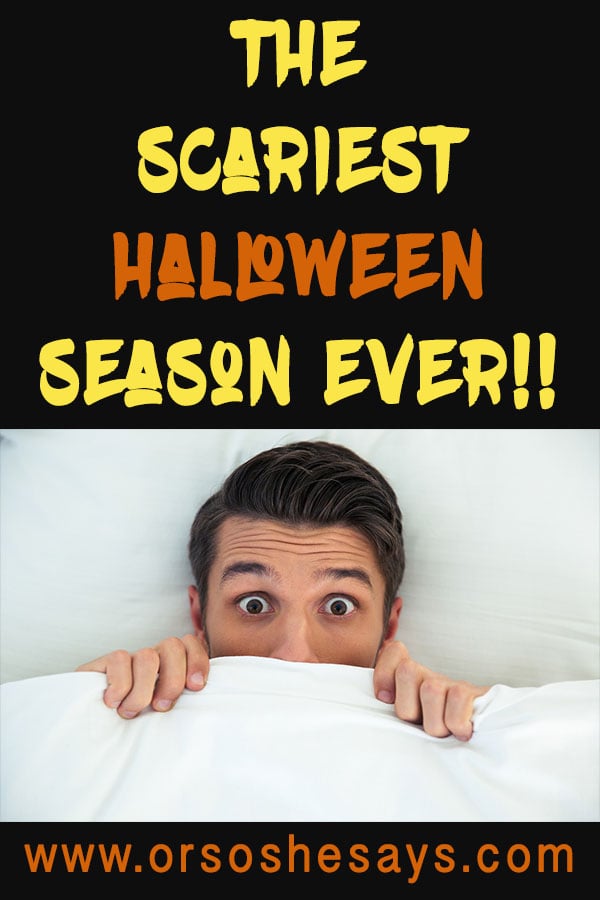 Disney Conversation Cards – Perfect for Your Next Roadtrip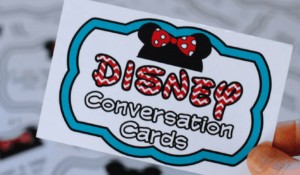 Save