So, yesterday was the Disney Cruise review of our experience on the ship. Today, I thought it would be fun to share with you our experiences off the ship, at the different ports we went to.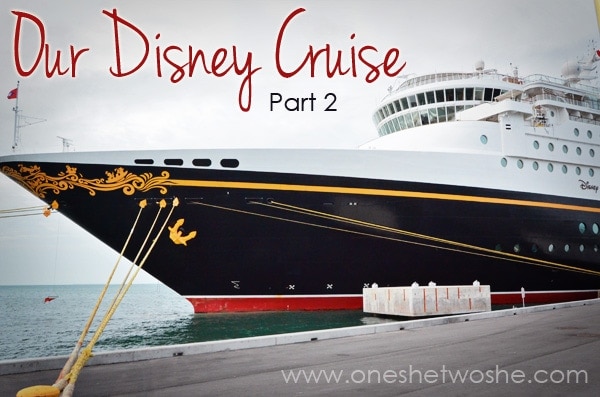 As much fun as it was on the boat, it was always fun to get off the ship too. Play on the beaches, tour the towns, shop for our baby back home, try the local foods, and get our feet on stable ground. When you get off the ship, Disney makes it super easy to know the different places you can go to, as well as when and how to get back to the ship, before it departs. You typically arrive at a port first thing in the morning (or in the middle of the night.) Then we were usually allowed to leave the ship until 4:00 or 5:00 p.m.
You can either be on your own and decide what you want to do when you get there, or you can sign up for 'excursions' ahead of time. Excursions are guided tours/adventures/experiences that help you experience the area in the short amount of time that you have. Excursion examples: a city tour on a bus, snorkeling and boat tour in a special location, swimming with dolphins, sting ray adventure, etc. If you buy an excursion from Disney, they arrange everything for you, tell you exactly where to go, and they are guaranteed to get back in time. You can also purchase excursions after your exit the ship from the local tour companies. They can sometimes be cheaper, which may be worth it. But, we just stuck with the Disney excursions so we knew we would have a great experience and return on time. You can sign up for the excursions even before you leave for your cruise. In fact, it's a good idea because sometimes the ones you want will sell out. But, you can also purchase them once you get on the ship. Obviously, each excursion is a different price.
So, our first stop… Key West. We opted not to purchase an excursion there and just explore on our own. Most of the excursions were city tours and museum tours, which was not something I wanted to do with 5 kids. We were anxious to hit the beach! Dan picked up a map and we made our way to a little, little beach.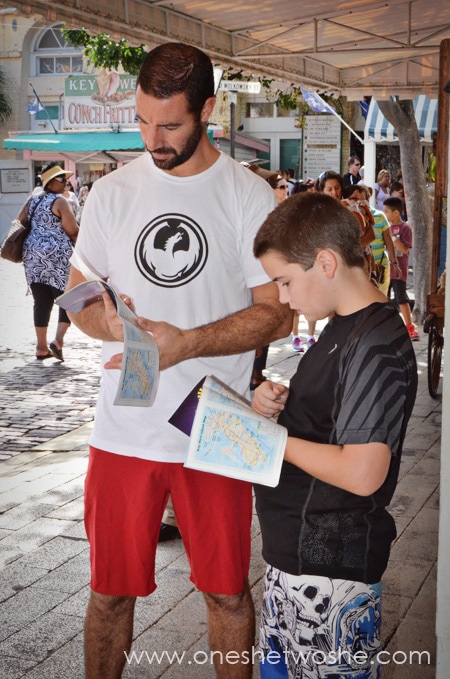 We spent some time playing on the beach and watching fish, until I got antsy to try the Key Lime Pie that Key West is famous for.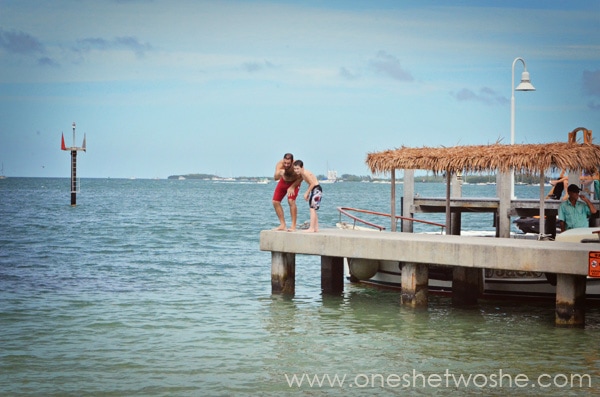 So, we wandered all over the small town until we found the spot. I can't remember the name, but it was key lime EVERYTHING. Cookies, fudge, popcorn, milkshakes, pie, you name it. We ordered an entire pie and made lunch out of it.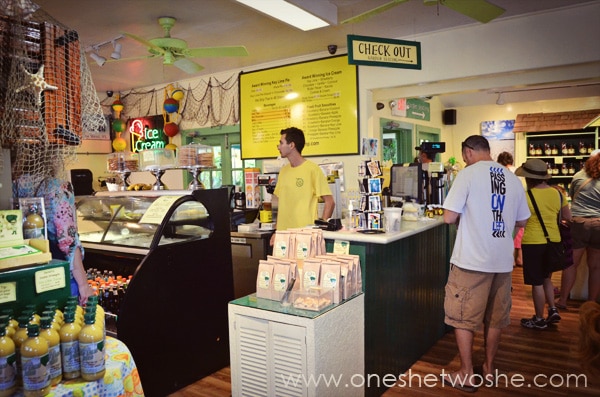 At our second port, we got to go to the exclusive Disney island, Castaway Cay. Only passengers on the Disney cruise ship get to go there, so that was kinda fun. There's a nice beach with a waterpark in the ocean. That was our first stop.
Okay, my little Isabelle is a nut. She loves to ham it up for pictures…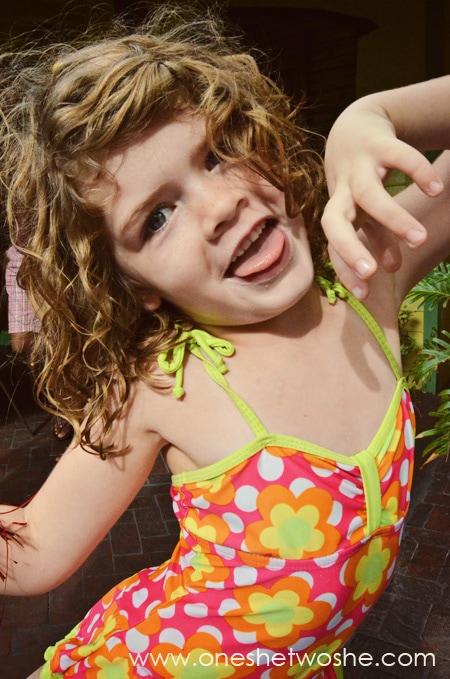 Audrey pretending to be grumpy…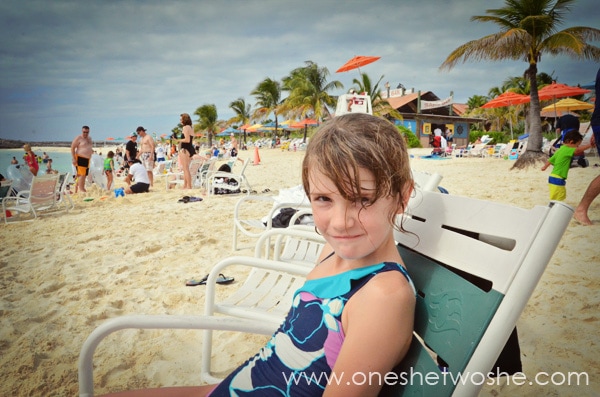 Isabelle pretending to be grumpy…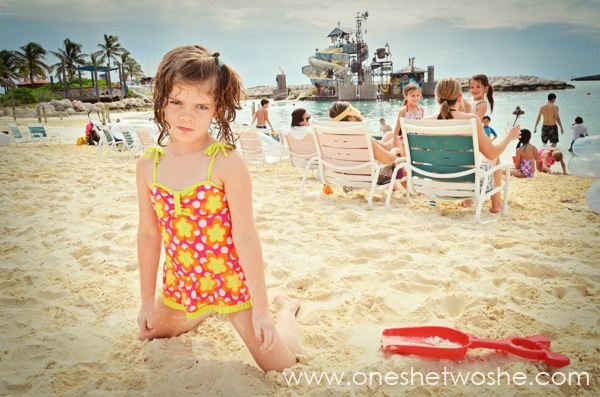 And, Joey REALLY being grumpy.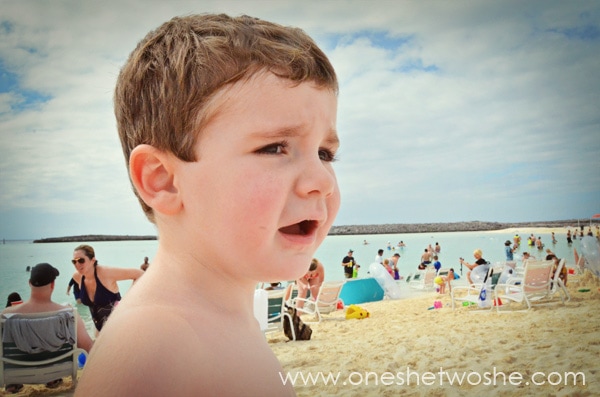 There weren't a lot of shells at Castaway Cay, but the girls still managed to find enough to fill their backpack pockets.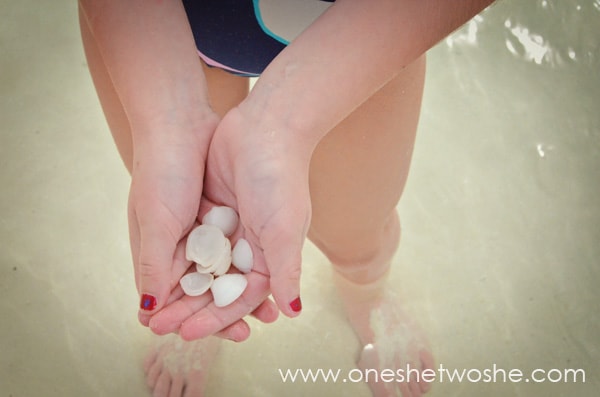 Yay, he cheered up! Notice the waterslides in the background??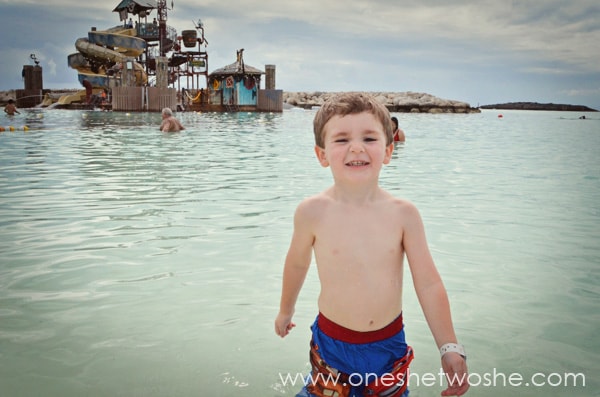 Once we got sick of the beach, we decided to rent bikes. That was one of my favorite things that we did. We each got a bike, except for the younger two, whom we put in the kid seats attached to our bikes. It's about an 8 mile ride around the island, totally flat, and super fun.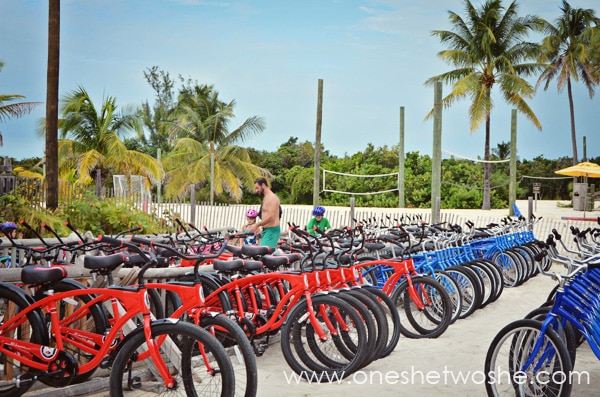 Not many people rented the bikes, so it was fun to be away from the crowd and experience the island with just our family.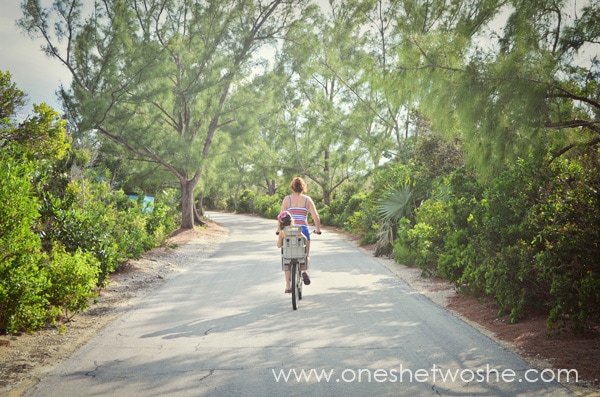 We stopped to check out the views… and climb trees.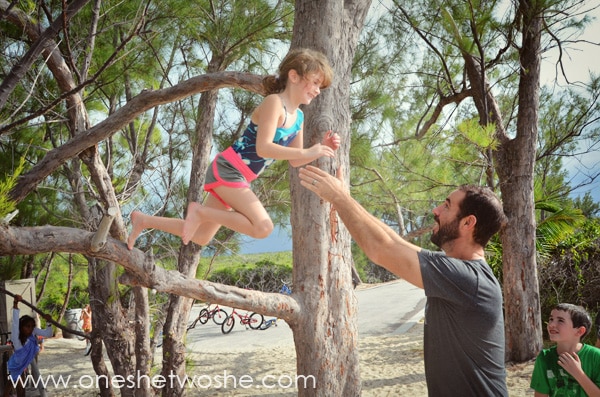 There's a big tower you can climb to look out over the whole island. See the cruise ship in the background??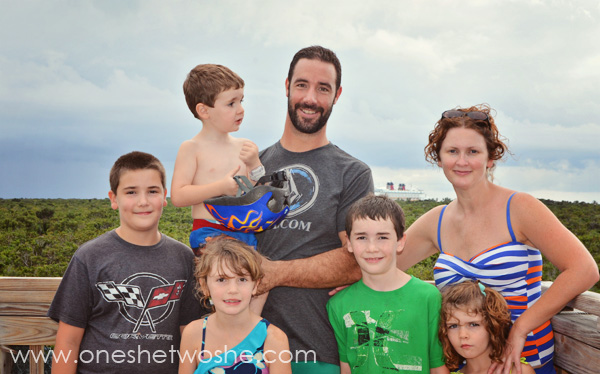 Finally, the last port that our cruise went to was Nassau. This time we opted to buy an excursion. We chose to spend a day at the Atlantis resort. A bus came and picked us up from the ship in the morning and drove us to the resort where we met our tour guide. After a brief tour, he set us free for the rest of the day.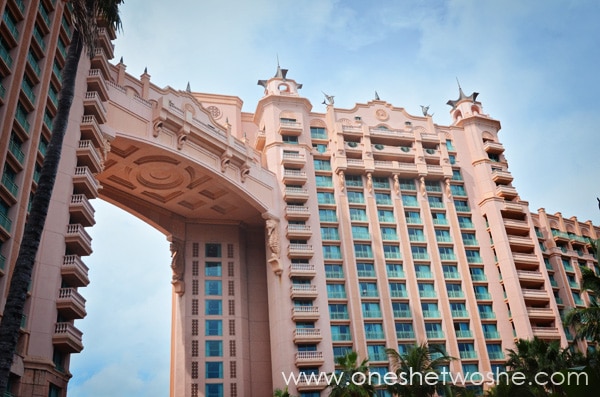 We checked out their many (and super awesome) aquariums. They had some really neat sea creatures that I've never seen before! The kid loved it.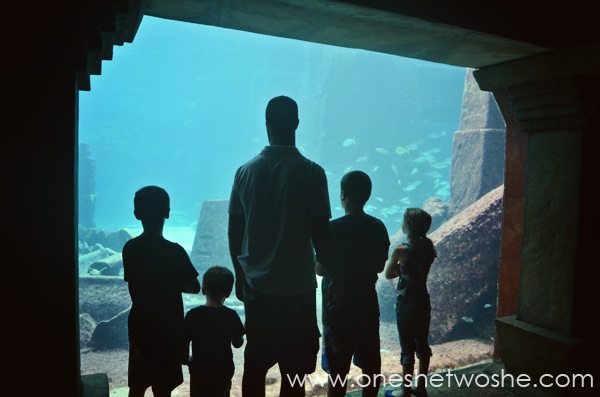 We ate lunch at the resort (with the vouchers we were provided for the excursion), then hit the water park. There are pools everywhere and the wave pool is seriously the coolest one I have ever seen! It takes like 30 minutes to float around it and you're tube goes over several man-made rapids and then floats all lazy-like for a while… until you hit more rapids. It was way fun.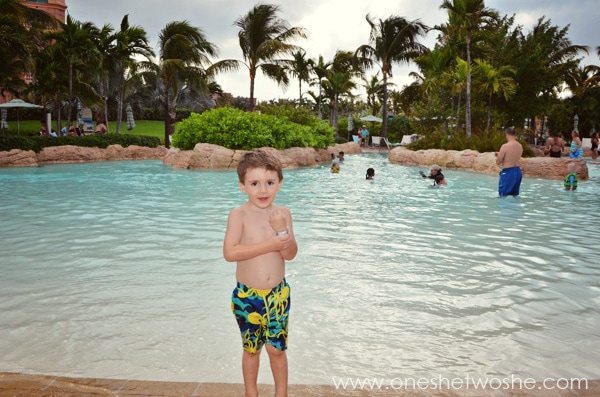 Check out this slide that I did NOT go on… although, nearly everyone else in the family did. In real life, it looks sooooo straight-down. But, what's really cool is that once you hit the water, you're going through this underground tube, through the shark pool. Can you see the sharks swimming around in the picture?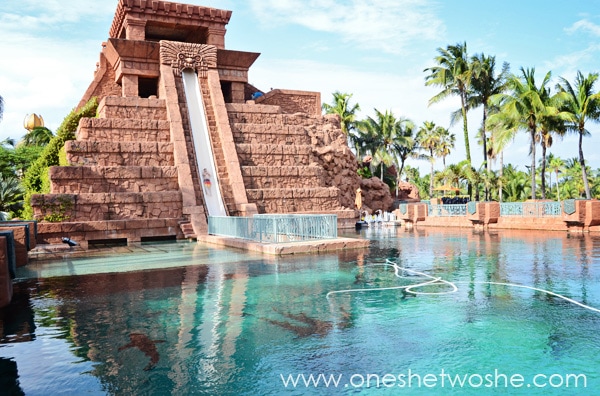 Ahhh… I love Shane's freckles. They make me smile.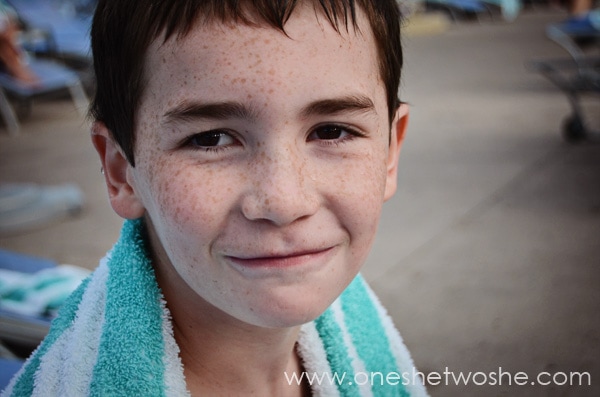 Anyway, we had a fantastic vacation that I know we will always remember and talk about. I would love to do a Disney Cruise again, any day! Hope you enjoyed the cruise review! If you're ever ready to plan your Disney Cruise, be sure to visit Get Away Today. They'll make it so easy for you and get you the best price.
If you missed yesterday's post, all about our experience on-board the ship, you can find it here: Disney Cruise Review, Part 1.