Hey everyone, it's Kimberly with Get Away Today. At Get Away Today, we like to think that we know Disneyland inside and out. Our agents visit the Parks on an annual basis and have had some really amazing experiences. Our travel experts have been to the Park before it opens to the public, been invited to backstage areas, done the "Walk in Walt's Footsteps Tour," dined at Club 33, been invited to private events and more. With all of these experiences under our belts, we've learned a few awesome thing, so I thought we would share 26 Disneyland secrets for 2020!
Pin This Image to Save Post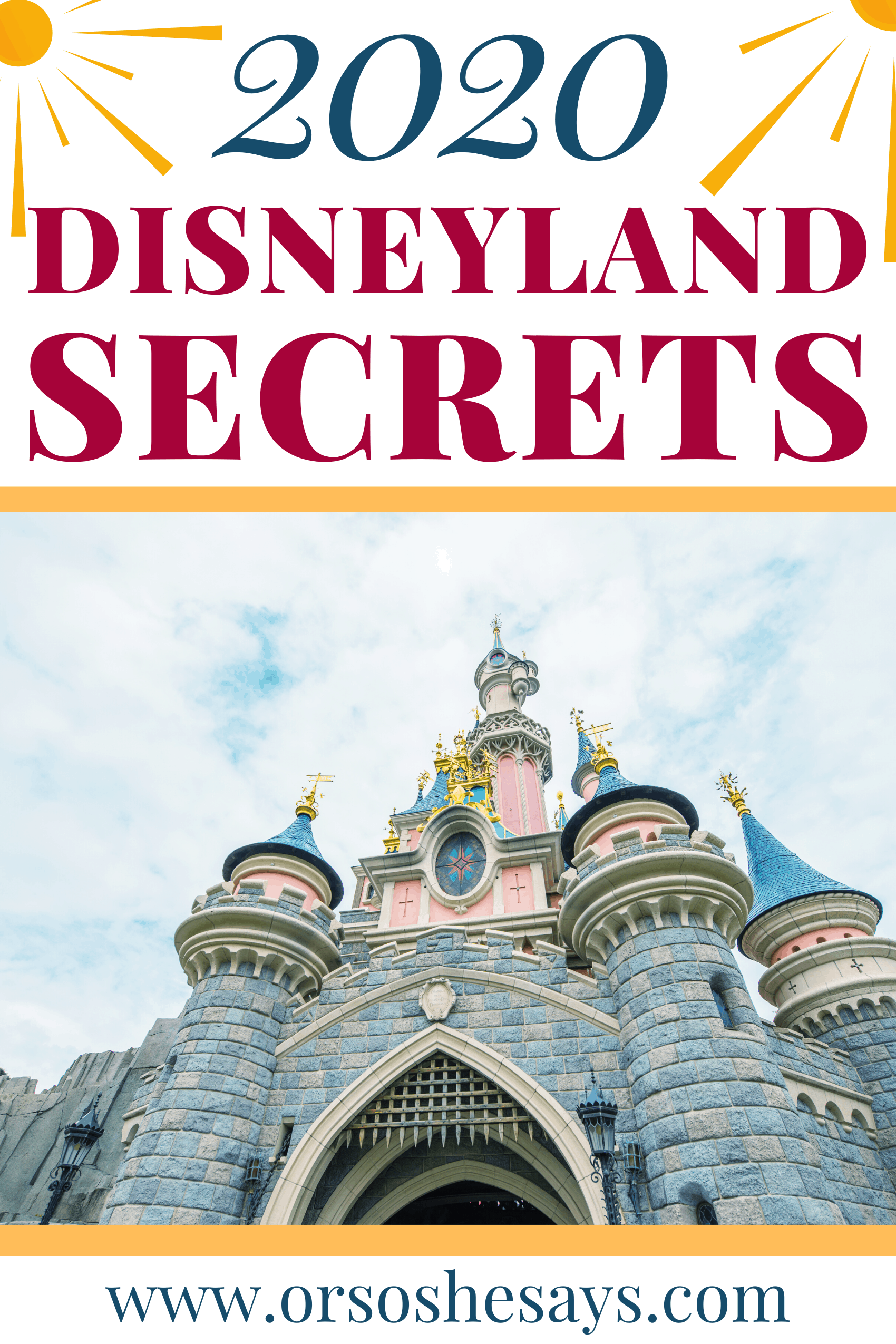 26 Best Kept Disneyland Secrets for 2020
One thing our agents love to do is share their knowledge and secrets to make your Disneyland vacation the best ever. It was difficult to narrow down, but we've put together what we think are the 26 best kept Disneyland secrets for 2020, including things that we think are cool and things you can get and do for free. I hope you learn a thing or 26!
Disneyland Time Saver Tips
1. Fast Pass System
Most regular Disneyland visitors know about FastPass, but it's one of the most frequently asked questions by Disneyland newbies. For those unfamiliar with the FastPass system, it's an optional, free service available for everyone with any type of Disneyland ticket. Just look for an attraction with a FastPass distribution area, slide your ticket into the machine, and you'll get your ticket back with a FastPass receipt printed with a return time to ride the attraction using the much shorter FastPass line. Although it's one of the most popular Disneyland ticket features offered, there are some misconceptions, even among Disneyland frequenters. Many Disneyland goers assume that you can only have one FastPass out at a time. Not necessarily. Pay attention to the small print on the bottom of your FastPass ticket. It will tell you when the next FastPass is available, normally two hours after collecting a FastPass. That way, if your return time is six hours later, you can get a FastPass for a different attraction hours before using your first FastPass. Also, FastPass tickets for Fantasmic! and World of Color don't count as a FastPass attraction ticket, so you can grab another one right after collecting your show FastPass.
Bonus Secret: There's a new, centralized FastPass distribution kiosk in Disneyland Park's Tomorrowland. All rides and attractions eligible for FastPass in Tomorrowland are available to request at the new kiosk, which is located outside the Tomorrowland Theater. This new FastPass kiosk is also completely digital, so no paper return time reminder will be printed. It will be loaded onto your ticket just like other FastPass requests.
2. MaxPass Service
MaxPass is a separate, optional Disneyland service that offers electronic access to FastPass requests. For $15 per ticket, per day you can use your mobile device to request a FastPass from anywhere in the Parks. It saves a lot of time because you do not physically walk through the Parks to a FastPass kiosk to make ride return time requests.

Bonus Secret: Did you know that when one person in your travel party purchases MaxPass, everyone can have access to unlimited PhotoPass downloads? This means that if you'd like to take advantage of professional PhotoPass photographers throughout the Parks, one person can purchase MaxPass and then download and share all the photos with everyone else. It's a great way to save big on capturing Disneyland memories!
3. Rider Switch
Rider Switch is your best friend if you have young kids who don't measure up to certain attraction height restrictions, i.e. Incredicoaster in Disney California Adventure or Indiana Jones Adventure in Disneyland. One person in your group will stay back with the small kid(s) while the riders collect a special pass at the beginning of the attraction, wait in line as usual, and then get a Rider Switch ticket before boarding the attraction. Then, whoever stayed back with the smaller kids go to the front of the line with up to two ride partners. Rider switch passes can be combined with FastPass tickets, and Rider Switch passes don't have a specific return time offering ultimate flexibility. UPDATE: With Disneyland's FastPass tickets going digital, Rider Switch is now digital as well and has approximately an hour return time.
4. Single Rider Option
Single Rider is another lesser known option to reduce wait times, and it works especially well with adults or families with older kids. If you're comfortable having members of your party sit by themselves, Single Rider is your new Disneyland secret weapon! Select attractions have a Single Rider line option where your party can wait in a MUCH shorter line together and then take the next available seat on the attraction. It works especially well with Radiator Springs Racers in Disney California Adventure, and goes really quickly in the morning.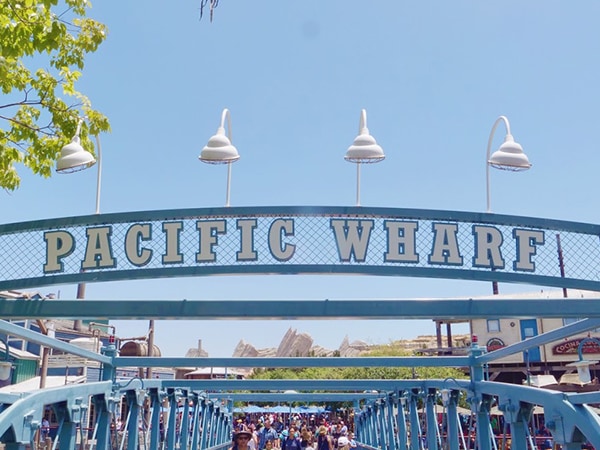 Disneyland Dining Tips for 2020
5. Outside Food and Drinks
Families always want to know about bringing food and drink into the parks. Disneyland allows food and drinks as long as you follow the no alcohol or glass containers rule. As of May 2019, Disney updated policies regarding loose ice; as long as you use ice packs or contained ice (such as ice in a sealed bag, or a frozen water bottle), you can bring in ice for keeping things cool. You can bring in small coolers (soft-sided and no bigger than a six-pack of soda) and you can get a free cup of ice water from any quick service restaurant whether you order or not. All you have to do is ask. It's perfect for refilling water bottles or spray fans. Also, you can score a free sample of sourdough bread and chocolate from the Pacific Wharf in Disney California Adventure.
6. Finding the Cheapest Meals
If you love to eat out like I do, but don't love spending a ton of money, consider the "express" restaurants in Downtown Disney. Most of the main restaurants in Downtown Disney have a quick-service version next door to the main restaurant. The express restaurants serve a limited menu of the exact same food for a fraction of the cost. P.S. The beignets from the Jazz Kitchen Express are amazing and make a great quick breakfast! Here's a list of the restaurants that have a quick-service option in addition to their main restaurant:
La Brea Bakery Express
Taqueria at Tortilla Jo's
Ralph Brennan's Jazz Kitchen Express
Napoli's Ristorante
Black Tap Craft Burgers and Shakes – Look for the Crazy Shake Window by Black Tap
Bonus Secret: You do not need valid theme park admission to explore Downtown Disney. This means once you go through Disneyland Resort security, you can shop, dine and enjoy the ambiance of Downtown Disney without using a park ticket. With attractions such as bowling at Splitsville Luxury Lanes and virtual reality at The Void, Downtown Disney makes a great add-on to your park days.
7. Signature Disney Flavors for Less
One of the most popular and spendy restaurants in Disneyland is the Blue Bayou, located inside Pirates of the Caribbean in New Orleans Square. If you want the same great taste for less, you can make a reservation for Cafe Orleans, located right across from the Blue Bayou. The atmosphere is authentic New Orleans and they serve the Blue Bayou's famous Monte Cristo sandwiches.
8. Free Treats at Earl of Sandwich
One of my favorite restaurants at the Disneyland Resort is Earl of Sandwich. It is tasty and cheap. What you might not know is you can get a brownie for everyone in your party who is 13 and over. Just sign-up for their loyalty club a couple of weeks before your trip and you'll be emailed a one time use coupon just for you. If you're traveling over your birthday, you can get a free sandwich and a free brownie! Keep in mind, you can sign-up for discounts for many of the area restaurants before you go and that will help you save too. Their offers change from time to time but are worth checking out.
9. Downtown Disney's Special Starbucks
The first "Disney" Starbucks opened in Disney California Adventure. Also, the Starbucks in Downtown Disney is one of three premiere Starbucks locations in the world – the other two being in London and Times Square in New York. It's also one of the only places that you can order a $139 cup of coffee with its exotic coffee beans and add-ins.
10. Interactive Drinks
Trader Sam's Enchanted Tiki Bar is one of my favorite restaurants at the resort. It is completely themed after the Jungle Cruise and there are a number of interactive drinks. If you want to see some action order a Shipwreck or the Uh-Oa. Keep in mind the tiki bar is family friendly until 9pm (the appetizers really are delicious), and then becomes an adult only bar.
Best Kept Disneyland Secrets for 2020 – Disneyland History
11. Sit Where Walt Was Inspired
Since Disneyland was the only park that Walt Disney lived to see, there is a special feeling in the park. There is also a fair share of memorabilia. One fun thing you can do is sit on the original park bench that Walt dreamed up Disneyland on in Griffith Park. It can be found on Main Street, U.S.A.
12. Check Out Walt's Apartment in the Park
If you've spent a good amount of time on Main Street, U.S.A., you may have noticed a candle above the fire station. It is placed in the window of Walt's apartment that he used during his time in the park. The candle always stays lit in his honor. Formerly unavailable to the public, anyone can now visit Walt's apartment as part of the Walk in Walt's Footsteps Tour. These tours are available daily for approximately $100+ per person.
13. Knowing "The Plaids"
Affectionately referred to as "the plaids," the Disneyland Resort has VIP Tour Guides available. If you spot them in the park, see who they're with… it could be a celebrity. But the VIP Tour Guides are not just for the famous. You can set up your personal VIP tour guides for approximately $300-$350 per hour with a six hour minimum. VIP Guides will tell you all sorts of insider secrets and get you VIP access to any attractions you wish. It's a splurge for sure, but an unforgettable experience.
Disneyland Annual Pass Discounts
14. Get an Annual Pass Deal, Even Though Disney Doesn't Offer Them
Disney doesn't offer any discounts on their Annual Passes, however if you are planning on getting one, you can purchase multi-day tickets at a discount from Get Away Today before you travel and get all of the perks that come with the pre-arrival tickets. For example, at Get Away Today you can save up to $16 per ticket depending on what special is going on, plus you get over $300 in coupons and freebies for booking your Disneyland package with us. Then, upgrade your ticket to an Annual Passport at the park during your vacation. You'll get the full ticket value – not the discounted price you paid – and you get to keep all of the extras that came with your package. It's the only way to get a discount on your Annual Pass! Plus, if you upgrade at the beginning of your vacation, you'll be able to score the Annual Pass discount at many of the Disneyland Resort restaurants and shops. It's the best of both worlds.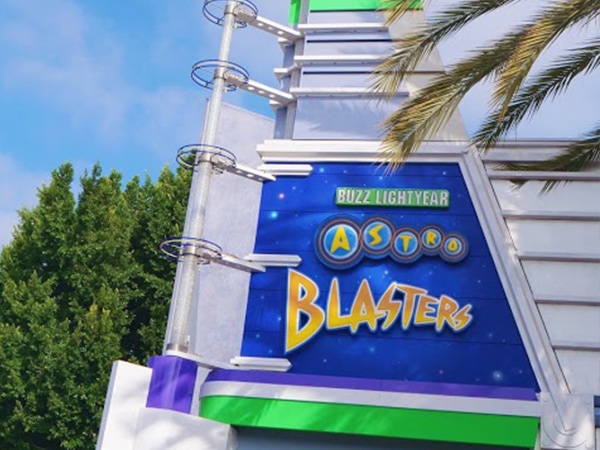 Things You Can Get for Free at Disneyland
15. Where to Get Free Souvenirs at Disneyland
You can get free souvenirs. Ask for a free map of the Jungle Cruise when exiting the attraction. Or, go to a free drawing class taught by a real Disney animator and keep your masterpiece. Other Disneyland freebies include the following:
Commemorative buttons
Disney stickers from Cast Members
Character autographs
Autopia driver's license
Buzz Lightyear Astro Blasters photo
Sourdough bread from Boudin Bakery in Disney California Adventure
Ghiradelli chocolate square in Disney California Adventure
Disney Pin Trading – bring your own Pins from home, and trade for free with Cast Members, shops and other guests
Bonus Secret: There is no cost to use the official Disneyland app, which includes features such as mobile ordering, MaxPass and PhotoPass. The app is a convenient way to keep your Disneyland tickets digitally organized, and keep track of your reservations, FastPasses and more.
16. Disney Hotel Perks Without Being a Guest
The Disneyland Resort Hotels are incredible, but you don't have to be a guest at one to enjoy some of the amenities. Disney's Grand Californian Hotel has an amazing lobby with a warm fireplace, live piano music and a children's area playing Disney cartoons that anyone can enjoy. They also feature a free "Art of the Craft" hotel tour daily. Also, the Disneyland Hotel has live island music, tiki torches and a fire pit nightly available to anyone at the Resort.
Bonus Secret: Theme park admission is not required to enjoy Character Dining in the Disneyland Resort Hotels. If you have a half day left on your vacation before heading home, it's a great time to experience Character Dining!
17. Let the First Aid Station Help You
If you ever find yourself in need of an aspirin, band-aid, ice pack, saline solution or even an antacid, you can head to the First Aid station near the Plaza Inn in Disneyland and get assistance and medication from RNs for free! If you need serious medical attention (heaven forbid), they'll help you get situated.
18. Free Replacements on Popped Balloons
Disneyland is full of can't pass up souvenirs and one of the most "pop"-ular is the balloons. Parents who have ever consoled a child over a popped balloon will be glad to know that Disneyland will replace any popped balloon free of charge. Just bring the damaged goods to any balloon vendor and they'll give you a new one on the spot. While this isn't technically a freebie, it's nice to know that after the initial cost of a balloon, you can have it replaced free of additional charges if it happens to pop.
Best Kept Disneyland Secrets for 2020 – Learning Opportunities
19. Kids Can Learn from Disney Artists & Perform
Your kids can perform in Disneyland as part of the Disney Performing Arts (DPA for short) program. Dancers, musicians and more can take workshops taught by Disney artists and then take the skills that they learned in class and apply it to their live in-park performance. Tickets normally have to be booked as part of a group package, but occasionally Disney will offer select dates where individuals can sign up without a group. What's more, these special youth tickets are a pretty big discount off of regular prices – and your kids get such awesome experiences that you can't get anywhere else.
20. Kids Can Take Interactive Educational Classes
Disney also offers a Youth Education Series (YES for short) Program where your school aged children can take a number of interactive classes about science, leadership, history and/or art. These classes last a few hours and take place throughout the resort. They include unique hands-on experiences, discounted admission and something you can not find anywhere else. These programs are normally only available as part of a group, but will offer open enrollment opportunities on select dates. Get Away Today's Group Department can give you information on all of Disneyland's youth tickets.
Disneyland's Character Dining Secrets
21. The Best Way to Meet Mickey Mouse
Mickey's Tales of Adventure Breakfast Buffet is definitely one of the best kept Disneyland secrets. It is one of five Character Dining experiences offered at the Disneyland Resort and it is the ONLY character dining location where you'll meet Mickey Mouse. Save your time waiting in line to meet Mickey and let him come to you at breakfast instead. As an added bonus, it's inside Disney's Grand Californian Hotel & Spa, so you don't need park admission the day of your character breakfast.
22. Make Breakfast Reservations to Save Time
Speaking of character breakfasts, Minnie and Friends – Breakfast in the Park is the only Character Dining experience located in Disneyland Park. Make a reservation for the first seating of the day, and you'll get in before the crowds. While other families are lined up waiting to get inside, you can enter the park via the gates to the far left hand side just by having a breakfast reservation. You'll only have access to the Plaza Inn on Main Street, U.S.A. for your breakfast until the park opens, but seeing as you're already inside the park, you have a pretty great head start on your day!
23. Free Food Ages 2 and Under
One last thing about Character Dining… you probably already know that kids 2 and under get into the Disneyland free. But, they also eat free at any of the all-you-care-to-eat restaurants at Disneyland, including the Character Dining locations.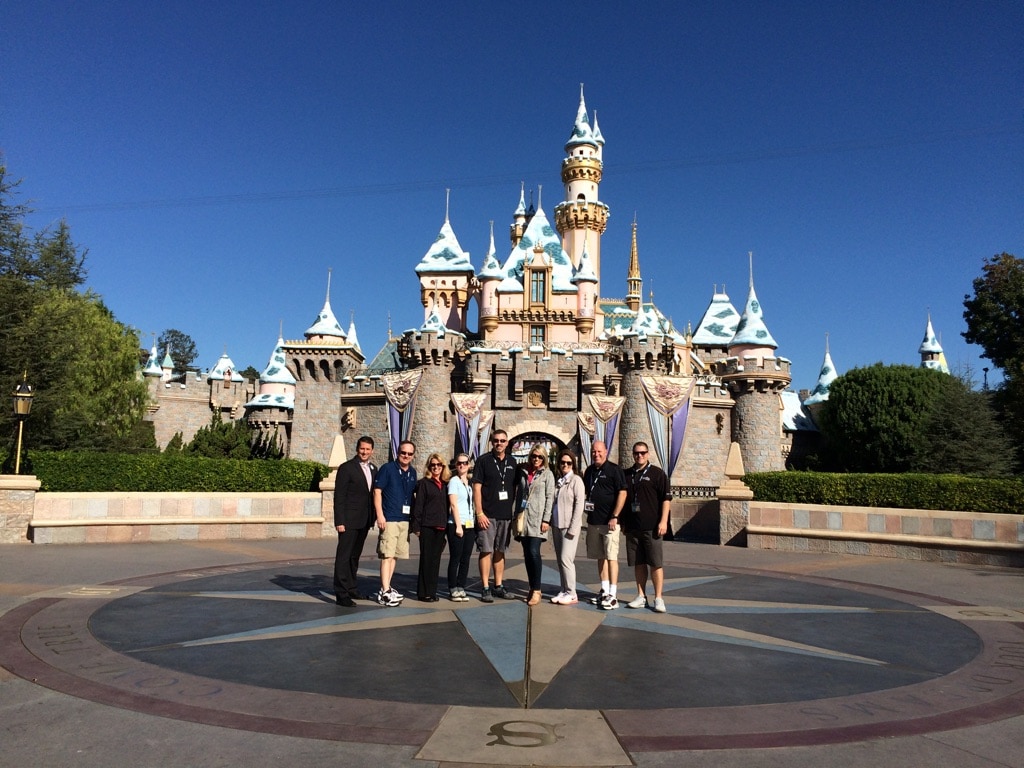 Disneyland Interactive Fun Tips & Tricks
24. Hidden Mickeys
No Disneyland secrets list is complete without mentioning hidden Mickeys. Disney imagineers and artists will oftentimes stamp their work with a Mickey silhouette. These hidden Mickeys can be found throughout the entire Disneyland Resort – in attraction queues, inside attractions, on store signs and more. It is fun to see how many hidden Mickeys your family can find.
25. Disneyland Park's App
Speaking of interactive experiences, have you downloaded the Play Disney Parks app? Throughout Disneyland Resort, you can use the Play Disney Parks app to pass the time will in ride queues, or while exploring the Star Wars: Galaxy's Edge. While waiting in line at Space Mountain, use the app to design your own rocket. At Toy Story Midway Mania!, play Pixar-themed games until it's your turn on the ride. Make magic happen in the queue for Peter Pan's Flight and look for Tinkerbell's lantern to light up. Play Disney Parks app includes trivia games so the whole family can be involved in answering questions while in the Resort.
Bonus Secret: Play Disney Parks turns your mobile device into a "Data Pad" when you enter Star Wars: Galaxy's Edge. With the app open on your phone, you can use it to scan foreign languages and translate them to English. Hack into droids and systems throughout the land, and earn digital credits that can be used to customize your avatar. The app creates a truly immersive experience in Galaxy's Edge!
26. Cheaper Princess & Character Makeovers
One of the coolest shops in Downtown Disney is Anna and Elsa's Boutique. One thing that makes it super cool is the Frozen themed makeovers. It's cheaper than Bibbidi Bobbidi Boutique and just as fun. Anna, Elsa and Olaf inspired transformations are all available. Because the number of transformations available each day are limited, you can make reservations 60 days in advance.
Magic Morning vs Extra Magic Hour
27. Understanding Magic Morning and Extra Magic Hour
Magic Morning isn't so much of a secret, as there are a LOT of questions around it. Magic Morning comes with 3-day and longer Disneyland tickets only and is good for an hour of early theme park admission on select days – right now it's Tuesdays, Thursdays and Saturdays. Magic Morning is good for admission to select areas of Disneyland Park only, normally Fantasyland and Tomorrowland. Extra Magic Hours are a perk exclusive to guests staying at one of the Disneyland Resort Hotels and includes an hour of early entry each day of your stay. It's good for Disneyland early entrance on the same days that Magic Morning is offered and for early entrance into select areas of Disney California Adventure Park on Mondays, Wednesdays, Fridays and Sundays. Staying at one of the Disneyland Resort Hotels is the only way to get into Cars Land before it opens to the public.
Best Place to Get Disneyland Tickets
There is so much more to say about the Disneyland Resort, but we'll have to save that for another day. For more tips and tricks, give us a call at 855-GET-AWAY for more tips and tricks. We'd love to help you book your Disneyland vacation. To book, you can go visit getawaytoday.com and use promo code OSSS10 to save an extra $10 off any 2-night or longer Disneyland vacation.
Find more Disneyland secrets, tips and tricks in the following OSSS posts:
Travel Agent vs Booking Direct with Disney ~ What's Better?
Disneyland FAQ ~ Know Before You Go!