Hello OSSS readers! It's Kimberly again from Get Away Today. It's been nearly a year since I shared why LEGOLAND is the best theme park for toddlers, so I figured it was time for an update if you're thinking of a Legoland Family Vacation. Today I want to share with you what's happening with LEGOLAND California these days, and how you can enjoy big savings when you book with Get Away Today. Also, we will go over ride height requirements, LEGOLAND hotels, shows, and more!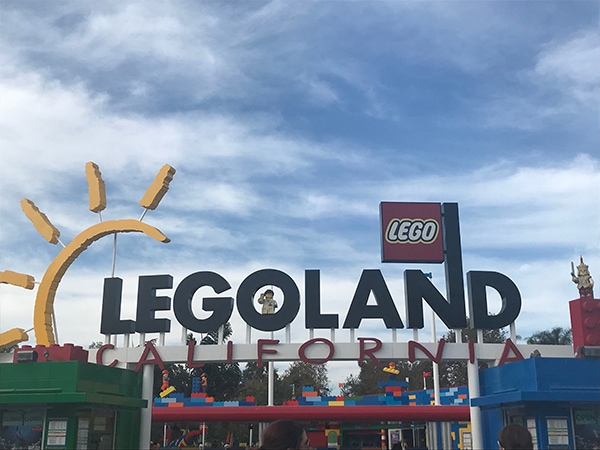 LEGOLAND Family Vacation
Designed for kids ages 2 – 12, I personally think of LEGOLAND as designed for LEGO lovers of all ages. Yes, little kids can easily enjoy themselves at this theme park, but so can grown ups! If you're not sure about taking a LEGOLAND family vacation, today I plan to help you make up your mind.
LEGOLAND Family Vacation – Ride Heights
In my last LEGOLAND post I focused on LEGOLAND rides and experiences for toddlers. For families traveling with older kids, or a good mix of ages, you might be wondering what's at LEGOLAND for bigger kids. While not comprehensive, this list gives you a good look at rides and experiences for older kids at LEGOLAND.
Download LEGOLAND Ride Heights
No Minimum Height Requirement:
Adventurer's Club: Tour LEGO versions of ancient Egypt, the Amazon and the Arctic.

Block of Fame: Browse LEGO busts of famous icons such as presidents and rock stars.

Build & Test: Build and race LEGO cars to see who's the best engineer!

Pharaoh's Revenge: This experience opens at noon, and allows guests to duck and dodge foam balls. Try to hit targets and avoid your friends!

LEGO Factory Tour: See how everyone's favorite building bricks are made on this tour.

LEGO Miniland: Guests of all ages will love to see many favorite cities brought to life in the form of LEGOs. See Central Park, the Golden Gate Bridge, New Orleans and more built out of LEGOs in Miniland.

LEGO Star Wars: Much like Miniland, LEGO Star Wars offers an up-close look at Star Wars' battle scenes and characters made out of LEGOs.

The LEGO Movie 2 Experience: Go behind-the-scenes of the LEGO Movie 2. Meet your favorite characters, see the movie set and more.
34 Inches and Taller:
Captain Cranky's Challenge: Sway back and forth on a LEGO pirate ship.

Fun Town Police & Fire Academy: Help LEGO City Firefighters put out fires with water cannons.
36 Inches and Taller:
Beetle Bounce: Be launched 15 feet straight up on Beetle Bounce, and enjoy a series of bounces up and down before landing (36 – 55 inches)

Dune Raiders: Six side-by-side slides allow guests to race to the finish.
40 Inches and Taller:
Kid Power Tower: Use your own man power to pull your seat to the top of the tower. Enjoy a controlled "freefall" back to the bottom.

Knight's Tournament: This coaster allows riders to choose the ride intensity. From 1 to 5, a robot arm swings you around to avoid a giant LEGO dragon.

The Dragon: Beginning in the LEGO Castle, this roller coaster then exits and offers family-friendly thrills.
42 Inches and Taller:
Bionicle Blaster: Spin the Blaster wheel to spin your carriage. 'Round and 'round you go! (42 inches and taller)

Driving School: LEGO lovers ages 6 – 13 practice their driving skills on a LEGO track in a LEGO car.

LEGO Technic Coaster: Bring LEGO TECHNIC to life on this roller coaster.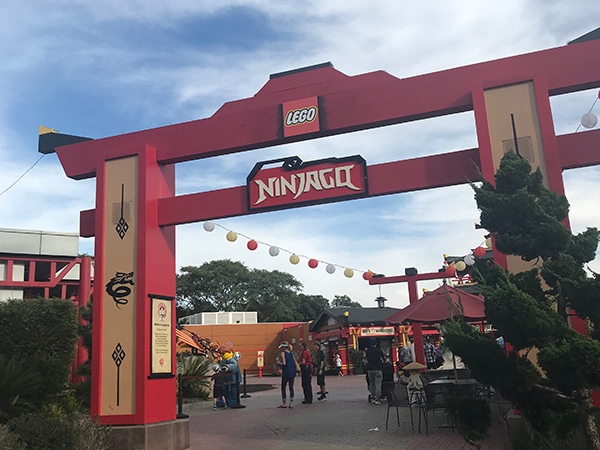 LEGOLAND Family Vacation – Shows
LEGO City 4D – Officer in Pursuit: Join this 4D experience as LEGO officers chase the bad guys through LEGO City.

LEGO NINJAGO – Master of the 4th Dimension: Be part of the NINJAGO team and join in one of their training sessions.

The LEGO Movie 4D A New Adventure: See what other awesome adventures your favorite LEGO Movie characters are up to in this 4D experience. Follow along as Emmett, Wyldstyle, Unikitty and more head to a new theme park with you in tow.
LEGOLAND Family Vacation – Hotels
When you make a LEGOLAND hotel part of your vacation, you create the ultimate LEGO lovers dream! The two on-property hotels feature themed rooms and exclusive perks, and when you book with Get Away Today you always get discounted rates.
LEGOLAND Hotel: Located inside the LEGOLAND Resort, this hotel makes it easy to take a break mid-day for a meal or swimming in the LEGO-themed outdoor pool. Enjoy the themed rooms, complimentary breakfast buffet, nightly entertainment for the whole family and early admission to LEGOLAND each day. Rooms at the LEGOLAND Hotel offer bunk beds and a trundle bed in a mini-room for the kids, and comfortable King beds for the grown ups. Plus, you can participate in a daily scavenger hunt hosted by the hotel to unlock the treasure chest in your themed or premium themed room.
LEGOLAND Castle Hotel: Conveniently located just steps from LEGOLAND, the Castle Hotel has a drawbridge entrance welcoming you into a true castle-like experience. It also boasts awesomely themed rooms and adventure. Rooms feature bunk beds and a trundle for the kids, plus LEGO play areas. Adults can kick back in a King bed, and everyone can enjoy a splash in the LEGO-themed outdoor pool. LEGOLAND Castle Hotel offers Get Away Today guests complimentary breakfast, early theme park admission each day and nightly entertainment. There is a slide in the lobby as well as a scavenger hunt at this hotel, so guests can enjoy opening the room's treasure chest to reveal a reward.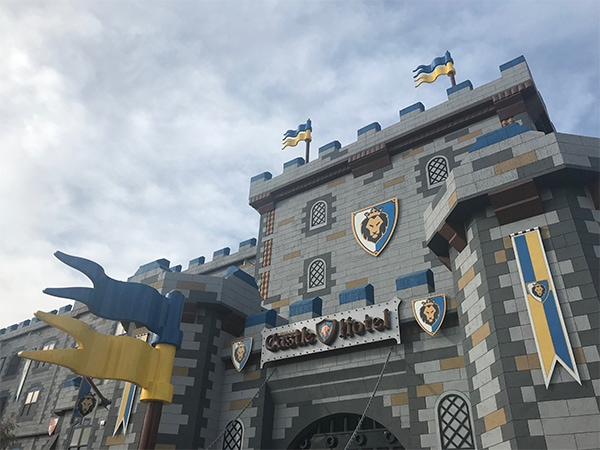 LEGOLAND Family Vacation – Book Now for Discount Tickets
For 2019 travel, Get Away Today has LEGOLAND ticket specials, including 2nd Day FREE savings when you book by October 31, 2019. Purchase LEGOLAND/SEA LIFE Aquarium Hopper tickets and get your 2nd Day FREE. The same goes for the purchase of LEGOLAND Resort Hopper tickets, which include admission to LEGOLAND Resort and LEGOLAND Water Park*. It's not too late to book an awesome Fall Break or wintertime getaway, so check out our discount LEGOLAND packages at www.getawaytoday.com or give one of our travel specialists a call at 855-GET-AWAY.
—-> Plus, mention "Or so she says…" and use code OSSS10 for an additional $10 in savings when you book a Southern California vacation package. <—–
*LEGOLAND Water Park is open weekends through October 2019.