Hi everyone, it's Kimberly with Packed with Fun, the official blog of Get Away Today. Just when we thought Disneyland couldn't come out with anything better than MaxPass, Mobile Ordering came along. On May 29, 2018, Disneyland introduced Mobile Ordering to the world and guests everywhere have rejoiced. Being able to indulge on their delicious treats and eats without having to experience a long wait has truly made The Happiest Place on Earth even happier. If you're still unfamiliar with what Disney Mobile Ordering is, don't worry! We've got you covered. Keep reading to find out our top five tips for Mobile Ordering at Disneyland.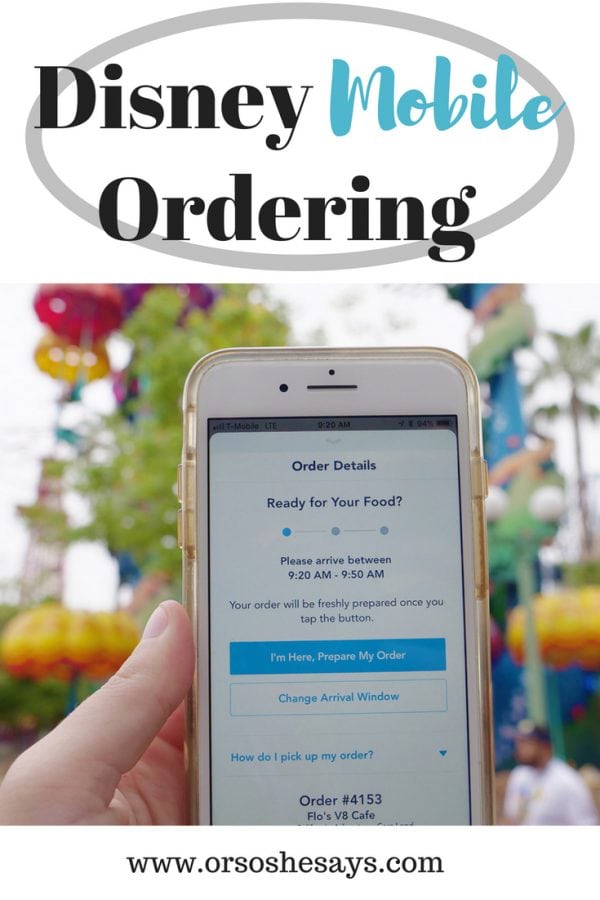 Top 5 Tips for Disney Mobile Ordering
Download the Disneyland App
First things first, you'll want to download the official Disneyland app. (Get more info about the free Disneyland App in THIS POST). Not only will you be able to use the app for Mobile Ordering, but you'll also be able to check park hours, wait times and purchase MaxPass here too. After you've downloaded the app, make sure you log in with your Disney account. If you haven't created one, it's simple, easy and free to do! However, it's important to note that while the app is free, the food you purchase isn't. Because of this, you'll need to input your credit card information if you want to use the Mobile Ordering feature.
Once you have everything set up, you'll want to scroll down to the "My Plans" tab. Under this tab, you'll see an option that states "Order Food." This is where you can start ordering your grub and let the fun begin!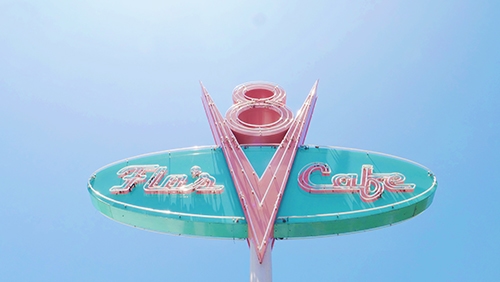 Pick Your Restaurant and Time
Whether you're as hungry as a bear or want an award-winning hot dog, the Disney Mobile Ordering feature has 15 restaurants to choose from. There are a variety of restaurants that offer Mobile Ordering in both Disneyland Park and Disney California Adventure Park, so you'll be able to find a bite to eat no matter where you are. While we're keeping our fingers crossed that more options will come out soon, we're loving what's available right now. Below, I've listed what restaurants currently use Mobile Ordering:
Disneyland Park:
Galactic Grill
Gibson Girl Ice Cream Parlor
Hungry Bear Restaurant
Jolly Holiday Bakery Café
Red Rose Tavern
Disney California Adventure Park:
Award Wieners
Clarabelle's Hand-Scooped Ice Cream
Cocina Cucamonga Mexican Grill
Corn Dog Castle
Flo's V8 Café
Lucky Fortune Cookery
Pacific Wharf Café
Paradise Garden Grill
Smokejumpers Grill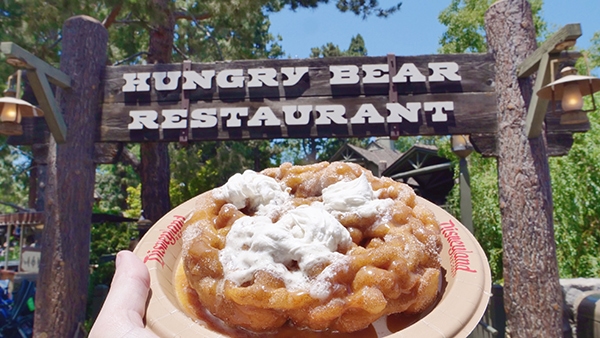 After you've made the impossible choice on where to eat, you'll need to choose a time to pick up your food. Luckily, you don't need to worry about picking an exact time for pick up, because the app will give you a range of times within 30 minutes of each other. Accidentally choose the wrong time or have plans change? You can cancel your reservation at any time, which is what makes Mobile Ordering so flexible. However, it's important to be aware that you can't cancel your reservation once you've checked-in at the restaurant.
What's great about Disney Mobile Ordering is that it allows you to order in advance. If you already know where you want to eat dinner as soon as you wake up, you can easily make a Mobile Ordering reservation for later in the evening. However, we'd recommend setting a couple of alarms to remind you of your reservation, especially if you made it far in advance.
Customize Food Options
If you're a picky eater or have food allergies, you're in luck! Mobile Ordering allows you to customize your meal, so it's exactly how you like it. Can't stand tomatoes on your sandwich or want to skip the cheese? You're able to select what you want and modify it until you love it.
Guests with food allergies are also able to join in on the fun too! In the Mobile Ordering app, you're able to order meals that offer gluten, egg, fish, milk, peanut and soy allergy-friendly meals. This way, everyone can enjoy the magic of Disneyland dining.
"I'm Here, Prepare My Order"
After you twirl around on the Mad Tea Party or cruise through Radiator Springs, you'll want to start heading towards your selected restaurant to pick up your food. Since Disneyland doesn't actually cook your food until you select "I'm Here, Prepare My Order", you know it's guaranteed to be fresh and delicious. Although you can wait until you're actually at the restaurant to start your order, we would suggest clicking on the option while you're walking toward the restaurant. This way, your food will be hot, fresh and ready to be enjoyed by the time you're there.
Once you arrive at the restaurant, make sure to head over to the designated window labeled "Mobile Ordering" to pick up your food. Since you'll need to show the Cast Member the confirmation number for your order, I would recommend keeping the Disneyland app open for when you need it.
Utilize Disney Mobile Ordering
Even if you only use Mobile Ordering for one meal or decide to use it all-day long, it's no secret that Mobile Ordering will save you so much time while you're in the parks. Whether you just want to snack on a Raspberry Rose Macaron at the Jolly Holiday Bakery or chow down on a few skewers at Bengal Barbecue, you should try to use Mobile Ordering as much as you can while you're on vacation. Instead of waiting in long lines at the food kiosks, you can continue to enjoy all of the attractions, entertainment and magic at the Disneyland Resort.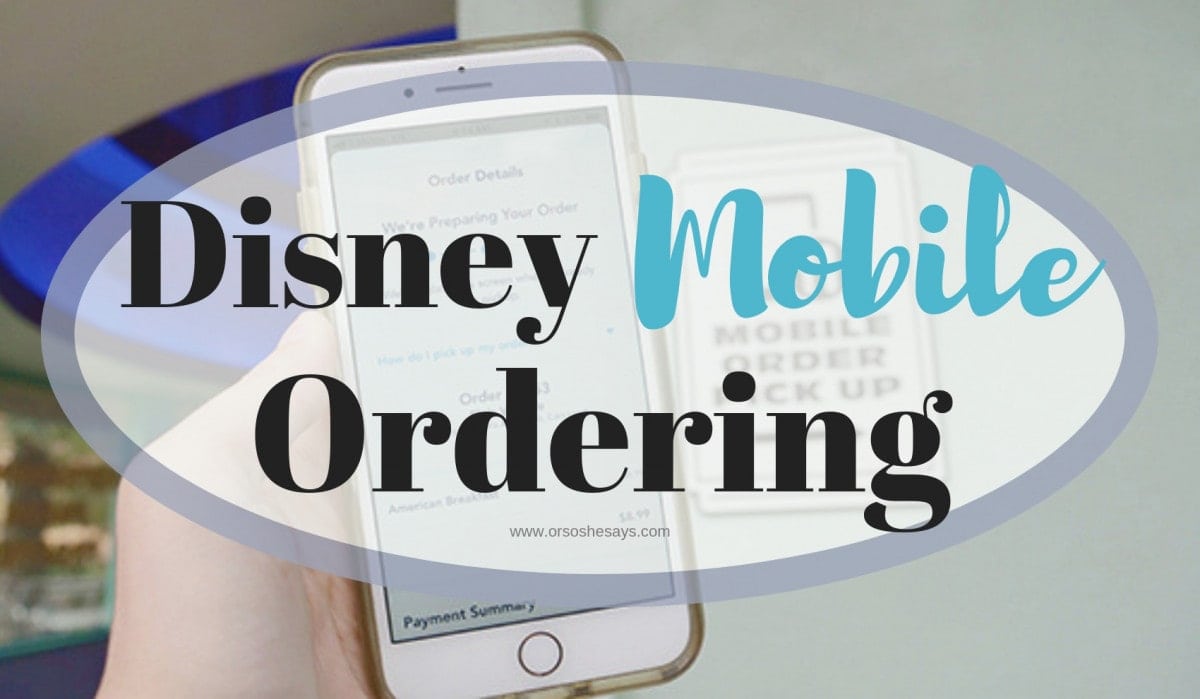 Now that you know the top five tips for Mobile Ordering at Disneyland, what are you waiting for? You can book your next Disneyland vacation at getawaytoday.com or give one of our travel experts a call at 855-GET-AWAY. No matter how you decide to book, make sure you use promo code OSSS10 to get an additional $10 off your vacation package. Let them know that Or So She Says sent you!
For more Disneyland tips and tricks, check out these posts: