Today's Picks: Gag Gifts for White Elephant Parties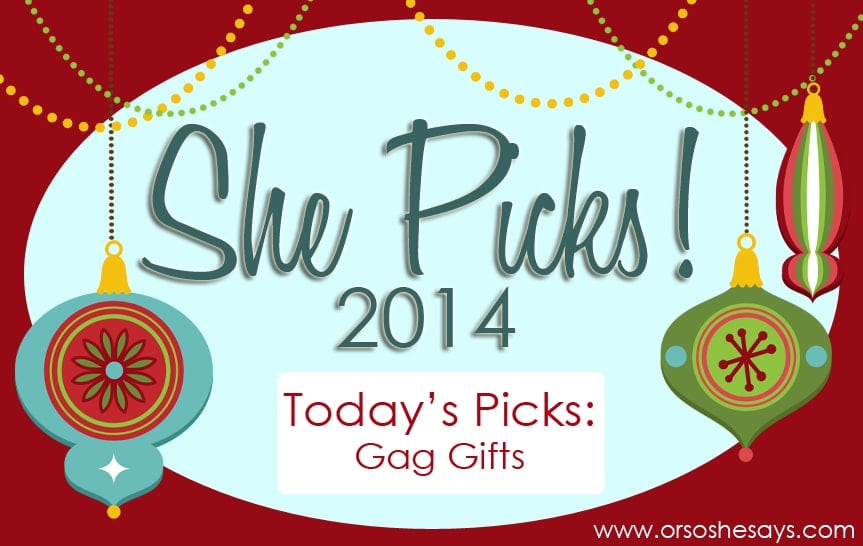 I just saw Skreened T-Shirts featured on Zulily, and they had me cracking up! This pizza one is my favorite!
Can you say, 'Awesome!?!?' I'm a sucker for a man with a beard (I mean, MY man with a beard), and this beard is HOT. Beardski Big Country
I kinda want these jumbo playing cards. The kids and I could have a blast with them! Comes as a full deck. 🙂
I'm not kidding folks, Poo-Pourri works AWESOME. No more poo-smelling bathrooms. One simply sprays the magic formula in the toilet before going and it creates a lovely smelling oil barrier over the water, trapping in the smell. We honestly keep a bottle in every bathroom of my house! This kit is for the heavy duty pooper, the Master Crapsman. Includes two different scents, but several available (even more feminine ones.) Hilarious and actually PRACTICAL gag gift!
Star Wars is cool and so is thumb wrestling. That pretty much sums it up. Star Wars Lightsaber Thumb Wrestling
If Utah doesn't stop messing around, we might be investing in several buckets of this Insta Snow, to mimic a white Christmas! Good heavens. The weather is beautiful outside, you would think it's October. One bucket makes about 2 gallons of snow.
And finally, because it's all about zombies these days… how about a set of Zombie Action Figures?
Need more ideas for gag gifts and white elephant parties?
See the gag gift posts from previous years:
Gag Gifts for White Elephant Parties
Gag Gifts for White Elephant Parties 2012
Gag Gifts for White Elephant Parties 2013
Also, check out Gift Idea Central (where ALL past and future gift ideas on 'Or so she says…' are saved. It's a MUST-PIN!!)
Lots more great gifts on my favorite shopping site, Amazon!
See you back Monday and every weekday for more She Picks!
Previous She Picks! 2014:
Gift Ideas for Girls, Ages 3 to 6
Gift Ideas for Boys, Ages 3 to 6
Gift Ideas for Girls, Ages 7 to 12
Gift Ideas for Boys, Ages 7 to 12