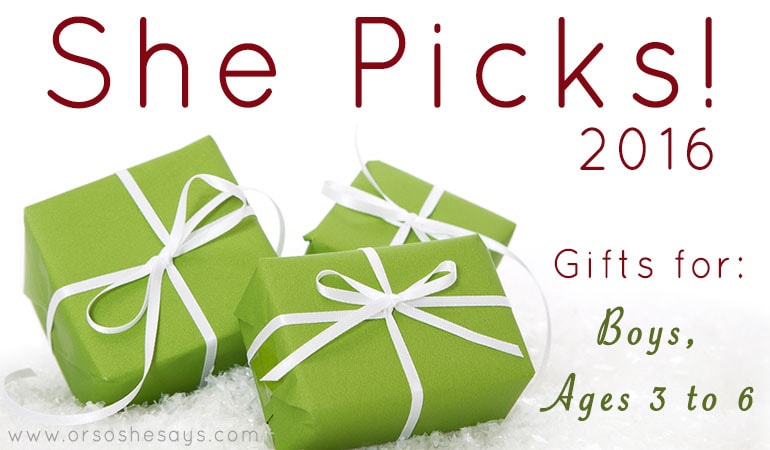 Gifts for Boys, Ages 3 to 6
Pick #1
Kids love to mix and create experiments. This Science Lab Set from Learning Resources is perfect for little hands and curious minds. It features durable realistic-looking lab tools, and comes with activity cards for easy experiments that are fun and introduce science concepts and skills.
Bundle this Gift with: This My First Microscope, invented by a scientist mom, and a Kids' Science Experiments book.
Pick #2
You know those gifts that you buy for the kids, but you actually want to play with them yourself? This may be one of those. These cool Wall Coaster marble run sets were actually invented by a 12-year-old. They let kids (and adults) play with gravity by creating amazing marble runs on any wall. Just attach the pieces with the included coaster tack to make jumps, runs, twists, and then take it down and do it all again. The possibilities are endless!
For Younger Kids Consider: Wonderworld Creative Gravity Play! Trix Track Safari Track
Pick #3
Laser Pegs are definitely on my six-year-old's list this year! What could be better than combining creative building with lights? Each kit has instructions for several different projects – cars, helicopters, space toys, planes, trucks, etc – and the blocks can be combined to make anything else kids can imagine. The pieces are also compatible with other popular brands.
Laser Pegs® was honored among construction toys and educational toys with the Oppenheim Toy Platinum Award, Dr. Toy's Best 100, Dr. Toy's Top 10 Tech, and Parenting Magazine's Toy of the Year. The low voltage current is less than 6 volts, so these parts are safe for kids ages 5 and up.
Another great pick: Snap Circuit Jr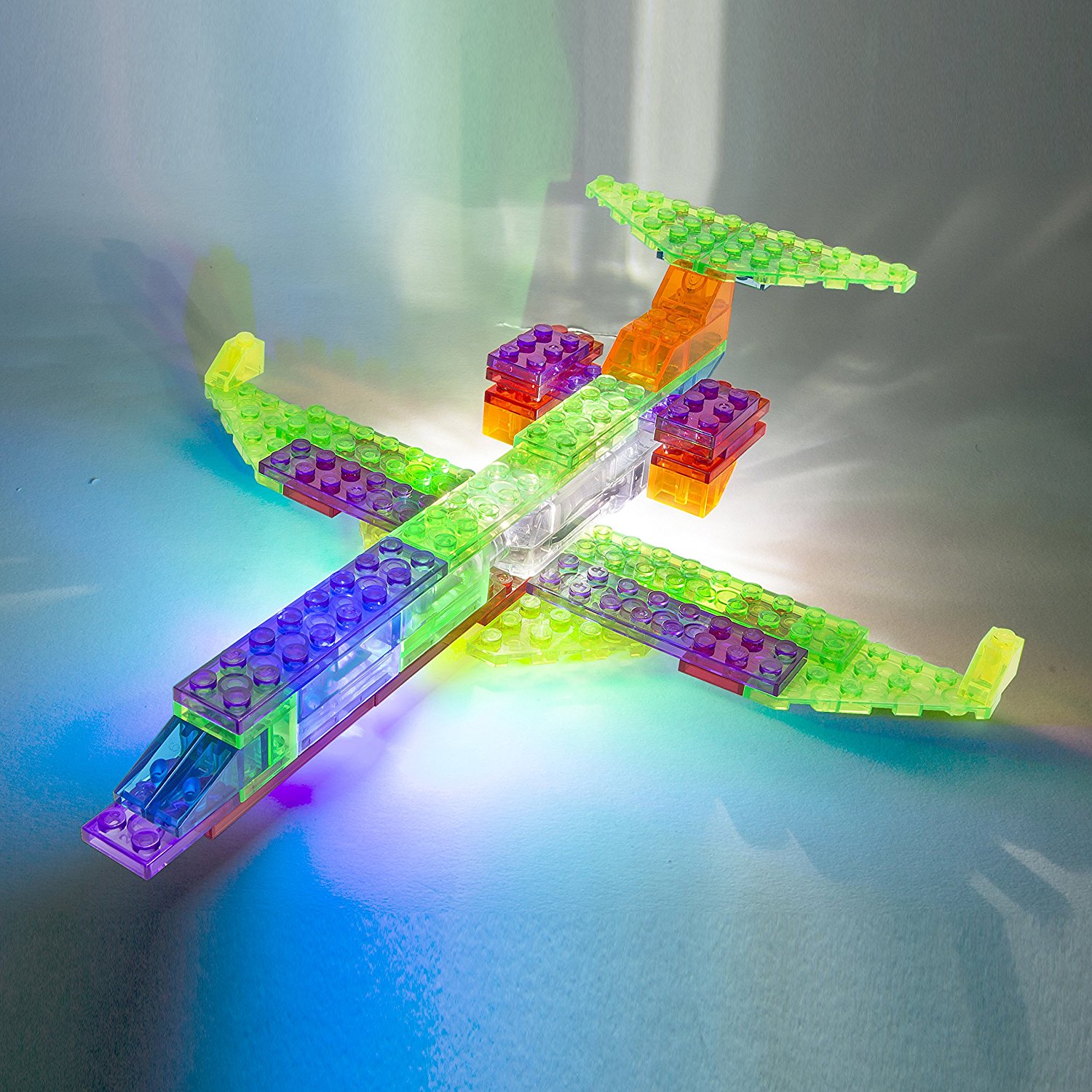 Pick #4
Is there a boy out there who isn't obsessed with Minecraft? I know mine is! These little Minecraft mini-figures are a fun way to bring the online game into hands-on creative play. The Collector Case makes it easy to collect his favorite characters and take them on the road to friends' or to grandma's house. This set comes with ten popular figures to start his collection.
Bundle this gift with: A zip-up Minecraft Jacket or Beanie
Pick #5
My four and six-year-old love to play "Rescue Center." They go on all kinds of adventures saving animals, space rangers, kids, and transformers. These Kidzlane Durable Walkie Talkies would be a great addition to their adventures! They could inspire all kinds of creative play around the house, in the backyard, on camping trips, and at neighborhood park. They are durable, have a 2-mile range and are easy for kids to use right out of the box. The battery will last through 3.5 hours of continuous use or 9 hours on standby mode.
Bundle this gift with: A Little Thinker Subscription Box for even more learning adventures.
Pick #6
Future astronauts and alien invaders are sure to be entertained for hours by the Discovery Space Center by Hape. The four-level space ship features space for mission control, laboratories, living areas, and an exercise room – all connected by a working elevator. The set has 37 pieces including space cars, aliens, computers, astronauts, and more. Reviewers rave about the durability of both the space center and the additional pieces.
The Discovery Space Center also received the 2011 Oppenheim Toy Portfolio Gold Seal Award and the 2011 Parents' Choice Gold Award.
Bundle this gift with: Hape's Playscapes UFO Playset, the Everything Kids Astronomy Book, or National Geographic's First Big Book of Space.
Pick #7
The Fisher Price Think & Learn Code-a-Pillar is a fun introduction to cause-and-effect, problem solving, and simple coding chains. Kids can arrange the bright colored segments (straight, right turn, left turn, sounds) in endless combinations. They then send the code-a-pillar on its way and watch it follow the path they have created. The segments are easy to connect and arrange again and again, and the code-a-pillar reacts with fun lights and sounds wherever it goes. I can imagine all kinds of giggling and excitement playing and learning with this toy!
The recommended age is 3-8, but reviewers have had good experiences with kids as young as two. The code-a-pillar moves best on a hard floor or play mat.
Bundle this gift with: Code-a-Pillar Expansion Pieces or Packs for even more fun combinations.
Another great pick: Fisher Price Think & Learn Spell & Speak Sea Turtle
Need MORE gift ideas for boys, ages 3 to 6??
Gifts for Boys, ages 3 to 6 2011
Gifts for Boys, ages 3 to 6 2012
Gifts for Boys, ages 3 to 6 2013
Gifts for Boys, ages 3 to 6 2014
Gifts for Boys, ages 3 to 6 2015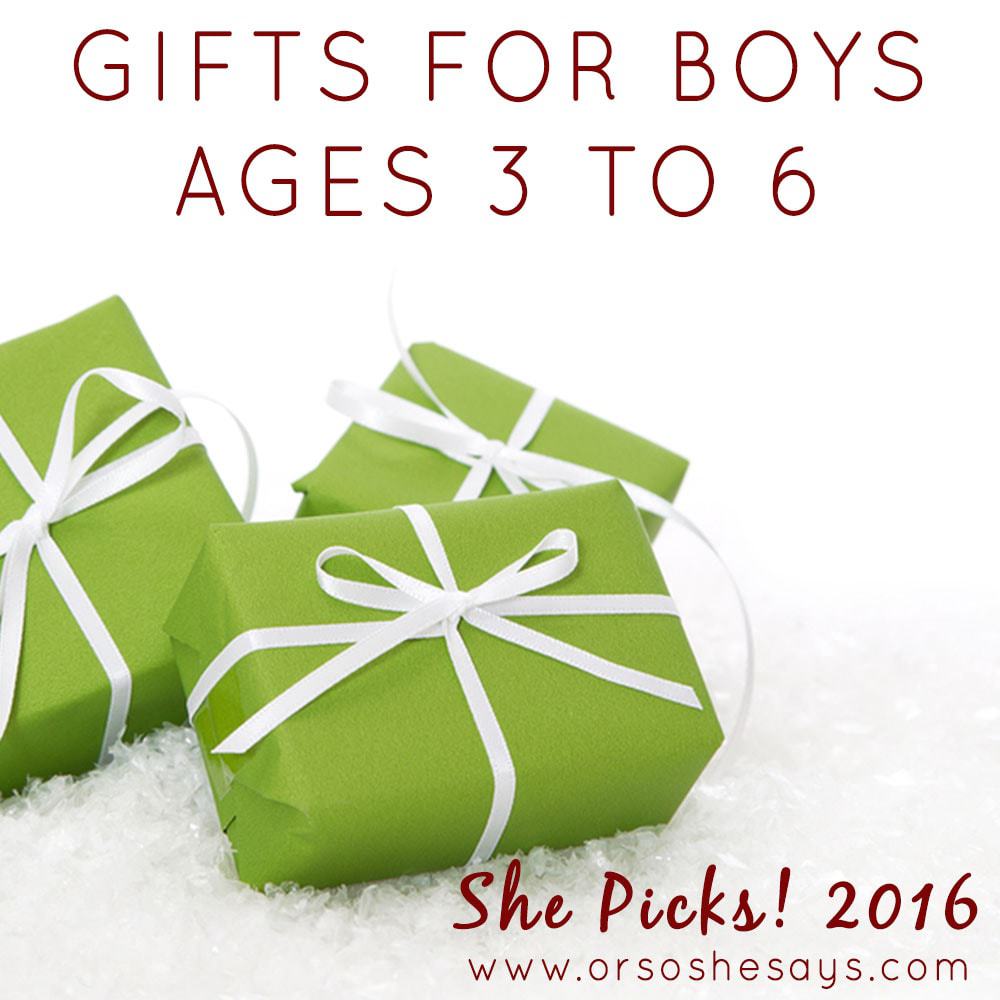 Did you miss these She Picks! posts from THIS year?? We recently shared: