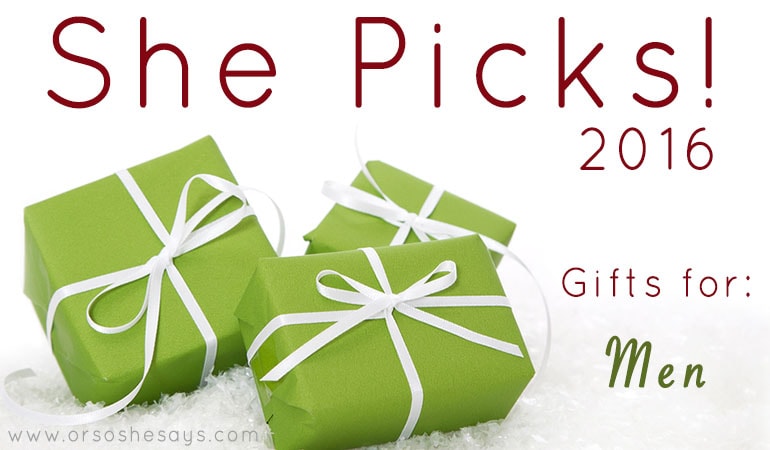 Gift Ideas for Men
Pick #1
The DEWALT Heated Jacket is perfect for a man who spends time outside in the cold, working or even just scraping snow off of a long driveway. Brrrrr! It has three heating zones and runs up to to 7.5 hours on a compact 20V MAX Battery. It is a heavy-duty water-resistant work jacket, complete with a drawstring hood and three convenient pockets. It even has a USB port – the jacket can charge his phone! I might just need one of these myself for the annual Christmas tree hunt next year!
Bundle this gift with: Some nice winter gloves or thermal socks.
Pick #2
My husband was gifted a Cobra Dash Camera last year. He installed it in his car, just for fun, but then it actually came in handy. It just may have saved us an insurance deductible once already. He now recommends it as a gift, and is planning to get one for the car I drive also.
The camera starts recording when your car starts, and it records video out the window and the sound in your car on a loop. It also has GPS tracking, records your speed, and will automatically save the footage when it senses an impact. It is handy to have for insurance, for proving to your family that the crazy thing you saw on the way home is real, and you just never know when you might catch something youtube-worthy on your commute.
Bundle this gift with: An extra SD Card or two and a Winter Car Emergency Kit.
Pick #3
If you are buying for a guy who likes the latest tools, check out this DEWALT Battery Powered Table Saw Kit. It comes highly recommended by our favorite finish carpenter. The battery-powered mode is perfect for quick jobs, then plug in the cord for longer use. It features FLEXVOLT technology, which automatically changes voltage when you change tools. And, the battery also works with a whole new lineup of tools from DEWALT.
This saw features 24″ of rip capacity for ripping 4×8 Plywood or OSB sheets. Rack and pinion telescoping fence rails make fence adjustments smooth and accurate. It has 'power-loss reset' to prevent accidental re-starts following a power disruption. And, it has on-board storage for guard, fence, push stick, riving knife, wrenches and miter gauge.
Also recommended: DEWALT Miter Saw Kit with the same features.
Pick #4
Belts are an important accessory for many men. And, it seems like it is tricky to find just the right fit, adjustability, and comfort. All of these problems are solved by the new Grip6 Belt. It is both affordable and amazingly functional. This belt is made in the USA from a solid piece of aluminum and durable military webbing, making it lightweight and perfect for outdoor activities. It has no holes or belt flap and features a clean symmetric design in a variety of colors. The straps and buckles are also interchangeable, so it is easy to adapt to any wardrobe. You really need to check out the video – this belt is awesome.
Bundle this gift with: The Sephora Men Cologne Sampler
Several of my friends have created "Dates for a Year" kits for their husbands as gifts, and the guys loved them. Who wouldn't love some pre-planned time away? This one requires a little more work, but is worth it!