This mini cherry pie recipe is a perfect dessert for any holiday gathering. Plus these hand pies are so easy to make, the kids can help!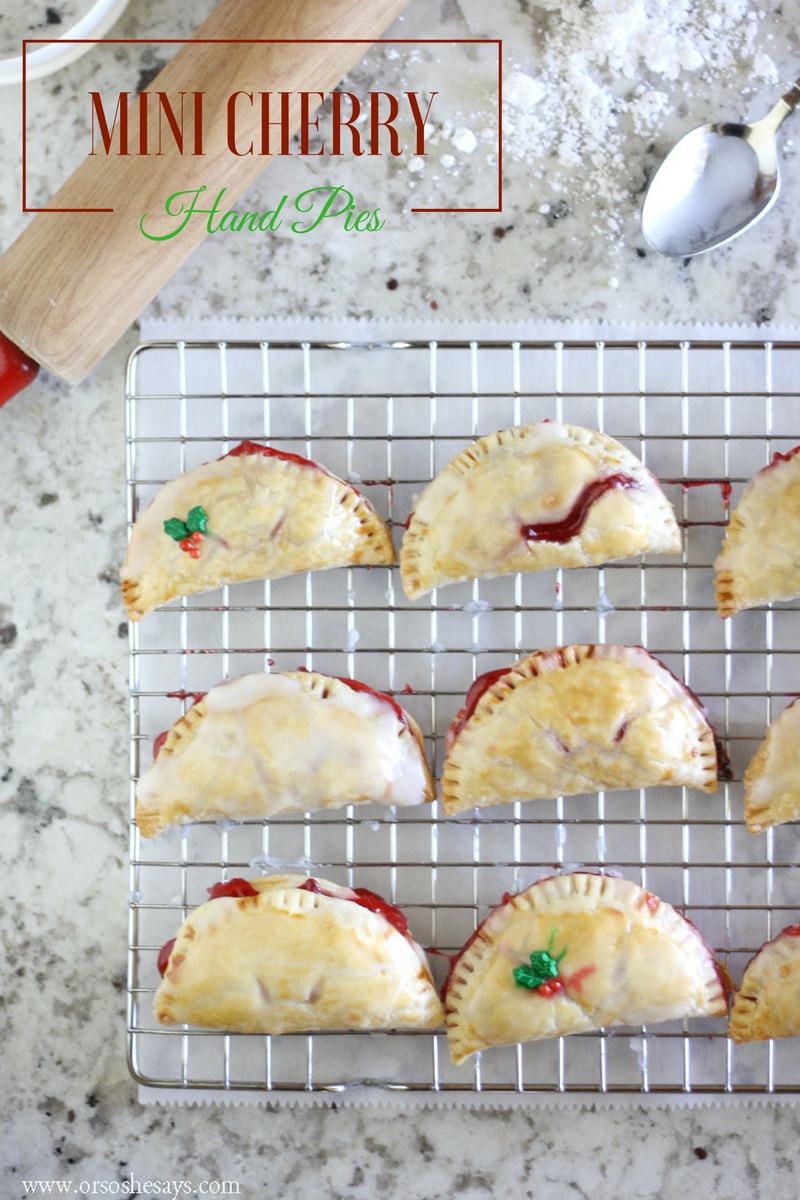 Hey there friends! It's Liz here and I'm so excited to share with you this easy cherry pie recipe. Pie just happens to be my favorite dessert of all time! So you can image how much I love the holiday season. Where it's acceptable to eat pie everyday. 🙂 Although my favorite pie is apple, I'm a fan of all kinds of pie. Last week I had a dozen teenage boys and girls in my kitchen for pie making night. They had so much fun and their pies all turned out great!
However, my kids were sad that they didn't get to make their own pies. They tried to get in on the pie making action when all the teenagers were there, but it was just too busy in the kitchen. So the next day I looked at what I had left over and decided to make these mini cherry hand pies with my kids.
I like to keep things as simple as possible when I'm in the kitchen so I started out with store bought ingredients. I unrolled the store bought pie crusts and the kids cut 4 inch squares out of them. I did use my rolling pie to roll them out a little bit flatter. Then we filled them with a little canned cherry pie filling. They don't need a lot, or it will squeeze out the sides when you fold your dough over and crimp the edges with a fork.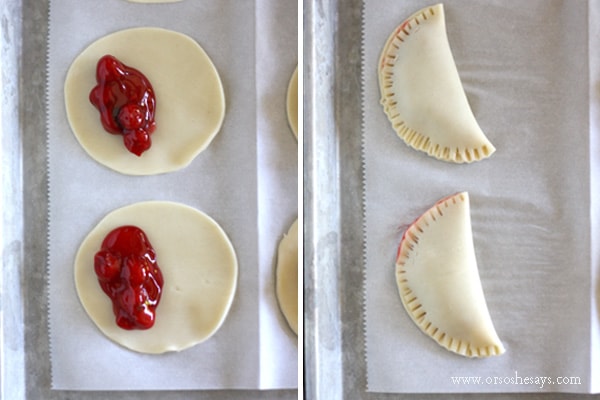 I cut slits in the tops with a knife and them we brushed the pies with a little egg wash. We baked them for 25 minutes at 375 degrees, until they were golden brown. We moved them onto a cooling rack and while they were still warm, drizzled the tops with our glaze.
Sprinkles are always a fun addition to any dessert, so we added a few holly berry sprinkles for a festive look.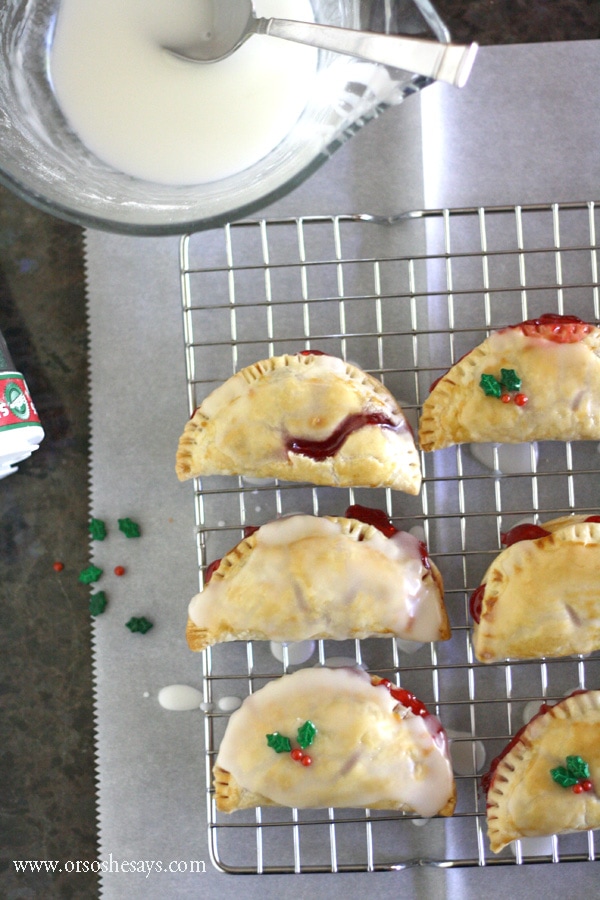 Not only were these so easy to make, they were delicious too! The kids loved them and they also loved sharing them with their friends and our neighbors.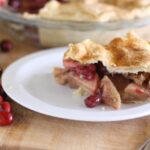 Mini Cherry Pie Recipe
This cherry pie recipe is a perfect dessert for any holiday gathering. Plus these mini hand pies are so easy to make, the kids can help!
Ingredients
2

boxes premade pie crusts

1

can cherry pie filling

1

egg beaten

1

cup

powdered sugar

1

TBL oil

1

TBL water

sprinkles - optional
Instructions
Set oven to 375 degrees.

Unroll pie crust and cut out 4 inch circles (a wide mouth mason jar lid works great)

Use a rolling pie to roll the crust a bit flatter

Fill with approx. 1 TBL pie filling on one side of the crust.

Fold other half of crust over the filling and crimp edges with a fork.

Cut 2 or 3 small slits in the top of each mini cherry pie.

Brush the tops with beaten egg.

Bake for 25 mins.

To make glaze combine powdered sugar, oil and water in a bowl and mix until all combined.

Should be a pourable consistency, add a more water, a little at a time if needed.

Remove hot pies and place on a cooling rack.

While still hot, spoon a little glaze over the top of each pie.

Add sprinkles if desired.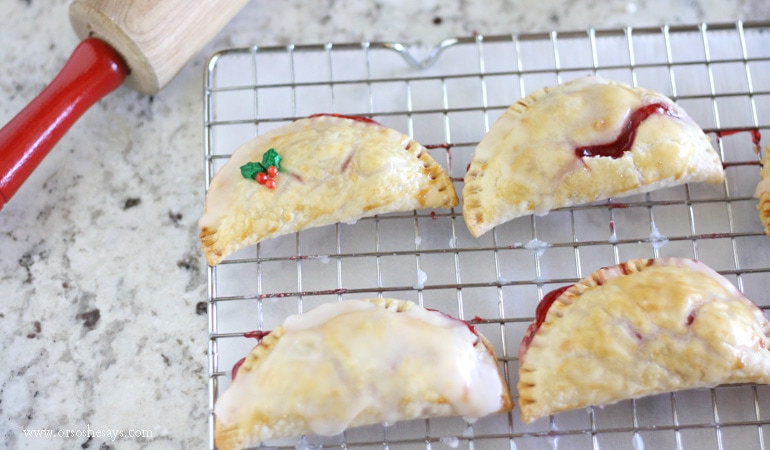 If you are a pie lover like me, you gotta try this cranberry apple pie. I made it last year for our family Thanksgiving and it was so good!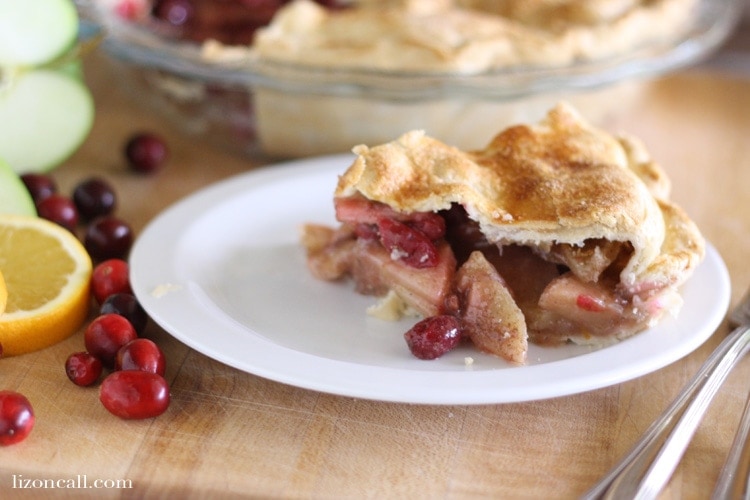 Happy Holidays!
Liz
For more great recipes, try these: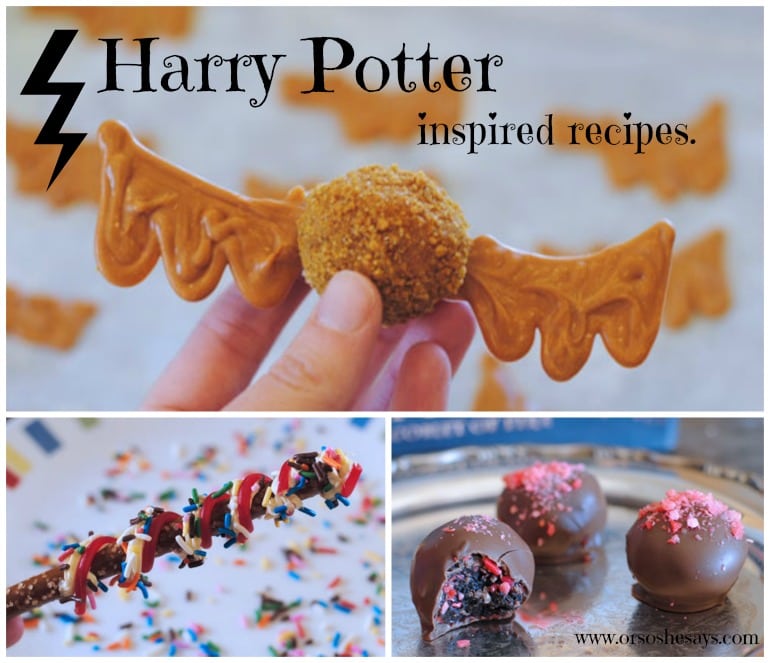 30 Copycat Recipes That Are SO Spot On They'll Blow Your Mind!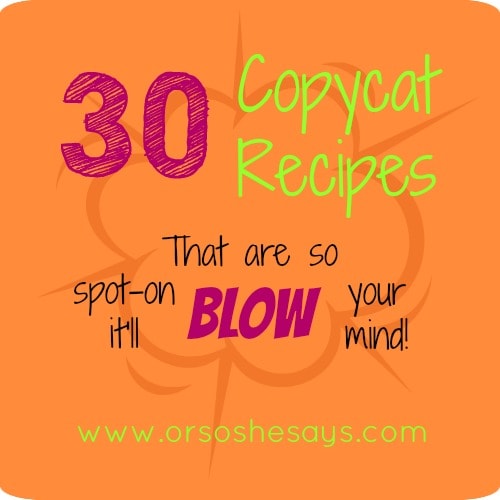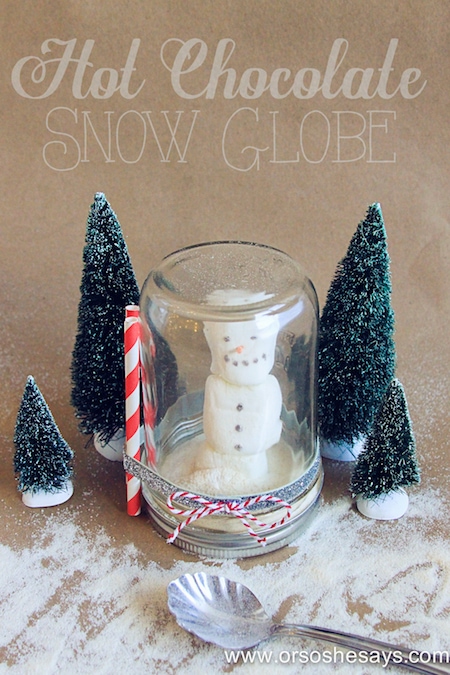 Save
Save
Save