Homemade Pesto is easy and quick to make and it tastes fresh and amazing!
Hey ya'll! Christina from FoodApparel.com checking in. I was trying to THINK GREEN and THINK SPRING when I posted here last, and guess what? It's GREEN outside and it's SPRING! Yay!
I've been enjoying my time here on the East Coast right now where it is much greener and wetter than my home roots. It's been fun, and it's almost time for us to come back. Bittersweet. But not before we do a little road trip and enjoy some of the finest crab and lobster along the coast. That has to happen first. Yes it does.
I'm excited to come back though and get some herbs-a-growin'. You see, I LOVE fresh herbs. They make such a difference in cooking. And I especially love basil. It's just yum.
I love it in everything. I love it for bruschetta, I love it in lemonade (yes, you heard me, and it's GOOD, k?), I love it with chicken, and I love it on pasta.
This homemade pesto is a sauce that features basil as one of the main ingredients. I love serving this simple sauce over angel hair pasta. It makes for a really quick dinner on a busy day. You can grill up a chicken breast and throw it in there as well.
The beauty is this sauce literally takes 5 minutes to put together. And if you want to, you can put any leftovers in an ice cube tray, freeze, and then bag it up to save for another day. Nice, huh?
So, I used to think that pesto had to be with pine nuts. Then one day I looked at a can of store-bought pesto and discovered that it was using almonds….say what? So the reality is it's flexible with the nuts. Pesto really just means paste, so while the traditional version uses basil, Parmesan cheese, and pine nuts for the base flavors, you can really take this in a lot of directions.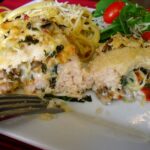 Homemade Pesto in 5 Minutes
Ingredients
2

ounces

fresh basil leaves

about 3 cups loose pack

1

large garlic clove

½

cup

raw pine nuts

shelled or almonds (about 2.5 to 3 ounces)

1

cup

grated Parmesan cheese

3.5 – 4 ounces

¾

cup

olive oil

Salt and pepper to taste
Instructions
Put all ingredients in a food processor in order listed.

Process until mixture forms a paste.

Use on noodles, over chicken, or as a spread.
Check out these other delicious recipes on FoodApparel with basil:
Here are some more versatile dip recipes on OSSS: