I've been excited to share this post with you! I've had several emails asking about how our Fourth of July booth went last year (The Perfect Summer Project for Kids). It was SO fun! The kids worked so hard to get all of their stuff ready to sell. We made most things, other things we bought wholesale. At the end of it all, after paying for the booth, supplies, taxes, and tithing, all the kids got to keep a hundred bucks! They were in heaven. There were no rules for their money and they blew it in no time. This year they are vowing to spend their hard-earned money cautiously. We'll see. Either way, I found it to be a great learning experience for them and they had a blast. It was cute to see how important they felt being a "cashier," and their sales tactics were often hilarious. I really, really loved it.
So, we're doing it again!
Our hands-down best seller was the marshmallow guns. At first, sales were slow. But, once we started pelting people with marshmallows as they were walking by, we started to get some attention. The guns sold like hot cakes! In fact, when we sold out of them, there were people trying to buy them from people that bought them earlier, for double the price!
Here's a pic, outside our booth, of some of our customers. 🙂
This year, instead of focusing on lots of different items to sell, we are going to bang out tons of marshmallow guns. We're thinking of adding foam (swimming noodle) swords to our inventory, as well. I'll share with you how to make those soon. 🙂
These marshmallow guns are a riot. They shoot mini marshmallows soooo far! Okay, so here's what you need to make one: about 3 feet of 1/2″ schedule 40 PVC pipe, 2 threadless T's, 2 threadless elbow joints, and 2 threadless caps (all to fit the 1/2″ pipe.) Oh, and you need something to cut the pipe. If you're only making a few guns, a hand saw will work fine. If you're making lots, I recommend a chop saw.
Using a pencil, mark the pipe for the following measurements: One 7″ piece, Two 5″ pieces, and Four 3″ pieces. Because I am cutting a billion pieces, I mark several pipes at once and line up laundry baskets to sort the different sizes in.
Chop, chop.
This is where the kids come in. I lay out a completed gun in front of them, to use as a model, and the start piecing together gun, after gun, after gun, after gun, after gun…. (Shane is taking a Popsicle break.)
After putting them together, it's best to hit it on the different ends to really push the pieces together. We also sandpaper the mouthpiece and barrel end to make it a little smoother for mouths and hands.
Here's a marshmallow gun diagram for you: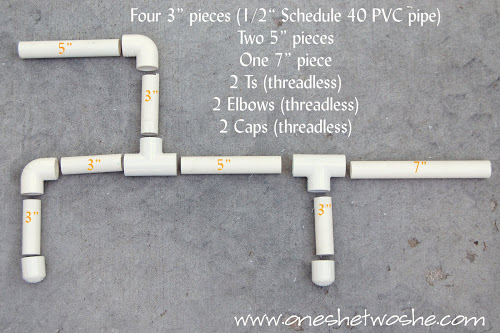 Anyway, so if you don't have plans for The Fourth, come say hi to me at our booth in Morgan, Utah! I would love to meet you and shoot you with some marshmallows. 🙂 Morgan always have tons of fun things going on. My kids LOVED the "Scales and Tails" reptile show…they got to touch and take pictures with some monstrous snakes and lizards! Oooh, and your older kids (and maybe you) will love watching The Battle of the Bands. I'm excited! You can read more about the happenings on Morgan's web site.