I learned something today! Ever since I added the new update on my iphone (iOS7), my wallpaper zoomed way in and I couldn't get it back to normal size. Wallpaper is kinda important, ya know? I had a collage of all my kiddos on the screen and was so bummed when it was suddenly zoomed in, making it so only 3 of my 6 babies were visible. Not okay. I'm trying to keep my favorite kids a secret. 🙂 Just teasin. But, seriously… do you feel my pain? Did your wallpaper do the same thing?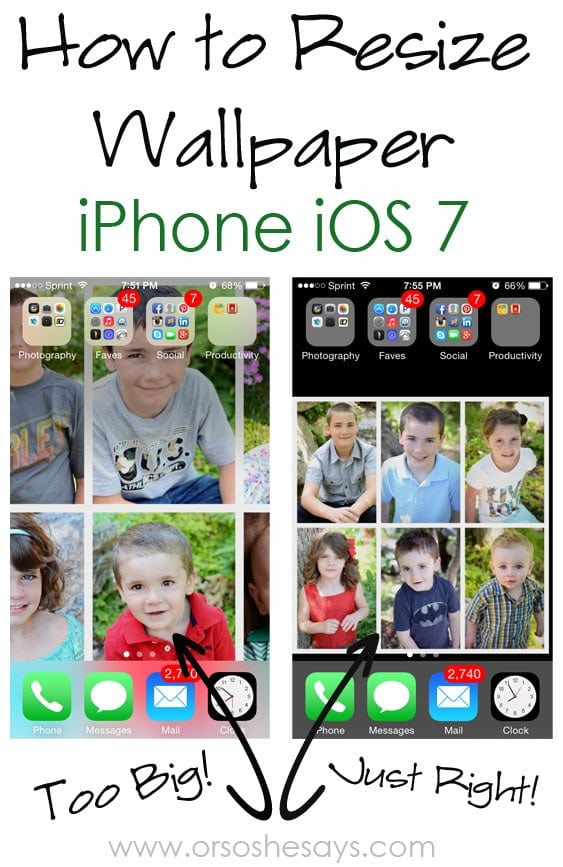 Here's a screen shot of what happened… My phone gave a resizing option, but it only allowed me to zoom in further, not back out, where I could see all of my kids.
I googled everything I could think of on how to resize wallpaper on iphone iOS 7 and the options were slim (and not good) to none. But FINALLY, I found it! You have to get an app, that's the only fix! The one I got is called iOS 7 Wallpaper Fix and it made me sooooo happy. Yay. Yay! All you have to do is open the image you want in the app, resize it, save it, then open it in your photos and it's ready to become wallpaper.
Much better.