June 2020 Primary Talks for Children to use during home lessons or at Church. These four Primary Talk Templates are written based on the Come Follow Me topics for the month of June.
We are entering another month of at-home church service! Have you been enjoying holding your own family church meetings or are you anxious to get back to meeting with you ward family? I am torn between loving our stay at home church and missing my primary kids.
The First Presidency announced a reintegration of Church worship and activities. Members of the Church of Jesus Christ of Latter day Saints will be slowly and carefully heading back to Church over the next few months. It will be interesting to see how the process goes.
In the meantime, you are invited to use these June 2020 Primary Talks as part of your family Church services!
I use one of the talks each week in my family's mini Sacrament meeting. My kids love being involved in the program. I hope your children do as well. There are four talks for the month of June. Each talk is based on the weekly Come Follow Me topics. You can download and print a PDF version of the talk or read it right from this post.
We post new talks each month! So, be sure to check back often for new content.
June 7th Primary Talk Topic: I Can Gain A Testimony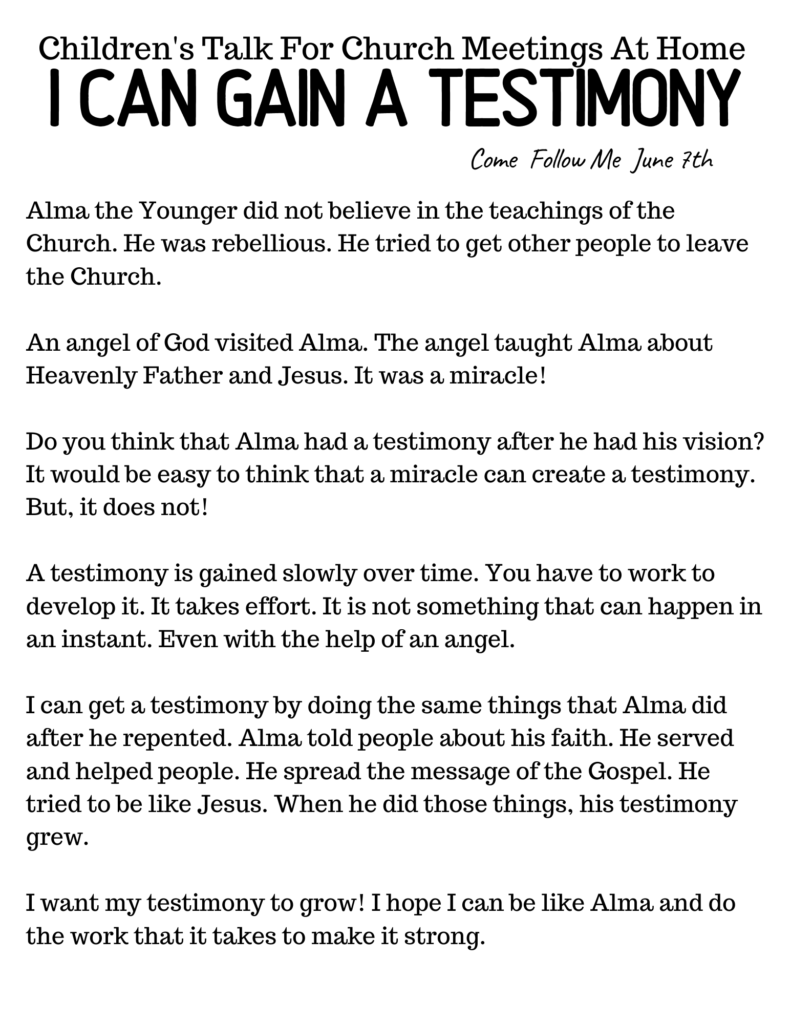 Alma the Younger did not believe in the teachings of the Church. He was rebellious. He tried to get other people to leave the Church. An angel of God visited Alma. The angel taught Alma about Heavenly Father and Jesus. It was a miracle!
Do you think that Alma had a testimony after he had his vision? It would be easy to think that a miracle can create a testimony. But, it does not!
A testimony is gained slowly over time. You have to work to develop it. It takes effort. It is not something that can happen in an instant. Even with the help of an angel.
I can get a testimony by doing the same things that Alma did after he repented. Alma told people about his faith. He served and helped people. He spread the message of the Gospel. He tried to be like Jesus. When he did those things, his testimony grew.
I want my testimony to grow! I hope I can be like Alma and do the work that it takes to make it strong.
DOWNLOAD PDF: I CAN GAIN A TESTIMONY
June 14th Come Follow Me Talk for Primary: I Can Share The Gospel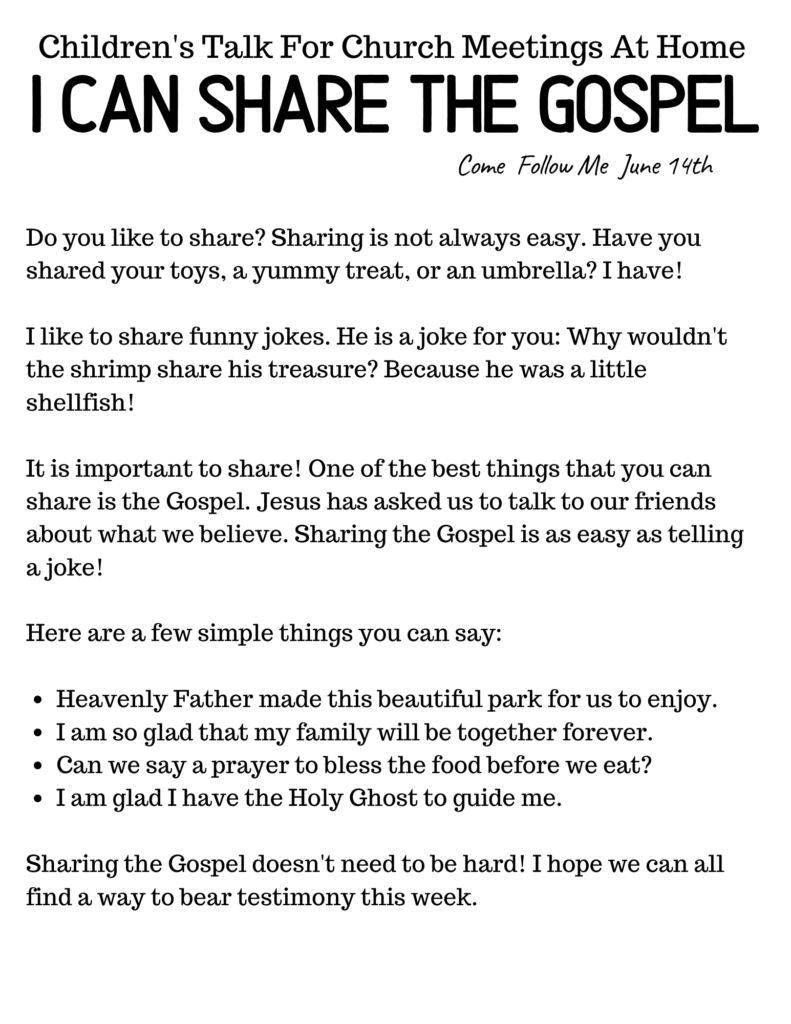 Do you like to share? Sharing is not always easy. Have you shared your toys, a yummy treat, or an umbrella? I have!
I like to share funny jokes. He is a joke for you: Why wouldn't the shrimp share his treasure? Because he was a little shellfish!
It is important to share! One of the best things that you can share is the Gospel. Jesus has asked us to talk to our friends about what we believe. Sharing the Gospel is as easy as telling a joke!
Here are a few simple things you can say:
Heavenly Father made this beautiful park for us to enjoy.

I am so glad that my family will be together forever.

Can we say a prayer to bless the food before we eat?

I am glad I have the Holy Ghost to guide me.
Sharing the Gospel doesn't need to be hard! I hope we can all find a way to bear testimony this week.
DOWNLOAD PDF: I CAN SHARE THE GOSPEL
June 21st Primary Talk for Children: I Am Blessed When I Follow The Prophet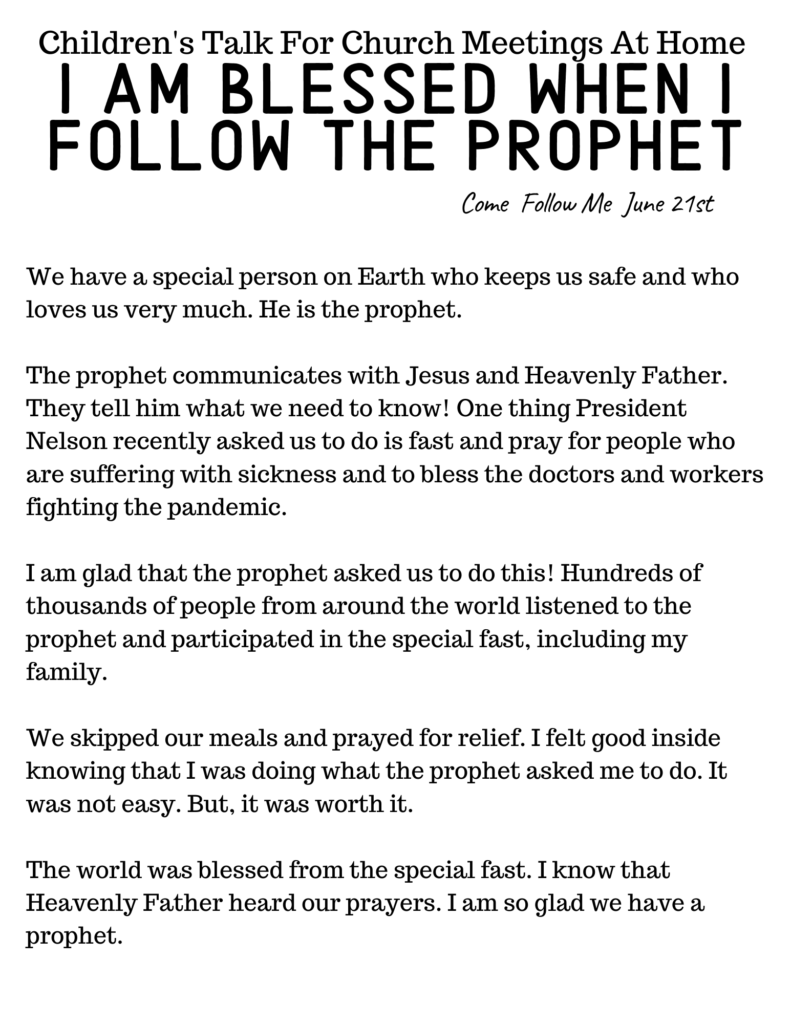 We have a special person on Earth who keeps us safe and who loves us very much. He is the prophet.
The prophet communicates with Jesus and Heavenly Father. They tell him what we need to know! One thing President Nelson recently asked us to do is fast and pray for people who are suffering with sickness and to bless the doctors and workers fighting the pandemic.
I am glad that the prophet asked us to do this! Hundreds of thousands of people from around the world listened to the prophet and participated in the special fast, including my family.
We skipped our meals and prayed for relief. I felt good inside knowing that I was doing what the prophet asked me to do. It was not easy. But, it was worth it.
The world was blessed from the special fast. I know that Heavenly Father heard our prayers. I am so glad we have a prophet.
DOWNLOAD PDF: I AM BLESSED WHEN I FOLLOW THE PROPHET
June 28th Talk for Primary Kids: I Show Love Through Service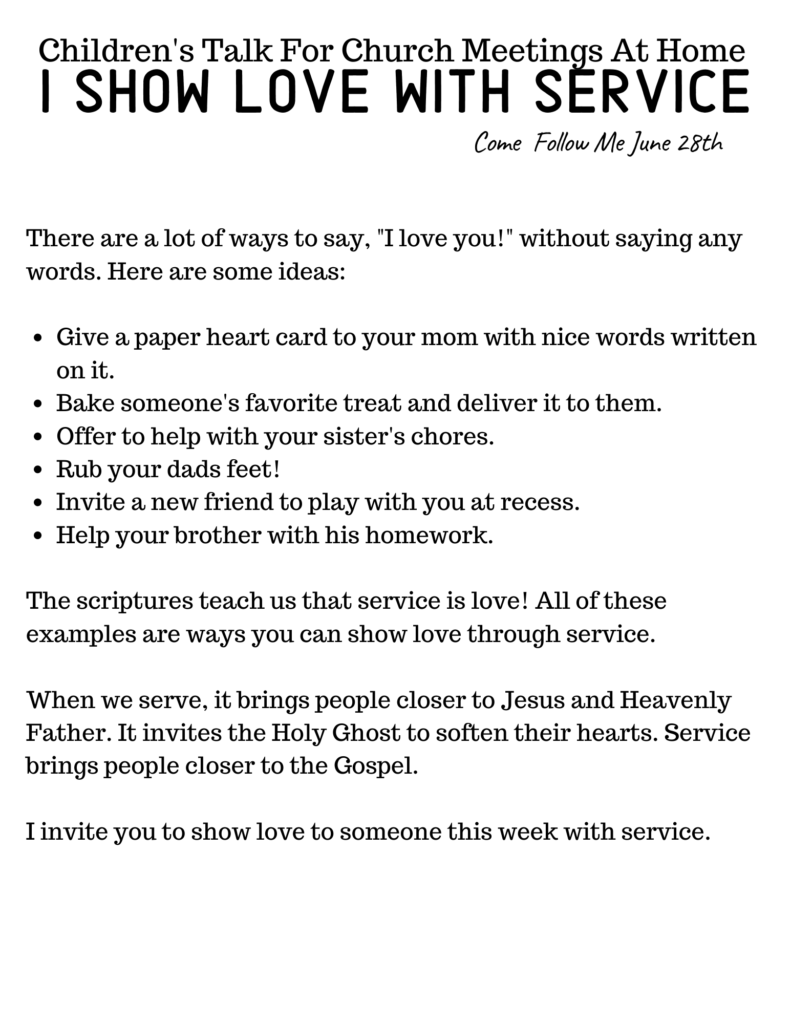 There are a lot of ways to say, "I love you!" without saying any words. Here are some ideas:
Give a paper heart card to your mom with nice words written on it.

Bake someone's favorite treat and deliver it to them.

Offer to help with your sister's chores.

Rub your dads feet!

Invite a new friend to play with you at recess.

Help your brother with his homework.
The scriptures teach us that service is love! All of these examples are ways you can show love through service.
When we serve, it brings people closer to Jesus and Heavenly Father. It invites the Holy Ghost to soften their hearts. Service brings people closer to the Gospel.
I invite you to show love to someone this week with service.
DOWNLOAD PDF: I SHOW LOVE THROUGH SERVICE
To save this post for later, pin this: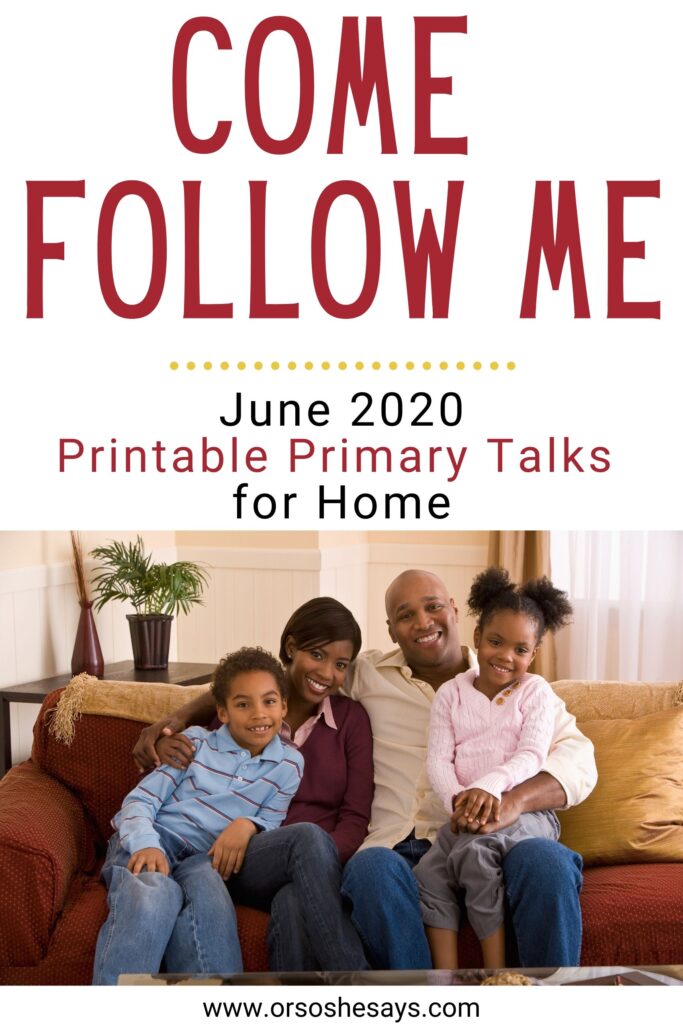 If you loved this post of printable Primary talks, check out:
JOIN 180,000+ OTHERS & FOLLOW OSSS FOR LOTS OF FAMILY IDEAS!
NEWSLETTER (free most-requested family recipes download included!)
PINTEREST (lots of awesome family related ideas!)