Who loves some good camping hacks?!? It's not too late to get out and enjoy some camping this summer! The weather has been beautiful where I live and the nights cool off just enough to enjoy being outside roasting mallows around a fire.
In case you still have some adventures planned, check out these great camping hacks you may have missed: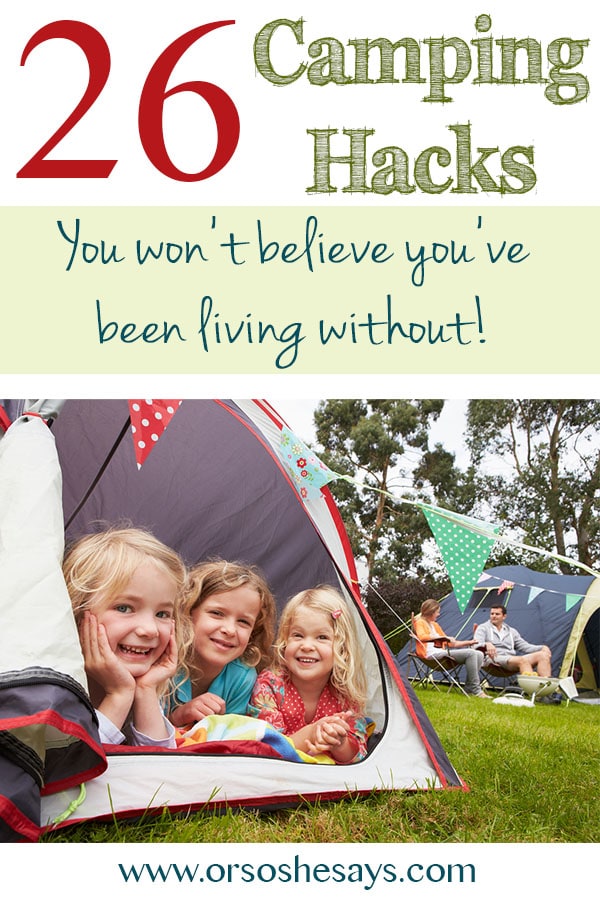 26 Camping Hacks You Won't Believe You've Been Living Without!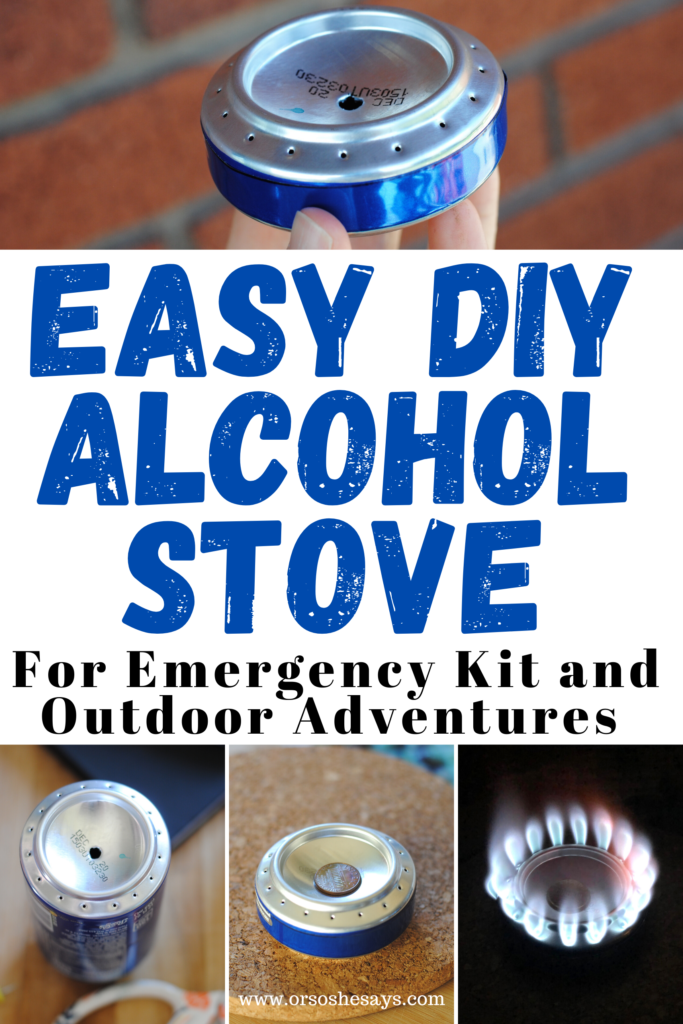 I love that you can make an empty pop can into something so useful. This would be a fun project to put together with the kids, or a youth group. Great for camping or for emergency kits!
Pizza isn't just for delivery. How about making the yummiest pizza ever, in the grey outdoors?! It's totally possible and you'll be so glad you did. That is, if you even get any before it's gobbled up!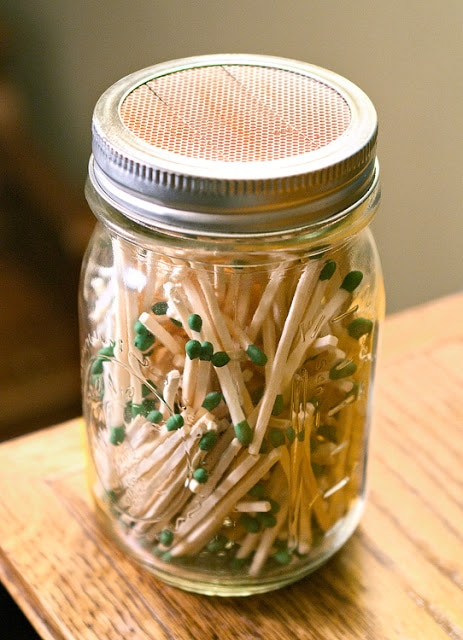 Match Holder with Sandpaper Camping Hacks ~ From Like to Love
This is such a slick way to store matches. It keeps them dry and the scratchy surface on top makes for a perfect spot to light them. Be sure to check out the blog, From Like to Love, for all the details!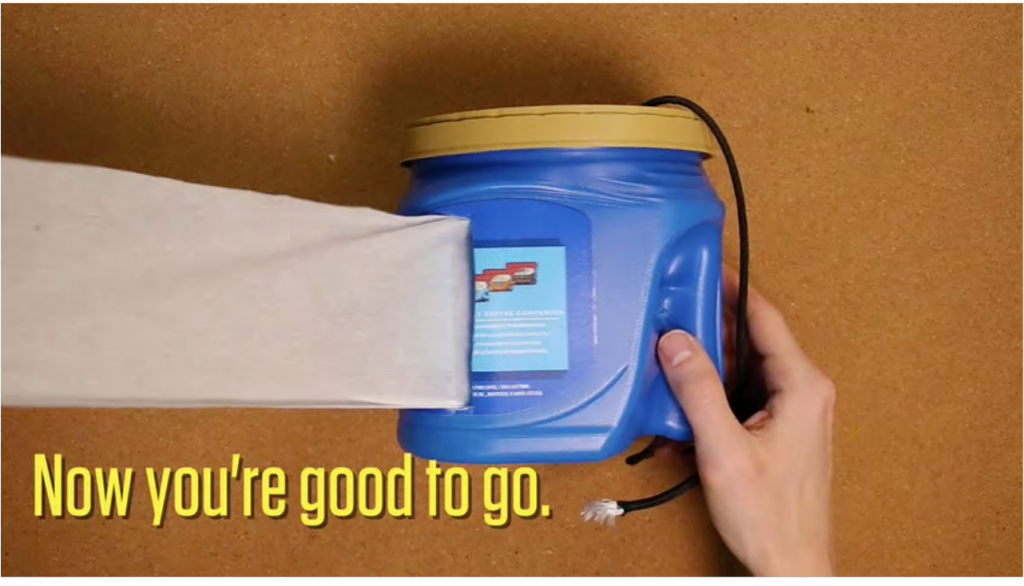 Keep your toilet paper dry, clean and away from rodents with this clever idea for a toilet paper container. This is such a cool camping hack from Field and Stream!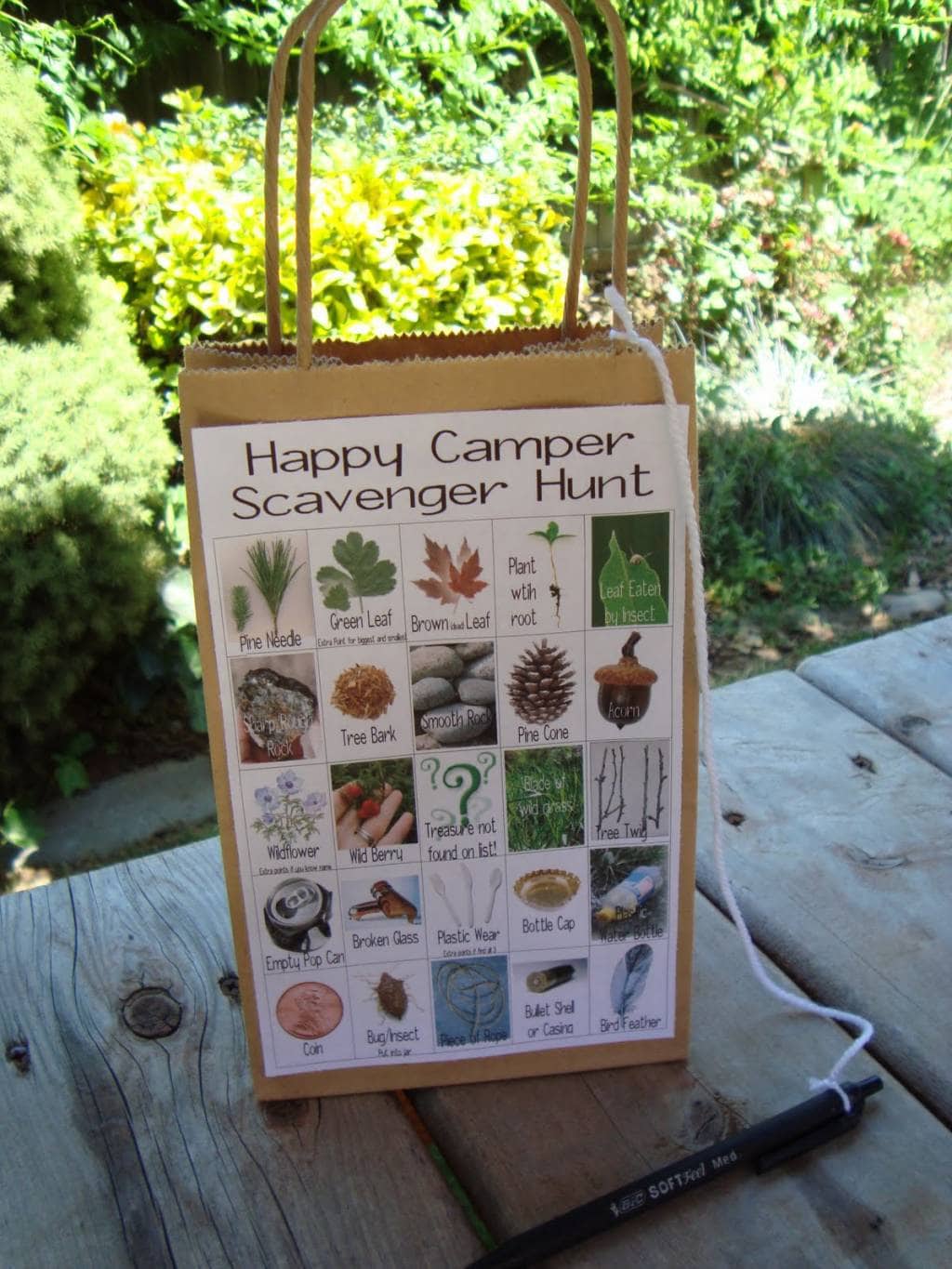 This cute, little scavenger hunt is a fun way to keep kids happy while camping. Let's be honest here… camping isn't always a party. Boredom CAN happen. So, it's always a good idea to have a few little tricks up your sleeve. We love this camping activity for kids from The Creative Homemaker!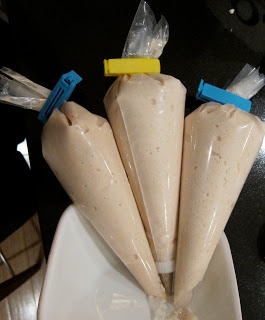 I always love the idea of having as much food prepared ahead of time as possible. This camping hack from 'A Mum n the Oven' for camping pancakes is so great! Be sure to read the comments on the post for some ideas for keeping it fresh, before use.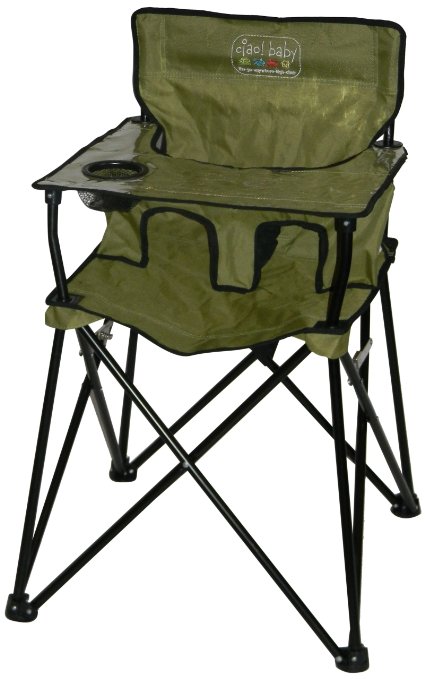 Okay, take a close look at that picture, before you just scroll on past… it's a high chair!! A camping high chair!! Have you ever tried eating around the campfire with a baby?! I have… and that's why I'm recommending this awesome camping product for babies. Not only will you be able to eat your own food with BOTH hands (and not have little hands grabbing it), but you will be able to easily feed your little one, without holding them in your lap. So much better. Also, a great way to keep them away from the campfire, while everyone is preoccupied with food.

One of the worst things ever is being in the outdoors with wet shoes, not to mention if it's cold outside. This waterproofer by Kiwi is a favorite for keeping shoes dry in the outdoors. Be sure to read the reviews, directions, and suggestions before spraying them on your favorite shoes. Keep those toes warm!!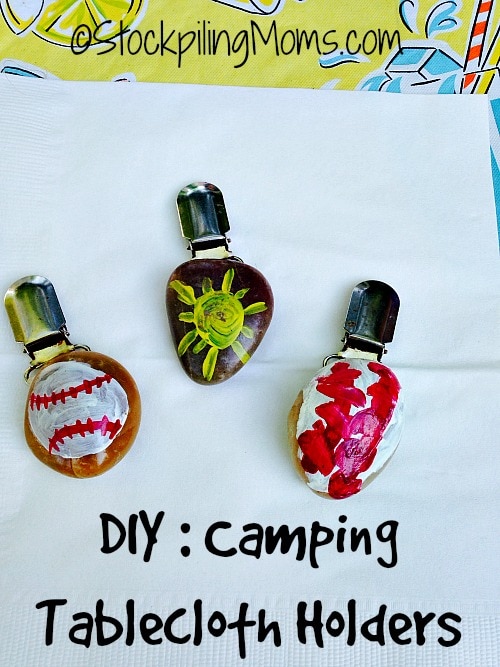 This is such a fun little activity for kids, to either make while camping or to prepare for camping. They can be used over and over again! Nobody wants the tablecloth blowing away… these DIY holders from Stockpiling Moms blog will totally do the trick!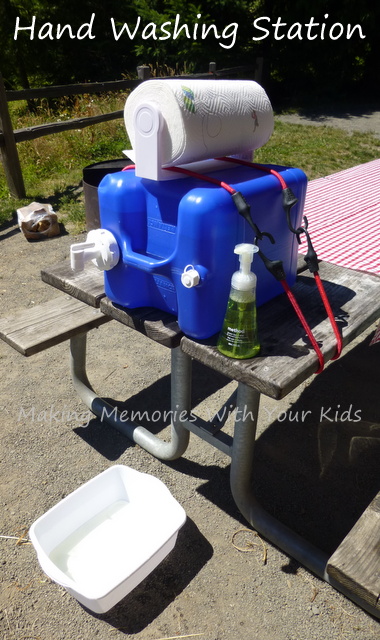 Washing hands while you're camping feels sooooo good. If you can't get completely clean, if you can just get your hands clean, that's something. And then, if you have kids in tow, you KNOW their hands are pretty filthy. So, rather than having to trek everyone to the potty, or drip a small bottle of water on their hands, check out this awesome hand washing contraption from Making Memories! … complete with paper towels, soap, and water. It makes washing your hands while camping so easy!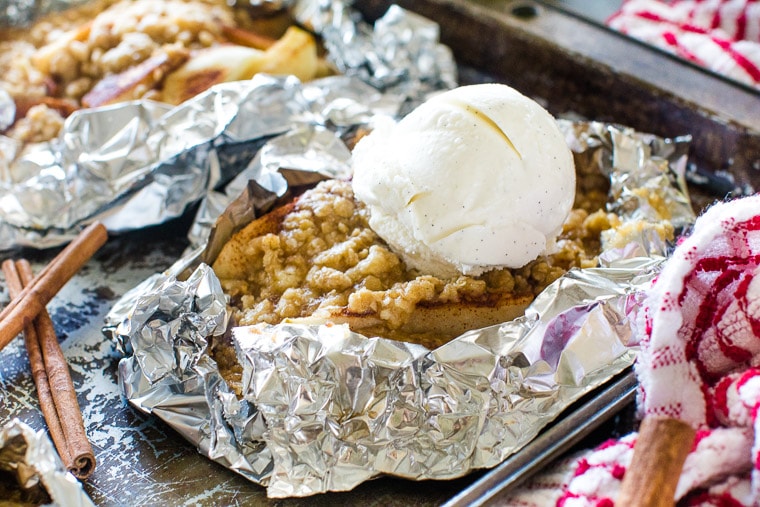 This might be the most delicious camping idea ever. As if tin foil dinners with hamburger and potatoes weren't amazing enough… I never really think of making dessert in tin foil, over the camp fire! And, how perfect is this recipe for Campfire Apple Crisp from Gimme Some Grilling? If you can't brings some ice cream along (hopefully, you can), be sure to pack some whipped cream!
Are you the designated chef at the camp? If there's one thing any chef can relate to, it's the feeling of longing to eat with everyone, not AFTER everyone. Some meals make that a little more doable, like this awesome camping tip for making omelettes! The blog, Beyer Beware, gives the scoop on how to easily make custom omelets for a crowd. Great for camping or to make, for fun, at home!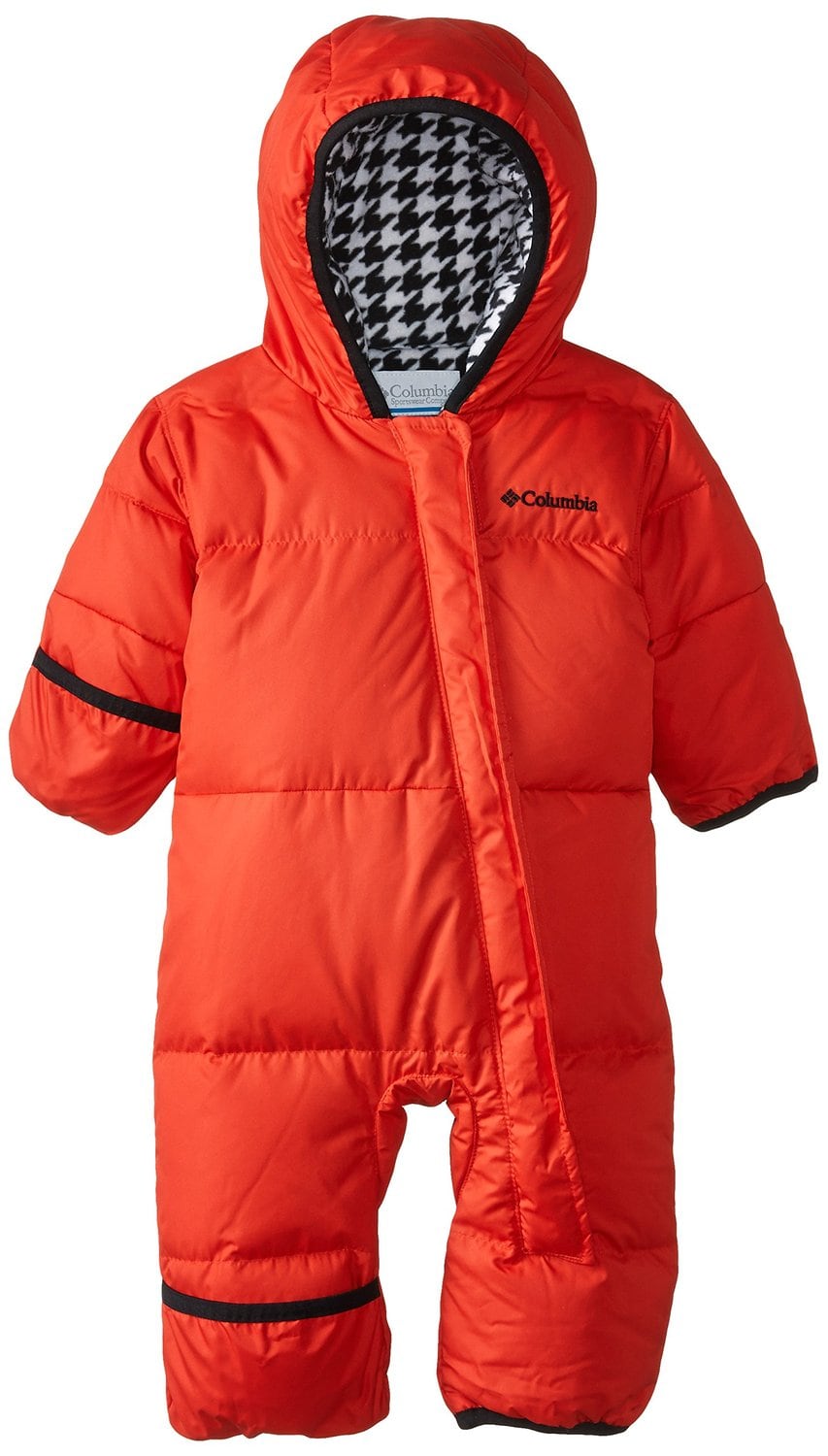 Columbia Snuggly Bunny Bunting
"Soft downy warmth perfect for the coldest environments, this cozy baby bunting is water and wind resistant, with a soft microfleece lining on the hood and torso to keep their soft skin comfortable, as well as 60 and 40 duck down and fold-over cuffs to lock in body heat."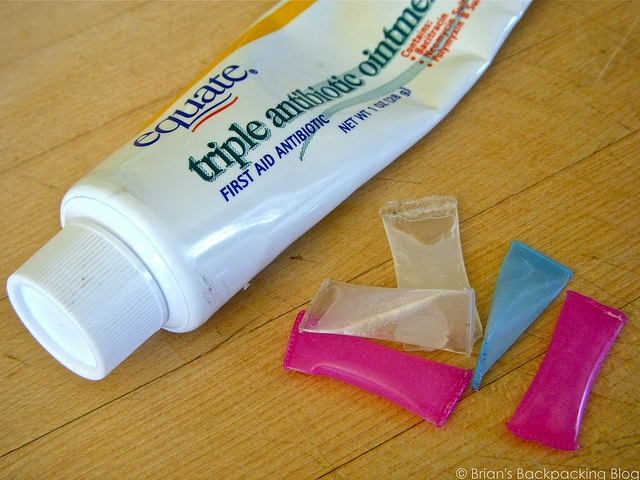 Single-Use Antibiotic Ointment Packs ~ Brian's Backpacking Blog
"Store-bought, nicely packaged, individual ointment packs can come at a premium. They can often be pricy or difficult to find without going online and ordering in bulk +shipping. That's when the creative types among us come up with ingenious solutions that lets us make our own alternatives using things we usually have lying around."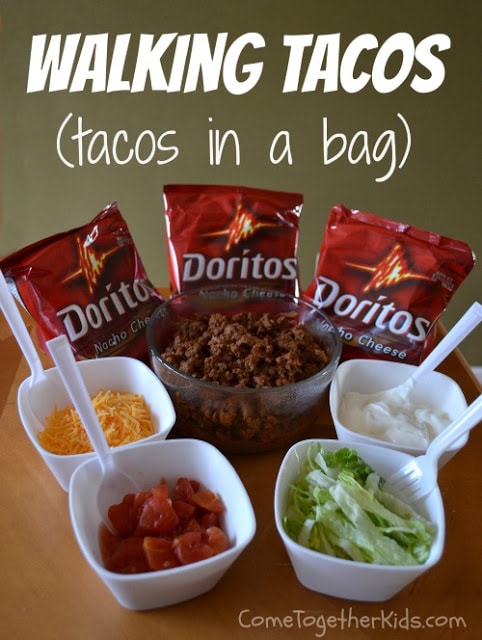 Tacos in a Bag ~ Come Together Kids
"I first saw these "walking tacos" at an amusement park concession stand several years ago.  It's such a smart idea ~ putting the taco fixings in a snack size bag of chips.  However, I'd pretty much forgotten about them until my oldest went to a birthday party recently.  She came home telling me all about the "tacos in a bag" that she'd had and was begging me to make them for our family."
Camping Menu Printable ~ Stuffed Suitcase
"Our family just returned from a weekend away staying at a county park in a camping trailer. Doing a bit of advanced planning meant we had some great meals, and we really enjoyed branching beyond the traditional camping fare. I decided to create a cute camping menu meal planning printable for my readers to be able to use on their next camping vacation."
Headlamp Lantern ~ Creative Green Living
"We were able to disperse light on our table and in our tent and it had a convenient ergonomic handle for carrying around. All without having to spend money on buying a new flashlight or lantern. We'll definitely be doing this when we go camping again."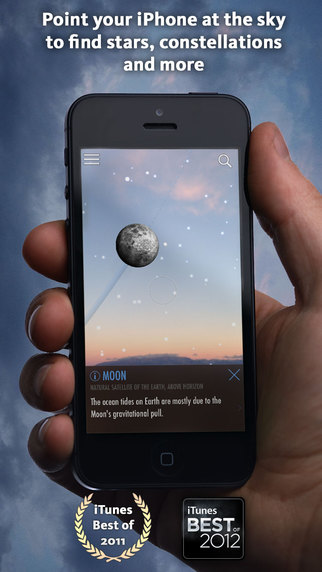 "Teach your kids about constellations with this award winning app."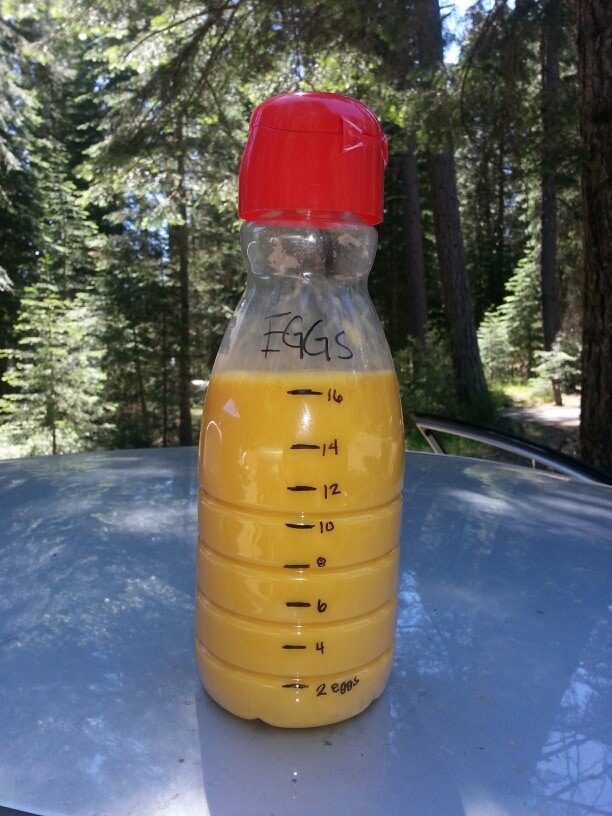 Scrambled Eggs in a Bottle ~ Life Hacker
"Meals are chaotic while you are camping.  Scramble eggs for breakfast ahead of time and keep your scrambled eggs in a bottle.  You can pour them out straight from there, and cook as needed."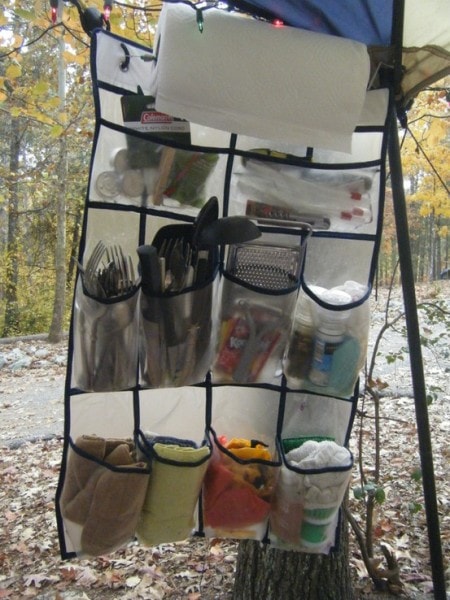 Camping Organizer ~ Starling Travel
"Keep the campsite organized with a shoe organizer that you can hang from the nearest branch!"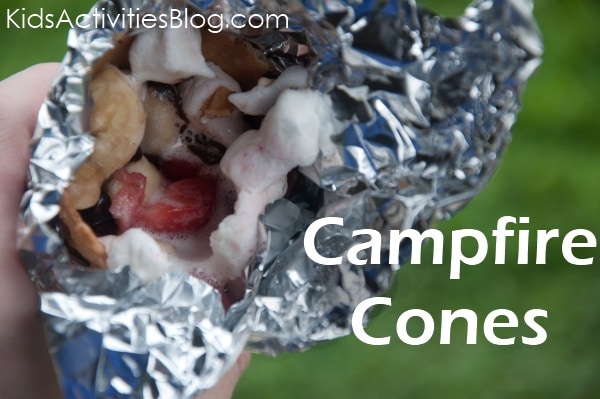 Campfire Cones ~ Kids Activities Blog
"Other than my kids catching their first fish (I think they trained the fish at that campground to come when they see a fishing pole – we caught 5 in half an hour!), the highlight of our trip were campfire cones that we made. These "Smore Cones" were so yummy and are super easy to make!"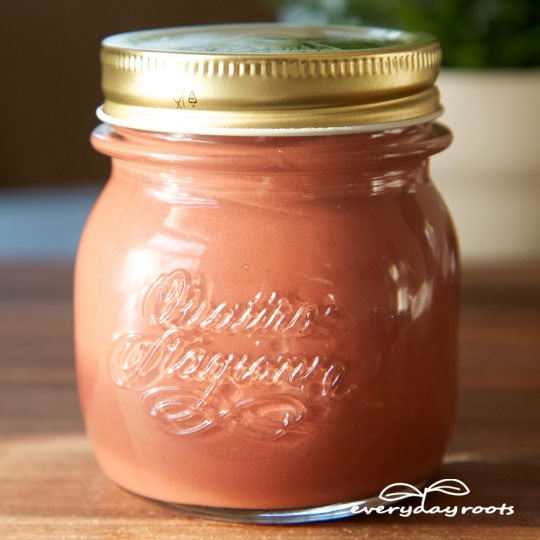 Homemade Calamine Lotion ~ Everyday Roots
"Calamine lotion can be used to treat anything from nasty sunburn to poison ivy to itchy bug bites. It's incredibly useful for anyone but particularly those who like to explore the outdoors, or kids that like to bushwhack through whatever they can. Anyway you spin it, a little jar of calamine can be a life-saver."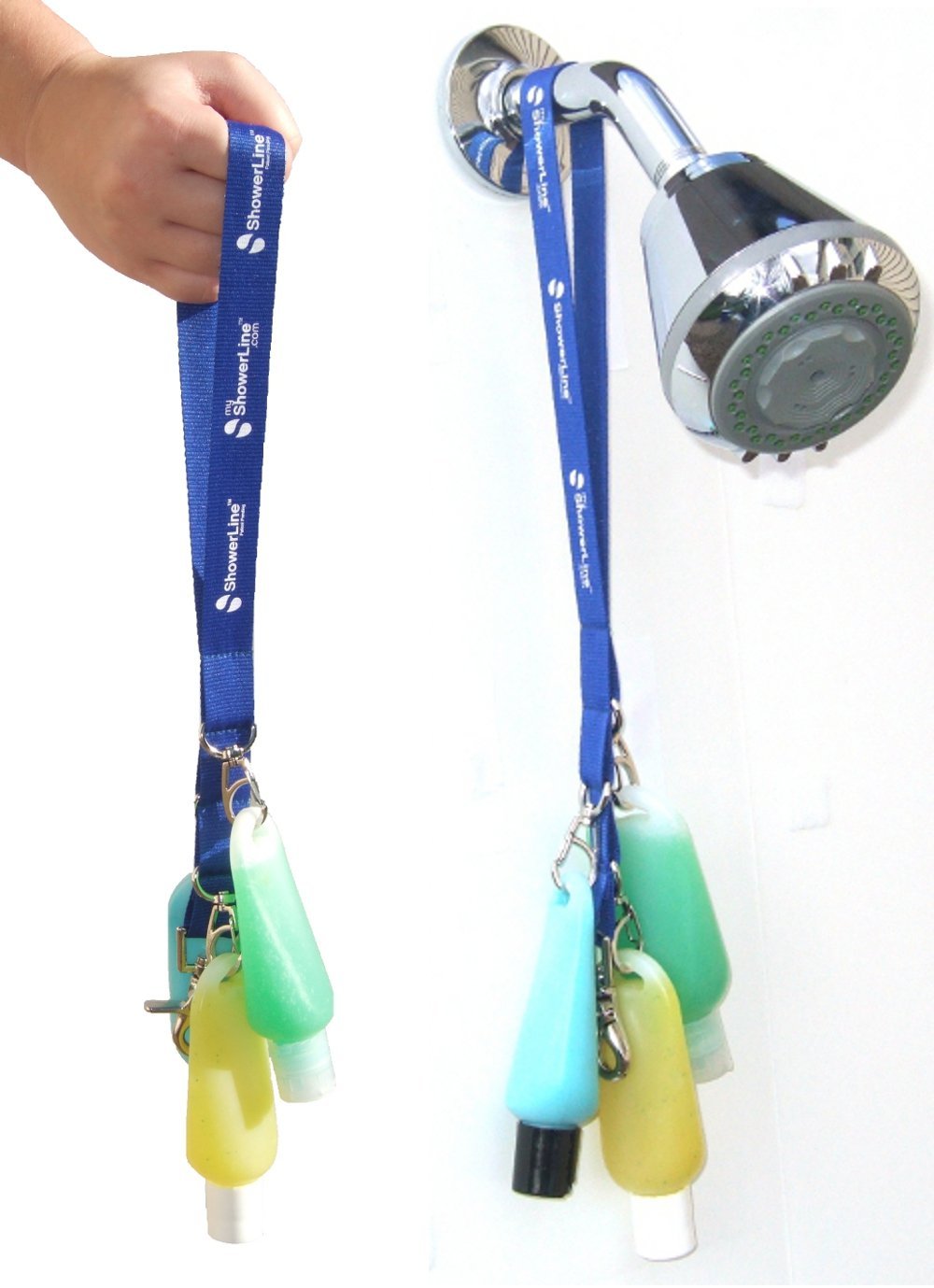 "If you need an extremely easy to carry, portable, compact shower caddy then the ShowerLine Shower Caddy is for you! ShowerLine is a hanging shower caddy, which hangs from your showerhead or control. It has three easy-flow, no-leak 1.5 oz bottles for your favorite products. An extra hook at the end of the ShowerLine Shower Caddy is for anything else you need in the shower (poof, razor, etc.)."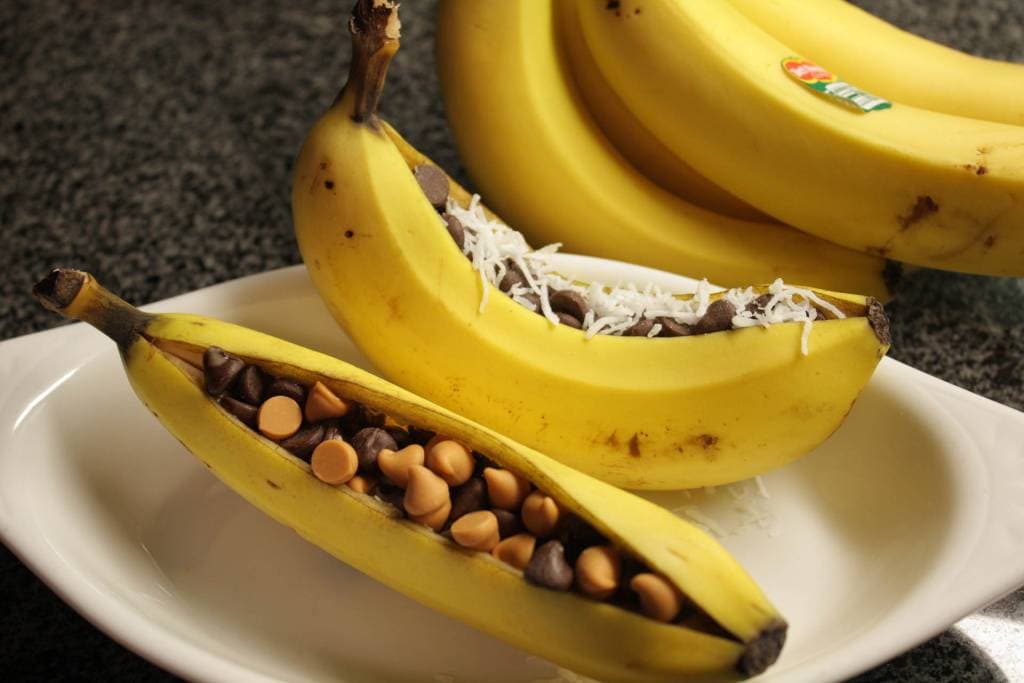 Banana Boats ~ Lick My Spoon
"This no-fuss dessert is pure genius, and is sure to satisfy any sweet tooth. I owe this party trick recipe to Bartender Bill from Orson, who taught me how to make this ooey gooey and absurdly easy treat."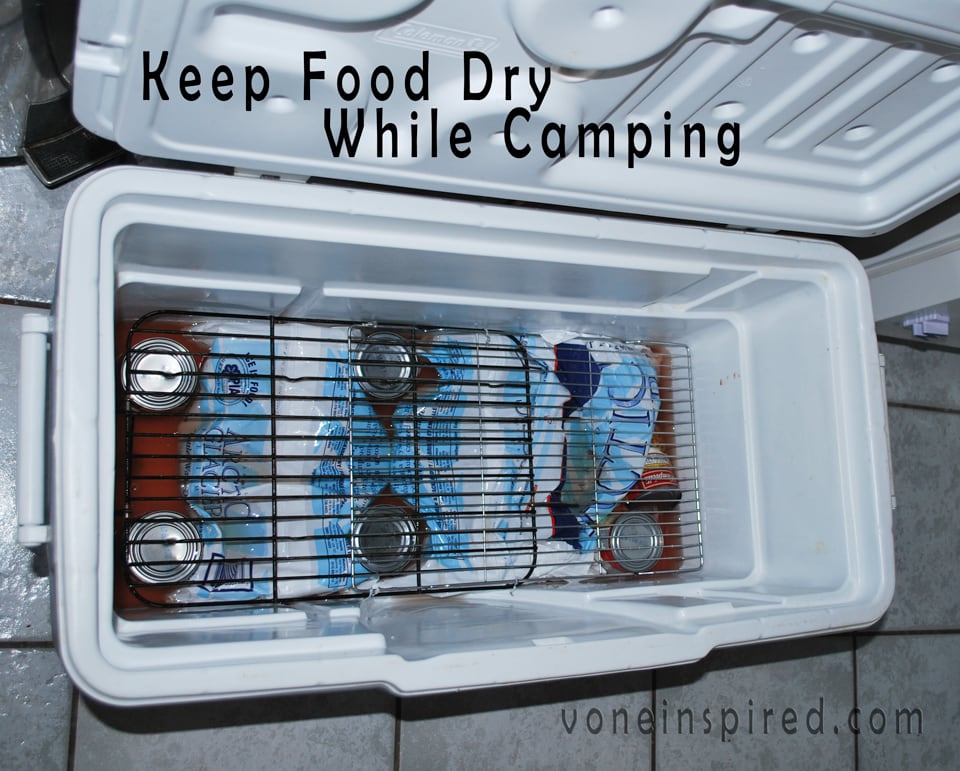 Camping Cooler Hack ~ Camping Survival Blog
"Genius! Ice and cans in the bottom, place cooling racks on top of the cans. Now you have a nice dry shelf to keep your food."
And, finally… not a hack, but what better way to show your love for the great outdoors with some of my favorite camping shirts! I did a little looking around and found 10 super fun ones. These would make a great gift for any of the outdoor enthusiasts in your life, including you.
JOIN 180,000+ OTHERS & FOLLOW OSSS FOR LOTS OF FAMILY IDEAS!
NEWSLETTER (free most-requested family recipes download included!)
PINTEREST (lots of awesome family related ideas!)
Pin this image to save this camping hacks post for later:

If you loved these camping hacks, check out: