Who loves some good and cheap camping camping tips and tricks?? It's a great time to get out and enjoy some camping this summer! With all the craziness happening in the world, vacations canceled, and people losing focus (among other things), sometimes just stepping away from it all is the best medicine.
I thought it would fun to put together a round up of some of the best camping tricks for families, that will make life a little easier when camping, and your time in the great outdoors even more enjoyable. Let's get to it!
26 Cheap Camping Tips and Tricks
I love that you can make an empty pop can into something so useful. This would be a fun project to put together with the kids, or a youth group. Great for camping or for emergency kits!
If you're lucky… well, I would call it lucky, you might have access to a shower or some place to rinse off while camping. And if so, you're likely to be carrying a big load of stuff with you to wash (your extra clothes, your towel, shampoo, soap, flashlight, phone, etc.) This Shower Caddy makes your trek to wash off so much easier, and your packing so much lighter. Everything you need for your body rinse is on one convenient lanyard, that you can wear around your neck. Save those arms for other things!
Pizza isn't just for delivery. How about making the yummiest pizza ever, in the grey outdoors?! It's totally possible and you'll be so glad you did. That is, if you even get any before it's gobbled up!
Tools are heavy and heaviness and camping don't go together, right? People LOVE this multitool for camping. One tool, with a TON of possible uses. Descale your fish, hammer a nail, fix a broken whatever, chop up wood… you get the point. Super affordable camping tool too!
Match Holder with Sandpaper Camping Hacks ~ From Like to Love
This is such a slick way to store matches. It keeps them dry and the scratchy surface on top makes for a perfect spot to light them. Be sure to check out the blog, From Like to Love, for all the details!
Keep your toilet paper dry, clean and away from rodents with this clever idea for a toilet paper container. This is such a cool camping hack from Field and Stream! Definitely a great camping trick!
Having fun in the outdoors, also means cleaning up afterwards. And staying clean throughout definitely makes the trip more enjoyable. There's a reason that people love these pop up trash cans (no more hanging bags on tents) and collapsible wash bins! And a little camping tip… If you pick up a few wash bins, you can have one for dirty dishes, one for soapy water, and one for clean water to rinse. Best of all, both of these products are compact, light, and affordable. Yay!!
This cute, little scavenger hunt is a fun way to keep kids happy while camping. Let's be honest here… camping isn't always a party. Boredom CAN happen. So, it's always a good idea to have a few little tricks up your sleeve. And, if you're camping on a budget, it's even better when you have some fun ideas that are cheap. We love this camping activity for kids from The Creative Homemaker!
I always love the idea of having as much food prepared ahead of time as possible. This camping hack from 'A Mum n the Oven' for camping pancakes is so great! Be sure to read the comments on the post for some ideas for keeping it fresh, before use.
Okay, take a close look at that picture, before you just scroll on past… it's a high chair!! A camping high chair!! Have you ever tried eating around the campfire with a baby?! I have… and that's why I'm recommending this awesome camping product for babies. Not only will you be able to eat your own food with BOTH hands (and not have little hands grabbing it), but you will be able to easily feed your little one, without holding them in your lap. So much better. Also, a great way to keep them away from the campfire, while everyone is preoccupied with food.
One of the worst things ever is being in the outdoors with wet shoes, not to mention if it's cold outside. This waterproofer by Kiwi is a favorite for keeping shoes dry in the outdoors. Be sure to read the reviews, directions, and suggestions before spraying them on your favorite shoes. Keep those toes warm!!
This is such a fun little activity for kids, to either make while camping or to prepare for camping. They can be used over and over again! Nobody wants the tablecloth blowing away… these DIY holders from Stockpiling Moms blog will totally do the trick! To make traveling with these supplies a lot more compact, check out these collapsible water containers.
Washing hands while you're camping feels sooooo good. If you can't get completely clean, if you can just get your hands clean, that's something. And then, if you have kids in tow, you KNOW their hands are pretty filthy. So, rather than having to trek everyone to the potty, or drip a small bottle of water on their hands, check out this awesome hand washing contraption from Making Memories! … complete with paper towels, soap, and water. It makes washing your hands while camping so easy!
This might be the most delicious camping idea ever. As if tin foil dinners with hamburger and potatoes weren't amazing enough… I never really think of making dessert in tin foil, over the camp fire! And, how perfect is this recipe for Campfire Apple Crisp from Gimme Some Grilling? If you can't brings some ice cream along (hopefully, you can), be sure to pack some whipped cream!
Packing light and compact is typically pretty important when camping. Any list of cheap camping tips and tricks would feel incomplete without this favorite product. It's affordable and such a great way to get everything you need for basic cooking/eating into one little carrying bag.
Are you the designated chef at the camp? If there's one thing any chef can relate to, it's the feeling of longing to eat with everyone, not AFTER everyone. Some meals make that a little more doable, like this awesome camping tip for making omelettes! The blog, Beyer Beware, gives the scoop on how to easily make custom omelets for a crowd. Great for camping or to make, for fun, at home!
Okay, now this is a legit dollar store camping hack. Brian's Backpacking Blog has lots of great camping and hiking info, and this is just one of his many smart camping ideas. Buying travel size medications/ointments can get pretty pricey. Plus, packing light and compact is also important. Everything little thing helps! Be sure to check out Brian's post and see how easy it is to put together these single use ointment packs.
S'mores has got to be the most well-known and loved camping dessert around. It's cheap, easy, and always a crowd pleaser. I'm loving these new ideas for s'mores that would be fun to bust out when everyone is gathered around the campfire. They will love trying out some new flavor combinations and shaking up this old favorite.
Light up the great outdoors or your tent with this simple and cheap camping hack from Creative Green Living. Most likely, you have everything you need for this DIY camping supply in your house right now!
Just one of the perks of being in the great outdoors, away from "it all," is the crystal clear air… hello, star gazing!! You may be putting your phone away for your little escape, but this might be one reason to pull it back out. Once you have the app downloaded, you simply point your phone at the stars in the sky, and it will tell you what constellations you're looking at. Isn't that amazing?! Awesome camping activity for kids and adults… educational, as well!
Okay, this camping trick is so great. Just like the ready-to-use pancake mix, shared above, this bottle of ready-to-use eggs is genius! Not only does it save you from having to bring a carton of eggs, and hope they don't break. But, it saves you from needing an extra bowl, whisk, and salt/pepper shakers. This is ready to make! Thanks to Kids Activities Blog for this awesome idea, and all of the other cool camping tricks on their post.
Since we're on a lightweight and compact kick… we might as well continue the trend, when it comes to camping games. How much more light and compact can you get than family camping games on printed pieces of paper?! That's what I thought. Hip Homeschool Moms have several super cute camping games that are ready to print and play!
Easy Banana Boat Camping Dessert ~ Simply Stacie
Need a simple camping dessert, besides peach cobbler or s'mores?? I got ya. Well, Simply Stacie has got ya. You've got to check out this fun dessert camping hack on her blog, that is soooo delicious!!
Not only are these fire starters from Dukes and Duchesses great to have on hand, while camping. But, the kids will have a blast helping you prepare them for the upcoming camping trip. Surely, they have a stash of broken crayons kicking around the house.
How awesome is this camping trick of cooking bread on a stick?? I love it! Vegan on Board shares their recipe for an easy bread dough, perfect for wrapping around a roasting stick and cooking over the campfire. Bring along some butter spread, garlic salt, jam, and honey butter, so everyone can flavor up their bread to suit their taste!
If you're going to be setting up shop in the great outdoors for more than just a couple days, you may want to look into these folding, portable kitchen stations. Camping regulars LOVE them for preparing meals and organizing their cooking tools.
Have a wonderful camping adventure!!
JOIN 180,000+ OTHERS & FOLLOW OSSS FOR LOTS OF FAMILY IDEAS!
NEWSLETTER (free most-requested family recipes download included!)
PINTEREST (lots of awesome family related ideas!)
Pin this image to save this camping hacks post for later: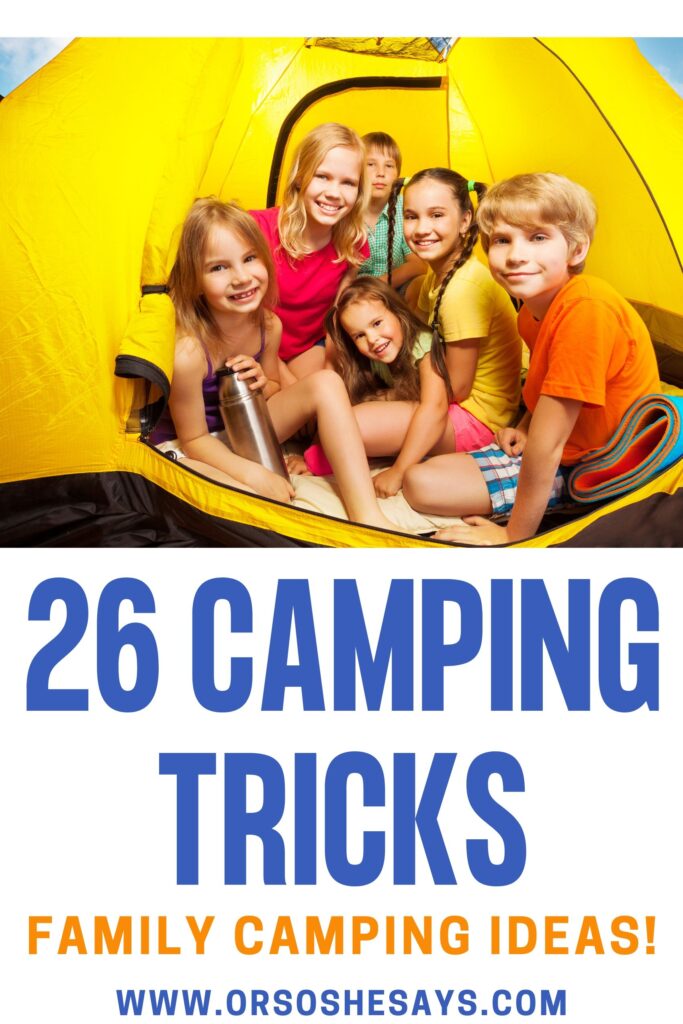 If you loved these cheap camping tips and tricks, check out: