Hello and Happy Tuesday everyone! I am here with you today to share a most simple, modern St. Patrick's Day wreath that can be done in any size and to match practically any decor. Finish this one up in a flash to deck out your door for St. Patrick's Day, which is one of my favorite holidays.
I made a pretty small version that is actually being housed on my entry way table. Get a bigger version if you wish and go nuts!
You'll need some scrap felt, lots of white felt, some rhinestone embellishments, and a wreath form.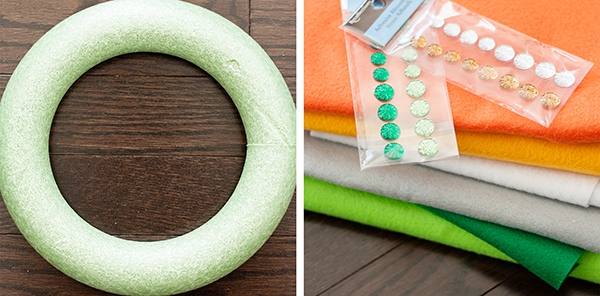 Cut your white felt into long strips and wrap it around and around your wreath form. Secure with hot glue.
Make your pretty wreath embellishments by glueing different sized circles on top of one another. I alternated dark and light shades of my key colors–orange, green, and white. Finish off with your colored rhinestones.
Then just hot glue those pretties on.
I love the little bit of glam this wreath has! Hope you enjoyed today's project and for more St. Patrick's Day pretties this week, head over to Circus Berry!