We love all of Jessie's creative ideas for preschoolers! Today she's sharing 5 outdoor games that feature the alphabet. Check it out!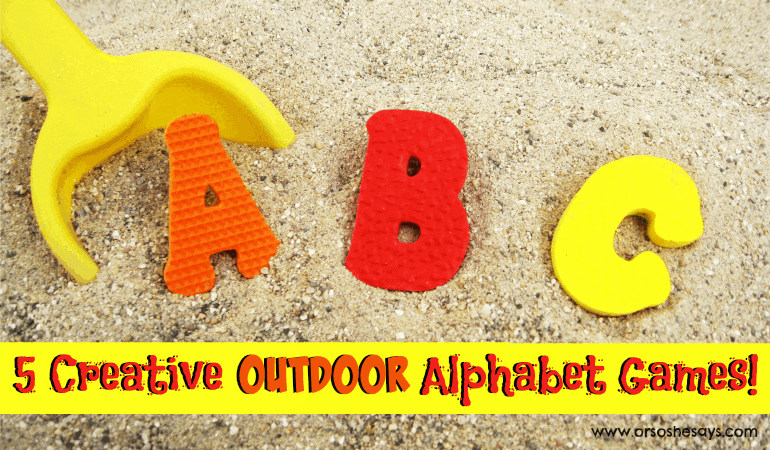 Hello again! Jessie here. I don't know about your family, but my kids can't get enough of being outside now that the weather has warmed up. They basically want to live out there. So today I'm sharing some super fun and simple outdoor games to help your preschooler practice letters while enjoying the sunshine.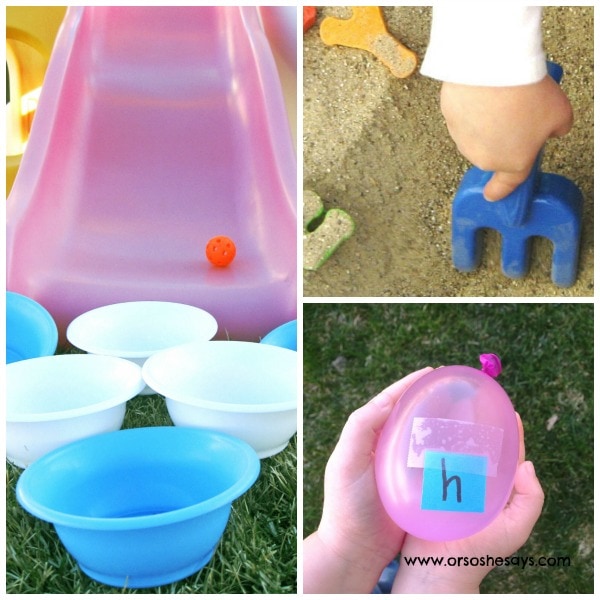 My kiddo loves playing with water when the weather is warm, so this activity perfect for her! First I wrote letters on Styrofoam cups. I wrote three letters per cup so that I could just rotate the cups periodically and she'd have new letters to practice. I used four cups, but you could use fewer or more, depending what you think would be best for your child. After writing the letters, I then lined the cups up on a table. You could place them on the ground instead, but I thought it would be easier to squirt them if they were on a table.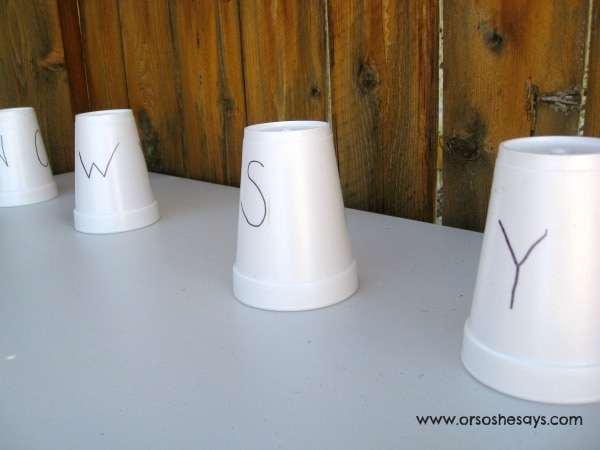 Now for the fun part. I would say a letter sound and word that starts with that letter. For example, I would say, "Which letter says 'zzzzz' like zipper?" My daughter would identify the correct letter by name, then squirt that letter with her dollar-store squirter.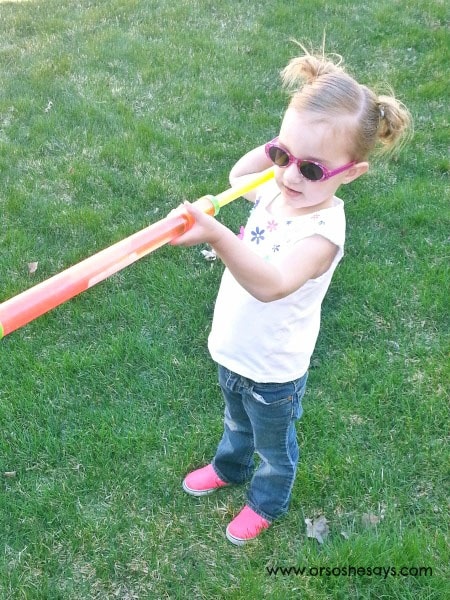 This game only took a few minutes to set up and we already had all the materials we needed. Chances are you already have things around the house you could use too. (I'm a huge fan of simple and frugal!) But this wet and wild target practice was a tremendous hit and an excellent way for my preschooler to practice identifying letter sounds.
This game is another fun way to practice identifying letters and beginning sounds. To prep for this activity, I buried a bunch of foam bath letters in our sandbox. A smaller storage tub (or something like that) filled with sand would work too.
We played this game two different ways. The first way was super straight-forward. My daughter would simply dig up a letter and then name the letter, the sound it makes, or a word that begins with that letter. I would prompt her with questions and/or hints.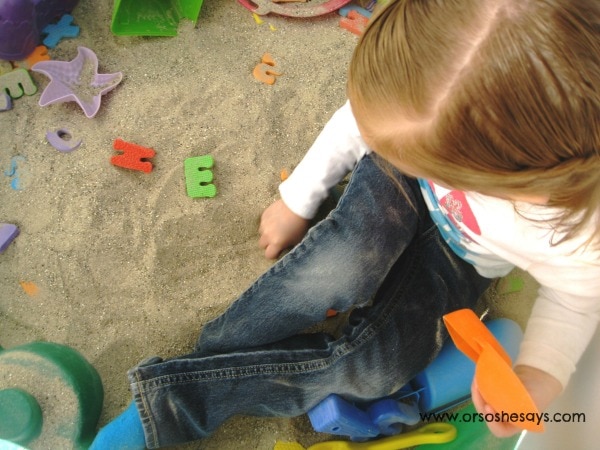 The second way I thought was more fun. I found these AWESOME beginning letter sound activity cards on One Beautiful Home. I printed and laminated them so they wouldn't get destroyed and could be re-used for this or other activities. (I actually just barely took them with a clothespin on a road-trip. As clip cards they were a great car activity for my kiddo!) Anyway, I then lined a bunch of them up on the sidewalk. After my daughter dug up a letter, she would then look at the cards and place the foam letter on the card whose picture begins with that letter. This was a more challenging, but much more entertaining way to go about this letter hunt.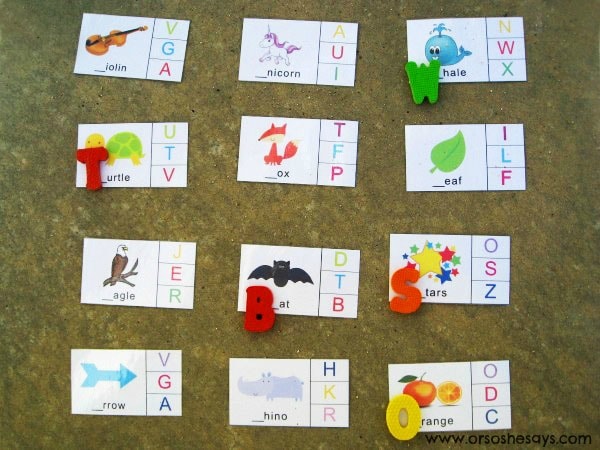 Ok, so this isn't exactly a game, but it's a way more exciting way to practice writing letters than your typical pencil and paper method. Next time you want your kiddo to practice writing a letter (or letters), just head outside! She could practice by writing on the sidewalk with sidewalk chalk, by "painting" on the sidewalk using a paintbrush and water, or by writing in the sand. Note: The sand method works best in wet sand using a stick or pencil, something thinner than a finger.

I found that an especially effective way to have my munchkin practice writing letters outside was for me to first write the letter, then to have her write it directly on top of my letter. This helped her avoid confusion and helped her to make more accurate letters.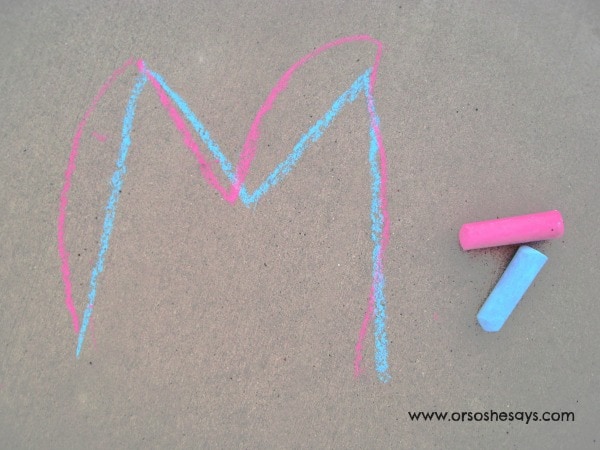 For this game I used the same foam letters as I used for the sand game, plastic bowls, wiffle golf balls, and a slide. You could also just write the letters on pieces of paper, and any small balls would work.
I put several bowls at the bottom of the slide and placed one letter in each bowl. Periodically, I would switch the letters out for different ones.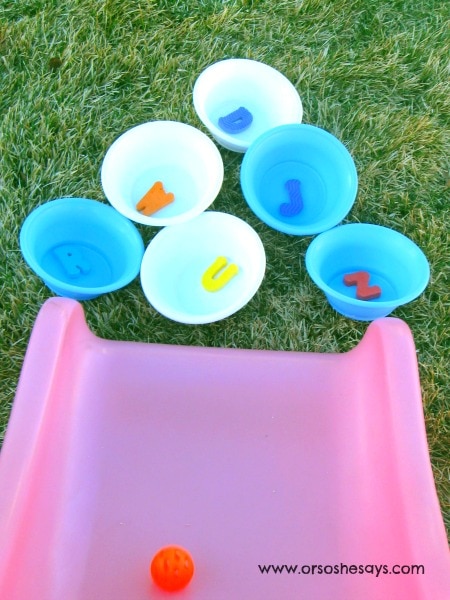 Once again, there are different ways you could play this game. First, you could just roll a ball down the slide and then name the letter or sound of the letter in the bowl where the ball lands.
The second way, which I like better, is to have your child guess which letter (or sound) the ball will land on. If she gets it right, she gets a point. When my daughter guessed the correct letter we just took the letter out of the bowl and put it in a pile. This made it easy to keep track of points and kept us frequently rotating letters. Our goal was to reach five points. My 18-month-old was even able to get in on the action of this game by being the one to drop the balls on the slide. Both girls had a ball! (Forgive the pun, I couldn't help myself.)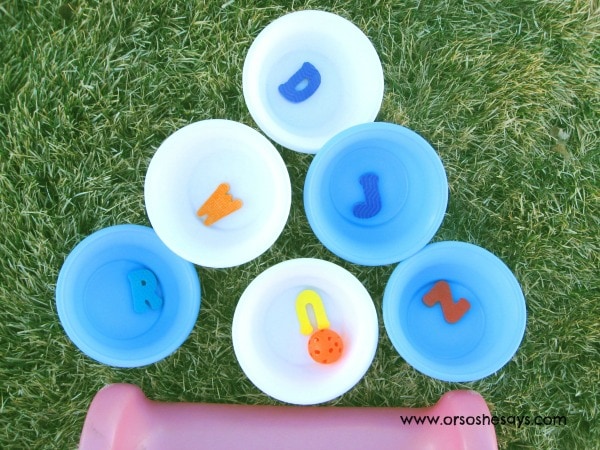 UPPER AND LOWER-CASE LETTER SPLASH
I saved the best for last. At least my girls thought it was the best. They LOVE balloons of any sort, but especially water balloons. They're not so big on the whole throwing them at each other thing (at least not yet), but they are huge fans of throwing the balloons on the ground or setting them down and then stomping on them to pop them.
I will admit this game took some time to prep, mostly because filling up a bunch of water balloons is kind of a slow process, but the end result was completely worth it! I filled up 26 water balloons (plus a bunch so my baby could have some to pop too). Then I labeled those balloons from A to Z using LOWER-CASE letters.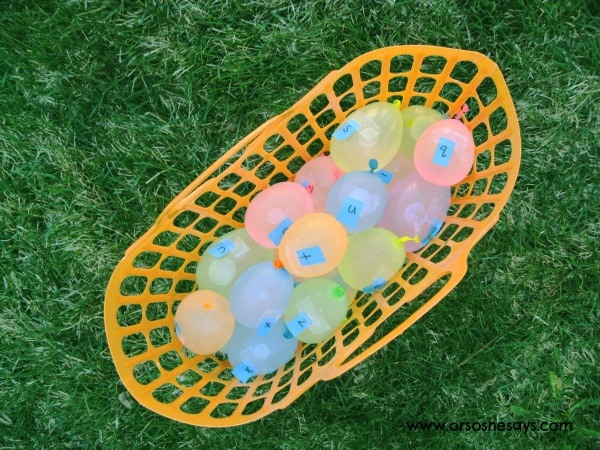 I planned to just write the letters on the balloons with permanent marker, but when that didn't work so well I taped small pieces of labeled paper onto the balloons instead. Then I wrote all of the UPPER-CASE letters on the sidewalk using sidewalk chalk.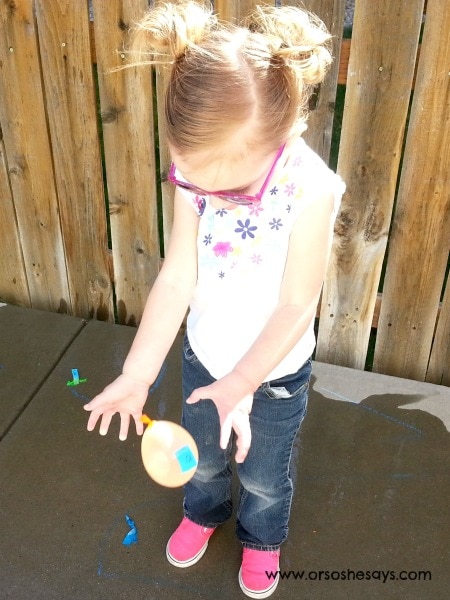 After that, the game was really easy. My little girl would pick up a balloon, identify the letter, find the matching upper-case letter, and then pop the balloon on that letter. It was such a fabulous way to cool off and practice letter matching. Such a blast!
So there they are. Five ways we've been working on the alphabet while enjoying springtime. So now, get outside! Revel in the sun, have some fun, and let your kiddo practice letters while you're at it!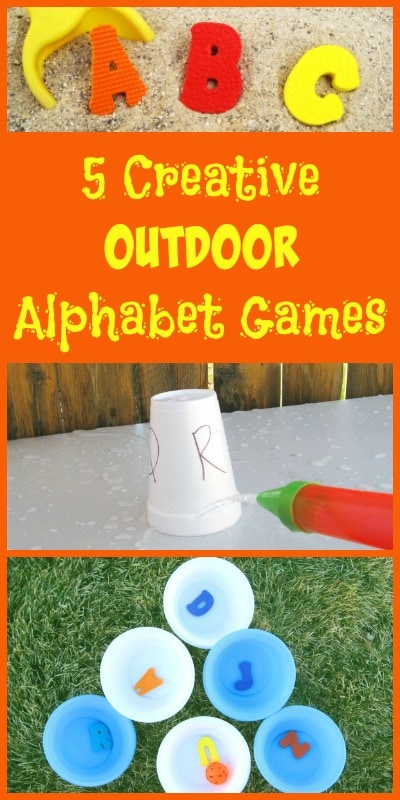 For more fun outdoor activity ideas, check out these posts:
Builders and Bulldozers – A Fun Outdoors Game for the Family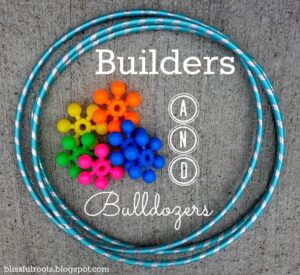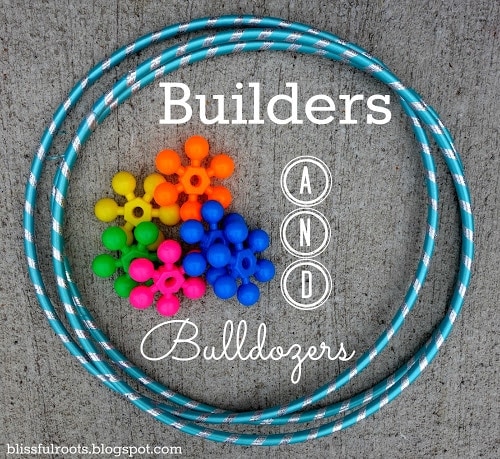 DIY Fort Kit for Indoor or Outdoor Use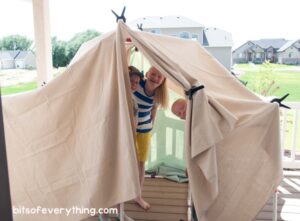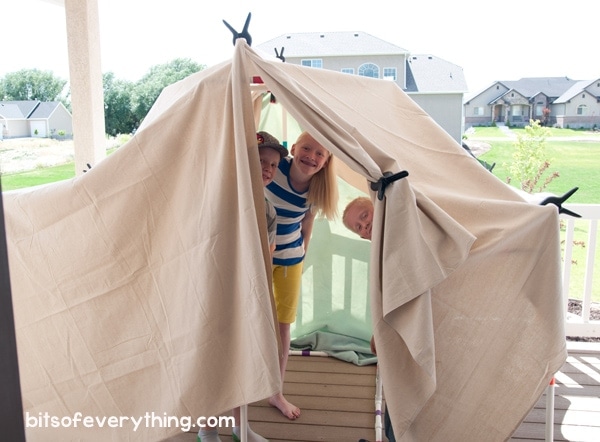 The BEST Outdoor Family Games ~ Great for Reunions, BBQs or Parties