Teach about the birth of Jesus Christ and of his Second Coming with these printable Primary Talks about Jesus. Choose from four templates. These special talks makes speaking in Primary school easy and meaningful.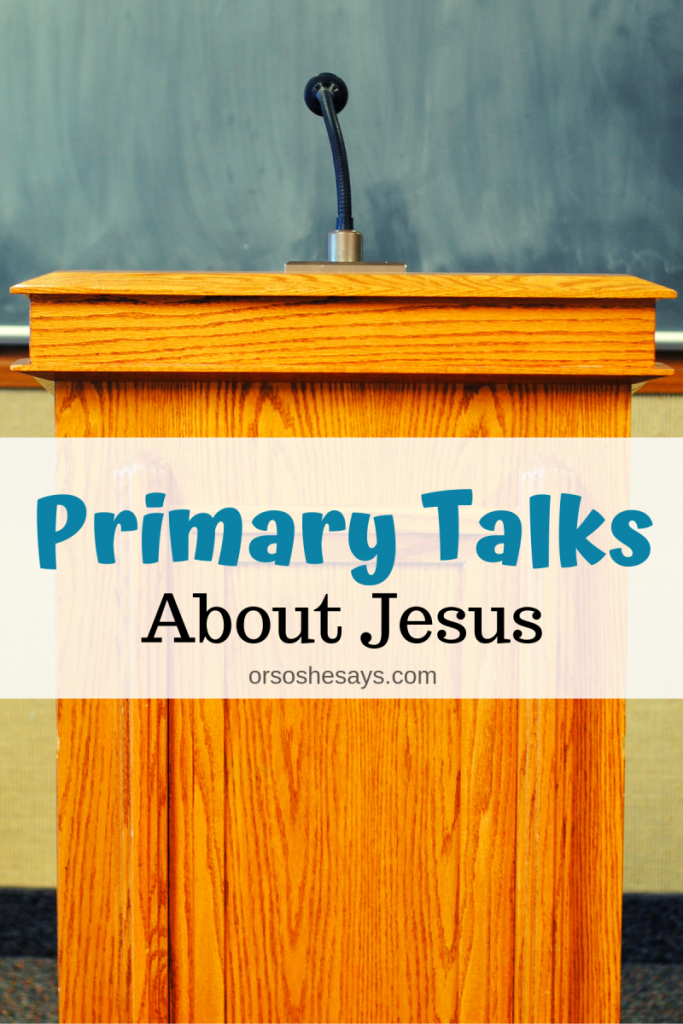 The General Primary Theme for the month of December is, "Jesus will come again!" Isn't that a beautiful message of hope? During Christmas time we often talk about the birth of the Savior. Because He was born in Bethlehem and then suffered and died to redeem each of us, we rejoice in His life! Christ is our Savior. His birth was our salvation.
The Primary theme for December is: Jesus will come again!
Children love to learn about His birth. They sing songs about angles and shepherds and that peaceful silent night. However, we don't often focus on the fact that Jesus will come again! He is alive and will come to the earth a second time to lead us and guide us. We look forward to His Second Coming with excitement and joy. The prophets have taught that every knee will bow and every tongue will confess that Jesus is the Christ. He will come in glory! I cannot wait.
The month of December is the perfect time to teach of Christ and rejoice in His message of peace and hope. Even children can gain a special testimony of Jesus. Our printable primary talks about Jesus were made to coincide with the sharing time lesson for each week of Primary School. Choose the topic that best fits your child's speaking assignment and personality.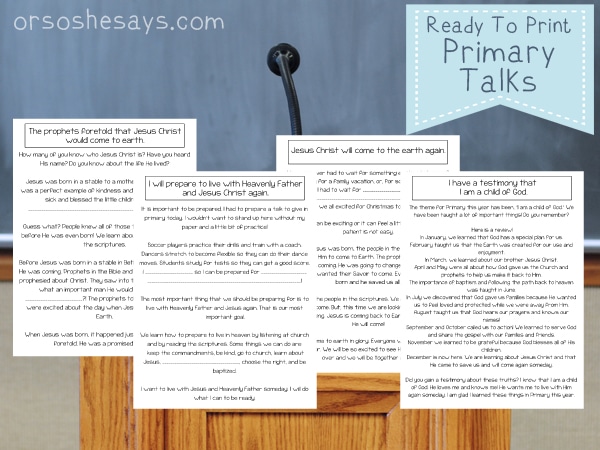 Week One: The prophets foretold that Jesus Christ would come to Earth.
This printable primary talk about Jesus outlines the fact that even before Jesus was born, people knew He was coming! How? Prophets saw Him in visions! The Spirit whispered of His coming. When Jesus was born, if fulfilled so many prophecies.
Week Two: Jesus Christ will come to earth again.
The second template is about the Second Coming. This is the message of hope that is so important in the world today. We have something glorious to look forward to! Waiting is hard, but, it will be worth it when Christ comes to earth again.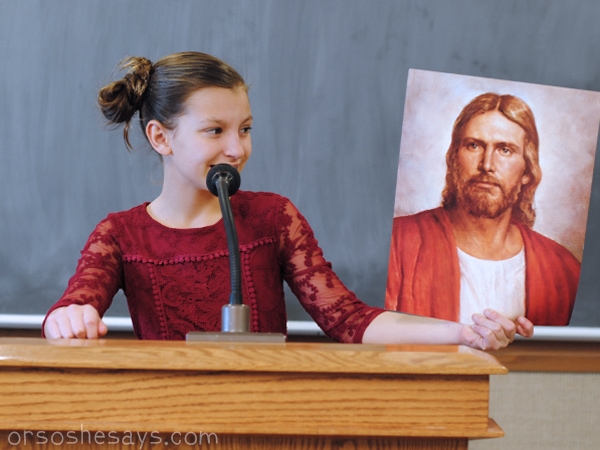 Week Three: I will prepare to live with Heavenly Father and Jesus Christ again.
Children understand the concept of home and family. So, this primary talk about Jesus helps them to connect that same feeling to their heavenly home. They can keep the commandments and choose the right to help them prepare to live with Heavenly Father again.
Week Four: I have a testimony that I am a child of God.
This is my favorite topic of all! Because, this whole year, primary children have been gaining a testimony that they are children of God. Each month, a new gospel concept was added to expand their knowledge of personal divinity. This talk reviews each monthly topic. Then, the child is given the opportunity to share their own personal testimony that they are a child of God.
I hope that these printable primary talks about Jesus help your child feel comfortable speaking in Primary School. They are written in a basic, yet, meaningful way. Children understand the principles of the Gospel as well as anyone. They are close to the Holy Ghost. Their testimonies are so pure! We are so lucky to know that we are children of God and that he loves us. I hope you feel His presence in your life this holiday season and all through the year.
Other posts you'll love: