The holiday season is just around the corner, which means it's time to start gearing up for festive parties and family gatherings. While presents under the tree on Christmas morning is special, making memories last a lifetime with your family is priceless. This is why you should think about giving the gift of a vacation this year for the holidays. Not only will you be able to spend quality time together, but you won't have to stress about last-minute Christmas shopping. Plus, who wouldn't want a trip to The Happiest Place on Earth? If you're planning a vacation for your family's Christmas present, keep reading to find out the best Disneyland vacation surprise ideas.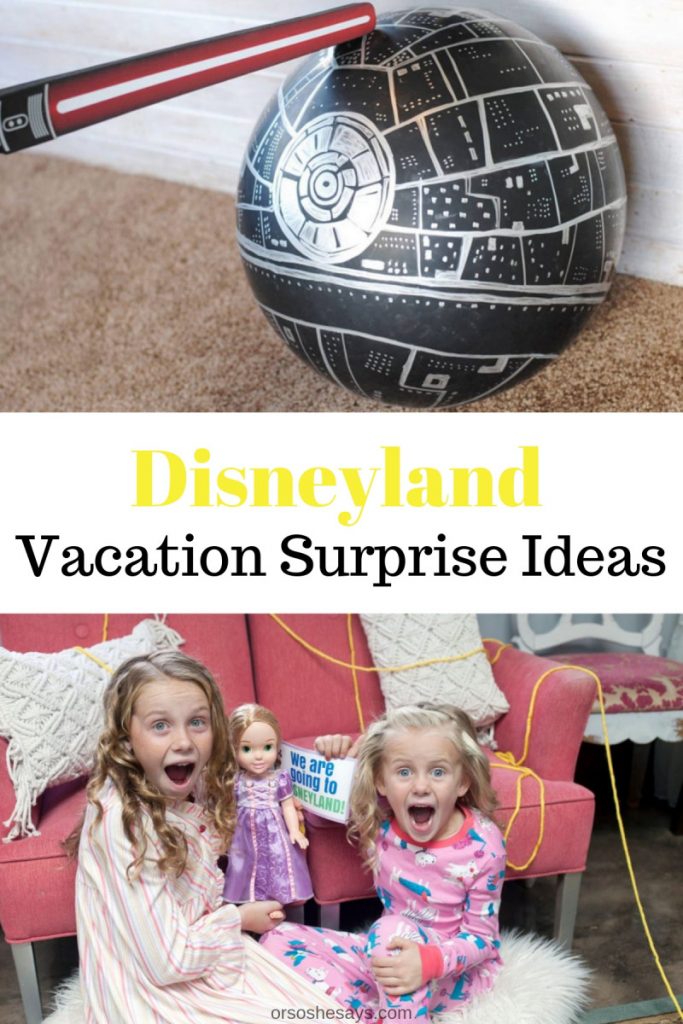 No matter when you visit the Disneyland Resort, you're sure to have a magical time. However, there is something truly special about Holidays at the Disneyland Resort. From November 9, 2018 until January 6, 2019, you can experience seasonal ride overlays, delectable treats and unforgettable entertainment. Experience Haunted Mansion Holiday, "it's a small world" Holiday, Mater's Jingle Jamboree and Luigi's Joy to the Whirl, ¡Disney Viva Navidad! Street Party Parade, Festive Foods Marketplace and so much more. With so much to see and do, you won't want to miss out on any of the fun! So, whether you're planning a holiday getaway or a 2019 trip to the Disneyland Resort, below are the best Disneyland vacation surprise ideas.
Best Disneyland Vacation Surprise Ideas
Mickey Balloon Vacation Surprise
I always love incorporating balloons into a vacation surprise, because it always seems to bring excitement. Plus, it's so easy to do! Below is what you'll need for the Mickey Balloon Vacation Surprise:
The first step is to buy balloons at your local party store. Depending on how big your box is, I would get 6 regular balloons and one large Mickey balloon. Once you've done this, tape your filled balloons to the bottom of the box. To ensure they'll be ready to float on Christmas morning, be sure to pick them up at the store as close as you can to Christmas Day.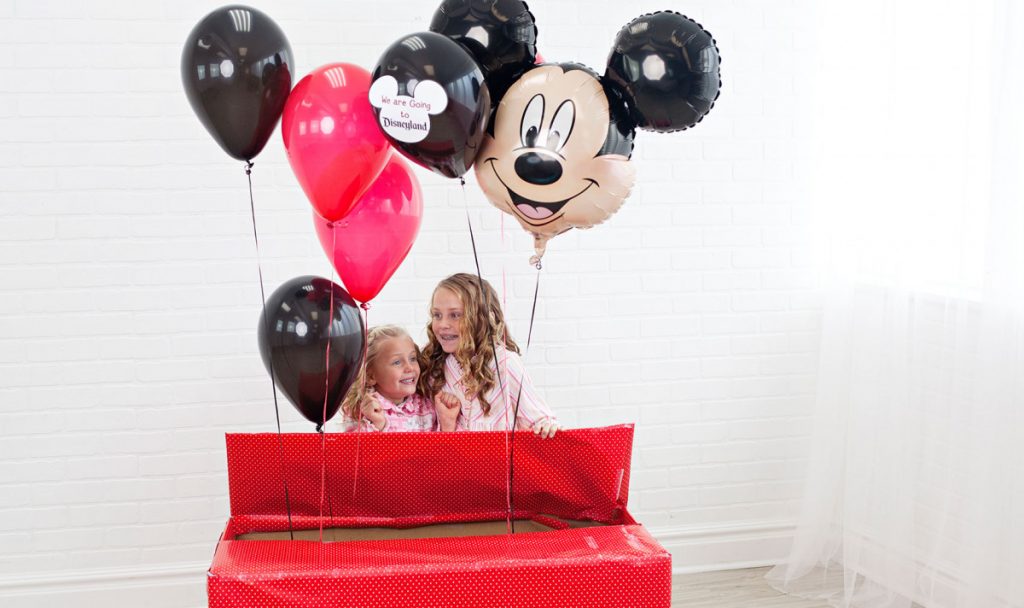 Once the balloons are taped and you've printed and placed the "We're going to Disneyland" printable inside, wrap the present like a normal gift under the tree. When your kids open the gift on Christmas morning, they'll get the best surprise of all!
Puzzle Vacation Surprise
If you're little ones like puzzles, then this is the perfect vacation reveal for them. Luckily, you don't have to make the puzzle large or complicated. The easier the better! To create your own Disneyland vacation puzzle, you'll need:
The first thing you'll want to do is download and print both the front and the back of this free puzzle surprise printable for either Disneyland or Disney World. Once you have both sides printed, you'll want to grab the piece of foam paper. Peel the back off of the foam paper and carefully place it on the Disneyland surprise printable. Once it's placed firmly on the foam paper, flip it over.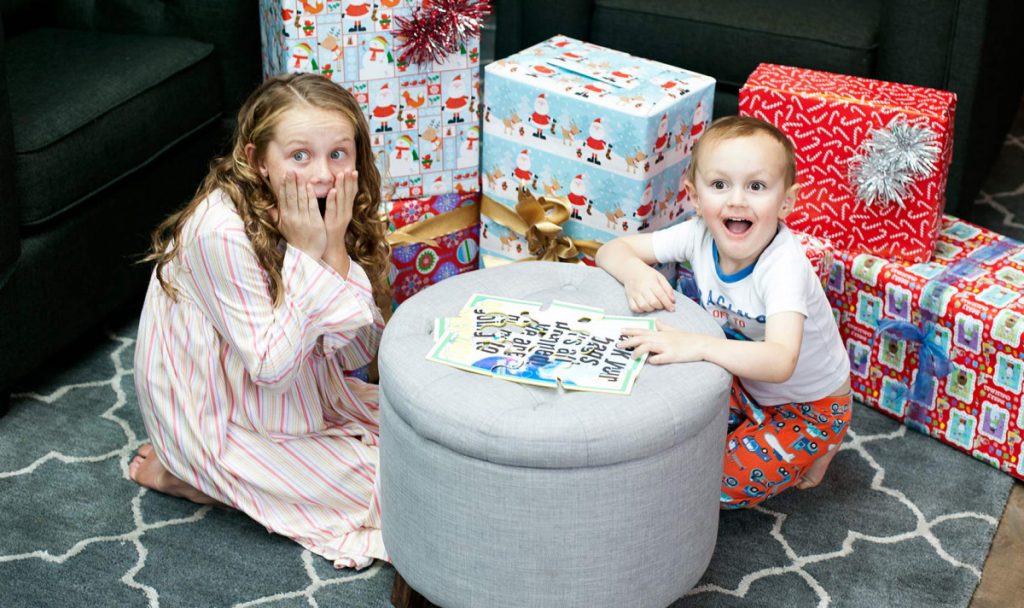 Now, you'll want to place the puzzle template over the foam. Then, with a ballpoint pen, trace the puzzle onto the foam. The ballpoint pen will leave an indent. Once the foam is indented, you can trace over the lines with your ballpoint pen to see the puzzle pieces more easily. All you need to do it cut out your puzzle pieces and you're done! Create a scavenger hunt or place each piece in a different present. Whatever way you choose to do it, your family is sure to love it!
Rapunzel Vacation Surprise
If you have a little princess or prince in your house, this Rapunzel vacation surprise is the perfect idea for your trip reveal! To pull of this surprise, all you'll need is:
First, you'll want to download and print the Rapunzel printables here. Once the "Rapunzel's hair is all 'Tangled.' Follow its path to find a surprise…" printable is printed, you'll want to cut it and attach it to the yellow yarn. Now, you'll want to choose where the maze will start. Whether you run it all throughout the house or just in a couple of rooms, we think it's great to end at the Christmas tree.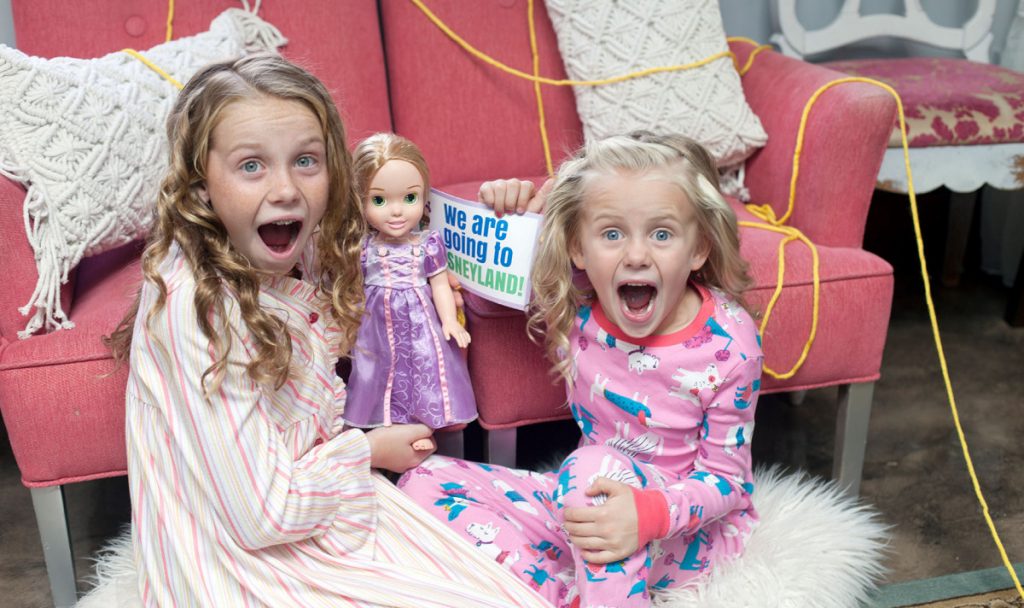 Once you've decided an ending point, attach the second printable to the end of the string. Once your kids follow the path on Christmas morning, they'll be able to get excited about meeting Rapunzel at Disneyland!
Star Wars Death Star Vacation Surprise
Young Jedi's and Wookies will think this vacation reveal is "out of this world!" To make this galactic surprise, you'll need:
I ordered all of my supplies on Amazon and would recommend it. Not only is it easy to find everything in one place, but it will come right to your door! First, you'll want to print the Death Star printable for either Disneyland or Disney World. Then, cut around the edges of the Death Star icon to make it round. Then, you'll want to put all of the confetti, glow sticks and Star Wars items into the balloon. Once they're in, blow up the balloon with air. This might be difficult because it's a large balloon, but just do what you can until it's filled up.
Next, you'll want to decorate the outside of the balloon with the silver metallic Sharpie markers to match the exterior of the death star. This is where your artistic skills will come in! If you're like me and don't consider yourself an artist, don't worry. Do the best that you can!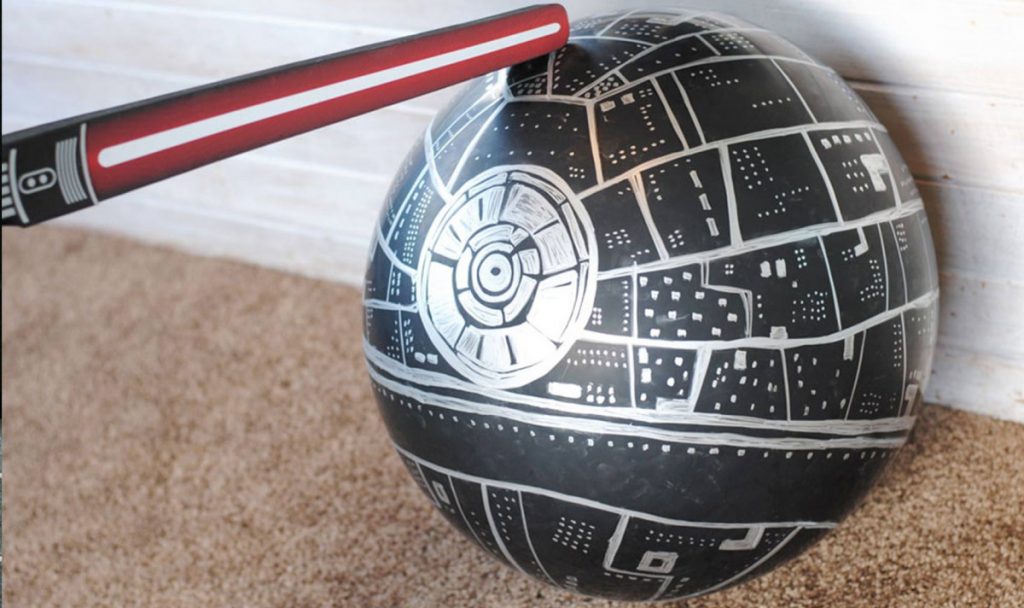 Now, when your kids see the balloon on Christmas morning, they'll have to be an X-Wing pilot and destroy the Death Star. Once they do, they'll find out they're going to Disneyland!
Book your Christmas Vacation with Get Away Today

As you can see, there are so many fun and creative ways to surprise your family with a vacation to the Disneyland Resort. However, what really matters is how many memories you're going to make together on your trip to The Happiest Place on Earth.
If you haven't booked your holiday vacation yet, it's not too late! Visit getawaytoday.com or call one of their travel experts directly at 855-GET-AWAY. With discount Disneyland tickets, hotel specials and a flexible Layaway Plan, booking a vacation to the Disneyland Resort is easier than ever before. Don't forget to mention promo code OSSS10 for an additional $10 off your hotel and tickets vacation package. Let them know that Or So She Says sent you!
Other Disney posts you'll love:
Our picks for Disney gear:
Disney DCM-1 Classic Mickey Waffle Maker, Brushed Stainless Steel
Disney Princess Dress Up Trunk (Amazon Exclusive)
Disney Minnie Brush and Comb Set
Melissa & Doug Disney Princess Wooden Stamp Set: 9 Stamps, 5 Colored Pencils, and 2-Color Stamp Pad
New Balance Women's Nergize V1 Fuelcore Disney Cross Trainer, Black/Red, 85 D US
Disney Women's Classic 5-Pack No Show Socks
Disney Mickey Mouse 18 Oz. Tritan Water Bottle 89175
Circle with Disney – Parental Controls and Filters for your Family's Connected Devices
Disney Set of 3 Mickey and Friends Lanyards with Detachable Coin Purse
Disney Mickey Mouse Drawstring Backpack 2 Pack