There is no better place to be than Primary! Primary children are loving, believing, and inclusive. It only takes a minute to make a new friend in Primary. These talks are written based on the Come Follow Me For Primary lessons from the Church of Jesus Christ of Latter day Saints. Each week has a unique topic to discuss. Talks can be used in opening exercises. They are written at a level that Primary age children can read and understand. These Primary Talks can also be used as a study guide for teaching children Gospel principles at home.
Primary Talk Printables ~ September 2023
If you are a Primary Worker and would like to download all four talks for the month of September please use this link: September Primary Talks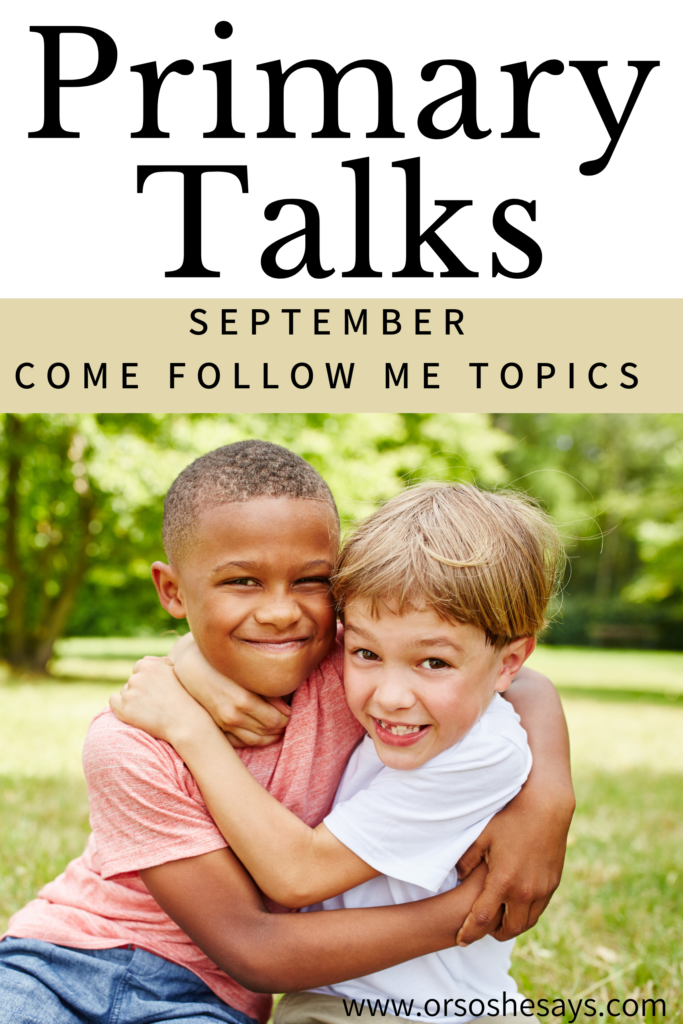 September 3 Primary Talk: God Wants Us to Succeed
Have you taken a test at school before? Tests can feel hard! Do you think your teacher wants you to get a good score? YES! Your teacher gives you the help you need to be successful. Teachers care about you and all of their students.
One of the reasons we came to Earth is to be tested. As we go through life, we are tempted to stray away from the Gospel path. God wants us to make it back to Him. So, he gives us help along the way. He teaches us the best way to live so we can pass the test.
When we follow the commandments and listen to the Holy Ghost, we can pass the test and live with God and Jesus again.
Printable PDF: GOD WANTS US TO SUCCEED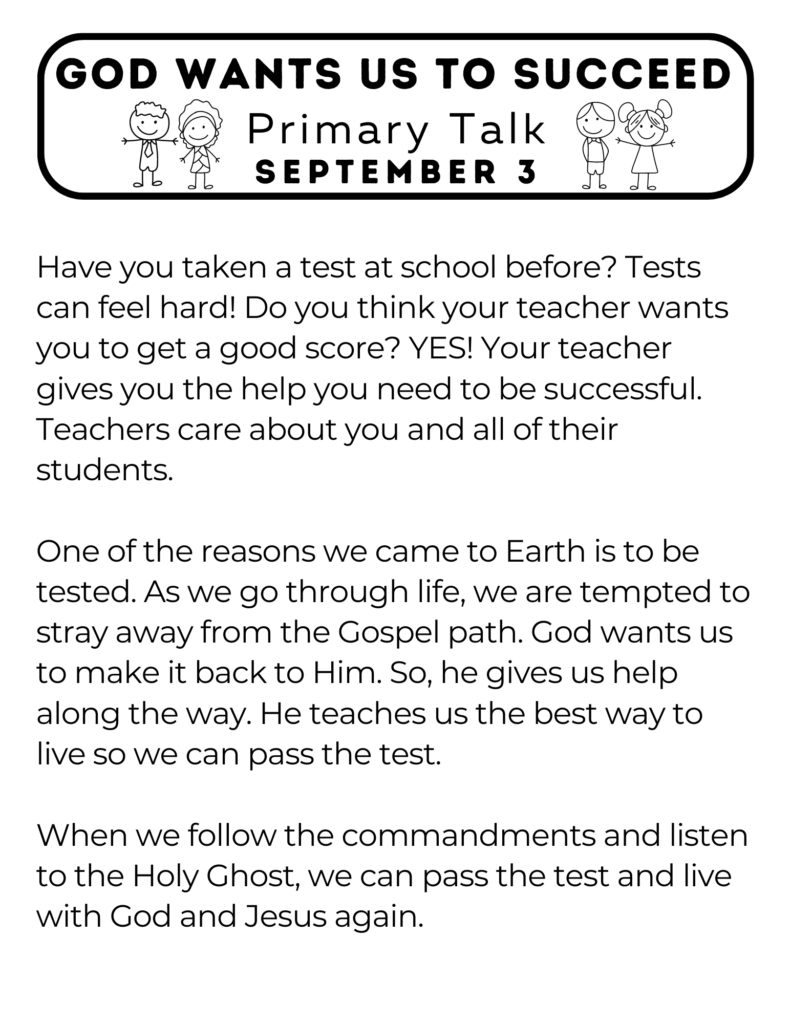 September 10 Primary Talk: We Will Live Again
There are so many great blessings that come from being a member of The Church Of Jesus Christ of Latter day Saints! One of the very best blessings is that we know what happens after death. We know that because Jesus died for us and then rose from the grave to live again, that we can also be resurrected.
There are a lot of people in the world who do not know that there is life after death. That makes them feel so sad when someone they love is gone.
Because we know the truth, we can feel peace and comfort and not feel so scared about death. We know that there is always hope and happiness with Heavenly Father in Heaven.
Printable PDF: WE WILL LIVE AGAIN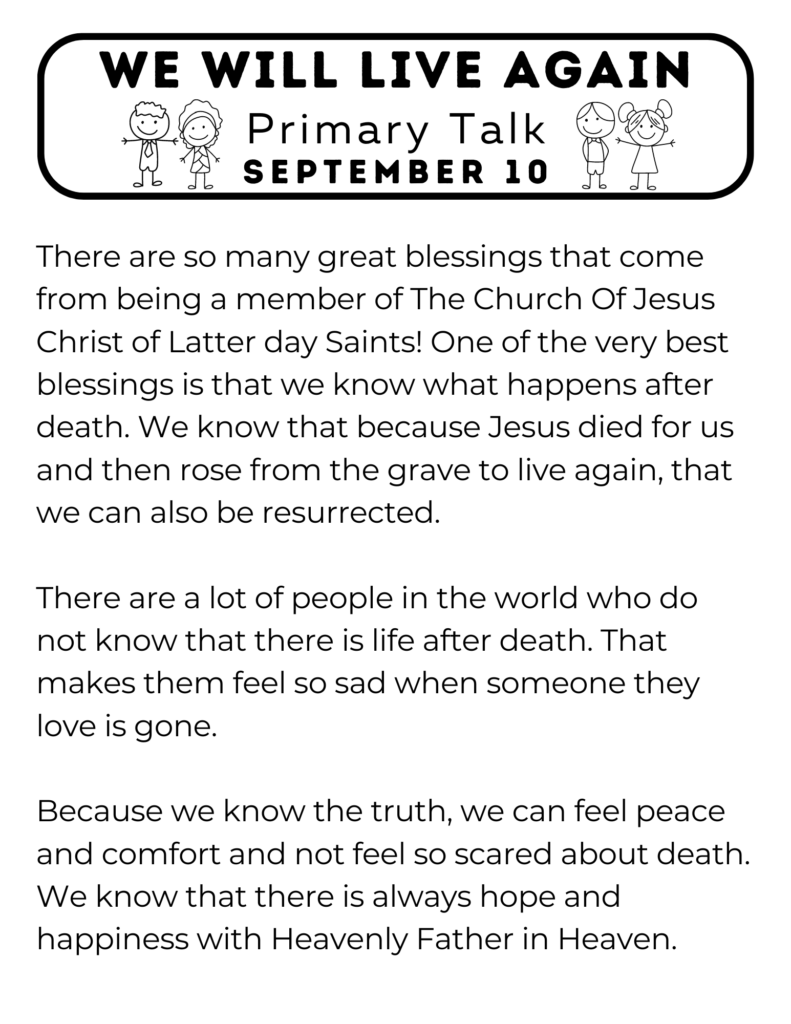 September 17 Primary Talk: I Can Comfort My Friends
When you feel sad, what makes you feel better? Do you have a special stuffed animal or a blanket that you snuggle? Does you mom or dad sing you silly songs or do you have a special place to visit that makes you feel happy? Do you like to ride your bike, listen to music, or talk to a friend?
When I feel sad, I like: ______________________________________________________________________.
Heavenly Father has asked us to comfort people who are in need of comfort. How can we help people feel better? One thing we can do is give a hug. We can say kind words or write a nice note card or bring them a treat.
When we share love, it can help them feel happy and also feel God's love in their hearts. We can be a comfort to them.
Printable PDF: I CAN COMFORT MY FRIENDS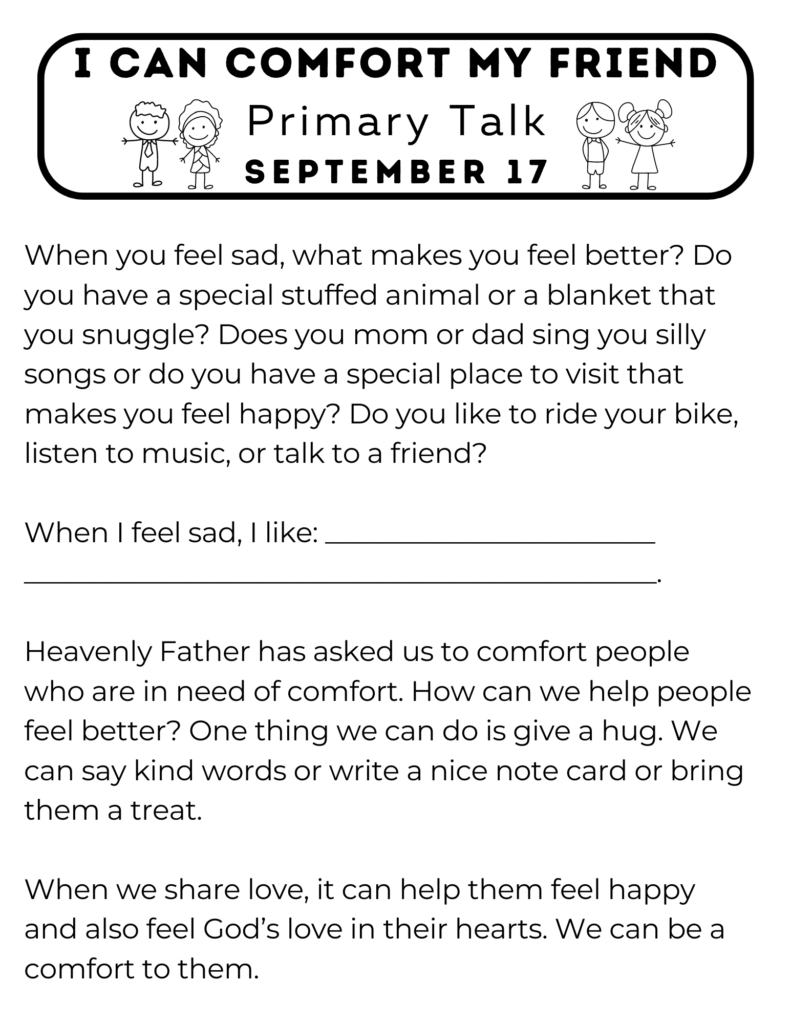 September 24 Primary Talk: I Can Give With A Smile
One of the things Jesus taught while he was on Earth is to serve the poor. He showed us by example that it is important to take care of people who are in need. Heavenly Father has commanded us to be a "cheerful giver." He wants us to give with happy hearts.
One special way members of our church can help people in need is by giving Fast Offerings. We can donate money to the church that is used to feed people who are hungry. On Fast Sunday we skip a meal or two. It is not easy! But, it makes it easier when we think about the people who will be able to eat because of our sacrifice! We can be happy about fasting because we know it is helping someone in need.
I hope we can participate in fasting with cheerful hearts! I know Heavenly Father and Jesus are proud of us when we follow their example.
Printable PDF: I CAN GIVE WITH A SMILE