It's a rare occasion, in my house, where I can make a pumpkin dessert, without getting ample groans. The biggest grumbles come from Dan, who just can't hack anything pumpkin…or fruity, or mint, or marshmallow, or fudge, or fancy looking. Pretty much standard chocolate desserts are all that he wants. He's crazy. But, over the weekend, Dan went to the sand dunes, and I jumped on the opportunity! A whipped out a yummy pumpkin dessert, with no groans, just ooohs, ahhhs, mmmms…and, "Crap, I better get on the treadmill."
This is Paula Deen's recipe for Pumpkin Gooey Butter Cake…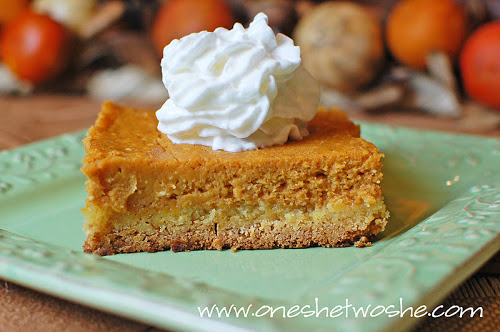 To make this, you will need: 1 18 oz. pkg. yellow cake mix, 4 eggs, 2 sticks of butter, 1 8 oz. package of cream cheese, 1 15 oz. can pumpkin, 1 tsp. vanilla, 16 oz. powdered sugar, 1 tsp. cinnamon, and 1 tsp. nutmeg.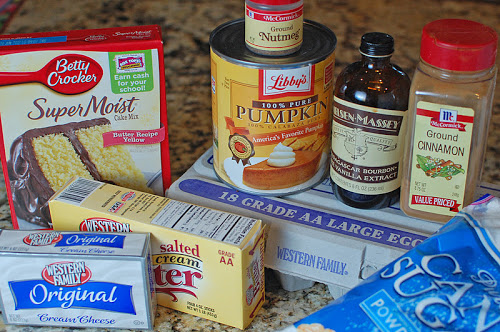 First, mix together one egg, 1 stick of melted butter, and the cake mix.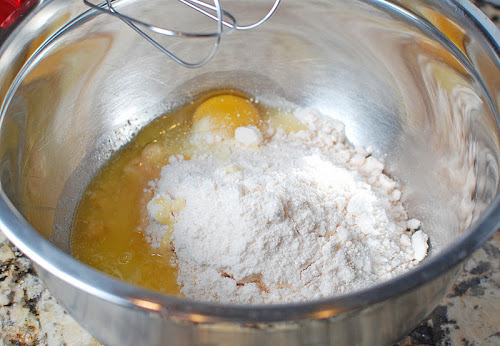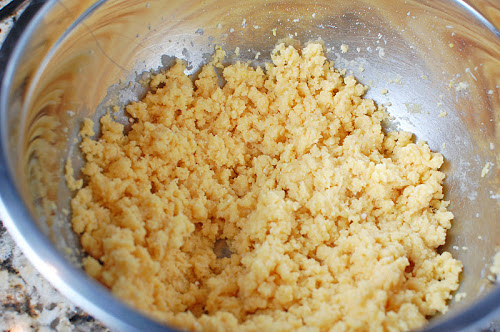 Press the mixture into a sprayed 9×13 pan.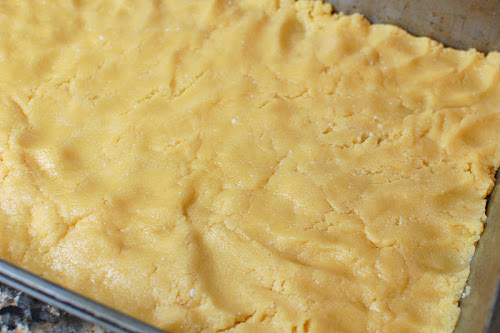 Now, you're going to make the filling. In a bowl, add the 8oz. pkg of cream cheese and 15 oz. of pumpkin. Beat until smooth.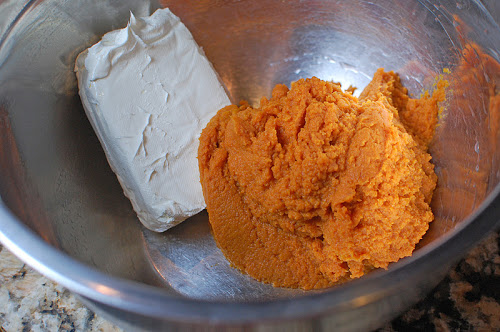 Add 3 eggs, 1 tsp. of vanilla, and 1 stick (8TBS) melted butter. Mix well. Add 16 oz. (usually 1 box or 1/2 a standard bag) of powdered sugar, 1 tsp. cinnamon, and 1 tsp. nutmeg. Mix.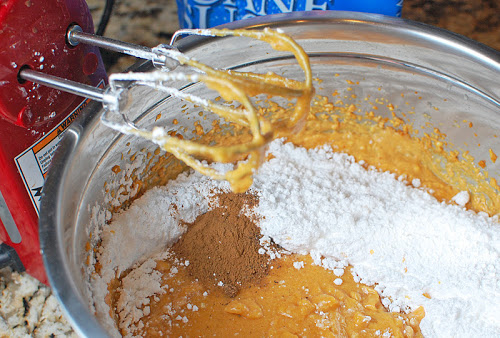 Spread the mixture on top of the uncooked cake batter crust. Bake at 350 degrees for about 40 minutes.
* Okay, now here's the important thing. You want the cake to have a little wiggle to it and be slightly gooey. I have yet to take my butter cakes out of the oven on time. I keep thinking they need a few more minutes, then I regret it. When I cut into it, the very bottom part of the crust is a little too toasty, even though everything looks perfect on top. Next time, I will err on the side of undone, and really…it will probably be done just right.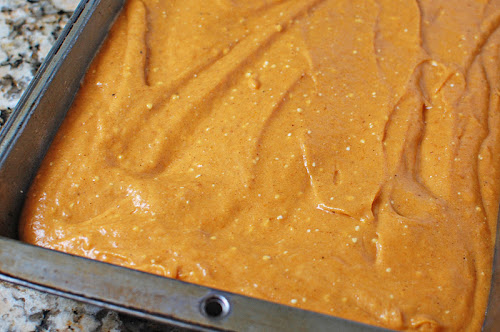 Serve plain or topped with whipped cream. I love this stuff, so sinful! I won't tell you how much of this I ate all by myself.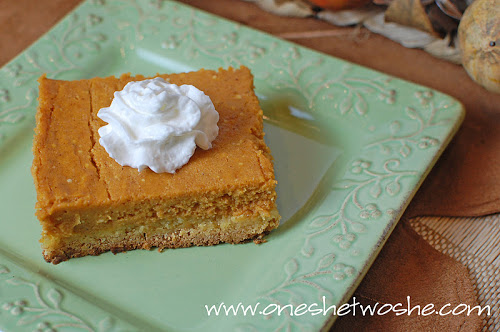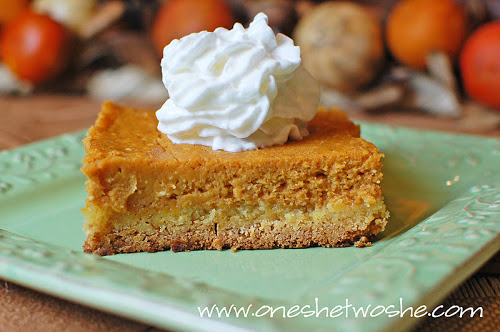 Pumpkin Butter Cake
By Paula Deen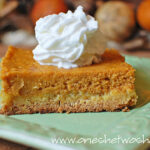 Pumpkin Butter Cake
Ingredients
Cake

1 18

oz.

pkg. yellow cake mix

1

egg

8

TBS

butter

melted

Filling:

1

8 oz. pkg. cream cheese, softened

1

15 oz. can pumpkin

3

eggs

1

tsp.

vanilla

8

TBS.

butter

melted

16

oz.

powdered sugar

1 box or half bag

1

tsp.

cinnamon

1

tsp.

nutmeg
Instructions
Heat oven to 350 degrees.

Combine the cake mix, egg, and butter. Mix well.

Pat the mixture down into a sprayed 9x13 pan. Set aside.

To make the filling, beat the cream cheese and pumpkin, in a bowl, until smooth.

Add the eggs, vanilla, and butter. Beat together.

Add the powdered sugar, cinnamon, nutmeg, mix well.

Spread pumpkin mixture over cake batter crust.

Bake about 40 - 50 minutes.

Serve with whipped cream on top.

* Be careful not to overbake, the top will look perfect, but the bottom layer of crust will be too toasty. The cake should have a slight wiggle and be "gooey".