Hello! These simple Primary Talks focus on the Come Follow Me topics for the month of September. However, the basic gospel principles covered in each talk would be appropriate for use any time of the year!
Primary Talks for September 2022
You can download the talks individually or use the link below to download the complete September collection.
Download ALL of the talks here: September Primary Talks
We hope that this resource will make speaking in primary simple and easy for your family!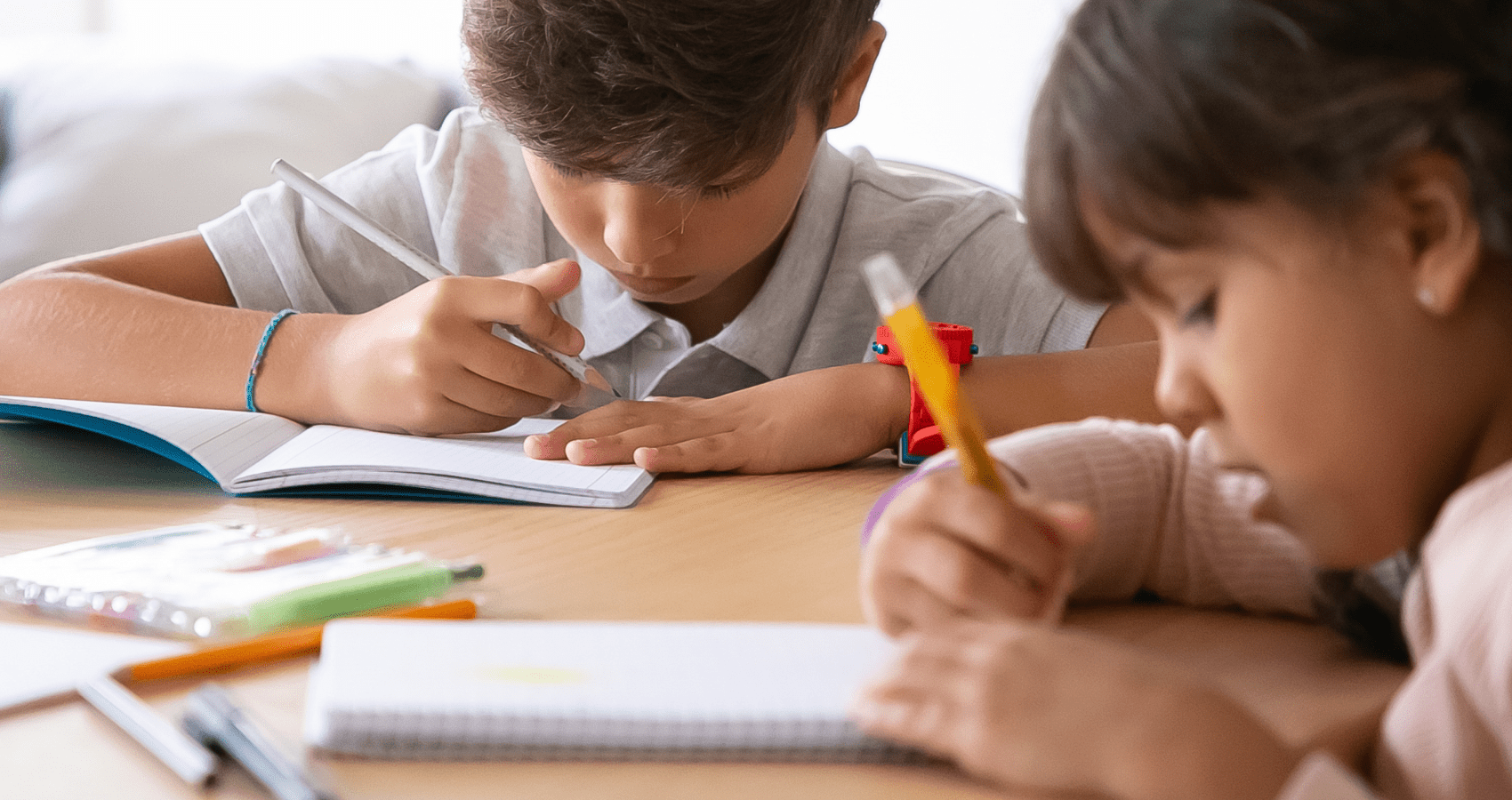 September 4th: Speak Kind Words Primary Talk
The Bible teaches us to speak with soft words. Here is a short list of things that are soft:
Candlelight
Stuffed Animals
Hugs
Soft things bring us comfort. They are not harsh and loud or hurtful. When we speak soft words we are kind. Our soft words can make someone feel happy.
Kindness spreads. When we are kind it can inspire other people to be kind too. I hope we can all use soft words this week to spread kindness and comfort to the people around us.
DOWNLOAD PDF: Speak Kind Words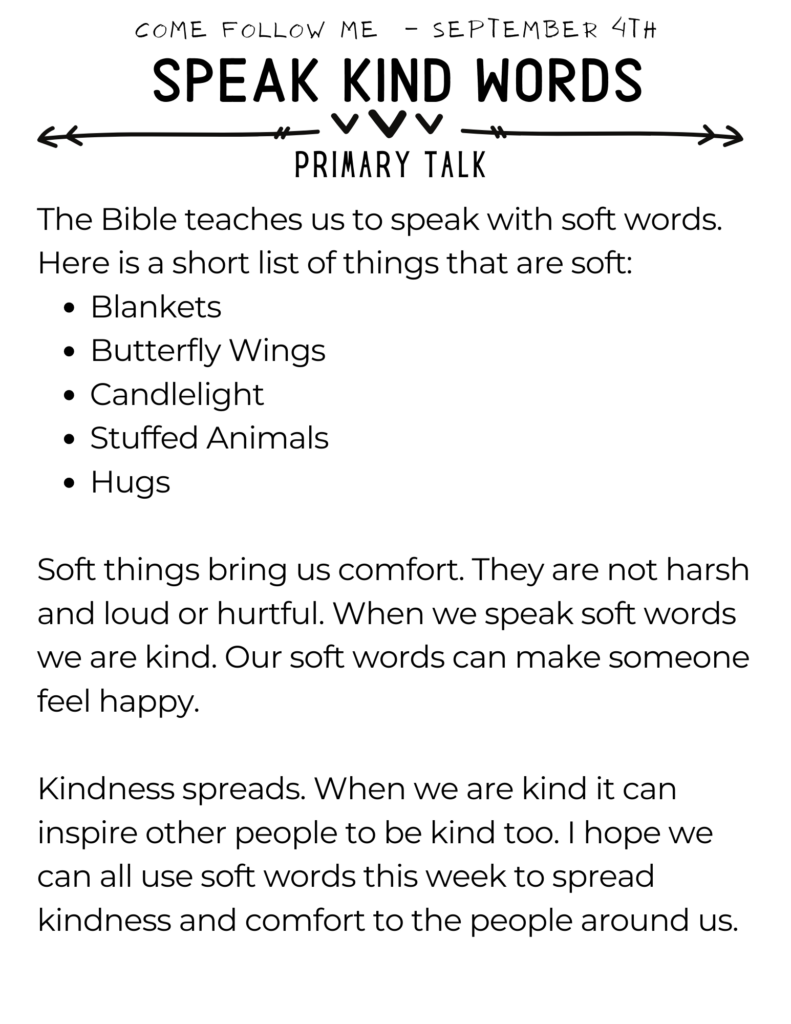 September 11th Primary Talk: The Temple
If you had to describe the temple to someone, what would you say?
The temple is a special building. It is tall and fancy. There are pretty flowers and trees surrounding the temple. The windows have colorful pictures in the glass. There is a golden statue on top! The temple is beautiful.
One day, you will get to go inside the temple. The inside of the temple is also very beautiful. But, the most special part about the temple is the promises you make with God. These covenants will protect you and make it so you can live with your family forever.
I hope that we can all make it a goal to go to the temple. It is a special place.
DOWNLOAD PDF: The Temple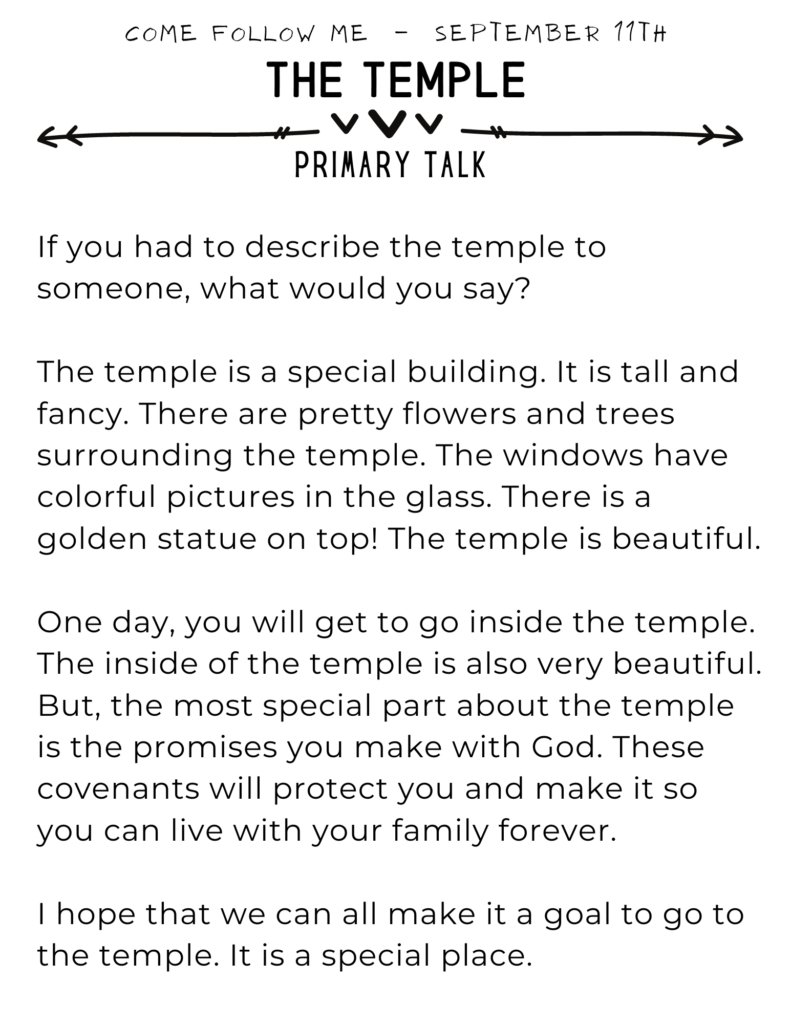 September 18th: We Chose To Come To Earth
Before we came to Earth, we lived in the Spirit World. We lived with our Father in Heaven.
Did you know that you chose to follow Jesus before you were even born? We all did!
Jesus helped to create the Earth. He also helped Heavenly Father make the plan for us to be born, live a life on Earth, and then return to Heaven.
We wanted to follow Jesus! We trusted his plan for us. When we keep the commandments and listen to the Holy Ghost we show that we are still following Jesus. I hope that we can all stay on the path that leads us back to Heavenly Father and Jesus. We chose it in Heaven, so it must be the best plan for us on Earth.
DOWNLOAD PDF: We Chose To Come To Earth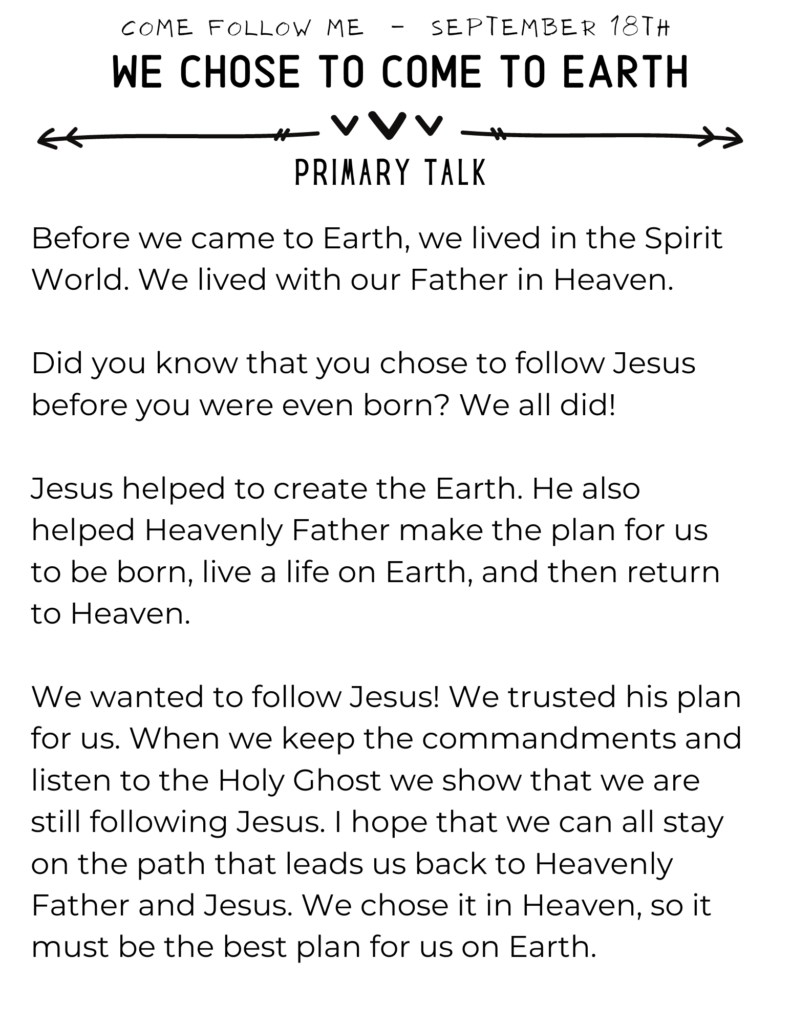 September 25th Primary Talk: I Can Be A Witness
Jesus is our friend. He is our brother. He loves us very much! The scriptures teach us to be a witness of Jesus Christ. When we are baptized we also promise to be a witness of Jesus! What does that mean? How can we be a witness?
We are a witness of Christ when we try to be like him. We can show people that we love Jesus with how we dress, what we say, and by the things we do each day!
When we follow His perfect example, we are his special witnesses. We do not need to be perfect. But, we should try each day to be like Jesus. If we do, we can show the world His love.
DOWNLOAD PDF: I Can Be A Witness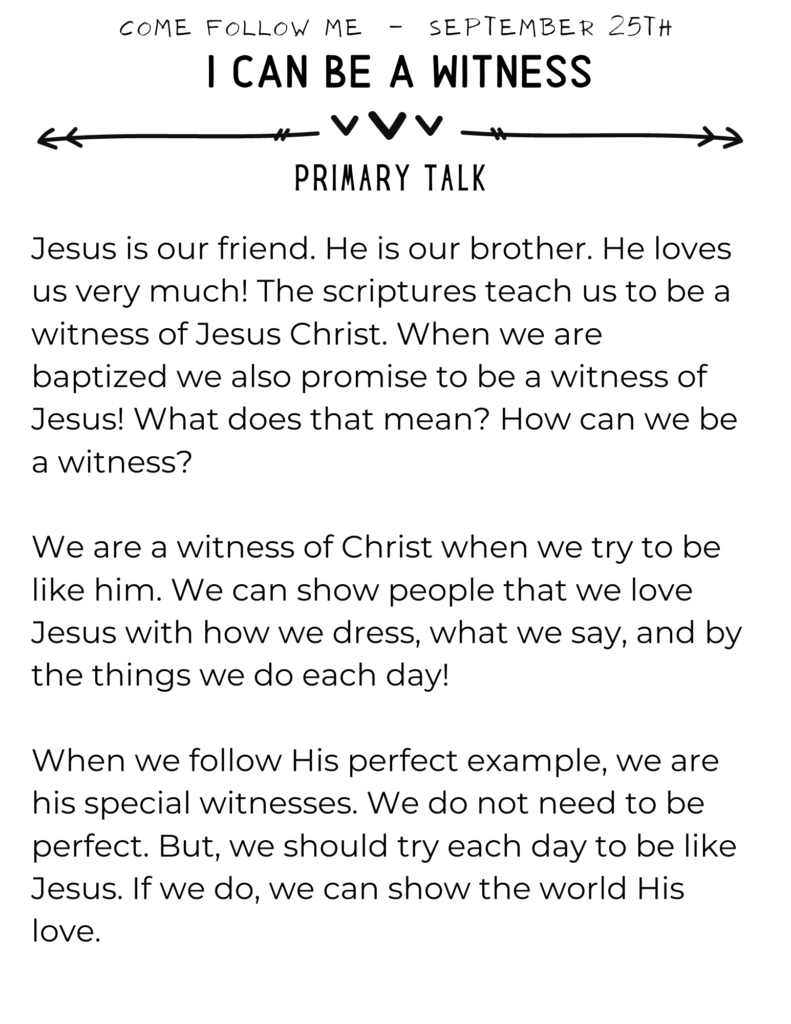 If you liked this post, check out:
Pin this image to save or share these Primary talks: