Last year, in homeschool, we studied The Revolutionary War, the entire time. It was awesome and we learned a ton (yes, me too!) Since we went through lots and lots of books and movies about the Revolutionary War, we found some that we absolutely loved and some… not so much. You can check out our homeschool year in this post: A Peek Inside Our Homeschool 2013/2014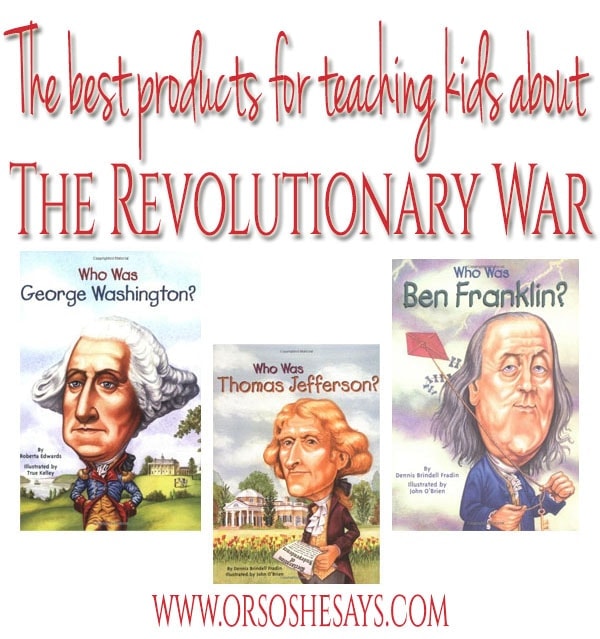 So, today's post is all about our favorites and what we consider the best products for teaching kids about the Revolutionary War.
I love the 'Who Was… ' books! We read 'Who Was Thomas Jefferson?,' 'Who Was George Washington?,' and 'Who Was Ben Franklin?' during the year and they were all great. They're a great way to introduce the kids to the historical person and time period, before delving into more advanced books or movies. We usually start the school year out with a couple of these books.
Phoebe the Spy is a fun one. It's based on a true story, although some of the facts are disputed. Either way, it gives the reader some insight into the scary situations that George Washington was often found in, trying to stay safe from assassins. My kids loved this one and are hoping that one day they'll get to visit the old tavern talked about in the book, found in New York City.
Magic Tree House – Revolutionary War on Wednesday was perfect for my 7 year old, but it would work for older kids too. She was having a hard time understanding some of the historical fiction novels we were reading, so we were able to read this book together, to help her understand the basics of the Revolutionary War in a fun way.
My Brother Sam is Dead was SUCH a good book. My boys, ages 9 and 11 (at the time), really got into it. It did such a good job of making the reader think about all sides of the war. The patriots weren't always good and the loyalists weren't always bad. It was a complex issue and one that was so good to share with the kids.
If You Lived at the Time of the American Revolution is written in question and answer form. I've found that to be really effective in teaching the kids, so I'm a fan of these books. It takes all the basic questions that someone would likely ask, regarding the Revolution, and answers them in a way that's easy to understand.
What kid doesn't love a good time-travel story? George Washington's Socks is just that and a great historical fiction novel! A group of friends are transported back in time to the day before the Battle of Trenton, to learn about the realities of war. They have run ins with the Hessian soldiers, patriots, and even George Washington, himself.
It's always fun to have an activity book to shake up our reading days. This Colonial Kids Activity Guide had great projects and recipes for kids, to help them get a feel for life in the colonies.
This was a book that we didn't spend any time reading, but my boys loved to look through it, checking out all the 'Uniforms from The American Revolutionary War.' I couldn't believe how many different uniforms there was!
Hope that gives you some ideas for some great products about The Revolutionary War! If you have any favorites, PLEASE share. Have a happy day. 🙂